MEDP Spark - LVSYS: Computing for the Human Element
Nov 9, 2017
MEDP Spark, Volume 2, Issue 11 - November 2017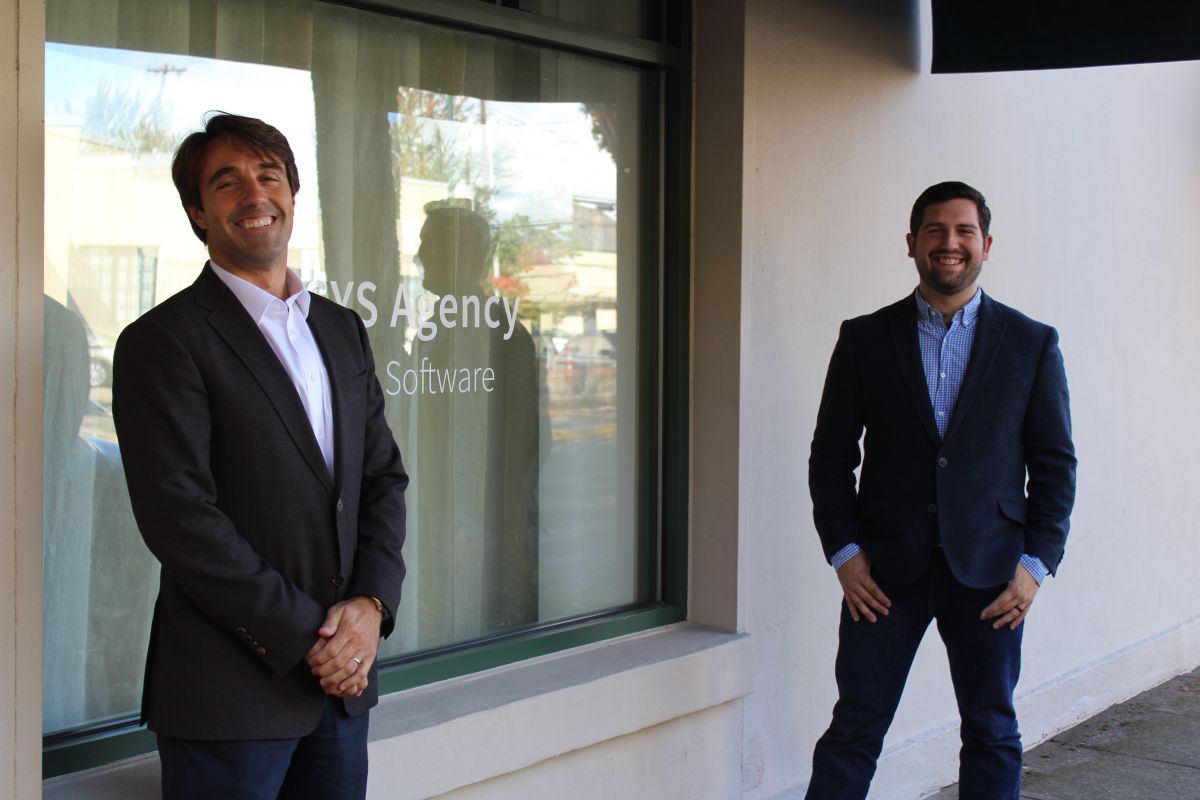 Max De Lavenne and Miles Oliveira stand outside of the LVSYS office
There is a certain magic in watching a software engineer at work. It's like peering into another world when a developer utilizes the binary code, enters the special language of html or java, types in bracket after bracket, employs numbers that seem meaningless, and dashes that all serve a purpose to which many of us will never be able to fully understand. It may be tempting to call this work mechanical, and to disregard that behind every line of code is a purpose, but take a moment to reconsider. This purpose goes beyond creating a program to perform a task. The truth is, the information that developers create all relies on something particularly human, the processes we create around how we perform our job.
At the McMinnville based software and website agency, LVSYS, this human element of software is at the forefront of everything the company creates. According to Max De Lavenne and Miles Oliveira, processes are a function of people, and when building custom software, the crucial component to creating efficient and effective systems is to compute for the human element.
What began as a custom-built CMS (Content Management System) in 2008, quickly grew into a full-service software and web design company. According to Miles, the CMS "was really LVSYS's first software project. The system was designed to be able to add functionality to our platform as time went on. It has grown from there." In the fast-paced and ever-changing tech industry, the company has continually evolved to stay current with trends. From adding modules to their CMS, allowing clients to perform actions such as eCommerce and creating ad campaigns, to updating how data was stored (first at hosting companies, then on their own servers, and currently in the cloud), LVSYS understands how to update and manage complicated systems. Since their inception, the company has largely focused on web design and website creation, but recently, an opportunity to create a larger impact for companies has come to the forefront. Though LVSYS has always worked on custom software design, this change in focus has allowed the company to see the possibilities for growth.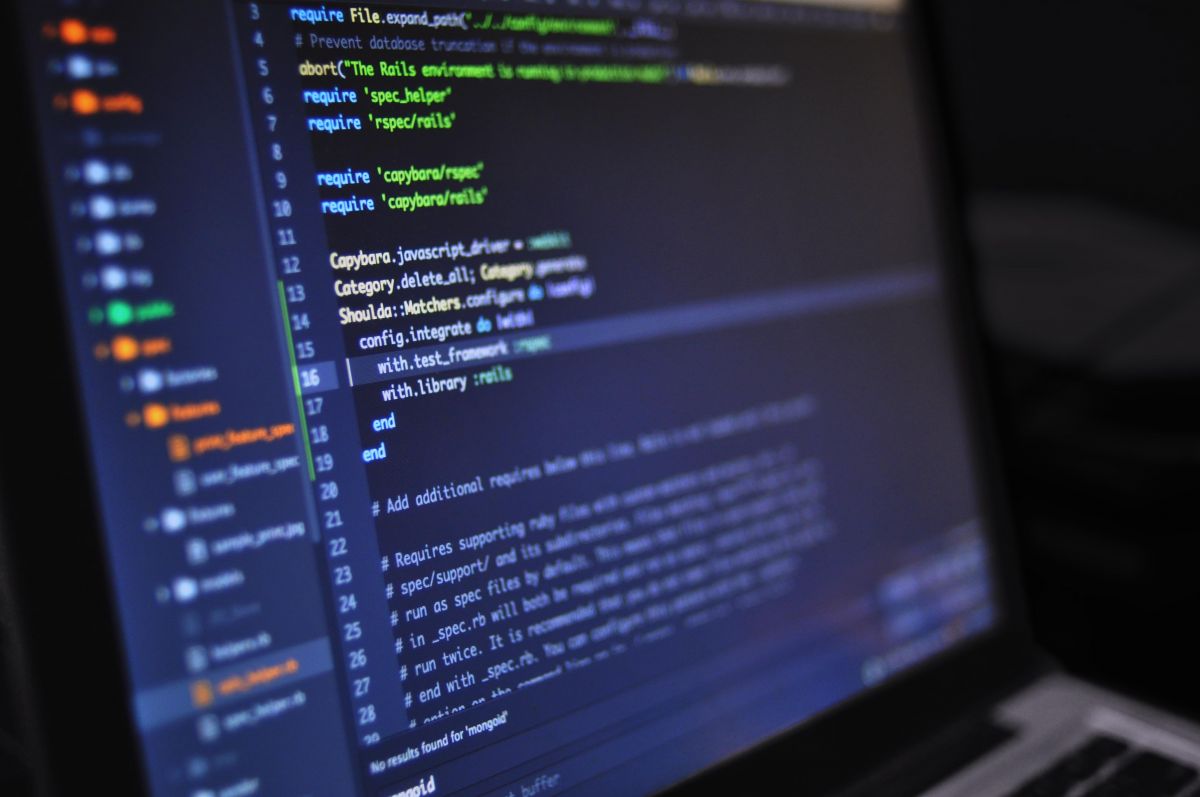 An example of coding for a website
Max describes the reasoning behind creating custom software, "At the end of the day, it's about streamlining. Streamlining, fixing problems, and creating efficiencies." With technology rapidly changing and improving, a lot of software is slowly becoming "unsustainable." Whether it's through a lack of systems communicating with one another, an outdated process, or bugs in old systems, the system itself becomes the problem. LVSYS sets out to solve these problems. Miles comments. "Your tool should not get in the way of you doing your job. Your tool should help you do your job to the best of your ability."
Here's where things get technical. In reality, software and custom system designs are difficult to understand for people who do not speak the language. As Max describes it, this is an "information disadvantage." But continue forward and we'll try to make this as clear as possible.
When LVSYS designs custom software, they have a self-prescribed list of criteria. Each system must be useable on different devices, meaning it's web, mobile, and tablet enabled. The system must be maintainable, utilize mainstream technologies, and use mainstream databases such as Windows or Linux. Employing "RESTful API" to build their systems, LVSYS can ensure that all the systems within an organization can communicate with each other. Last and most importantly, the software LVSYS produces must solve a problem or accomplish something new, meaning LVSYS takes the time to communicate with clients to discover what the problem is, and work out a way to solve it.
What does this all look like in practice? Let's look at a business. Like most businesses, it has multiple people working in different departments. In this case, sales, accounting, and shipping. The company gains business through generating and winning contracts. The first step the company takes on new projects is generating a quote. Upon winning the contract, the company then issues a RFQ (request for quotation) to various vendors to complete the project. Once they choose the various vendors, multiple purchase orders are created. The service orders are sent to accounting while the deliveries are sent to the warehouse where other employees must sort and reorganize as well as ship finished products off to customers. When LVSYS first spoke to this company, it was clear there was a problem in the way their current system managed all the paper work and information. The system was controlling how the company completed their process. To solve these inefficiencies, LVSYS built them a system to allow their process to control the system.
How LVSYS did this gets even more complicated. First, we need to understand Enterprise resource planning (ERP). This is a process through which many companies manage the important components of their business. An ERP management information system can be thought of as the center nervous system through which all the different computer systems are connected. This way, each department can have its own system that is optimized for the task at hand, but with an ERP software, information can be collected from the different departments and made available to other departments in a format that best suits the work to be completed. Here's how that can look:
The process starts with the sales department creating quotes. LVSYS has designed the sales system to include a custom quotation system. Now, complicated quotes that used to take several days can now take 10 minutes to create. Upon being accepted, these complicated quotes are automatically converted into Purchase Orders (PO). Once a PO is created, the system notifies the accounting department of the order and this information is instantly integrated and optimized for the accounting software. At the same time, the PO is sent to the warehouse in the best format possible to collect and ship the materials. The system automatically creates a shipping label and even tracks the orders once they are sent, notifying both the accounting department and the warehouse once the materials arrive. Essentially, the ERP system optimizes, manages, and in some cases, reengineers how a business operates. According to Max, "Now they can send out quotes much faster, which means they will land more of them. The company ultimately grows their revenue through optimizing their operating process."
| | |
| --- | --- |
| | "We're going to deliver a product at the end of the day that is completely tailored to the needs of the organization and factors in the human process." - Max De Lavenne |
Sounds simple, right? The complexity of designing these systems takes the right person, and LVSYS employees truly love their jobs. According to Miles, one of the best parts of the job is helping people solve problems that are truly frustrating them: "We're in the business of making companies run better. At the end of the day, that's really what we do. The better that companies run, the better the economy runs, the more people get hired." Max holds that not only do you get the satisfaction of helping people, there is a personal satisfaction of solving a problem and doing work that is intellectually challenging. Employees at LVSYS get to work with new technologies every day. In an industry like software, there is a never-ending process of learning, and this is something that Max is passionate about.
Beyond the work, there is something special about LVSYS that makes their employees want to work there. According to Max, "Work-life balance is key to our corporate identity." The culture at LVSYS is one where employees are friendly, hobbies are encouraged, and work gets done in the most collaborative way possible. It's about "creating a workplace that is super friendly and matches our lifestyle. Good, quality work comes out of having a balance between the stuff you want to do at work and the stuff you want to do in your own time." This means grabbing a beer at the end of work to discuss any problems that have come up during the day, it means discussing new challenges in team meetings and collectively arriving at the right decision, and it means looking for employees who are humble, have a sense of humor and ultimately, are optimistic about the future.
Both Miles and Max hold that one of the things that contributes to this work-life balance is being in McMinnville, and specifically, on Third Street. Max points out the ability to go down the street, grab a sandwich, grab a coffee, and run into a client, as well as the positive mentality surrounding the community. With Linfield College nearby, there is a direct relationship to future workforce (currently 80% of their workforce are Linfield alumni), while the shorter commute times means more time for employees to spend with their friends and families. According to Max "You get all the benefits of a large city without having to live in one."
Miles talks about McMinnville's location and business community. "I would describe it as a pro-business town. There's a thriving business community. McMinnville is a great home base as well. One week, I went to the beach, the mountains, and the high desert. All of these places were about an hour or two away. You can't get that kind of lifestyle many places in the world, but we have it here." With more job opportunities for young professionals at higher wages, there is a chance for people to have the type of lifestyle they desire at prices they can afford.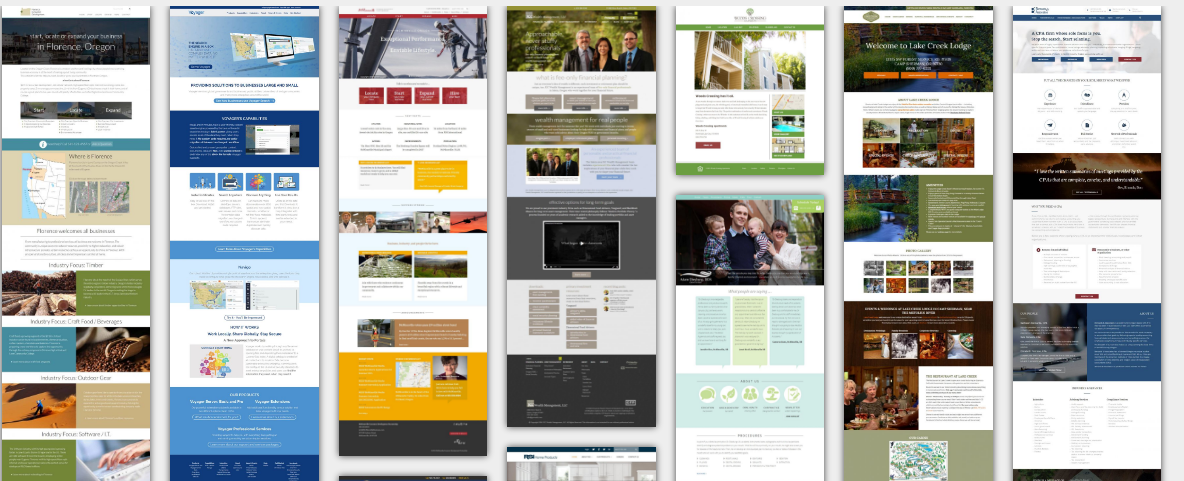 A sample of the website work LVSYS has created
Based on all of this information, it's not surprising that LVSYS is in a growth period. In fact, the company expects to double within the next year. They have recently purchased a new space on McMinnville's Third Street to help accommodate this growth. They aim to move into the new building in March of next year.
LVSYS takes this growth seriously: "We don't make reckless decisions. Rather, we take the time and care to make sure our growth is sustainable." With a product that helps businesses succeed, in a field that is continually expanding, and with employees who seem to genuinely love where they work and live, we can't wait to see how far the company can go. By computing for the human element, the company has created ways of working (ask them about their agile process if you get a chance) that benefits the client and creates a continuous dialogue to ensure they are delivering the best solution possible. They are doing this all in an environment that helps their employees find a balance and in a community where they can be proud to make a difference.
At MEDP, our Tech Terroir initiative focuses on growing tech in Oregon's wine country by highlighting the creative networks, technical expertise, and collaborative spirit of the emerging tech industry in Yamhill County. Curious about starting, locating, or expanding a company in McMinnville? Call or email us today.