Ultimate RB: Sustainable and Environmental Growth
Ultimate RB was established in 1985 and has been a thriving manufacturer in McMinnville ever since. The company recycles used tires to make rubber matting and has grown through different owners and processes to become the world leader in recycled rubber technology based on polyurethane innovation.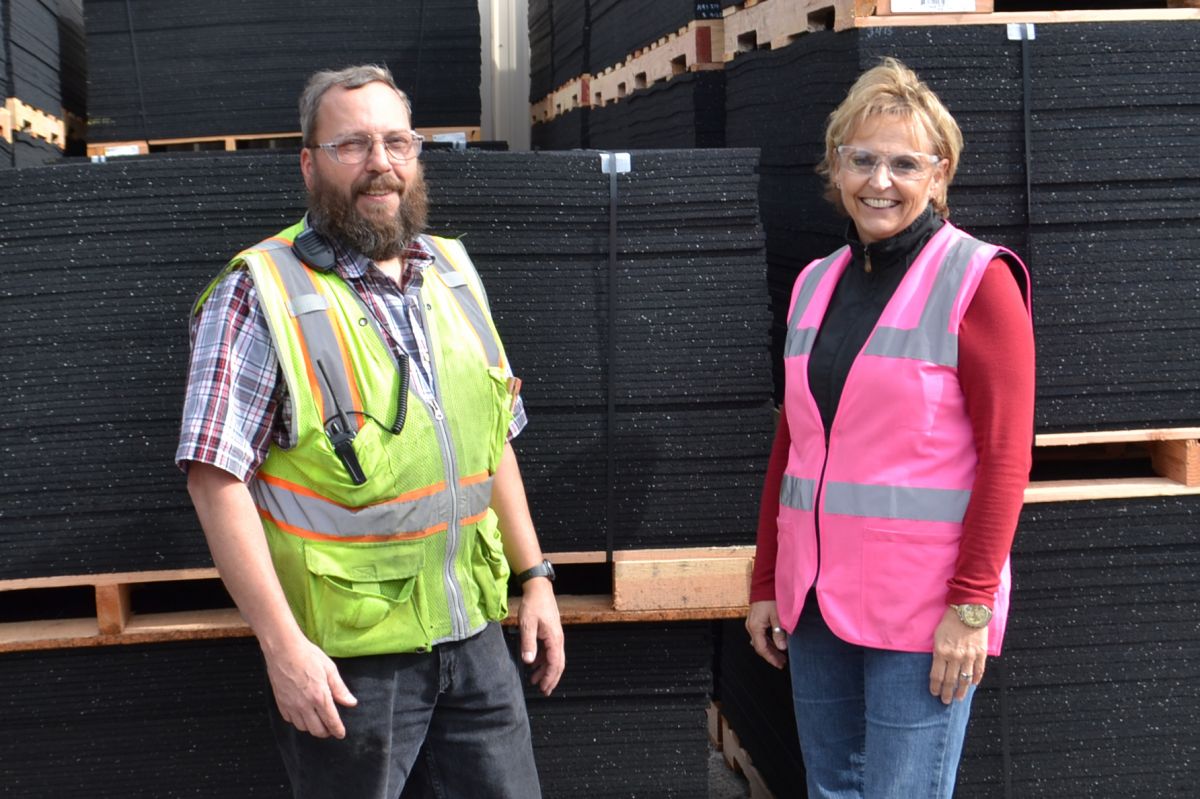 Director of Office Operations, Sue Mathews, and Manufacturing Project Engineer, Dan Dunham stand by product ready to be shipped.
Resources Used by Ultimate RB:
McMinnville Economic Development Partnership
Oregon Manufacturing Extension Partnership
On-the-Job Training Program from WorkSource Oregon
Company Stats:
95 Employees (2017)
50,000 sq. ft. facility on 2 acres
MEDP Manufacturer of the Year (2016)
Polyurethane Bound Recycled Rubber:
Ultimate RB began with one man's mission: keep used tires out of the local landfill. What had been created from one thought is a company that does exactly this by creating products that are practical, help keep children safe, and use up to 96% of post-consumer waste in their products. Through innovation and strategic expansion, Ultimate RB has been able to expand their product lines and workforce over the course of their 30+ years of business.
In 1985, an Oregon native, Ron Bough purchased an experimental process to make matting out of tires. Originally named RB Rubber, the company was established in McMinnville and soon grew to become the leading manufacturer of equine matting in the U.S. Like most businesses, success came with continuing innovation. By 1995, the company had also established a process that allowed used tires to be recycled into playground safety tiles along with other products and by 1998, the company had purchased a tire recycling plant.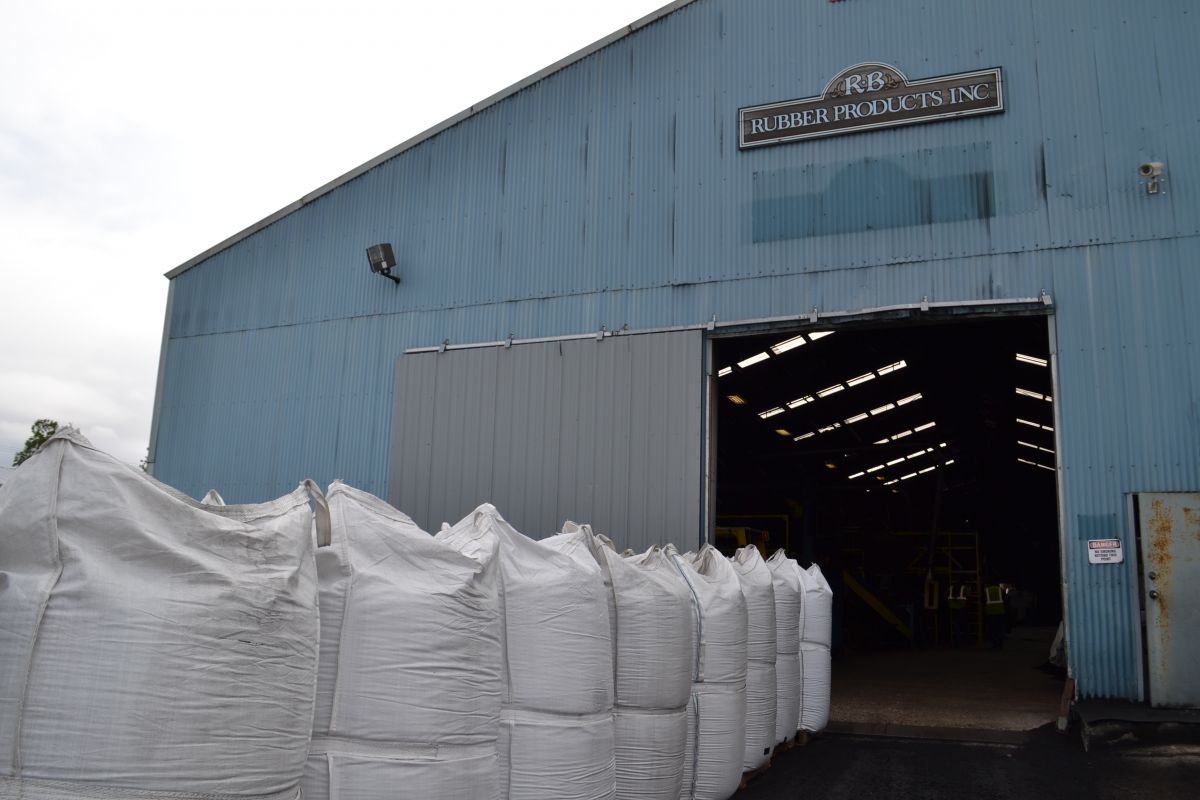 The Ultimate RB facility is located in McMinnville's Urban Renewal Area
In 1999, the company was purchased by Accella Performance Materials (formerly DASH Multi-Corp). With the new combination of companies and the purchasing of new processes in 2014, the company updated their name to reflect their level of innovation and entrepreneurial spirit: Ultimate RB. Currently, the company stands apart from other tire recycling plants thanks to their acquired RDT manufacturing and RTH processing.
Along with creating products with leading edge technology, the company is constantly working to make the facility a safer and greener place to work. Sue Mathews, Director of Office Operations states: "We provide a really safe environment for our employees. That's number one in our book." Manufacturing Project Engineer, Dan Dunham, focuses on the company's sustainable practices with a list of strategies they use from electrically heated presses, to an air compressor that fluctuates on demand, to the smaller components, like motion sensored lights. This dedication to environmentally friendly practices nicely compliments the fact that the company recycles 15,000 tires a day. That's over 4.6 million tires a year.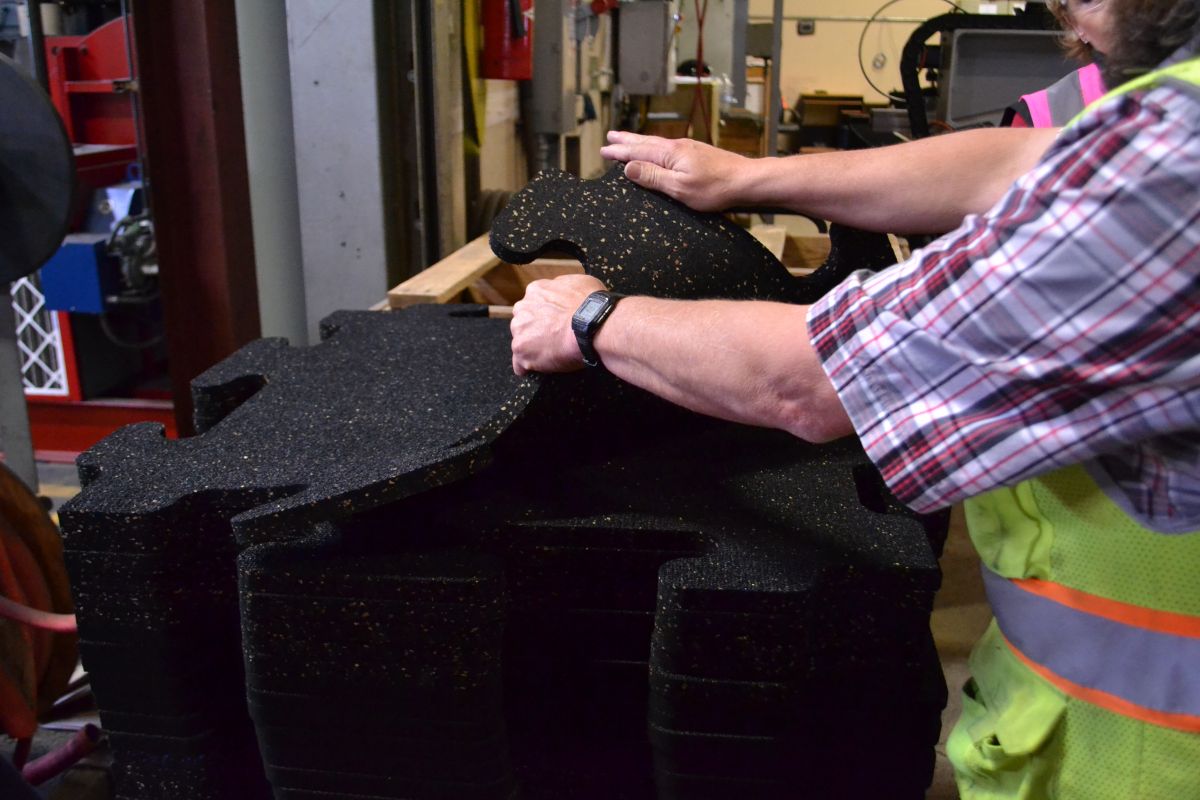 Dunham shows an example of playground tiles the company makes
McMinnville has grown and changed around the Ultimate RB facility. Mathew states, "When I first came in 2000 RB Rubber was the best kept secret in McMinnville." Now the company is placed near many thriving wineries and breweries and always looks to buy local before considering anywhere else. Dunham continues, "The town grows up around you."
With the company's success they have also seen growth. The amount of jobs they have available are growing, the capacity of what they are able to complete is growing, and the range of products they create is growing. In the workforce Mathews explains, "We're looking for people who want to come to work at a company and have it be their own. This is your company too." She explains that the longevity of Ultimate RB's office workers is amazing, with most being at the company for over 10 years. Not only this, Ultimate RB has a passion for promoting from within with supervisors coming up through the ranks.
Though the company stays at the forefront of innovation and automation, Dunham assures that there is something to be said for artistry. He states "The human is so much better at adapting to change" as he talks about the technology the company uses on a daily basis, he explains, "There's still some art in the molding of rubber."'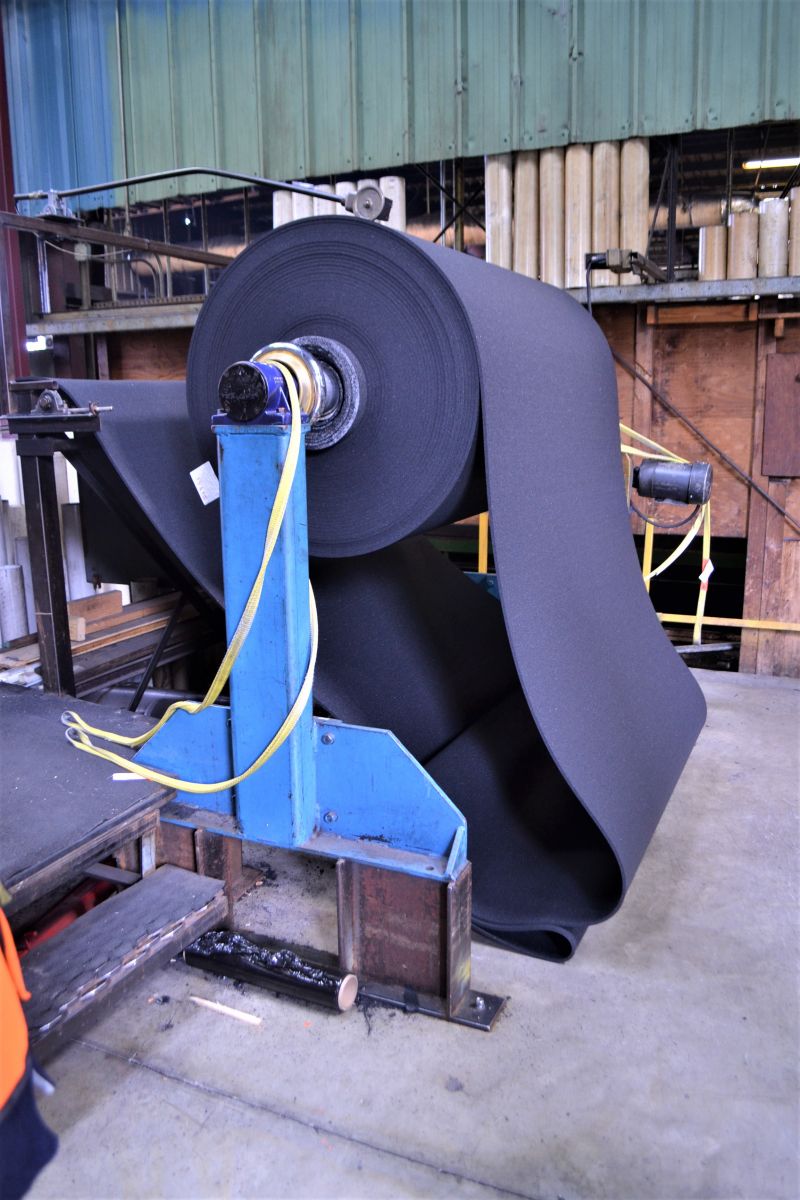 With a 50,000 square foot facility under roof and more than 2 acres of land, Ultimate RB employees over 100 individuals and expects to keep improving and growing as demand rises. With a higher interest, more tires will be kept out of landfills and Ultimate RB will continue to make the U.S. and McMinnville a more sustainably friendly place.
Learn more about Ultimate RB at http://www.ultimaterb.com/
To read more, see our newsletter: