Business Tools
We're your one stop business development office. Whether you're starting, expanding or relocating a business to our community, we have the connections and tools that will smooth your way.
Business Rises in Oregon from Business Oregon on Vimeo.
Our connections are your connections
MEDP will connect you to local, regional and state resources to help streamline your development. Our team is ready to meet with you to answer your questions about our community, business environment and property inventory. Just give us a call today.
Our staff can provide the following confidential services:
Property Searches
Site Selector Hosting Services
Data and Market Research Tools
Media Relations Services
Employee Recruitment and Training Connections
Financing and Loan Connections
Properties
McMinnville has properties available for lease, purchase or build-to-suit. Click here to browse what's available. Still need more help, give us a call at 503.550.8504
Building or redeveloping a property?
We recommend starting with a pre-application meeting. It's one meeting where you will be able to connect with each city department relevant to your project. There is no cost except your time.
To connect to the planning department or arrange a pre-application meeting, contact:
The City of McMinnville Planning Department
Hours: Monday - Friday 8 a.m. - 5 p.m.
Community Development Center
231 NE Fifth Street
McMinnville, OR 97128
503.434.7311
Business Planning
When starting or growing your business, MEDP recommends a few steps to help your new venture.
Step 1 - Do some preliminary research. What type of business are you launching? Are there similar business in town? What is your competitive advantage?
Step 2 - Start or update your business plan. Our friends at the Small Business Development Center and MERIT office can help get you started on this important step.
Step 3 - Need more ideas to help plan your business?
Visit Xpress for more step-by-step instructions on business planning and required registration information.
Looking for financing?
When you are ready to work with a bank, we have a referral list of community and local banks. The type and size of your business will help us determine a possible best fit. You might also take a look at The Entrepreneurial Development Loan Fund, which is a program to help start-ups, micro-enterprises and small businesses in Oregon. There is also the Yamhill County Revolving Loan Fund, which is a regional program with a low interest rate. Please contact John Safstrom at jsafstrom@mwvcog.org to learn about the criteria.
Here are a few of the loan programs available (click the chart to expand):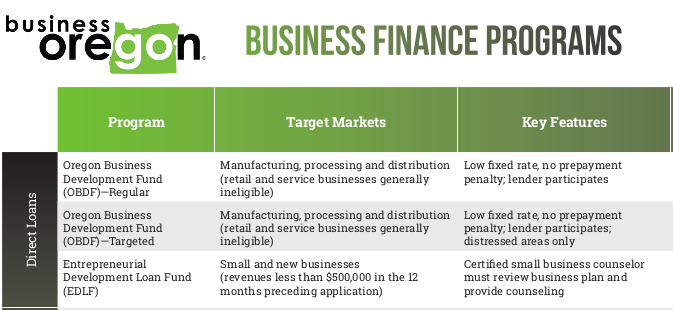 Home-based Businesses
If you are planning to open a home-based business in McMinnville, you will need to get a home occupation permit. Application here.
Or visit The City of McMinnville Planning Department
Hours: Monday - Friday 8 a.m. - 5 p.m.
Community Development Center
231 NE Fifth Street
McMinnville, OR 97128
503.434.7311