Our story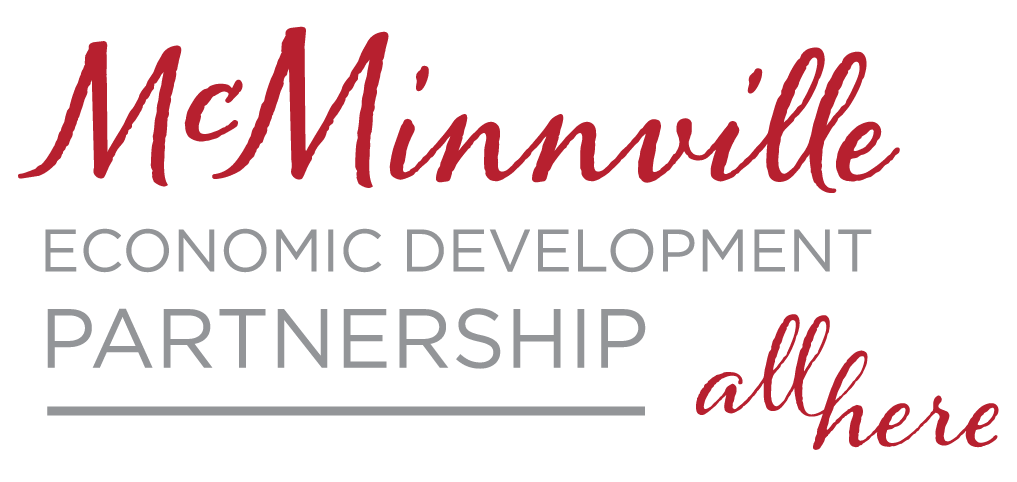 Sustainable economic vitality
Our mission is to advance strategies that respond to the needs of McMinnville's traded-sector businesses.
MEDP leads efforts that foster a thriving epicenter of traded-sector business in McMinnville. We define traded-sector as any company that creates goods or services used or consumed outside of the region. We focus on this sector not only in the support of high-paying jobs, but also due to the need to continually bring new money into the community.
A true partnership
Launched in 2004 as a volunteer effort under the name MOREDI, the McMinnville partnership was formed to address the critical need for a one-stop business development office. The primary work was to support recruitment efforts.
In early 2006, MOREDI became the McMinnville Economic Development Partnership (MEDP) and secured long-term funding commitments from its founding partners - McMinnville Water & Light, The McMinnville Area Chamber of Commerce, McMinnville Industrial Promotions, the City of McMinnville, and area businesses.
Partner representatives agreed to serve on the board of directors. MEDP moved from a volunteer effort to a full-time staff dedicated to business recruitment, retention and expansion in McMinnville, with an office upstairs from the Chamber of Commerce. The first Executive Director was hired in September 2006 followed by the first Marketing Specialist in August 2012.
To learn more about our partnerships and how you can support the work we do with local, regional, national and international businesses, visit our Investor Circle.
---
"Wow! Totally impressed with the McMinnville Economic Development Partnership. I called with a roadblock/issue I was having with my business expansion and Jody was incredibly helpful, kind, and prompt. She found the resources for me, opened the lines of communication, and solved half of my problems right away!"
– Kristen Stoller, Chehalem Valley Dance Academy
Looking for more information? Give us a call at 503.474.6814