Business loans and resources to help you grow
Money, money, money says the old song. It's tough to grow without capital, we know. We're here to connect you with local, regional and state resources for business loans, grants and other options for needed funding.
We're also connected to the right people who know about everything from matching grants to staff training and development to urban development resources or historic preservation. Talk to us about what you're trying to accomplish—find a new building and finance it, hire more staff and train them, reach new markets, relocate and remodel, or refurbish an historic building. There are an amazing number of resources out there. We can help.
Looking for financing?
When you are ready to work with a bank, we have a referral list of community and local banks. The type and size of your business will help us determine a possible best fit. You might also take a look at The Entrepreneurial Development Loan Fund, which is a program to help start-ups, micro-enterprises and small businesses in Oregon. There is also the Yamhill County Revolving Loan Fund, which is a regional program with a low interest rate. Please contact John Safstrom at jsafstrom@mwvcog.org to learn about the criteria.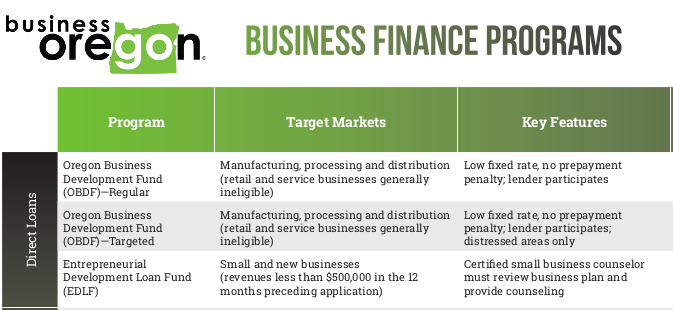 Here's the link to the above table, if you would like a .pdf for reference. http://www.oregon4biz.com/assets/docs/Biz-Fin-Table.pdf