From rebar to fruit bars ... it's McMinnville MADE
Our local industries thrive in this community. Having an effective local government, affordable utilities and collaborative business leaders helps everyone's bottomline. We are all here to prosper, to enjoy an enviable lifestyle, and to make a difference in a community of exceptional performers. You can be too!
From rebar to fruit bars

Home to more than 75 manufacturers from steel to food products to hand-crafted knives to plastic tubing, our community has a long history of a diverse, globally competitive business environment. Many companies cooperate to integrate lean manufacturing processes or bring in training programs to improve their workforce. Will you join us?
A few of the companies who make products in McMinnville:
NW Unmanned Aerial Vehicles, Cascade Steel Rolling Mill, Mission Foods, Freelin-Wade Co., Betty Lou's Inc., Meggitt Polymers and Composites, Applied Physics Technologies, and William Henry Knives, among others.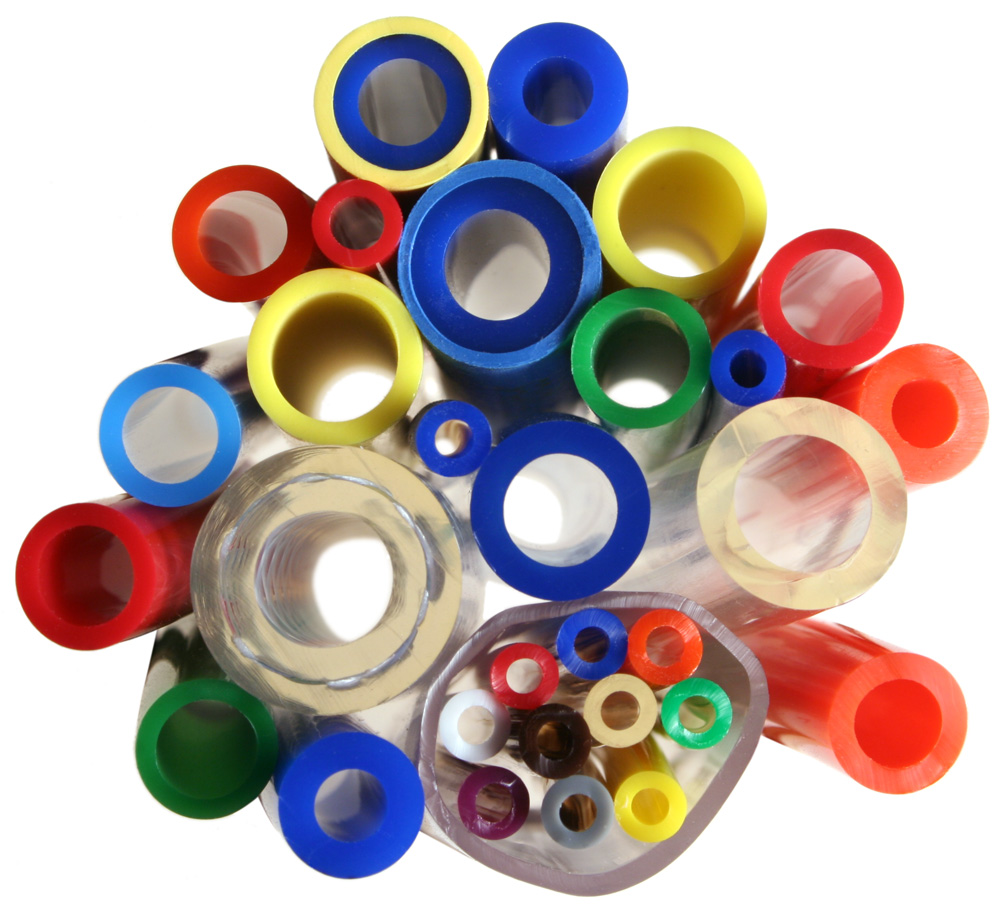 Pictured above: Freelin-Wade Company's plastic tubing
Learn more about what is made in Yamhill County in the News Register's special edition: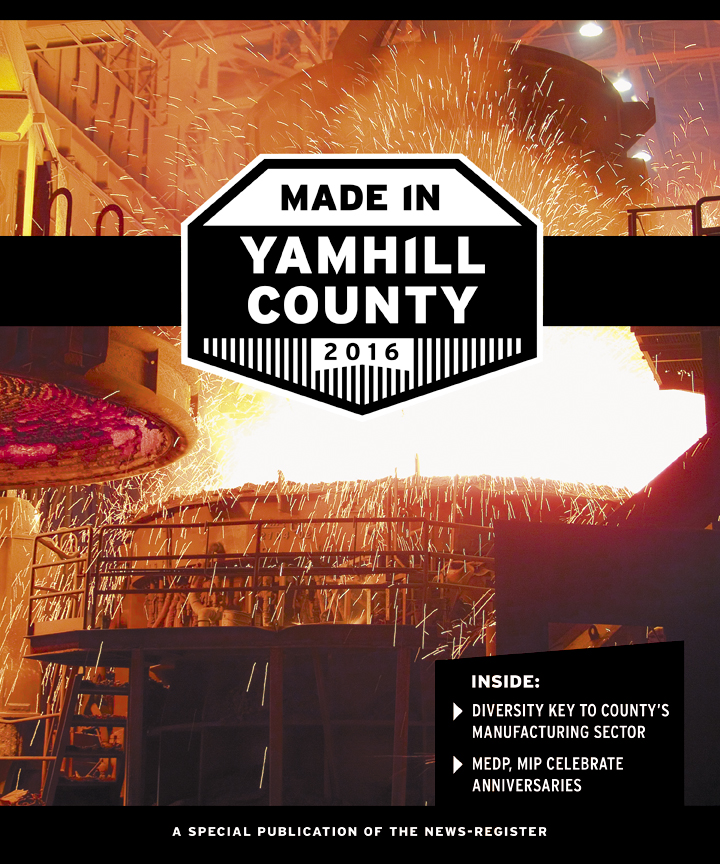 Lower costs help us all
McMinnville, Oregon makes great business sense. We have the lowest electricity rates in Oregon and the lowest water rates in the region.
Our local utility providers are ready to talk with you about services. Our providers include: McMinnville Water & Light (a publicly owned utility), NW Natural Gas, and Online NW (a local, full-connectivity, fiber internet and telephone provider).
What's the benefit of doing business in McMinnville, Oregon?
Oregon does not have ...
General sales and use tax
Receipts/revenue tax
Inventory tax
Worldwide unitary tax
Motor vehicle excise tax
State capital tax on asset value
Direct levies on intangible properties, e.g., stocks, bonds
Corporate Income Tax—Single Sales Factor
Plus, Oregon's workers' compensation is one of the lowest in the nation. The costs will decrease an average of 5.3 percent in 2015.
Click here to see Oregon Business Cost Comparisons
We understand the importance of manufacturing in McMinnville. From our city's annual Manufacturing Day Proclamations to Linfield's industry tours, we know a strong, lean manufacturing base is critical for our economic vitality.
"Latest data shows that for every dollar spent in manufacturing, another $1.48 is added to the economy— the highest multiplier of any sector. Manufacturing also supports good jobs—with starting salaries 38 percent higher than other sectors."
Key Industries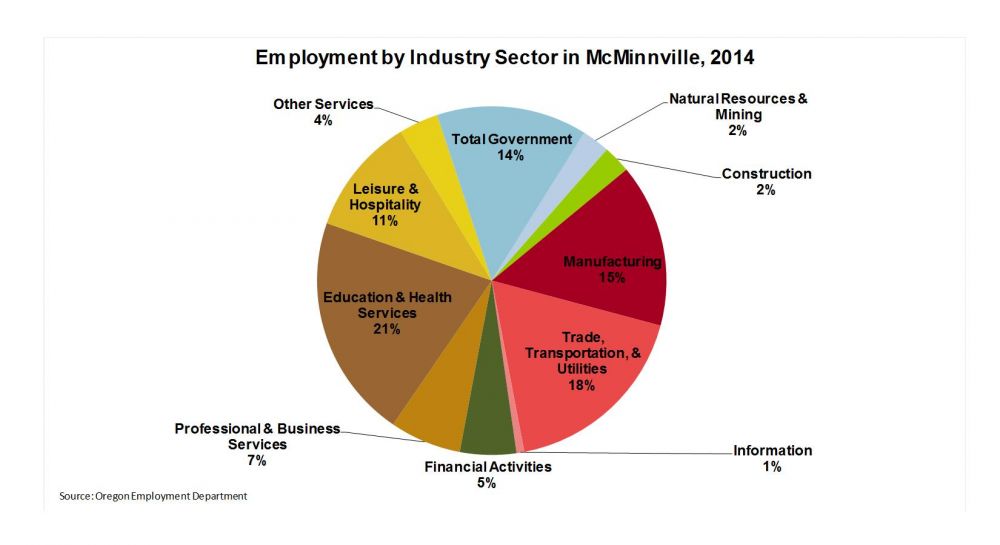 Top Employers
McMinnville's Largest Employers
Full-time Employees


(updated August 2015 Data)

Cascade Steel Rolling Mills, Inc.
462
Willamette Valley Medical Center
489
Linfield College
431
Express Employment Professionals
350
Betty Lou's, Inc.
236
Meggitt Polymers and Composites
281
Oregon Mutual Insurance
190
Walmart Stores, Inc.
176
World Class Technology
110
RB Rubber
82
Mission Foods
102
Freelin-Wade Co.
107
Skyline Corporation
110
NW Unmanned Systems
60
Elk Creek Forest Products
52
Black = Largest Private Sector Employers
MEDP Annual Awards
Since 2007, the MEDP Board of Directors have recognized the outstanding companies and individuals that have contributed to the growth of our local economy through workforce development, best practices and a positive company outlook.
Manufacturer of the Year
2016 – Ultimate RB
2015 – Freelin-Wade Company
2014 – Applied Physics Technologies
2013 – Solid Form Fabrication
2012 – Betty Lou's Inc.
2011 – NWUAV
2010 – World Class Technology
2009 – Meggitt Polymer Solutions
2008 – Cascade Steel Rolling Mills
2007 – Amerson Precision Sheet Metal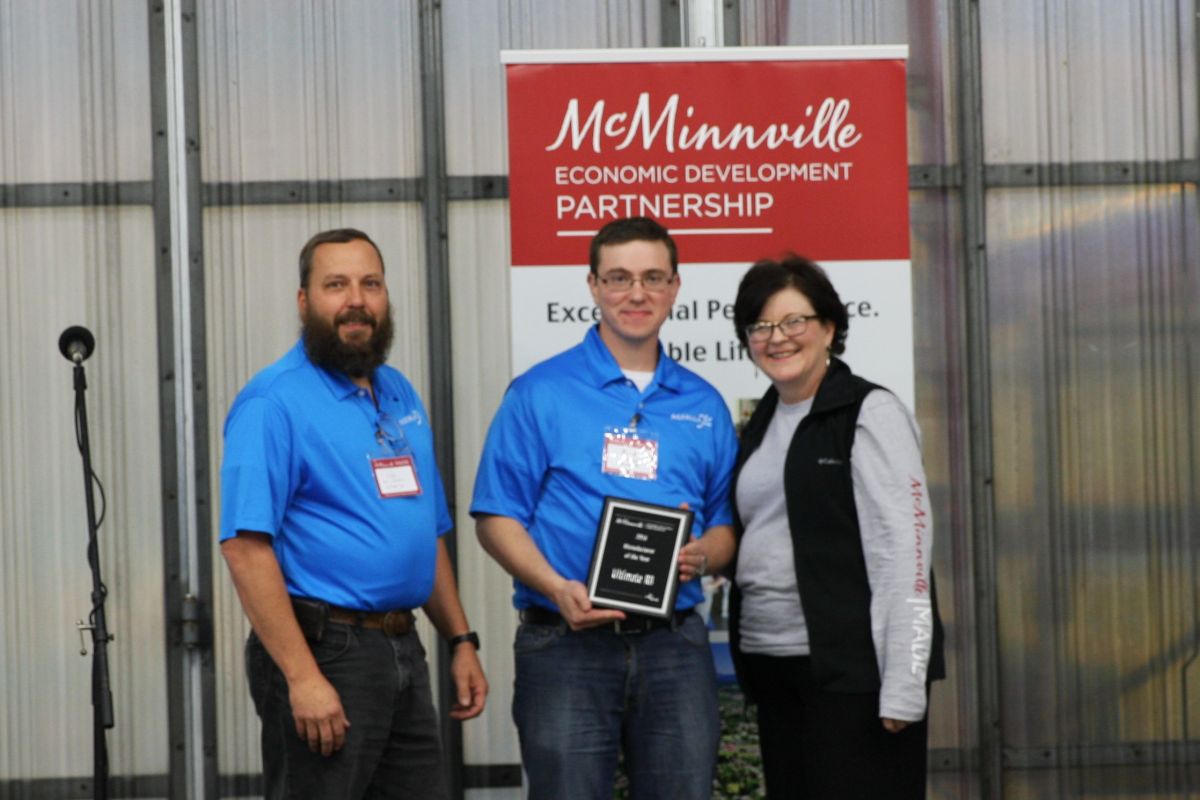 Ultimate RB receives Manufacturer of the Year 2016
Manufacturing Leader of the Year
2016 – Shon Holyfield & Shahab Emrani, TTR
2015 – Rolf Hagelganz, World Class Technology Corporation
2014 – Peter Kircher, Golden Valley Brewery and Restaurant
2013 – Jeff Dyck, Cascade Steel
2012 – Jeremy Lodge, Meggitt Polymers & Composites
2011 – Dave Miles, UFP/D Stake Mill
2010 – Chris Harris, NWUAV
2009 – Betty Lou Carrier, Betty Lou's Inc.
2008 – Lori Payne, BASi
2007 – Sherl Hill, Freelin Wade Co.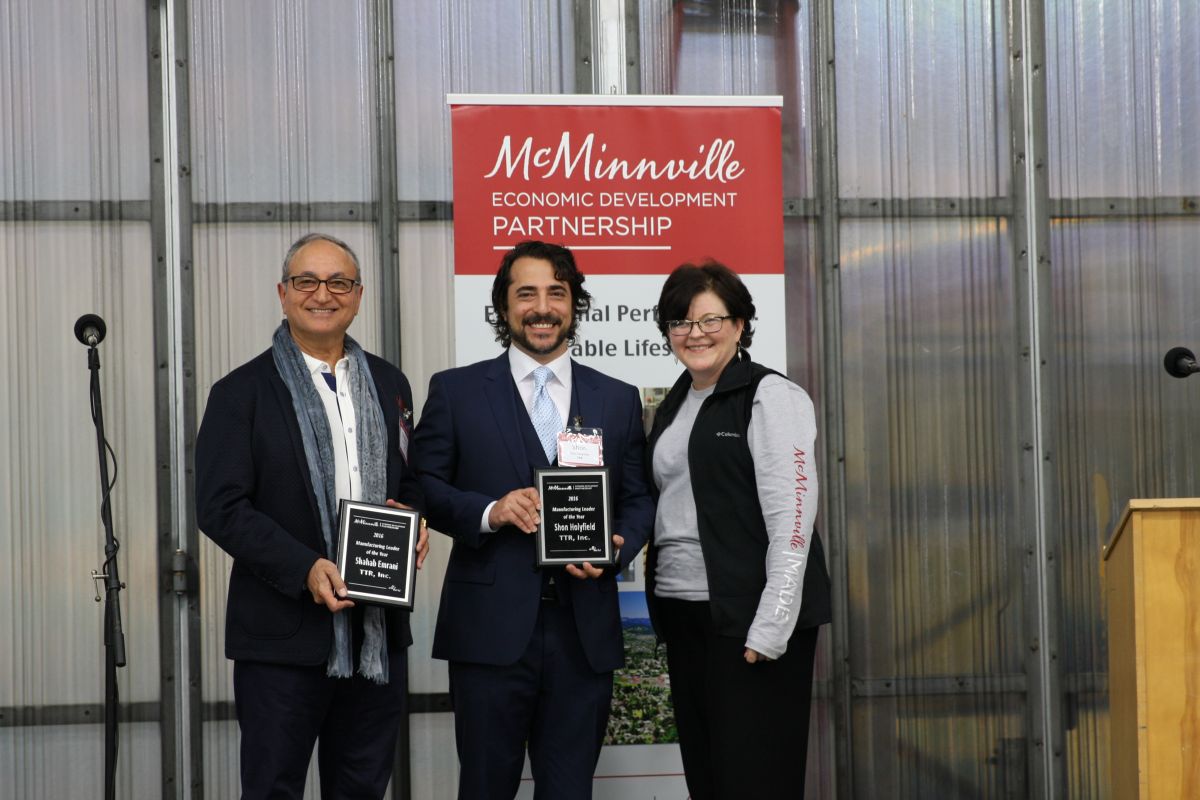 Shon Holyfield and Shahab Emrani of TTR receive Manufacturing Leaders of the Year 2016
Board of Directors Award for Outstanding Partner of the Year
2016 – Gary Conner, OMEP (Oregon Manufacturing Extension Partnership)
2015 – Linfield College Career Development
2014 – The McMinnville Works steering committee – Sherl Hill, Freelin-Wade, Deven Paolo, Solid Form Fabrication and Brian Van Bergen, Yamhill County Clerk
2013 – Climax Portable Machining and Tools (for mentorship on the summer internship program)
2012 – Business Oregon – Director Tim McCabe, Innovation Director Karen Goddin and Business Development Officer Mitchell Gee
2011 – Industrial Park Fiber Extension Project Team: Pacific Wave Communications/OnlineNW, McMinnville Industrial Promotions, City of McMinnville & McMinnville Water & Light
2010 – Incite Inc. (Previously Job Growers, Inc.)
2009 – Business Oregon's Regional Business Development Officer Tom Fox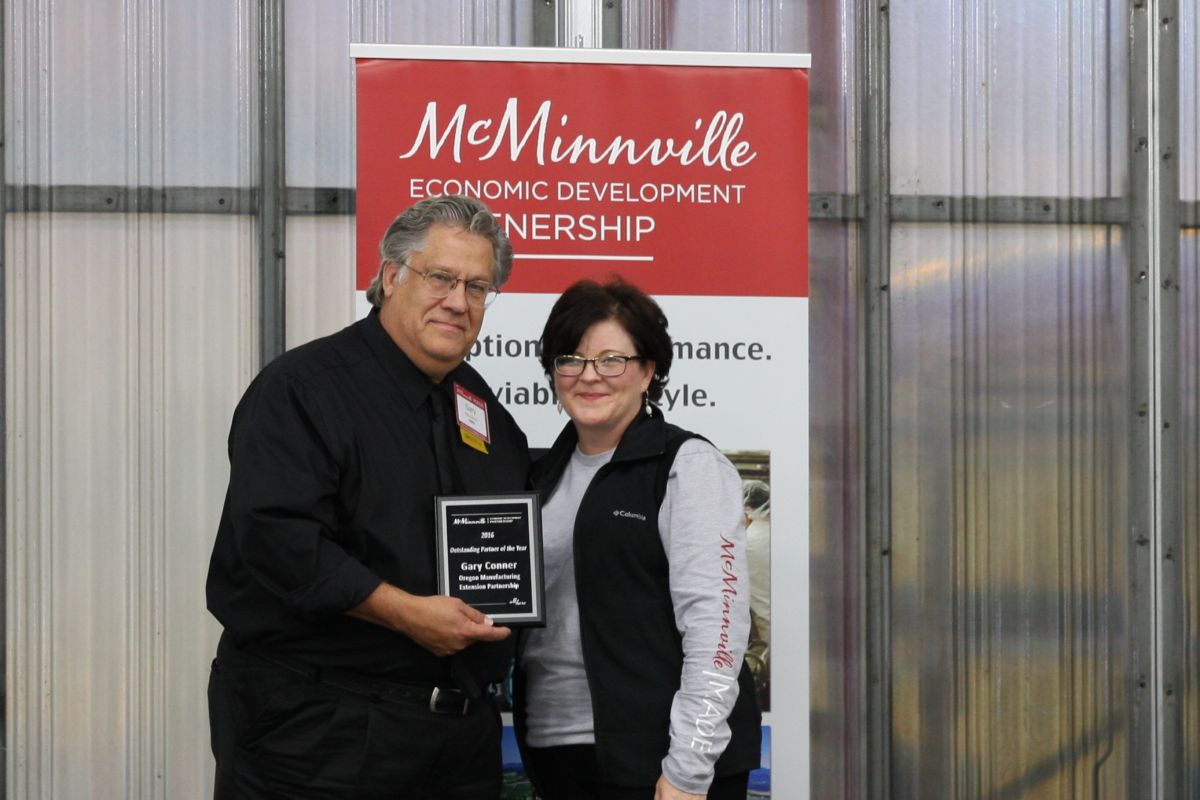 Gary Conner of OMEP (Oregon Manufacturing Extension Partnership) receives the Outstanding Partner of the Year Award 2016