Business Resources
We can help, no matter what stage of the business process you are in. Whether you're looking for the tools to help you create a business plan, financing to get your business off the ground, or information on how to expand, we can connect you to the right resources.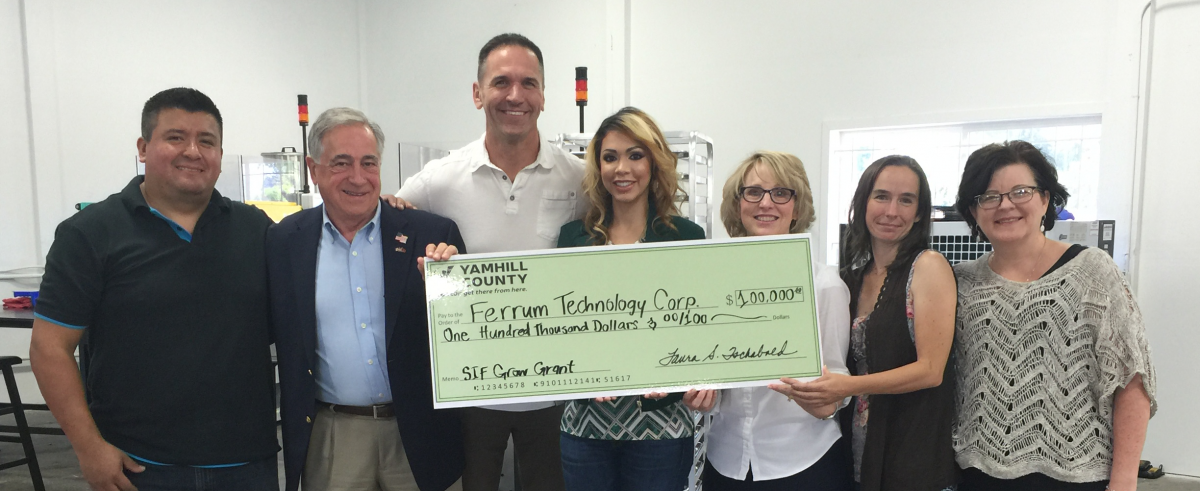 Ferrum Technology Corp. received a grant from GROW Yamhill County
in 2016 with assistance from MEDP
---
One-on-One Consultations
MEDP will connect you and your business to local, regional, and state resources to help streamline your project. Our team is ready to meet with you to answer your questions about our community, business environment, and property inventory.
We provide the following, confidential services:
Property Searches
Site Selector Resources
Data and Market Research Tools
Employee Recruitment and Training Connections
Financing and Loan Connections
Call or email us to set up an appointment today!
---
Business Planning
When you're ready to start planning your new business venture, we have the simple steps to get you started.
Step One: Research
Do some preliminary research. What type of business are you launching? Are there similar businesses in town? What is your competitive advantage?
Step Two: Planning
Start or update your business plan. Our friends at the Small Business Development Center specialize in helping entrepreneurs get started on this important step. We also have connections at SCORE, a free business counseling/mentoring service.
Use this Starting a Business Checklist to get on your way.
Looking for startup consultation? Contact:
Mike White, Venture Catalyst
Launch Mid Valley / Oregon Entrepreneurs Network
971.273.3456
Mike@oen.org
Looking for a consultation with SCORE? Contact:
Bill Taylor
Certified Counselor, SCORE
503-857-0292
wtaylor128@aol.com
Learn more about the resources the Small Business Development Center:
Chemeketa SBDC
503.399.5088
sbdc@chemeketa.edu
626 High St NE, Suite 210 Salem, OR 97301
Step Three: Establish Yourself
To establish your business you'll need to register it with the state of Oregon, get the proper license and permits (FYI: McMinnville does not require a business license), get tax numbers, and learn about employer obligations.
Business Xpress has all of this information and more in their Startup Toolkit
Step Four: Financing
Step Five: Continuous Improvement
We're happy to help you find the resources you need to improve, no matter what type of business you have. Whether it's implementing lean manufacturing principles, seeking funds, or training new employees, call us and we can help.
---
Financing
When you're ready to work with a bank, we can supply you with some valuable information from data to grant programs to the SBA. If you're looking for a loan, we know the best places to start. Contact us when you want to learn more about the various financing programs we have available.
Local Resources
When you're ready to talk about financing your business, we have a referral list of community and local banks. The type and size of your business will help us determine the best possible fit. Contact us to learn more.
Regional Resources
The Yamhill County Economic Development Grants Program offers three opportunities:
State Resources
Loans and Bonds

Other Programs
Renewable Energy Development Grants - Awarded to Oregon businesses, government agencies, and non-profits who want to invest in renewable energy.
---
Continuous Improvement
Whether you've been in business for a while and feel you need a reboot, or you're just getting started and want to learn the most efficient way to lay out your shop floor, we know who you should contact.
MEDP Events
We care about the health of the McMinnville economy and supporting all businesses in the region. Visit our Event Page to see if we have any upcoming events for local manufacturers and businesses like our 2017 NEXT Series.
Lean Manufacturing
Lean manufacturing describes the process of eliminating waste within a manufacturing process. Not only can lean create efficiency on a shop floor, it can eliminate costs of doing business and help companies grow.

OMEP (Oregon Manufacturing Extension Partnership) is a non-profit organization designed to help Oregon manufacturers compete in a global market. Call us to learn more about OMEP's programs and whether your company may qualify for a grant.
---
"It's an 'all hands on deck' partnership. McMinnville rolls up their sleeves and they go to bat for you. They know we're always on a time crunch, and it seems like they are always right there to help."
– John Sizemore, Vice President of Sales, Betty Lou's, Inc.
Looking for more information? Give us a call at 503.474.6814