Live Here
Living in McMinnville means being plugged into a close knit community. From our events, the restaurants and wine, and how people treat each other when they walk down the street, McMinnville has something special about it. Just ask the people who live here and they'll tell you that it's unlike anywhere else.
Some, like Emily Grosvenor in her blog "Tiny Travels" for Visit McMinnville, call it the "Nuance of Nice." McMinnville is where people with big dreams and the drive to achieve them come to live a small-town lifestyle. It's where cars stop within a few seconds for people waiting to cross the street. It's a place full of people who genuinely love this town and whose actions reflect that daily. Becoming an engaged member of our community is easy, we welcome you and your ideas with open arms.
---
History of McMinnville
McMinnville, Oregon was founded by a man named William T. Newby who took claim of the rolling hills and meadows he discovered in Oregon during an expedition in 1844. He named the town after his hometown: McMinnville, Tennessee. McMinnville has always been conscious of our rich and storied past and have worked to keep original landmarks preserved. This dedication to the past while looking towards the future has created a town that strives to create a welcoming community. Take a stroll around our cherished Third Street and our historical Granary District to feel and see some of the history that surrounds our city.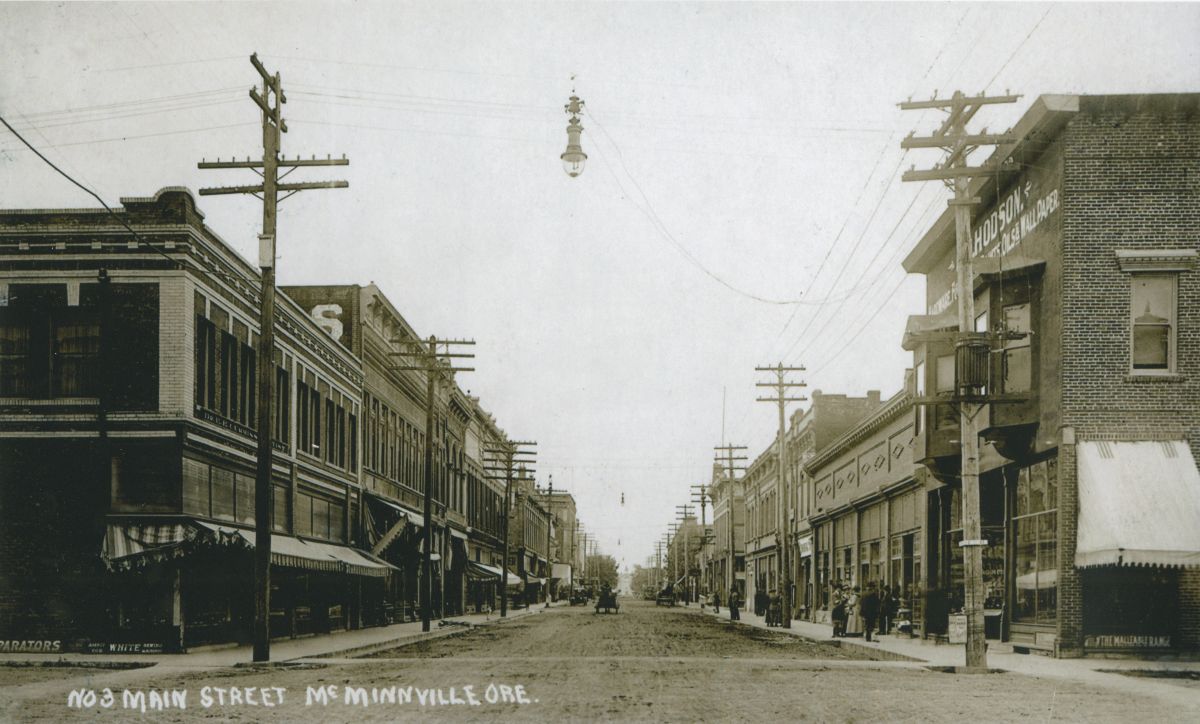 To learn more about the history of McMinnville, visit HistoricMac.com - a project dedicated to the history of McMinnville's buildings and their stories.
---
Community Events
McMinnville is home to renowned and cherished events and festivals. From the long-lived Turkeyrama, to the glorious International Pinot Noir Celebration to the bizarre excitement that surround the UFO Festival, we know how to eat, drink, and play well - all year round.
Ready to join us?
Annual UFO Festival
Turkey Rama Weekend Festival
3rd on 3rd
Thursday Farmers Market (May through October)
Concert on the Plaza (Thursdays evenings during the summer)
The International Pinot Noir Celebration (IPNC)
Saturday Market at the Grange
Yamhill County Fair and Rodeo
Brews and BBQ's Festival
Linfield College's Summer Concerts in the Grove
Safe and Sane Trick or Treat Halloween on Third Street
Santa's Parade and Tree Lighting Ceremony
Art Harvest Studio Tour
There's always something to do in McMinnville. Check out the events pages at McMinnville Downtown Association, the News Register, and Visit McMinnville to see what's happening in town this week.
---
Cost of Living
The cost of living in McMinnville is 5% lower than the average cost of living in Oregon.
Median
Household
Income

$59,976

How Households Spend Money
$13,461
Shelter

$11,632
Transportation

$9,431
Food and Beverages

$5,449
Health Care

$4,772
Utilities
Cost of Living Index
| | | | | | |
| --- | --- | --- | --- | --- | --- |
| Index | McMinnville | OR | WA | CA | National |
| Cost of living | 112 | 118 | 118 | 141 | 100 |
| Groceries | 113 | 113 | 109 | 115 | 100 |
| Health care | 117 | 117 | 121 | 113 | 100 |
| Housing | 103 | 123 | 135 | 196 | 100 |
| Transportation | 129 | 129 | 123 | 133 | 100 |
| Utilities | 89 | 89 | 91 | 127 | 100 |
| Goods & services | 120 | 120 | 112 | 111 | 100 |
Cost of Living Index found at AreaVibes.com derived from Council for Community and Economic Research (C2ER) for the second quarter of 2021: "Each cost of living index is based on a national average of 100. If the amount is below 100, it is lower than the national average. If the amount is above 100, it is higher than the national average."
---
Get Connected
In McMinnville we have a close knit community members who love to participate in events, volunteer opportunities, arts and culture, and more.
For more information on education, healthcare, amenities and more, see our Community Profile page.
---
Shop Local
In McMinnville we take the term "Shop Local" seriously. With local boutiques, restaurants, breweries, home decor shops, and more it's not uncommon to walk in and be greeted by the shop's owner. When you walk down the West's Best Main Street with our world-class food scene, you'll see neighbors, coworkers and friends all enjoying everything that this town has to offer.
See videos of some of our local businesses. Videos produced by Visit McMinnville
---
"McMinnville is a family community. It's tight-knit. You know your neighbors, you know the businesses, and it doesn't take long to find the answer to a question."
– Fred Stemmler, General Manager, Recology Western Oregon
Looking for more information? Give us a call at 503.474.6814