McMinnville has the Perfect Soil for Tech to Grow
Doing business in McMinnville means building strong relationships, making a difference in your community, and participating in our culture of collaboration. Many communities can say that, but only in McMinnville can you live in Oregon wine country with nationally recognized schools, an award winning main street, and a diverse spread of amazing farm to fork cuisine. All of which makes for a pretty high quality of life. While we're at it, we should probably mention...
McMinnville has:
One of the lowest combined utility rates in Oregon
Available sites of all sizes
The third busiest regional municipal airport in the state
Fiber capacity of 100Mbps to 10G*
City advocacy for innovation development, R&D and more
Hundreds of new homes being constructed
and so much more.
*Numbers provided by local internet provider, OnlineNW
Want to see more of McMinnville's tech scene, check out our feature in TAO's Techlandia 2021/2022 Issue, page 14!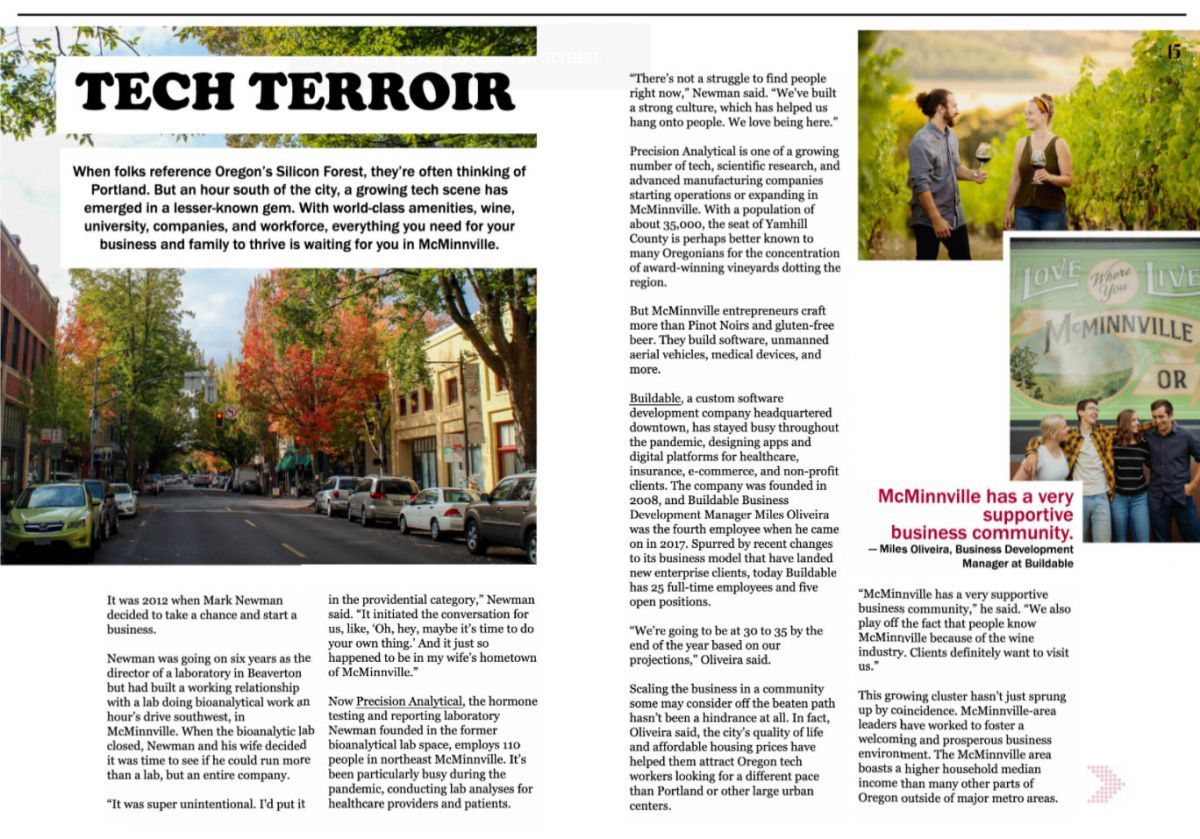 Want to learn about McMinnville's Innovation Center Concept off Highway 18?
With an emphasis on maximizing use of our limited industrial zoned acreage and focusing on the creation of 7 GREAT living wage jobs/acre, we are in the planning phase for an Innovation Center Campus on nearly 140 greenfield acres. Class A Corporate Office, Research & Development, Technology, and Advance Manufacturing in the heart of wine country. ARPA funding has been procured for the Highway 18 Infrastructure Feasibility Study, McMinnville's Municipal Airport up for a 2023 Master Plan, Three Mile Lane and Parkway Strategic Planning underway -- this area is primed for smart growth.
Want to learn more about the potential for an Innovation Campus? View the slide deck for the McMinnville Innovation Presentation by City Councilor, Chris Chenoweth; Community Development Director, Heather Richards and McMinnville Economic Development Partnership Executive Director, Patty Herzog.
Read more about manufacturing and innovation in McMinnville in the August 2022 Made in Yamhill County article by MEDP Executive Director, Patty Herzog.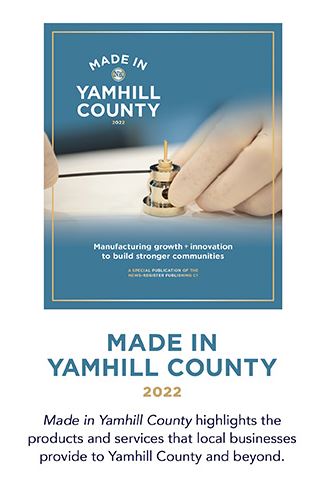 Sound like something you want to be a part of? Give us a call at 503.474.6814 to learn more
The Middle of Everywhere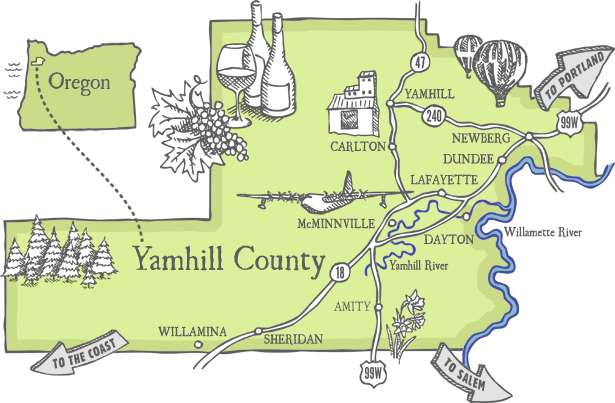 In the heart of the Willamette Valley and Oregon Wine Country, McMinnville is centrally located in the middle of everywhere. This means you're close to Portland, Salem, the Oregon Coast, mountains, forests, and more. Though you're not far from the metro area, in McMinnville, our amenities will keep you close to home.
McMinnville has:
Farm to fork dining
An award winning main street
Critically acclaimed wine and craft beverages
A plethora of arts, music, culture, and festivals
A strong focus on shopping local
In short... something for everyone
See our Community Profile for more information.
MEDP's Tech Terroir Initiative
We at MEDP recognize that creating economic vitality for the future of McMinnville means creating a strong technology sector in our community. Due to the nature of tech companies, we also recognized they can be located anywhere in the U.S. MEDP's Tech Terroir initiative aims to reveal McMinnville as a great place to grow a technology company. As part of our initiative we are building our community of tech companies in Yamhill Valley with events like our Tech Bytes meet ups, and our Tech Panel. We aim to recruit companies who want to be involved in the community where they're located and are looking to provide employees a higher quality of life at a lower cost of doing business.
Does this sound like you? Call us at 503.474.6814 to learn more.