An "Average" Day in Economic Development
Apr 26, 2018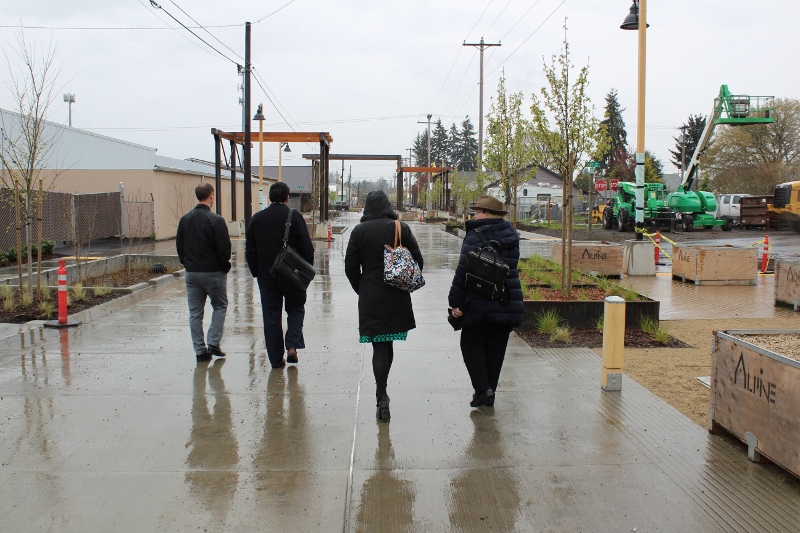 MEDP Executive Director, Oregon Governor Brown's Director of Housing, Regional Solutions Coordinator, and McMinnville City Councilor tour the improvements along Alpine Avenue
In economic development, every opportunity needs to be leveraged. Every event, program, and marketing material should have a multiplier, and sometimes, all of the pieces fall into place at exactly the right time. At the beginning of April we knew it was going to be a busy month. People are noticing McMinnville, our phone has been ringing more than ever before, and we had events lined up through April and May. Keep reading to learn about one particular day on the job, Thursday April 5, 2018.
Celebrating the recent completion of the Jackson Family Wine (JFW) facility, MEDP wanted to ensure that the company felt connected to the McMinnville community, Yamhill County, and Oregon. To create this connection MEDP had planned a VIP tour inviting elected officials and organizations. With representatives from Congresswoman Suzanne Bonamici and Senator Jeff Merkley attending, along with Representative Ron Noble and more, we knew there was an opportunity to further leverage the event.
Recognizing what having JFW invest in Oregon Wine Country means for the state, we also connected with our Regional Solutions Coordinator James Labar to strategize on how Governor Kate Brown's office could be involved. Labar made the connection to the Oregon Housing and Community Services Director Margaret Salazar and we secured her attendance.
With these influential guests planning to be in town, we maximized their visit by arranging a lunch meeting with City of McMinnville Planning Director Heather Richards and City Councilor Sal Peralta where we were able to discuss the opportunities and pain points when it comes to housing in McMinnville. The conversation focused around workforce housing, affordable housing, and our buildable lands inventory. The lunch was a stepping stone to making connections with the resources available in the State of Oregon.
Following the meal, MEDP took the guests for a walking tour down Alpine Avenue to represent an area in McMinnville primed for growth. The new festival street could make the perfect location for housing in a more "urban" setting offering opportunities for live/work space. The street also connects to McMinnville's Urban Renewal Area.
After the walking tour we drove to JFW's new facility in McMinnville for the VIP tour. Not only were there 20 attendees representing city and state government, officials, business leaders and resource partners, but MEDP worked with Business Oregon Business Recruitment Officer, Jill Miles, to extend the invitation to a site selector out of San Francisco representing a large company looking to relocate.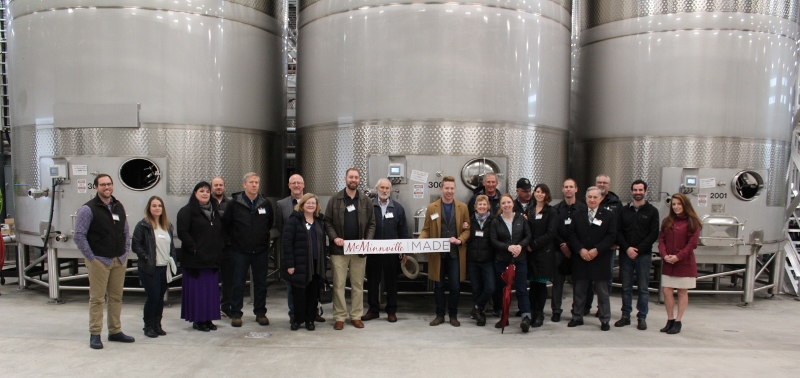 Attendees at the VIP Tour of Jackson Family Wines
The JFW tour was fascinating. Guests were able to learn more about the company and the site. They have developed 700 acres of vineyards in Oregon while maintaining original vineyard and notoriety. The company values sustainability and has multiple initiatives in place to ensure they use less water than is commonly used in winemaking. The tour was led by Eugenia Keegan, a long-time Oregon winemaker who runs the company's Oregon operations. She told stories of the positive experience the company has had doing business in Oregon mentioning that when California says "no," Oregon says "yes."
After learning about JFW's wine making process, how they became established in McMinnville, and details about the facility, MEDP broke out into teams utilizing their technique of "divide and conquer." Our Executive Director, Jody, would be with Jill Miles and the site selector, taking the opportunity to tour the industrial sites that fit the clients needs, a short visit to the Evergreen museum, and learning more about what it means to live in McMinnville.
MEDP's Communication Manager Lacey Dykgraaf would be attending a regional economic development partner meeting with Business Oregon, the City of Newberg, SEDCOR, Willamette Workforce Partnership, and Regional Solutions where the group shares updates and resources.
The evening ended at Nick's Italian Cafe on Third Street. On the way to dinner, Jody was able to take the site selector into the Atticus Hotel, where he received a tour and was able to learn more about the community's story. The dinner allowed time to connect with the site selector on a social level, learning from the team more about McMinnville's enviable lifestyle and was a chance to get the site selector connected with John Deitz, General Manager at McMinnville Water & Light to speak on capacities and highlight McMinnville's competitive advantage with low cost of water and the lowest electricity rates in the state.
So there you are, an "average" day in economic development, which is to say, there is no average day. In our office we have to maintain flexibility and always be on our toes because you never know when opportunity strikes. One day can look very different from the next and the work is always changing. We serve the business community, which means often, our businesses determine the work that we identify as needing to get done.
If you are looking for assistance locating, starting, or expanding a business in McMinnville, give us a call today.