MEDP Spark - Advancements on Alpine Avenue
May 9, 2019
MEDP Spark Volume 4, Issue 5 ~ May 2019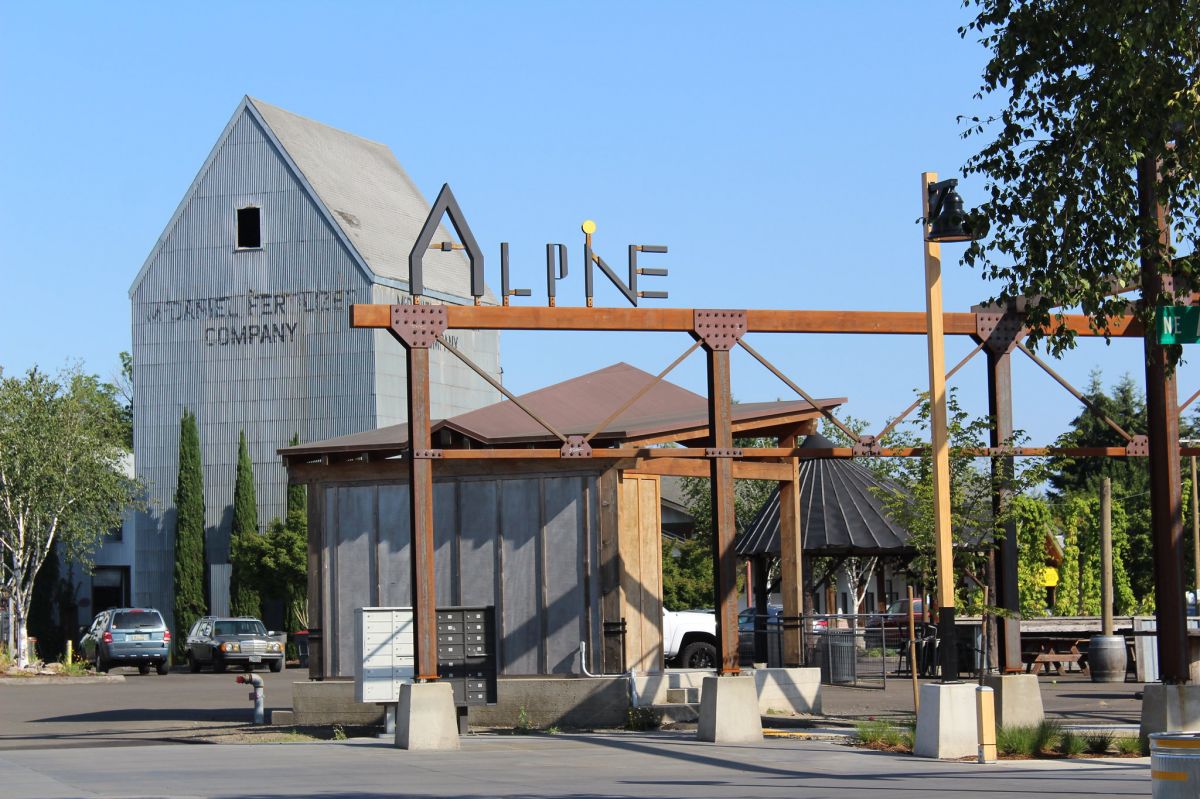 On April 27, 2018, Alpine Avenue had its first-ever event - Lunch on Alpine. A micro-festival that featured a few food trucks, some music, vendors, and entertainment. At the ribbon-cutting event on the new pavement, guests watched as the Alpine signs were revealed, stared up at the metal structures, and took the time to walk down the block, imagining the possibilities for the area. This street is an investment. An investment that requires imagination, optimism and a sense that it's okay to not have it all figured out. Alpine Avenue represents a path to building out the Granary District, a roadmap to further development, and a look into a City that believes in a prosperous future.
A year after the initial ribbon cutting, Alpine Avenue is seeing investment along the street and a renewed interest in what it can mean for the community. April 27 - 28, 2019 saw the first ever Mac Food Truck Fest, an event that not only raised money for the Willamette Valley Cancer Foundation and the McMinnville Rotary Club, but also featured businesses along the street and gave citizens a chance to see development happening around them. This month, we had the chance to check back in on Alpine and learn about developments happening in the area.
Mac Food Truck Fest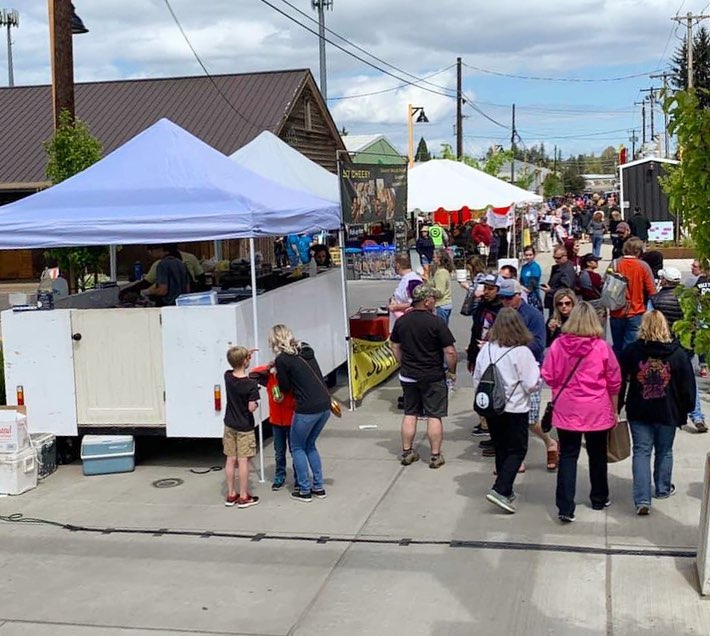 Photo from Mac Food Truck Fest Facebook
Doris Towery, Director at the Willamette Valley Cancer Foundation, said of the Mac Food Truck Fest, "It was fun to dream of something this big." Spanning all six blocks of Alpine Avenue, the festival was the first event to utilize the entire space meaning Towery, and her partners at the McMinnville Rotary Club had a lot of firsts to work out, and the community of McMinnville reaped the rewards. What is apparent when talking to Towery is just how holistically she looked at the event, and the benefits that could be seen from it.
With 22 food trucks, beer gardens, dessert stations, and live music, the festival was a big hit in McMinnville. According to Towery, "our community rose up to meet us." Whether it be the 150 volunteers, all of the businesses who Towery said couldn't have been more courteous or excited, or the crowds who packed the street Saturday and Sunday, the festival was a chance to "showcase what this street is supposed to be." The inspiration for the event came from a similar food cart festival held in Eugene. Towery said when she saw Alpine for the first time, the idea came forward stating that the street seemed "custom tailored" for this type of event. She got into a discussion about it with Kevin Chambers and the McMinnville Rotary and they quickly set to making their idea a reality.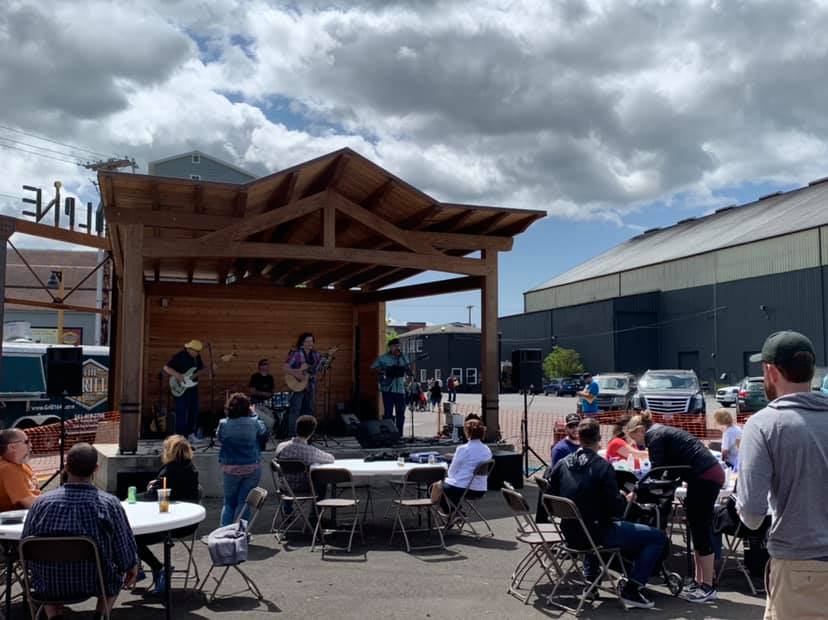 Photo from Mac Food Truck Fest Facebook
The money from the event will go to both the Willamette Valley Cancer Foundation (WVCF) and the McMinnville Rotary Club. The WVCF gives grants to families and individuals who have been diagnosed with cancer and who need assistance in their daily life. This money could go to help paying rent, paying utility bills, ensuring there's gas in the car to get patients to treatment and more. Since its inception, the WVCF has given out more than $900,000 in grants. Attendees at the Mac Food Truck Fest can know their money is going directly to patient assistance as well as helping fund projects by the Rotary Club including scholarships for local students, park cleanup and maintenance, and more.
The festival was also a chance for community members to get a better understanding of businesses already along Alpine Avenue. From Eyrie Vineyards, one of the first wineries in McMinnville, to Heater Allen pouring their award-winning Pilsner, and more, Towery said her favorite stories were those of community members discovering their new favorite along the street. And to all those wondering, yes, the team is already thinking about and planning to hold the Mac Food Truck Fest again in 2020.
Mac Market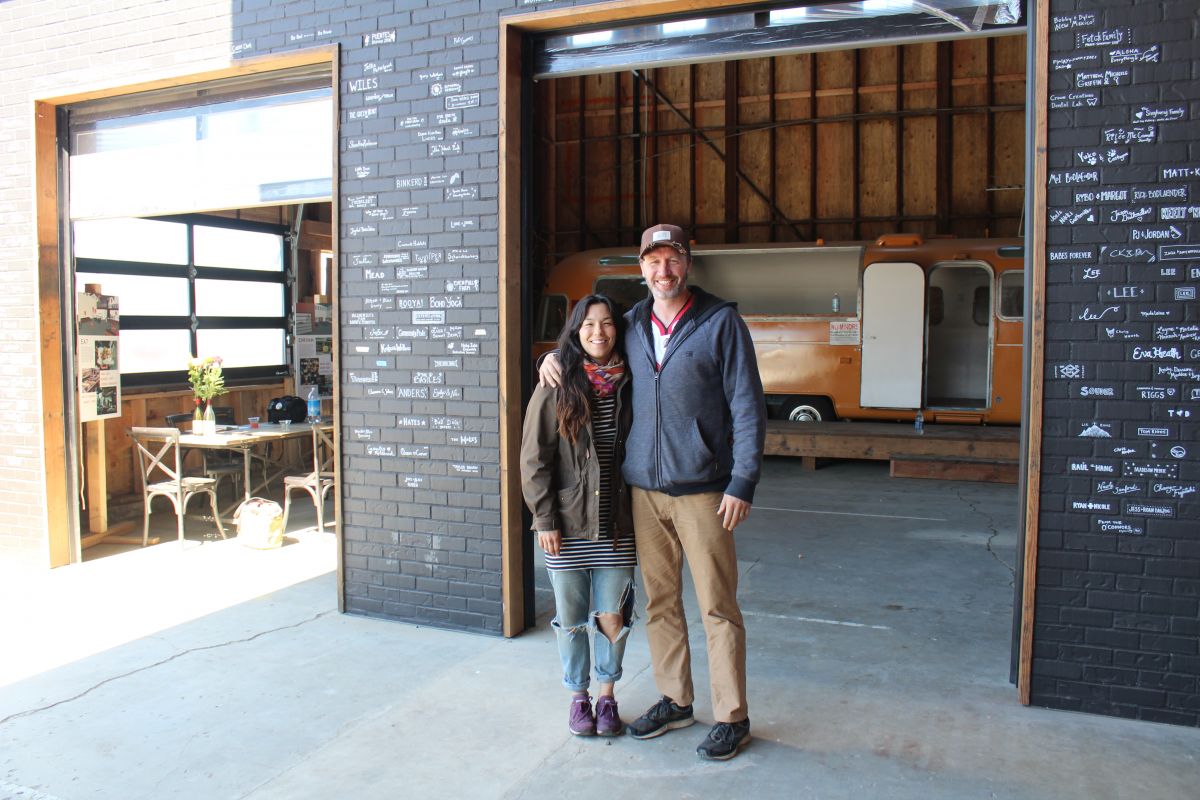 Diana Riggs and Todd Severson stand where a food truck pod will live at the Mac Market space
Dubbed "a place to taste" by owners Diana Riggs and Todd Severson the Mac Market wants to capture a sense of adventure when it comes to eating and drinking and encourage people to try new things. Opening in the formerly known "Huberd's Shoe Grease Building" on the corner of Alpine Avenue and Northeast 11th Way, the Mac Market manages to capture the charm and history of the building while establishing a space that feels welcoming and modern. For Diana, this is also a place for her to express her creativity, "We've traveled a lot and I have always been looking and searching, and this is it." Todd added, "Diana has always been good at hosting a party." They both also see the opportunities available along Alpine Avenue.
Coming from Seattle, Washington, the couple has seen how urban renewal helped the area evolve. Traveling in an Airstream trailer for years, they said they stopped in McMinnville a lot as a central point between Portland and the Coast and fell in love with the area. Saying it's where "community meets coast," they kept coming back for the agriculture history, small-town charm, and a vast amount of endlessly interesting people. "The area holds a lot of craftsmen," they point to Alpine Avenue and Basil's workshop and being able to smell the pies from Blue Raeven just up the street. Within the building, Diana says she originally fell in love with the old growth beams and the feeling once inside the building, "it's got really good bones."

Inside the upstairs of the Mac Market
Both Todd and Diana see big things coming for Alpine Avenue stating that they hope the street maintains its "maker" feel as more businesses fill in. They may even see an "epic push-cart derby" in the future. Within the Mac Market, there will also be a spirit of entrepreneurship and craftsmanship. With food carts, pop-up carts, a wine bar, beer tap, and cocktail bar inside their old airstream trailer, Diana's number one goal is to see people come back who started within the market. "I want to help springboard other businesses. I want people to pursue their passions and offer them a place to start."
With their doors open at the Mac Food Truck Fest, the community had a first look at what the Mac Market could be. Set to officially open this summer, the Mac Market is already generating excitement for all the opportunity it holds.
The Boutique Retreat and Winsome Construction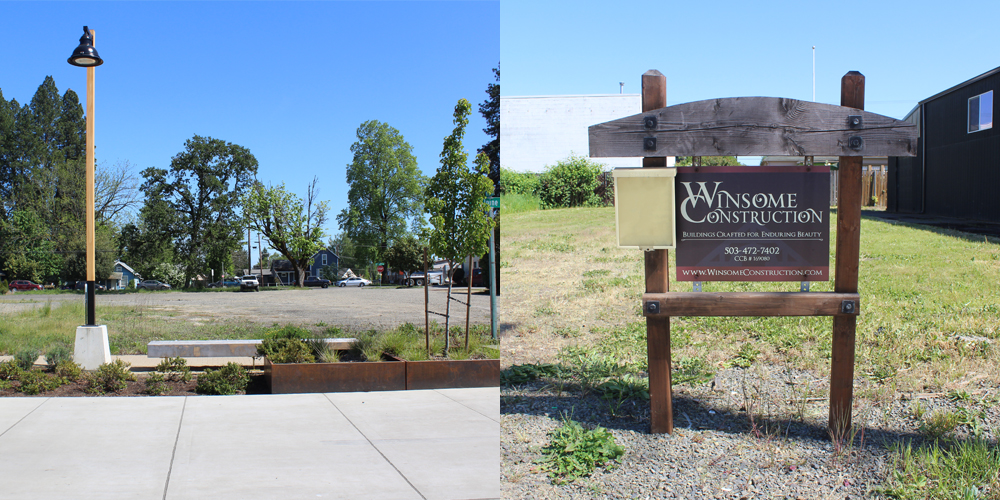 The future lots of the Boutique Retreat and Winsome Construction Office
The few empty lots on Alpine Avenue have big plans forming around them. At the intersection of Alpine Avenue and 9th Ave, the lot is slated to be the future home of The Boutique Retreat, a tiny home hotel. The 10,000 square foot lot will house four to eight different themed tiny cottages and will feature a shared space with tables, barbeques and more. The owners, Sarita Springer and Kevin Kump also run an Airbnb through a refurbished house along Alpine. With plans to begin construction soon, we're anxious to see the transformation of dirt into homes away from home.
Winsome construction has purchased a lot between 10th and 11th Avenue along Alpine with plans to construct an office for the company. They have stated a need for more space and that the opportunity to build an office will allow them to showcase what they can do for clients. You can read more about the Winsome Construction project in this article by the News Register.
With new construction combined with hallmarks like the Grain Station, Flag & Wire, Eyrie Vineyards, and Heater Allen, we cannot wait to see what Alpine looks like a year from today, and what these developments create five years from now. There is room for opportunity along this street. If you haven't walked the six blocks recently, we recommend you take it all in. Changes are coming, and this is an exciting moment for the area.
In short, Alpine Avenue seems to represent a lot of McMinnville, Oregon. It's a proactive spirit, one in which we choose our destiny rather than waiting and hoping for the best. We plan, we create, we collaborate, and we repeat.
Interested in joining us? Call us about your business today - 503.474.6814