MEDP Spark - Brewed for Success
Dec 13, 2018
MEDP Spark Volume 3, Issue 12 ~ December 2018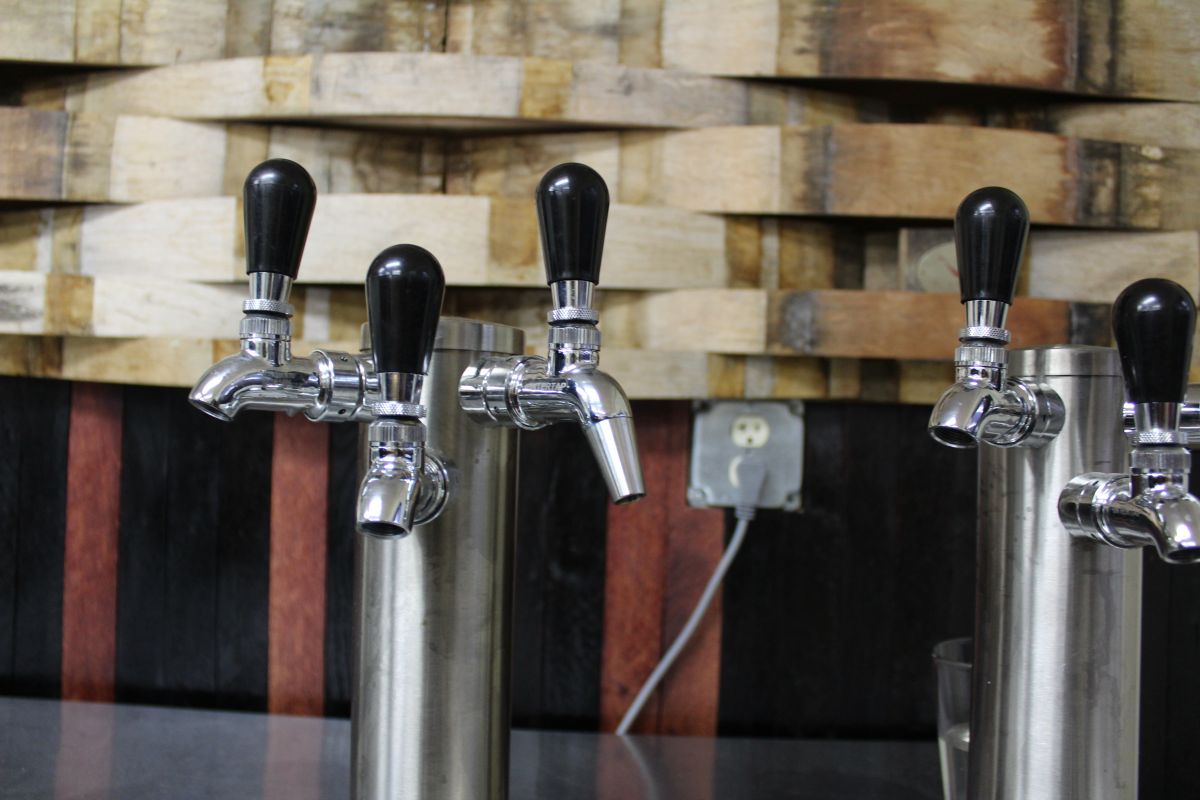 Taps at Bierly Brewing
With 200+ wineries surrounding us here in McMinnville, it's easy to understand why we are considered "the heart of Oregon wine country." But you may have noticed a new trend emerging that both compliments and elevates our surrounding wine industry. Craft brewers are finding success in McMinnville. Yes, we have our legacy brewers. Breweries that began before a surge in craft brewers emerged in Oregon. Companies like Golden Valley Brewery and Heater Allen Brewing that have paved the way for what is quickly becoming a craft beer drinking community. Over the past year, McMinnville has been fortunate to see even more innovative and boutique breweries come into town.
When asked why someone would want to brew in McMinnville, it's clear our location is special. It all starts with water. The water in McMinnville is incredibly clean, balanced, oh, and inexpensive. Combine this with the plentiful agriculture and amazing flavors surrounding us in McMinnville, and you have an inventive brewer's paradise. We talked to three new breweries in town, Allegory Brewing, Evasion Brewing, and Bierly Brewing to learn what it's like to brew in McMinnville and how each of them is using innovative techniques to carve their niche in the Oregon craft brewing world.
Evasion Brewing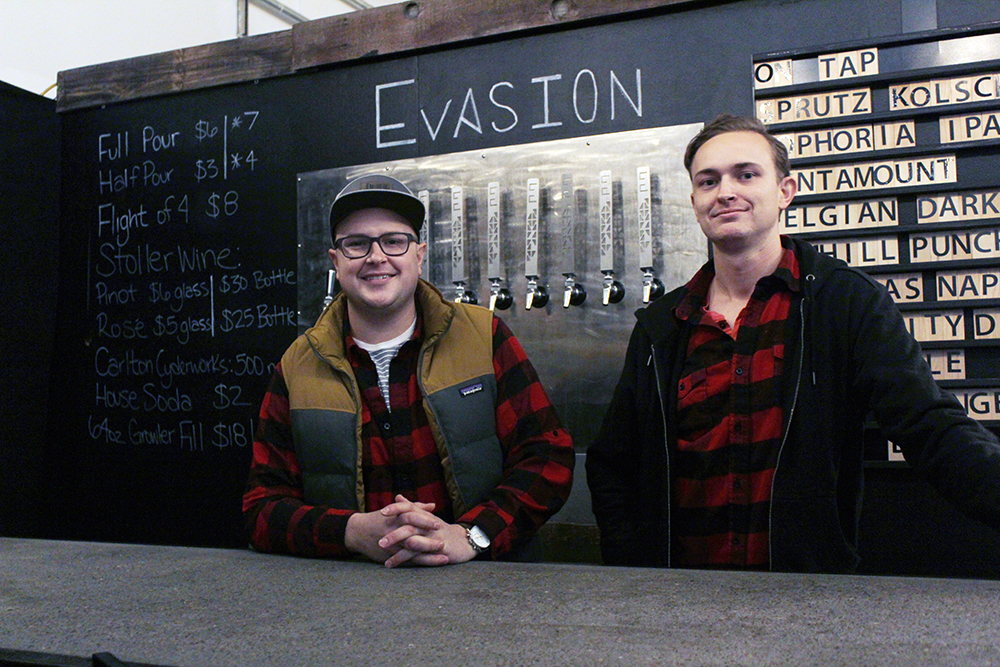 Evasion Brewing President Erik Lapp and VP of Marketing and Sales Evan Lapp behind the bar in the Evasion Tasting Room
President Erik Lapp, VP of Marketing and Sales Evan Lapp, and Head Brewer Ben Acord see and hear a lot more crying than your average brewery. Evasion also gets a lot more calls from customers about how Evasion's beer has impacted them and how grateful they are than the average brewery. What Evasion Brewing has created first and foremost is really good beer. Second to that, but also important, is the fact that all of their beer is gluten-free.
Located in McMinnville's Industrial District, visiting Evasion Brewing feels like being in on a secret. Behind the family's machine shop lies a new tasting room with a clear sight of the brewing equipment, chalkboard written, ever-changing brews on tap, and smiling faces offering you a taste of the newest creation. With their one year anniversary passing at the end of November, Evasion is a relatively new craft brewery, but one that is already taking full advantage of being located in Yamhill County and all of the flavors surrounding them.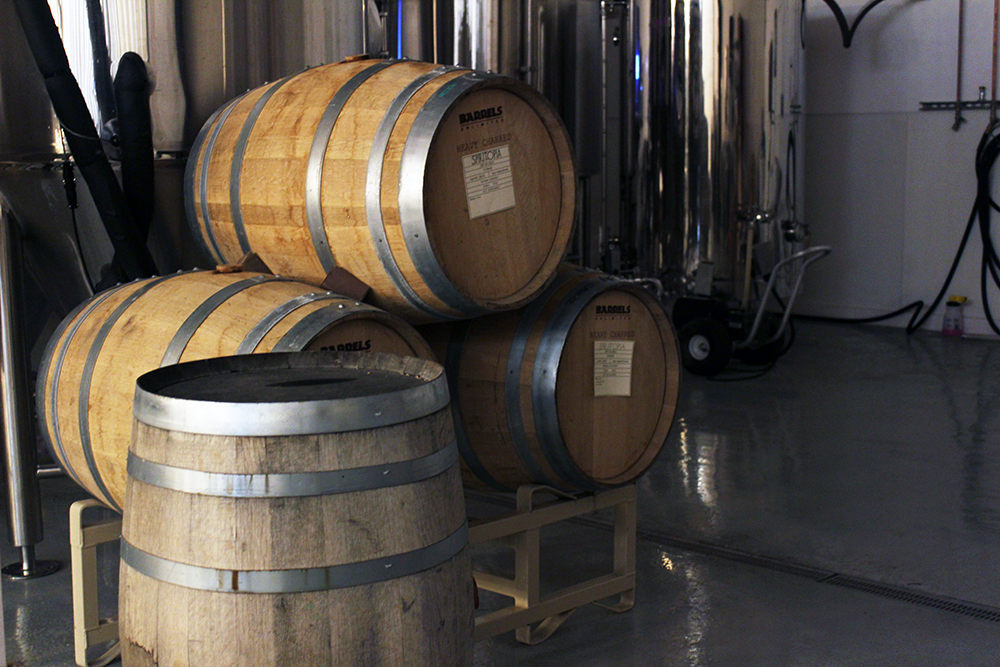 Evasion is aging their beer in various type of barrels, including wine and whiskey, to create a unique flavor profile
Flavors run the gamut from a classic stout to a blood orange IPA, to their newest "Mill and Barrel" Yamhill County Punch, a "farmhouse ale" that utilizes plums, blackberries, and local Pinot Noir and Riesling to create a unique flavor profile. Each flavor has roots in Yamhill County, as Evasion works with local farmers to create flavors and utilizes barrels from wine and whiskey operations to create a new twist. Evasion's head brewer, Ben, often jokes he wishes he was a winemaker and approaches brewing with the same finesse. One of the few people in the family able to tolerate gluten, Ben's skills have helped create a flavor that tastes like the real thing, and people have noticed.
According to Erik, "There's no sign anywhere in our tasting room that states we're a gluten-free brewery, that's deliberate." Often, those who come upon Evasion are just there to enjoy a good beer. It isn't until they are a few glasses in that they learn the beers are made without gluten. According to Evan, "If it doesn't taste good, nothing else matters." Rather than barley, Evasion often brews their beer with millet, which Evan states was actually used before barley in Europe. As the company moves forward, Erik expects that they will stay in McMinnville with hopes to branch out their distribution. Above all, he wants the tasting room to be a "nice, peaceful place to go" where there is always a new brew on tap.
Evasion Brewing is located at 4230 NE Riverside Dr, McMinnville, OR 97128. Their tasting room is open Saturday, 2:00pm - 7:00pm with tasting by appointment available every day of the week.
Allegory Brewing

Allegory Brewing Head Brewer Charlie Van Meter and Owner David Sanguinetti
Allegory brewing opened just over a year ago, and since then, they have brewed over 100 different kinds of beers. Yes, over 100. With beer names like "Hustle from Brussels", "Stop Talking Cool", and "Dad Hat Pils" Allegory manages to match up a creative innovative environment with original flavors. Though flavors like Trap Door - a kettle sour with grand fir tips, may scare those with more traditional pallets, David Sanguinetti, owner of Allegory holds that Allegory makes "Unique, adventurous, yet drinkable beers." David relays that head brewer Charlie Van Meter wants "to use unique ingredients and try unique processes, but at the end of the day not hit you over the head with flavors," and it works. Allegory's beers hit the fine line of "that was interesting" combined with "I'll have another."
Owner of downtown McMinnville taproom The Bitter Monk, Dave chose to branch out into the brewing business to become a part of the conversation. As a McMinnville local, he wanted to have his brewery near downtown, but McMinnville was also attractive due to its utilities: "We have so many opportunities with the main thing being McMinnville Water & Light and our inexpensive utility rates. We have really nice water here that's consistent, all year round." Being local, Dave also wants to ensure that Allegory is a place where the community is always at the top of mind. Over the past year and a half, the brewery has held multiple events with a local charity focus including an Adult Spelling Bee for the McMinnville Public Library and concerts to support the Walnut City Music Festival.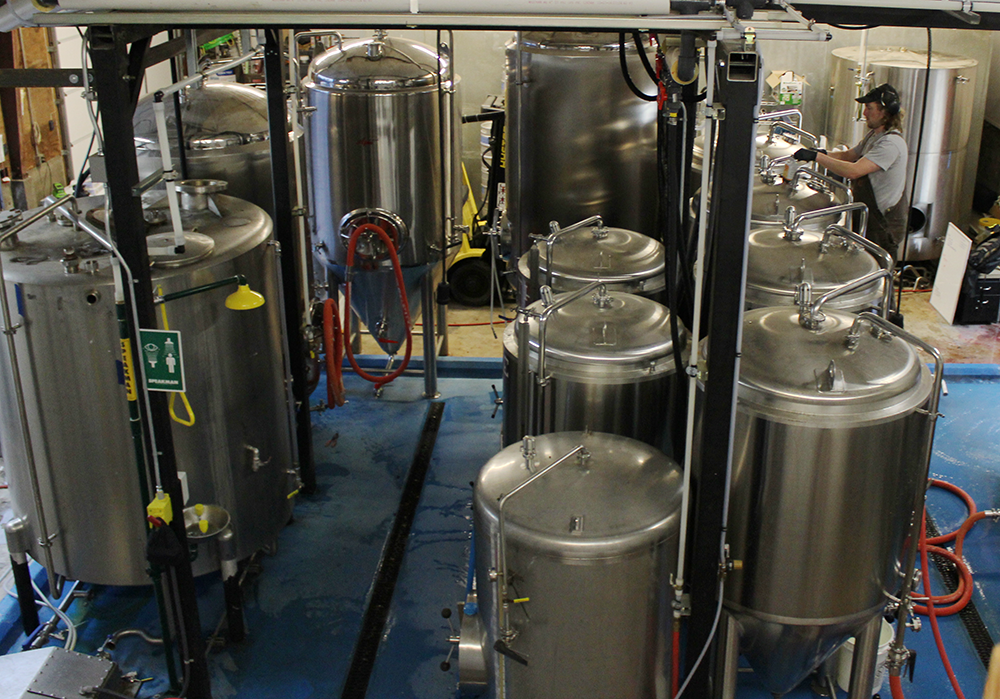 Charlie Van Meter brews one of his many creations in Allegory's brewery
Going forward, Dave knows he wants to continue the small, boutique feel of Allegory while also branching into canning and bottling their creations. The first bottling run is slated for January with a hope that cans will be released in March. Luckily, being in Yamhill County, there's a community of beer makers always willing to help out. With strong connections to local brewers like Heater Allen, the Grain Station, and Golden Valley, you can also find a lot of collaborations on tap including a beer with Wolves and People, a brewery out of Newberg.
Allegory and head brewer Charlie, also take full advantage of Yamhill County's bountiful and vast array of interesting flavors to utilize in new creations. According to Dave, Allegory is "in harvest all year" with an equal amount of art and science. Next time you stop by the beer garden, there will probably be something new on tap. We recommend you try it before it's gone.
Allegory Brewing is located at 777 4th St, McMinnville, OR 97128 open Friday from 3:00pm - 8:00pm, Saturday 2:00pm - 8:00pm and Sunday 2:00pm - 6:00pm.
Bierly Brewing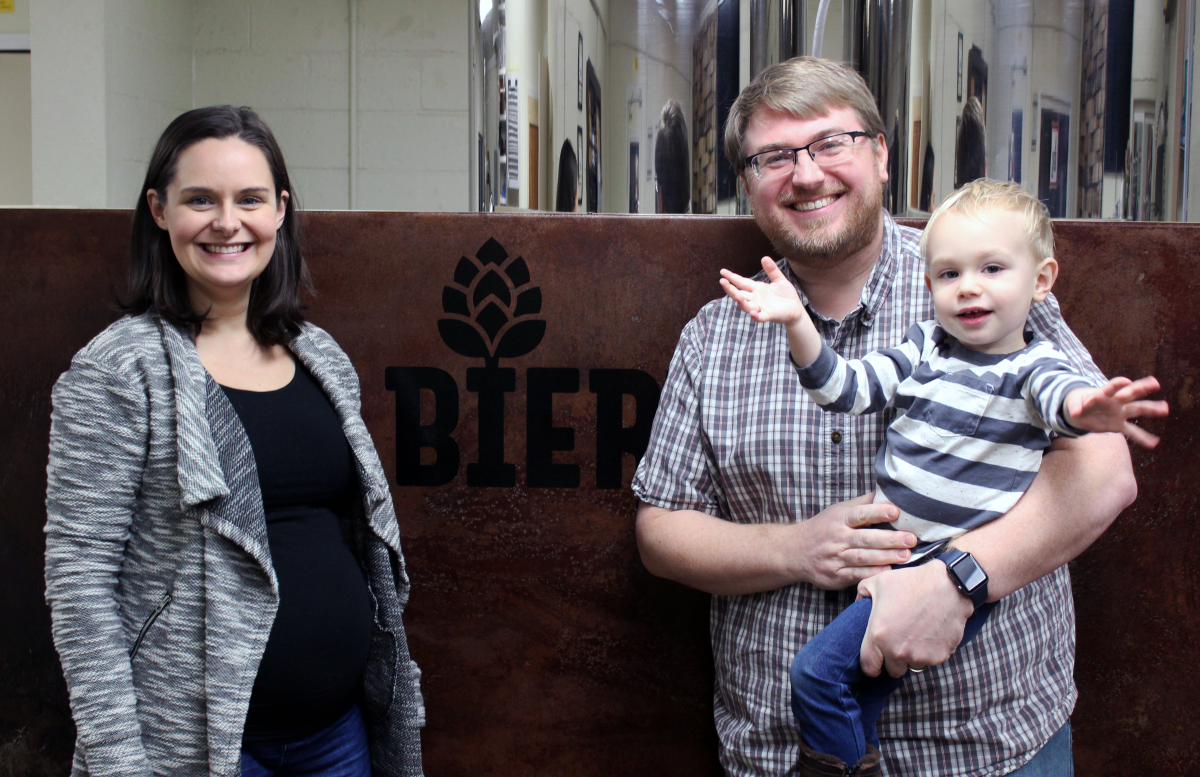 Head Brewer and Owner, JP Bierly with his wife Amelia and son Felix
JP Bierly of Bierly Brewing wants to make the best gluten-free beer possible. This fact becomes more solidified the more you speak to him. Take his new porter project for example. With several brews tested, JP is almost ready to start bottling. But this won't be like just any bottle. On the side, JP plans to list the exact ingredients and process he used to make the beer. At the bottom of the recipe will be a link to Gluten Free Home Brewing, where he hopes people will comment, share, and tweak his recipe. He calls this open-sourced brewing and it's all in the name of creating the best beer for a growing community.
Starting as a homebrewer, JP was diagnosed with an intolerance to gluten in 2010 and immediately began searching for options to brew his own gluten-free beer. At the time, there were no gluten-free brews on the market and in 2016 he became the second gluten-free brewery ever to open in Oregon with a small operation in Philomath. To prepare himself for the opening, he spent time with Lisa and Rick Allen of Heater Allen Brewing learning about different techniques in brewing traditional beers and how he could incorporate traditional flavors into a gluten-free blend.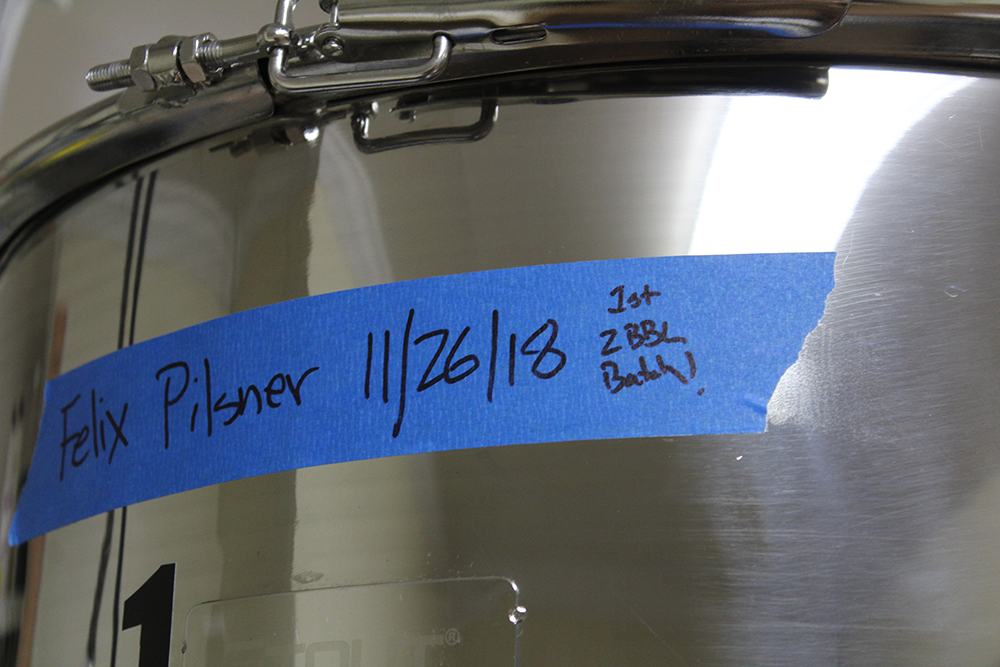 Bierly's first 2 Barrel Batch of Felix Pilsner is currently brewing.
In 2018, JP had the opportunity to move his brewery to a McMinnville location which he says was "always the plan." Both JP and his wife, Amelia are active in the McMinnville community and are looking forward to raising and growing their family here. Family has always been an important component of what JP does, and that is reflected in his new brewery and tasting room. Not only does the tap room serve a variety of beer, but they have also added classics to go along with beer, all gluten-free. You can find gluten-free soft pretzels, sausage, and seasonal items (currently a gluten-free doughnut) served in their new location. This was an intentional move to ensure it was "Welcoming to families." To decide menu options, JP and Amelia commented: "We wanted to create a space that we always wished we had."
Their son, Felix also plays a role in the brewer as the "official greeter" and as the namesake of the Felix Pilsner. Going into Bierly Brewing and speaking with JP, there is an intention of inclusion. Brewing gluten-free beer has been important to him because "It's something that connects a person to their own story. When people who have been unable to have a beer for years find an option that they can actually enjoy, it's like reclaiming a part of them they thought was gone."
Bierly Brewing is located at 214 NE 11th St, McMinnville OR 97128 open Friday from 4:00pm - 8:00pm, Saturday 12:00pm - 8:00pm and Sunday 4:00pm - 8:00pm.
With the arrival of new brewers in town, McMinnville is quickly establishing itself in the craft brewing scene. There are new, innovative flavors and processes in place and new brewers, and favorites we keep returning to. It helps that some of our brewers including Grain Station Brewery, Heater Allen, and Golden Valley have been winning awards and making a name for themselves throughout the years.
With a focus on utilizing the bountiful agriculture and resources around us, and using clean consistent water, this is just the beginning. In the meantime, we in McMinnville will be cracking opening a cold one, putting up our feet, and enjoying the journey.
Want to learn more about doing business in McMinnville? Give us a call!