MEDP Spark - Our 2018 Annual Award Winners
Oct 15, 2018
MEDP Spark, Volume 3, Issue 10 -- October 2018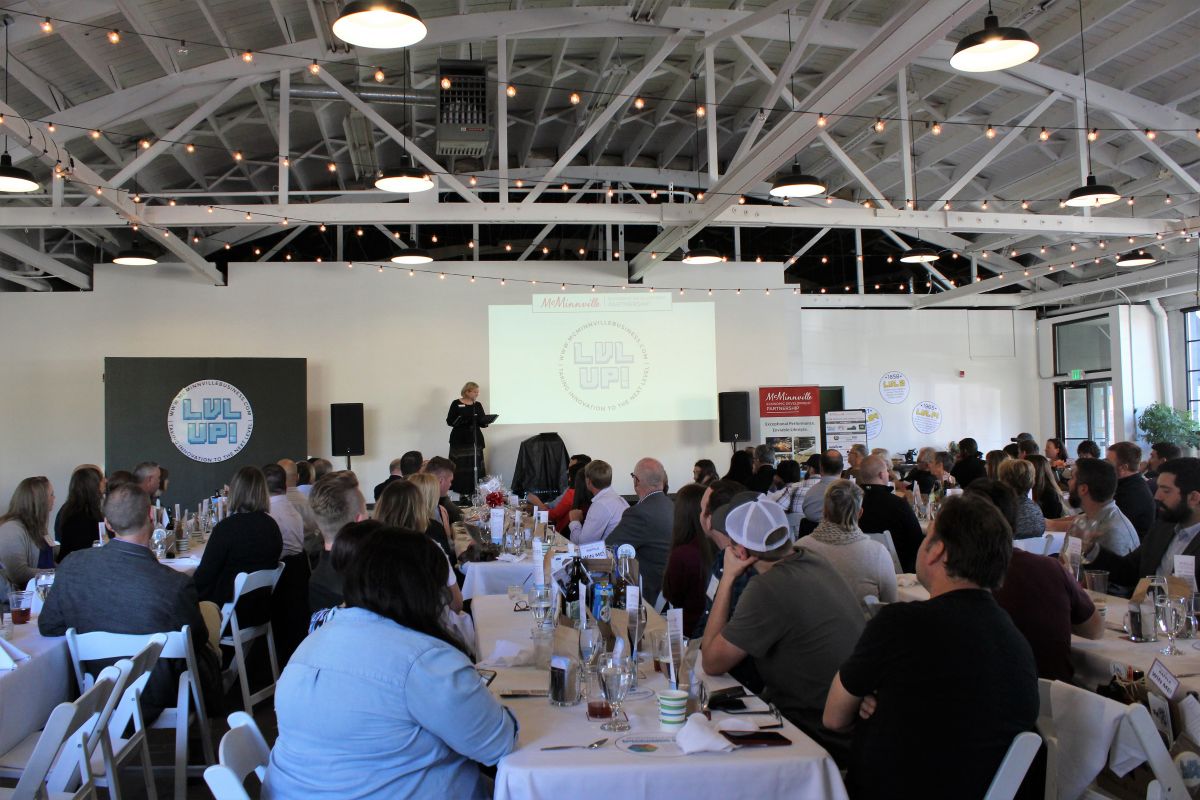 Once a year, MEDP (McMinnville Economic Development Partnership) has the opportunity to highlight our partners, manufacturers, and leaders in our community for all they do to help ensure economic vitality in McMinnville. As MEDP's Executive Director, Jody Christensen states, "Our companies and partners make McMinnville the community it is. Economic development is a team sport and we couldn't do it without the wonderful people we get to surround ourselves with every day." We at MEDP love our team. Together, we have seen more activity in McMinnville than ever before, and it is with this team that we will continue to innovate for the future.
Held on October 12, 2018 at The Bindery, this year MEDP's annual event, Leveling Up On Innovation, focused on looking towards the future as a part of our Tech Terroir initiative. There was a focus on manufacturing, the future of workforce, McMinnville as a community, and how together we can make active decisions that will impact us positively for years to come. At this years annual event, MEDP recognized McMinnville WORKS Champions of the Year, Collaborators of the Year, the Board of Directors Outstanding Partner of the Year, Manufacturer of the Year, and Manufacturing Leader of the Year.
McMinnville WORKS Champion of the Year: Tommy Patterson of United Capital Financial Life Management and Angel Aguiar of First Federal Bank
MEDP's McMinnville | WORKS pillar is MEDP's focus on workforce and how we can connect our businesses to innovative workforce solutions. One of these solutions is the McMinnville WORKS Internship Program through which MEDP organizes and assists various companies in the area with hosting summer interns. As part of the program, MEDP hosts weekly Professional Development Workshops through which local community and business leaders speak on topics important to the interns' future.
Tommy Paterson and Angel Aguiar have both been teaching Professional Development Workshops for multiple years.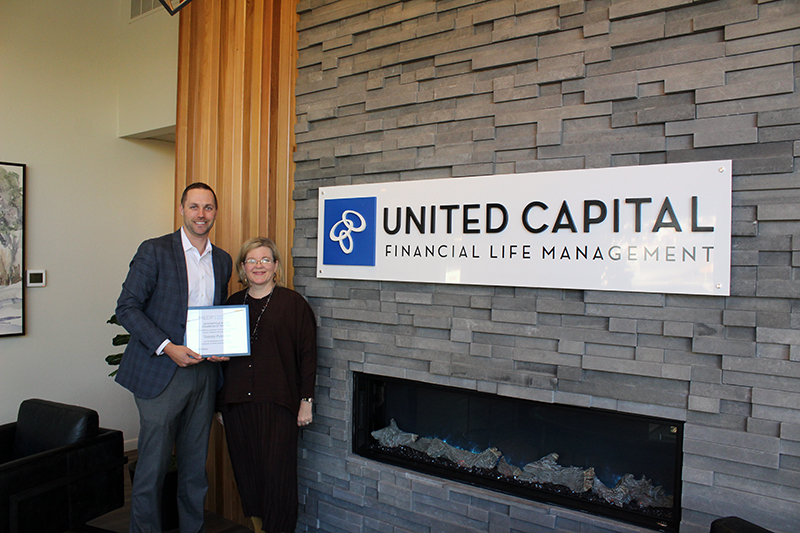 Tommy Paterson is a favorite speaker among our intern cohort and teaches on a subject that students find they are often lacking in a classic education. He speaks on budgeting, not just for tomorrow, but for life. Sharing how he budgets for him and his wife each month, Tommy gives the interns a directly implementable tool that can lead to smarter decisions going forward. The impact that Tommy makes on our interns each year is lasting and it is our privilege to award him with McMinnville WORKS Champion of the Year.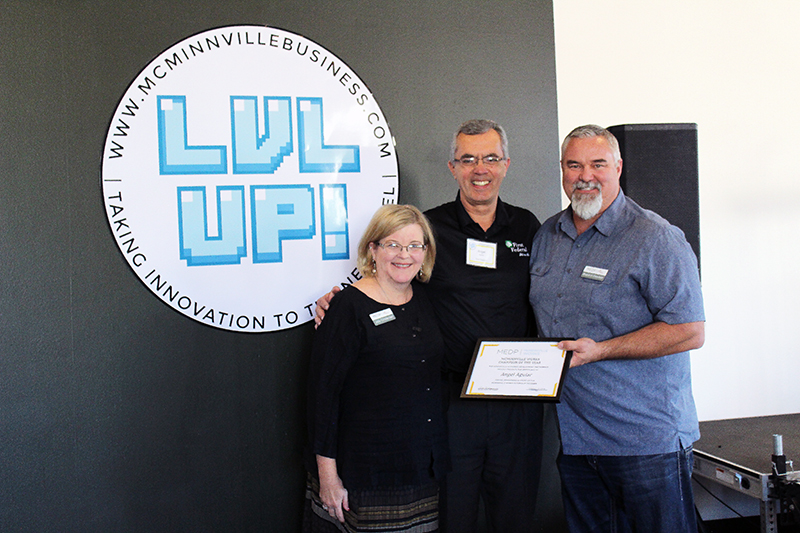 Angel Aguiar has never hesitated to participate in our Professional Development Workshops. Each year he brings a relatable perspective to understanding money and how to manage spending, credit, and large purchases. Watching his Professional Development Workshop you'll see hands shoot up with questions and well thought out responses. As one intern put it. "Angel connected with me on a topic that could have been dry, but I walked away feeling better prepared for my financial future." We'd like to thank Angel for everything he does and are happy to present him with McMinnville WORKS Champion of the Year.
Collaborator of the Year: Walt Gowell of Haugeberg, Rueter, Gowell, Fredericks & Higgins, P.C. and Jill Miles of Business Oregon
Each year there are partners who truly make a difference in the work we at MEDP do each day. They are people who go above and beyond their normal duties and put in the extra mile to help make our community and our organization better. Our Collaborator of the Year Award allows us to celebrate these extraordinary partners.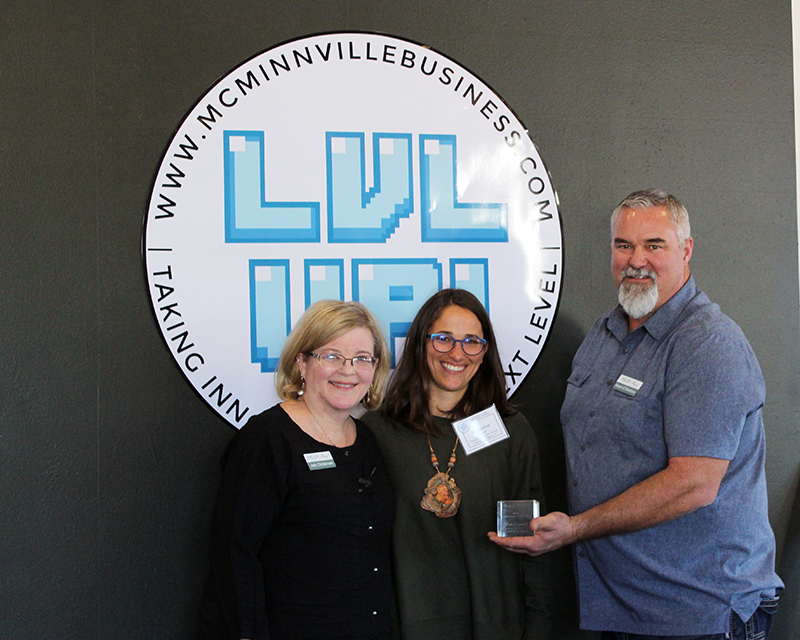 Katie Gowell, Walt's daughter-in-law and associate accepts the
Collaborator of the Year award on Walt Gowell's behalf
Walt Gowell of Haugeberg, Rueter, Gowell, Fredricks & Higgins, P.C. was instrumental in assisting MEDP in becoming an independent organization. January of 2018 marked a historic moment for MEDP, after 11 years of serving under the Chamber, MEDP now has a 501 c6 status and became an independent organization. Becoming a separate organization is no small feat, especially when the organization has 11 years of history, four partners, and an established board. Walt Gowell has guided boards, commissions, and councils with the ins and outs of protocol and process. Walt gave his time and expertise to facilitate MEDP's Board and work on our first ever bylaws. We thank Walt for sharing his talent and insight and proudly award him Collaborator of the Year.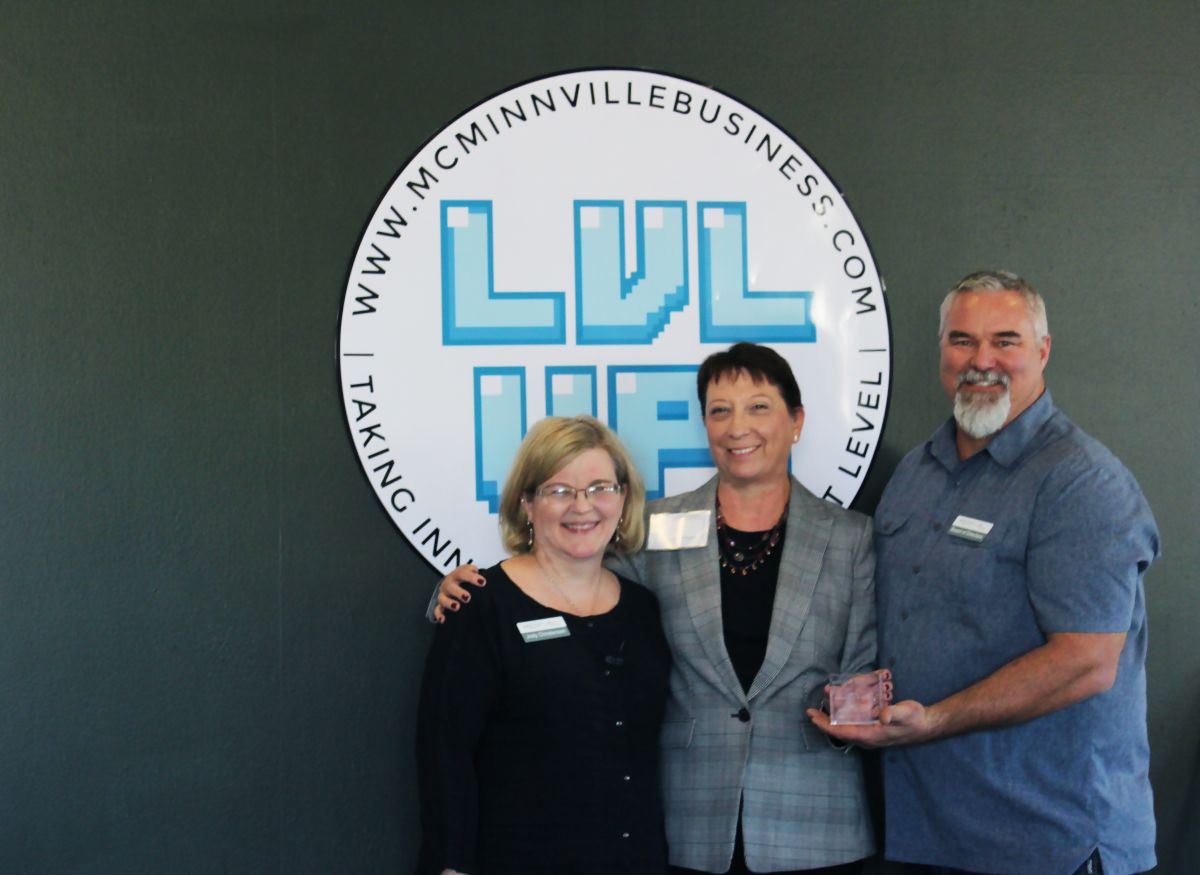 In economic development, it takes a group of people with a diverse array of skills coming together to make projects happen and get deals done. We at MEDP take great pride in representing out city for potential businesses to come and do business, but we cannot be everywhere at once. We rely heavily on our state partners to help represent McMinnville and bring businesses into our community. Our state partner, Jill Miles, National Recruitment Officer at Business Oregon, is out there everyday networking and making connections on a bigger stage. She is always available to help us make the most of an opportunity, give intel, and share trends. This past spring, Jill dedicated an entire day in McMinnville, going on a site tour, meeting with key stakeholders and developers, and informing MEDP on how we can be stronger in the future. All of this and more makes Jill Miles MEDP's Collaborator of the Year.
Board of Directors' Outstanding Partner of the Year: James LaBar, Governor Brown's Mid-Valley Regional Solutions Coordinator and Housing Policy Advisor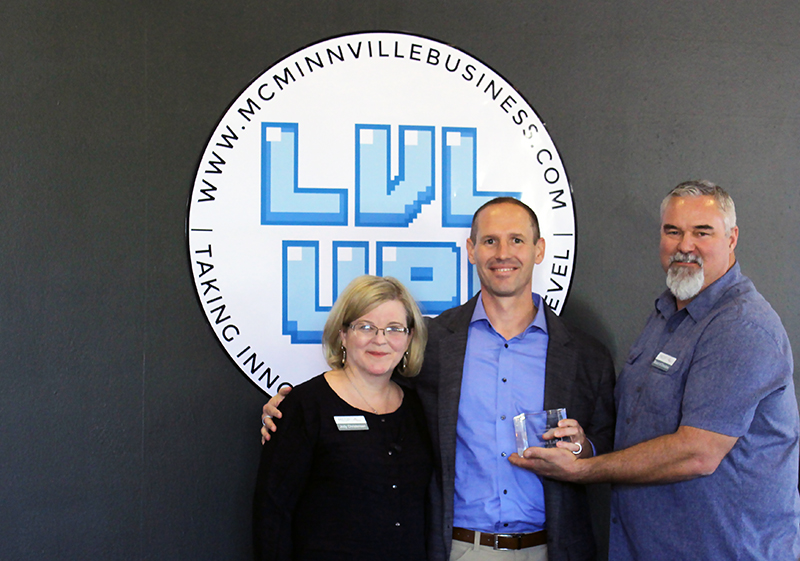 The Board of Directors' Outstanding Partner of the Year award recognizes the outstanding partner who has contributed to the growth of our local economy through workforce development, strategic insight, and thoughtful advocacy. James LaBar has never been one to stand in front of an achievement and claim credit. Instead, James can be found working behind the scenes, advocating for McMinnville's companies and community. MEDP's Executive Director, Jody Christensen says of James, "I can say without hesitation that James has made an extraordinary impact in our community and most of us would not even know it. He has opened doors to resources and connections. He has helped to guide meaningful attention and collaboration in our direction. He is extremely busy and always available." We thank James for all he does and are happy to present him with the Board of Directors' Outstanding Partner of the Year.
Manufacturer of the Year: Ferrum Technology Corporation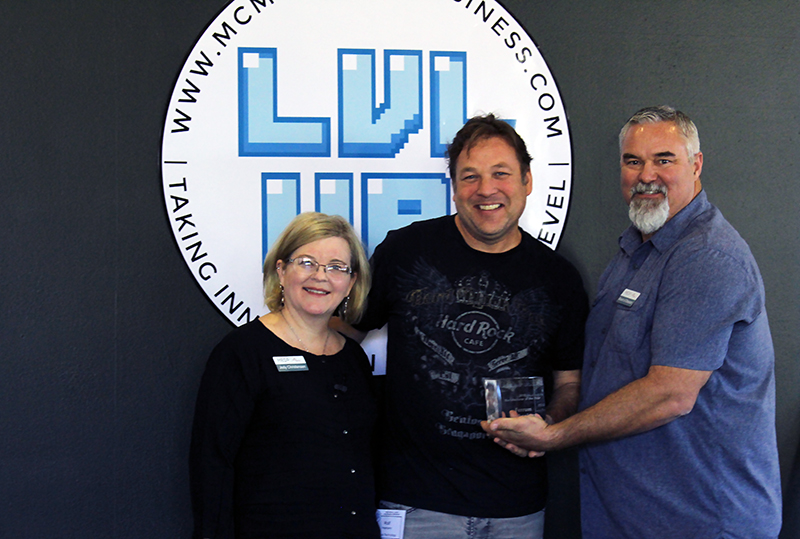 The Manufacturer of the Year award recognizes the outstanding manufacturing company that has contributed to the growth of our local economy through workforce development, best practices, and a positive company outlook. Ferrum Technology Corporation is not one to shy away from innovation. The very soul of their product relies on doing something that has never been created before. Ferrum Technology has created a new kitchen knife utilizing technology to create a better balance and a stronger tool with less waste. While the company is fairly new to McMinnville, they have already invested in our community and are working to make an impact.
This past year, Ferrum moved into a new 18,000 sq. ft. building in the McMinnville Industrial District and has begun selling their own, new brand of knives nationwide. While launching their product, Ferrum has also worked hard to connect with the community. They have worked with MEDP to host educational tours and have opened their door to other local business leaders interested in their product and process, hosting a Tech Bytes networking event. We can't wait to see where this business will go in the future and are proud to present them with the Manufacturer of the Year award.
Manufacturing Leaders of the Year: Deven Paolo and Keath Paolo, Solid Form Fabrication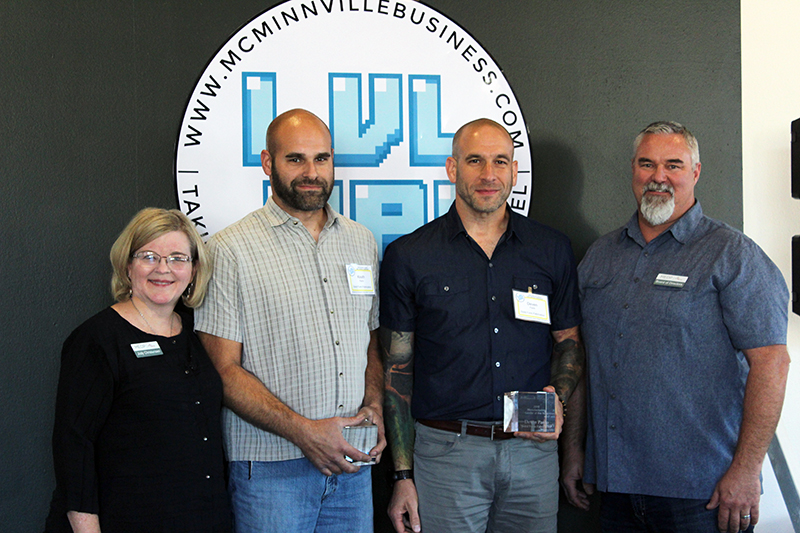 The Manufacturing Leader of the Year award recognizes an outstanding leader in our manufacturing sector who has contributed to the growth of our local economy through workforce development, best practices, and community involvement. This year, MEDP honored not one, but two leaders. Jody spoke on the award winners saying, "This award has special meaning for me. When I started working at MEDP, one of my first projects was with Solid Form Fabrication. I remember walking into a humble space and leaving knowing that great things were on the company's horizon. MEDP has watched over the years as these two leaders have grown their company. We've seen them add equipment, move to a larger space, gain a reputation for problem solving with unique solutions, add more space, and hire more employees. Deven and Keath have also made a commitment to youth in our community."
Jody points to the educational tours the company has led, their involvement in the McMinnville WORKS Internship Program and their work with local schools to inspire the next generation of engineers, welders, and fabricators. At the company's 10-year anniversary celebration, Deven announced the establishment of the McMinnville Area Vocational Endowment Fund to inspire youth choosing to pursue careers in the skilled trades. Deven and Keath are successful businessmen, but they are also leaders who are dedicated to our region's positive economic growth of traded sector companies with expanded opportunities for our community's youth.
We are overjoyed to be able to present both Deven Paolo and Keath Paolo of Solid Form Fabrication with the Manufacturing Leader of the Year award.
We would like to offer a final congratulations to our winners and thank everyone who helped make the event possible!
Leveling Up On Innovation Introduction Video, created by volunteer Christian Smithrud: Watch it Here!
Awards Delivery via custom built robot: McMinnville Robotics Alliance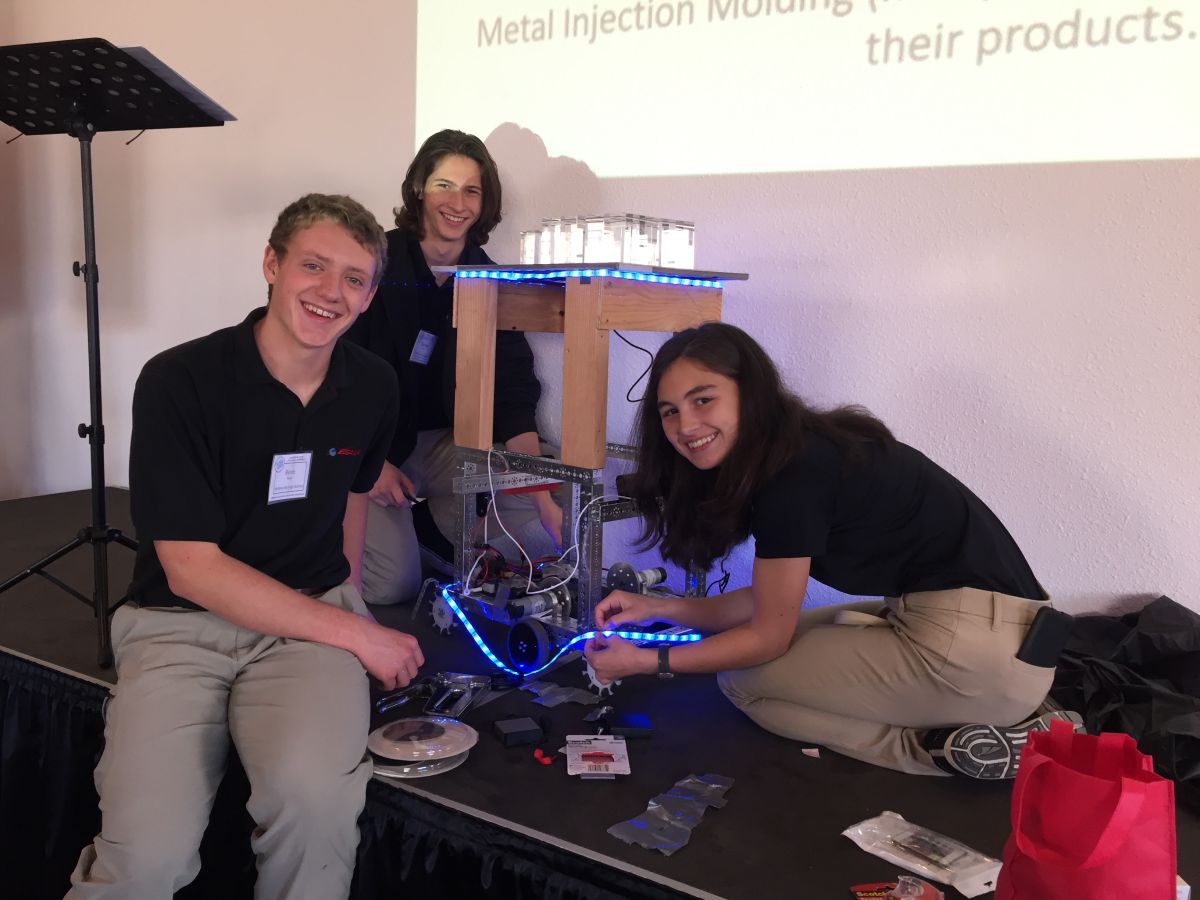 Pictured: Byron Nice, Michael Crain and Kaylani Kam


Event Space: The Bindery
Catering: The Barberry
McMinnville | MADE Swag Guild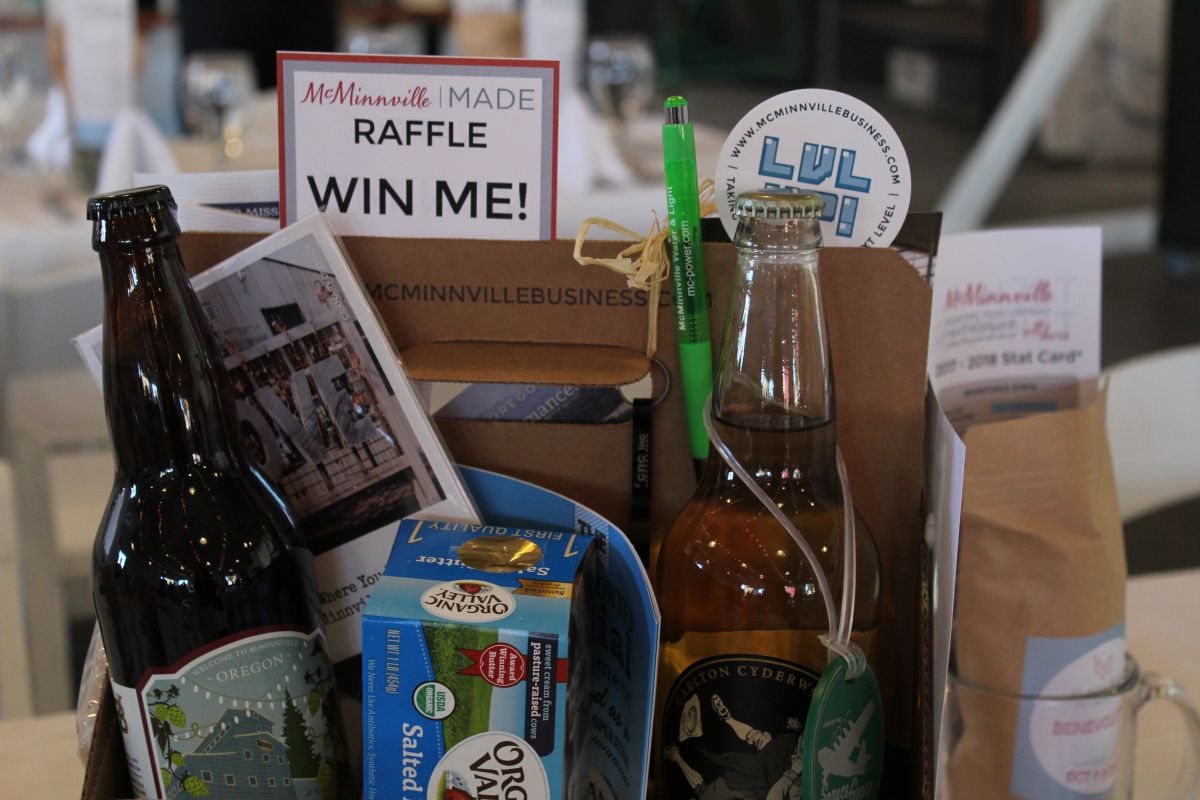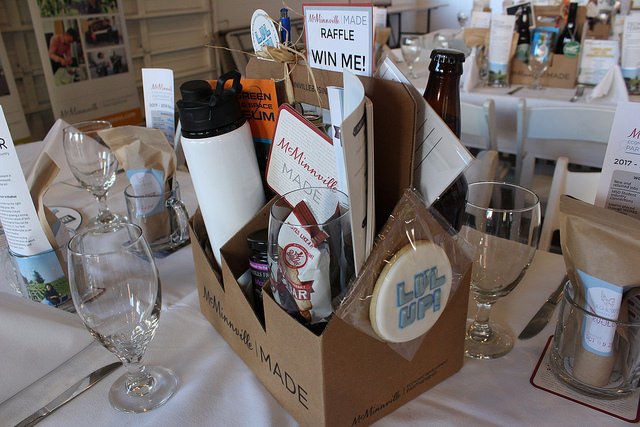 MEDP Investor Circle: Thank you for supporting our initiatives for economic retention, expansion and recruitment.