MEDP Spark - Unearthing a Living Legacy: William Henry
Feb 8, 2018
MEDP Spark, Volume 3, Issue 2 -- February 2018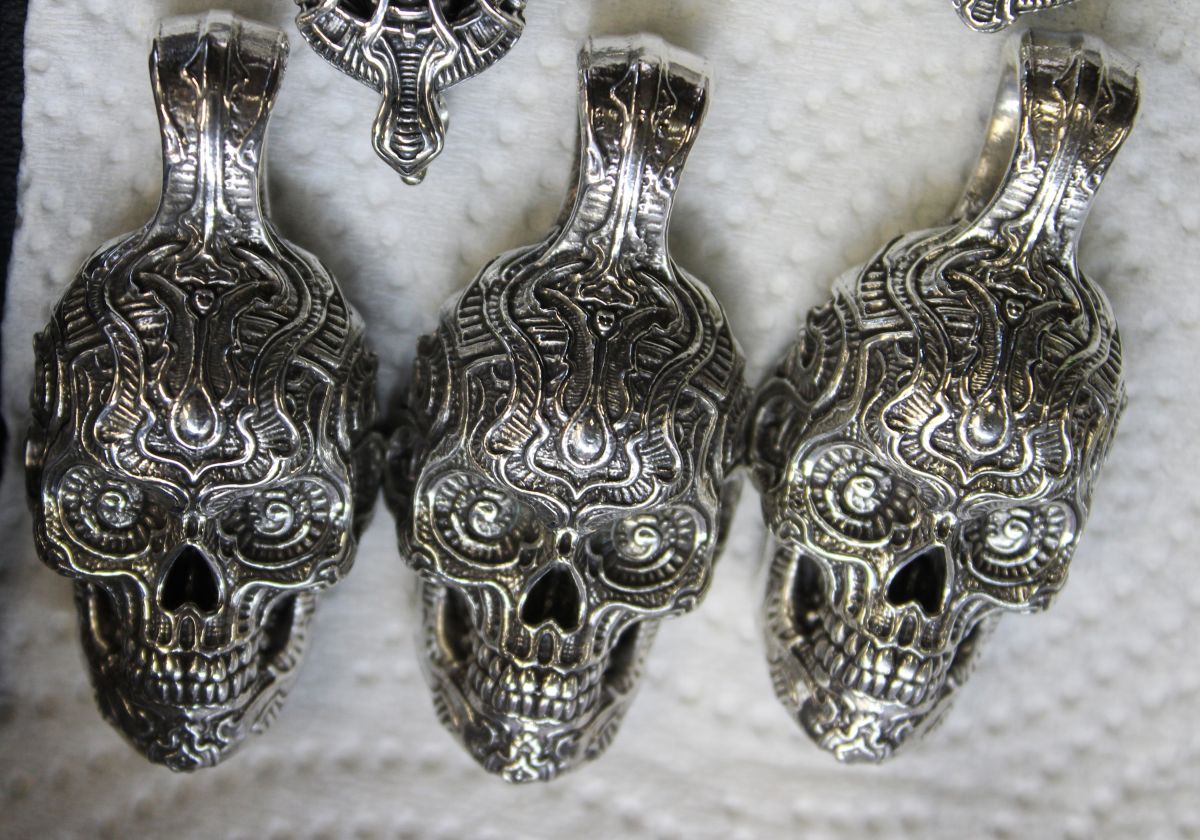 Pendants used in William Henry Jewelry
Tucked into an unmarked, unassuming building in McMinnville's Industrial District exists intricately created pieces of art that take shape in the form of designer knives and high end men's jewelry. With fossils integrated with precious gemstones, gold, and more, William Henry was one of the first to dive into the luxury knife industry. After nearly 20 years, they've expanded and have started creating the same carefully designed pieces for men's jewelry including necklaces, bracelets, and pendants. Each piece has handcrafted dimensions that cause you to continually turn the piece in your hand, looking at every angle to find the most minute details that have been added with care.
Lifting these pieces in your hand, you can feel their weight. This is not an inconsequential object. This demands attention in the world. The density and feeling of not only quality materials, but of careful craftsmanship and often, history. Producing pieces like this can be challenging, no one else in the world is creating something similar, but William Henry creates mens accessories that are true statement pieces. That allow people to express something about themselves. Pieces that keep people coming back time and time again.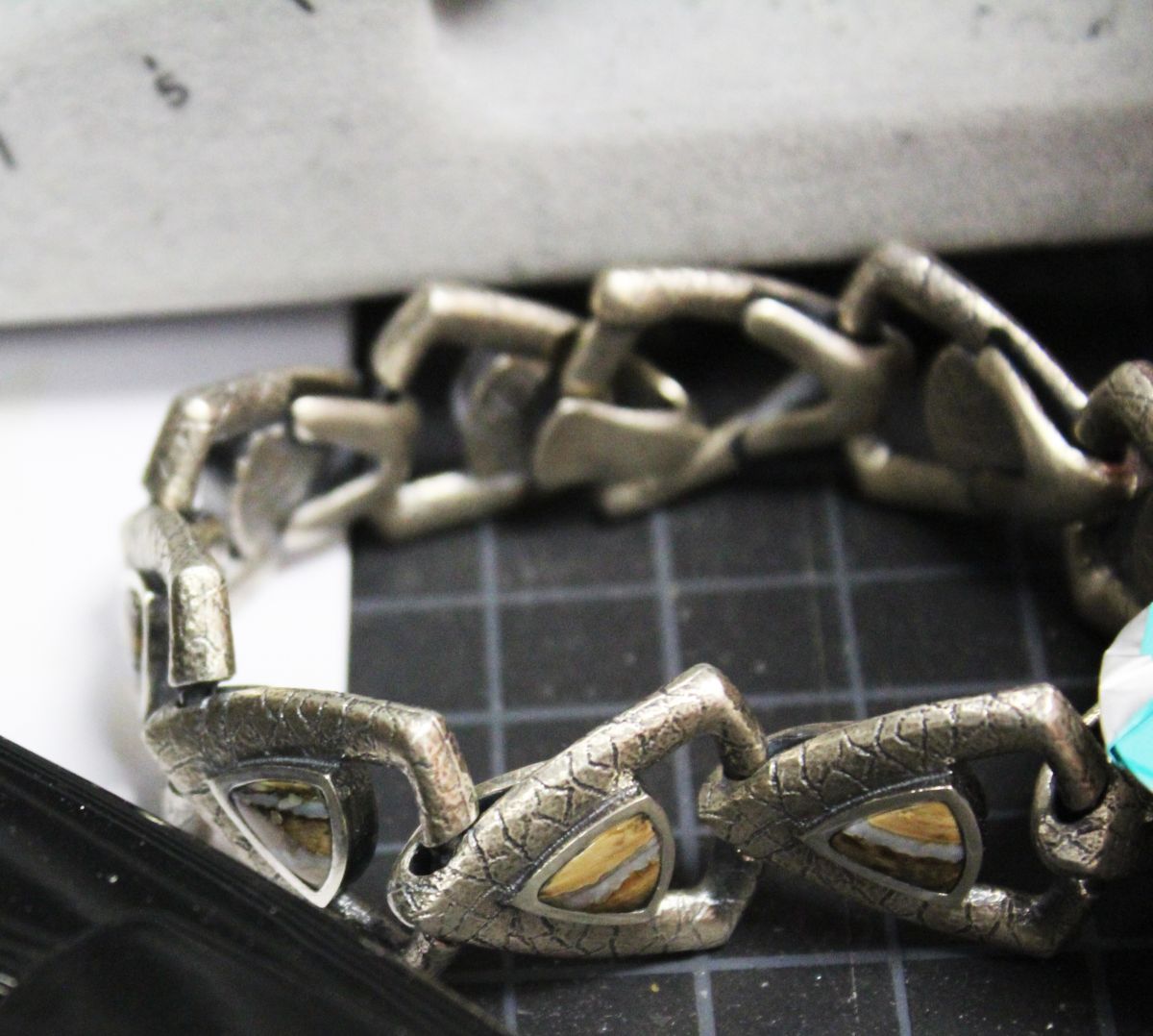 A bracelet in William Henry's most recent jewelry collection
William Henry was launched by designer and entrepreneur Matt Conable. Starting by designing knives for David Boye at 19, Conable started William Henry Knives in the Bay Area in the 1990s, becoming incorporated in 1996 and starting production in '97. According to current CEO Dave Boeckel, when the company started: "We were artist driven. That's where we started. With one artist making pocket knives on his own." The company chose to move from Santa Cruz due to the rising cost of living and the need to offer employees a high quality of life. The choice to come to McMinnville was largely influenced by McMinnville Industrial Promotions.
What started in the niche market of pocket knives has grown over the years to a type of lifestyle brand. Looking at the vast array of materials in the production facilities, it's hard to believe what you are seeing. Containers with labels such as "OVAL MAM TOOTH" and "12MM DINO BONE" hold 1,000s of years of history. Speaking with Dave proved that when working with materials like this, there are elements to consider that go beyond the surface.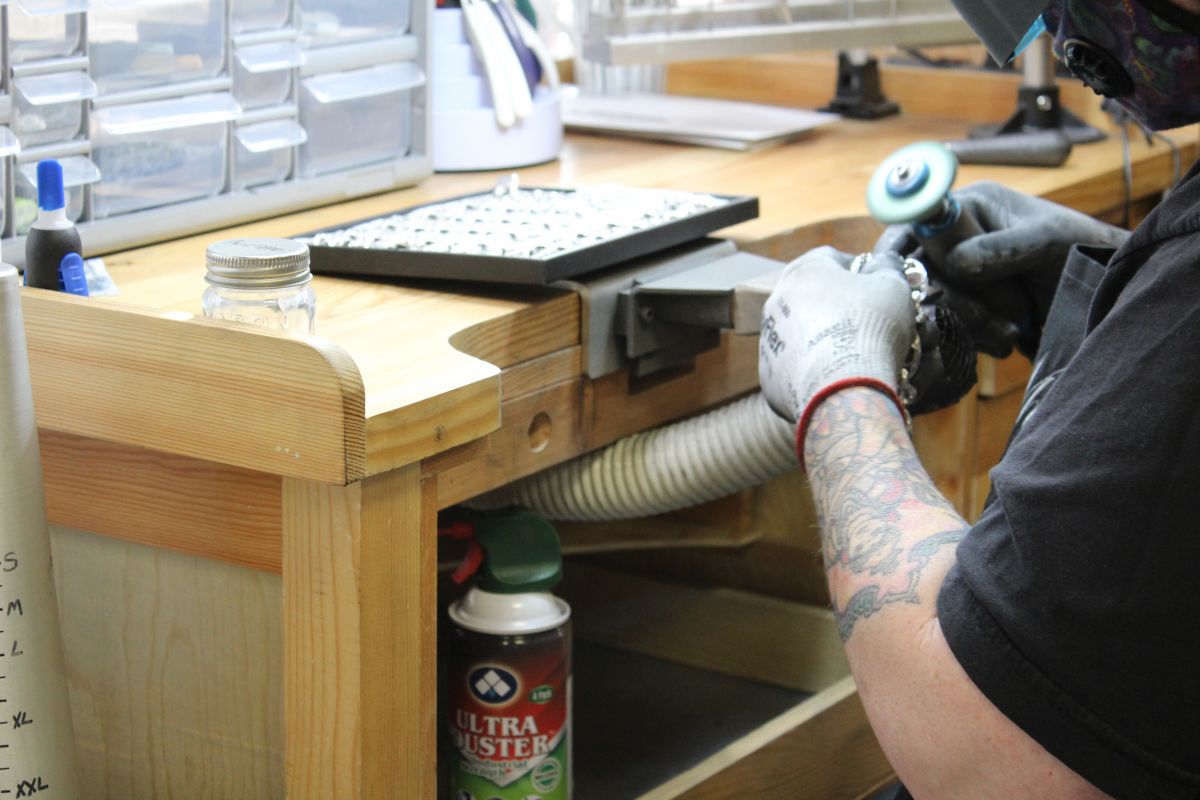 One detail is William Henry's commitment to getting their products from responsible sources. Dave contends: "We really believe in protecting our environment and knowing where are products come from." Ensuring elements like cocobolo wood from Central America are sustainably and responsibly harvested is an easier task than ensuring that a dinosaur bone has gone through the proper channels. They also must pay attention to the metals used. One product can have two to eight different types of metal and are purchased from individuals who are making the metals in their personal workshops. According to Dave some of the metals they use are almost more difficult to access than some of the more exotic elements, like mammoth tooth.
When working with materials such as these, it's also important to find the craftspeople to properly work with the products. Dave relays that finding someone who can turn a mammoth tooth into a bead is difficult because "a lot of the things we ask people to do, no one else will ask them to do." There are very few people who know the coloration one is looking for when creating a bead from a dinosaur bone, not to mention how to create jewelry that will last with it. Making it more difficult, William Henry concentrates on the Men's Luxury market and "Men are a lot harder on jewelry than women are." There pieces must be able to withstand years of wear without losing any of their value.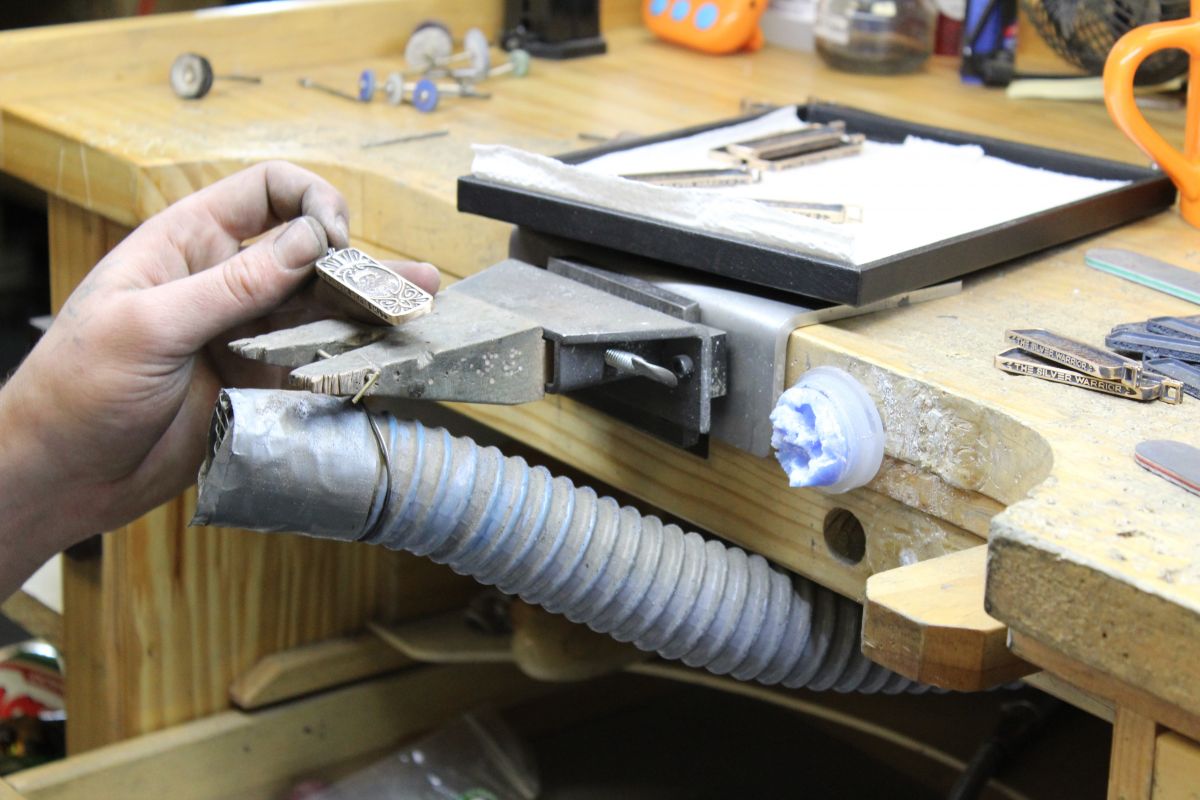 This all goes to say something that should be quite obvious by now. William Henry puts quality before all else when creating their works of art. While the majority of the work done on their pieces is completed in their production facility in McMinnville, some elements are better done by experts in other industries. For techniques such as koftgari (gold inlaying) or fine hand-engraving, William Henry ensures it entrusts this work to people who have dedicated their lives to doing it correctly. This occasionally means contracting with a 70 year old artisan who has made it his life's work to perfect knife grinding with a particular technique. The reason for this, according to Dave, "There cannot be flaws."
That's not to say that every employee at William Henry has been creating high end knives and jewelry their entire lives. Dave tells me that as long as an employee cares and has both good eyes and hands, they can do this work. With around forty employees, including remote sales staff, the team at William Henry are able to say they are enthusiastic about the products they create and work for a company that cares about them. With comprehensive benefits, a positive environment, and killer bragging rights, William Henry has a corporate culture of positivity. Dave explains this saying, "I still get excited to come to work every Monday, and that says something really special about both the products we create and the people I get to work with."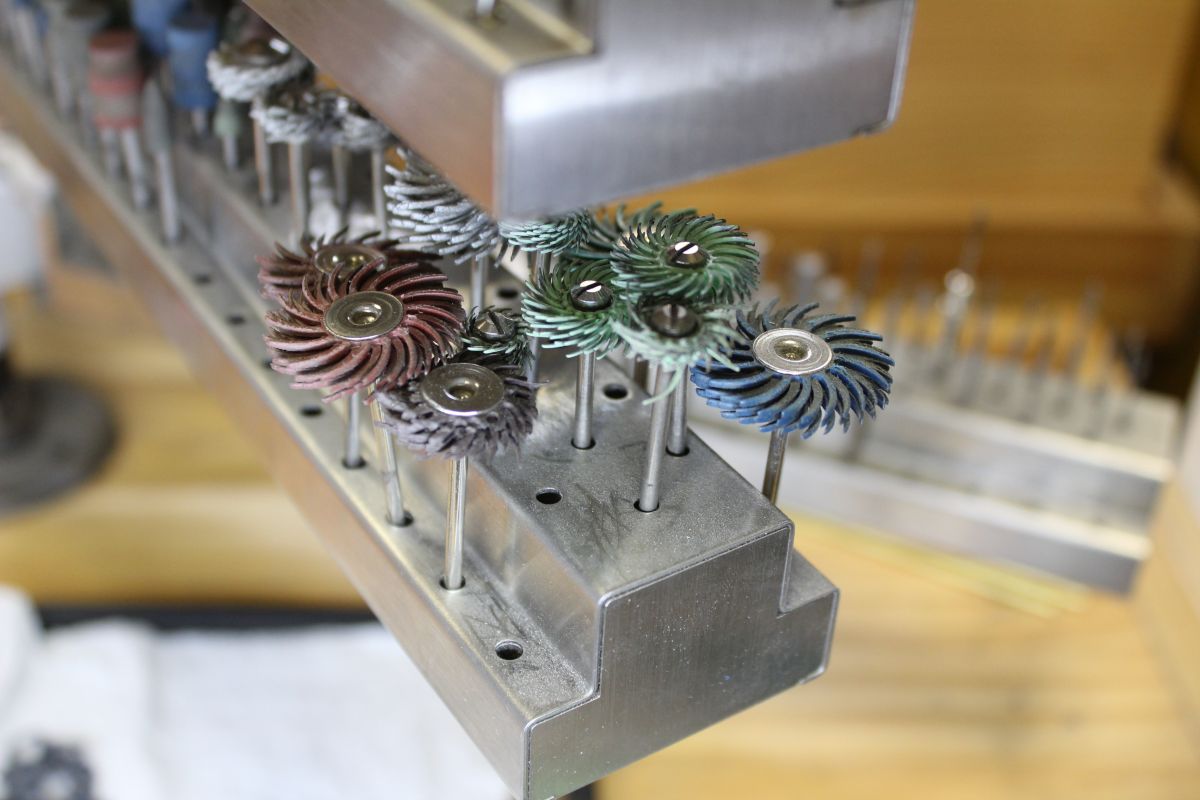 What began with luxury knives has grown to include a multitude of accessories including jewelry, writing instruments, money clips, cufflinks, and more. With products so intricately detailed, people use William Henry products to reveal something about themselves. Dave describes, "The space we're in, it's not only matching the trend, it's creating the trend." Looking on William Henry's website you can see that these products have made an impact with celebrities. With names ranging from Nick Jonas to Harrison Ford, Jared Leto, Jaimie Alexander, and Peter Facinelli wearing and collecting pieces from the brand, people have shown appreciation for the artisan quality of product. Musician Zac Brown has even collaborated with William Henry to make specialized pieces including a guitar pick pendant.
In a small city like McMinnville it can be easy to discount the amazing things being created around us on a daily basis. But McMinnville is a town that flourishes and revels in our uniquely artisan sensibilities. From award winning wine, to prominent galleries, eclectic dining, and artisan knives, our town of 33,000 believes in appreciating art and beautiful things.
Looking to start, expand, or locate your business in McMinnville? We're your first call. Contact us today.