MEDP Spark - iPhone, Therefore I Am: The Humanity of Technology
May 10, 2018
MEDP Spark, Volume 3, Issue 5 -- May 2018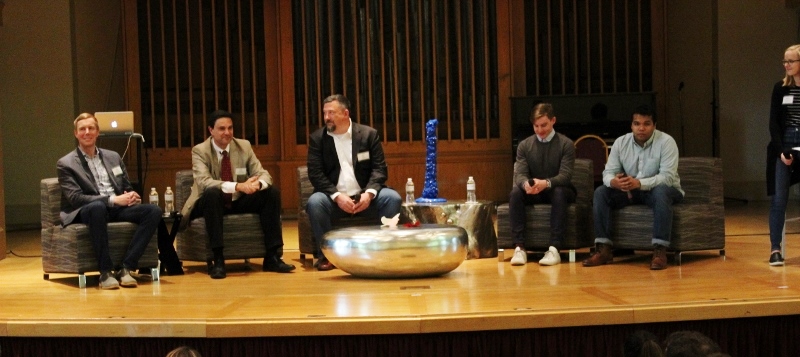 MEDP Tech Panelist: Skip Newberry, John Tapogna, Brian Feucht, Robin Fahy, and Achmat Jappie
Let's take a step back from what we think we know about technology. Let's ignore the images of Arnold Schwarzenegger being a robot assassin who has come to hunt down Sarah Connor. Let's push away thoughts of someone transcending life to become a computer who takes over minds, and please, shake every episode of Black Mirror out of your head so we can appreciate what we mean when we say "The Humanity of Technology."
Perhaps Jason Silva says it best in his video Technology Made us Human: "technology is the real skin of our species… technology is the way we turn our mind inside out. We are a tool making animals who has been in a symbiotic feedback loop with technology since the beginning of stone tools. Once we created stone tools our jaws shrank. You might say who we are is due to the feedback loop between us and our tools to the degree that our tools become extended appendages." Much like a nest to a bird, technology changes who we are by allowing us to turn ideas into reality and create revolutions. Since the beginning of machining to the assembly line to the creation of the computer, humanity has already gone through three Industrial Revolutions, and now, we're living through a fourth.
The fourth Industrial Revolution has been launched by the advent of high functioning AI (Artificial Intelligence), big data, and more. We, as humanity, are in a time of unprecedented possibilities. With high functioning AI, robots can now see and hear humans, and react accordingly. This means humans are able to interact with robots in a way that was never possible before. We are already seeing a response to this technology. Companies are racing to create the first fully automated car. Businesses are beginning to think of assembly lines in new ways and a wave of automation is rapidly building on the horizon. We can see this wave coming, and it's up to us to prepare.
Robot arm shown at OMEP Manufacturing Summit
One way we can prepare for this future is to have meaningful conversations surrounding technology. On May 2, 2018, MEDP (McMinnville Economic Development Partnership) organized an experience to engage community members, students, and businesses in a conversation on the humanity of technology. Inviting local and regional experts, MEDP arranged a technology panel to discuss how the future of technology could impact a town like McMinnville and how we address these changes responsibly. What we found was that we don't know what we don't know. Our community members have questions and we need to be active in how we identify trends and lead the way. This panel discussion was just the first of many and helped us unearth some answers, but this is not the end of the conversation.
Joining us on the panel was Technology Association of Oregon (TAO) President and CEO Skip Newberry, ECONorthwest President John Tapogna, Self-Driving Technology Software Developer Robin Fahy, Predicta Chief Revenue Officer Brian Feucht, and Apptio Financial Analyst Achmat Jappie.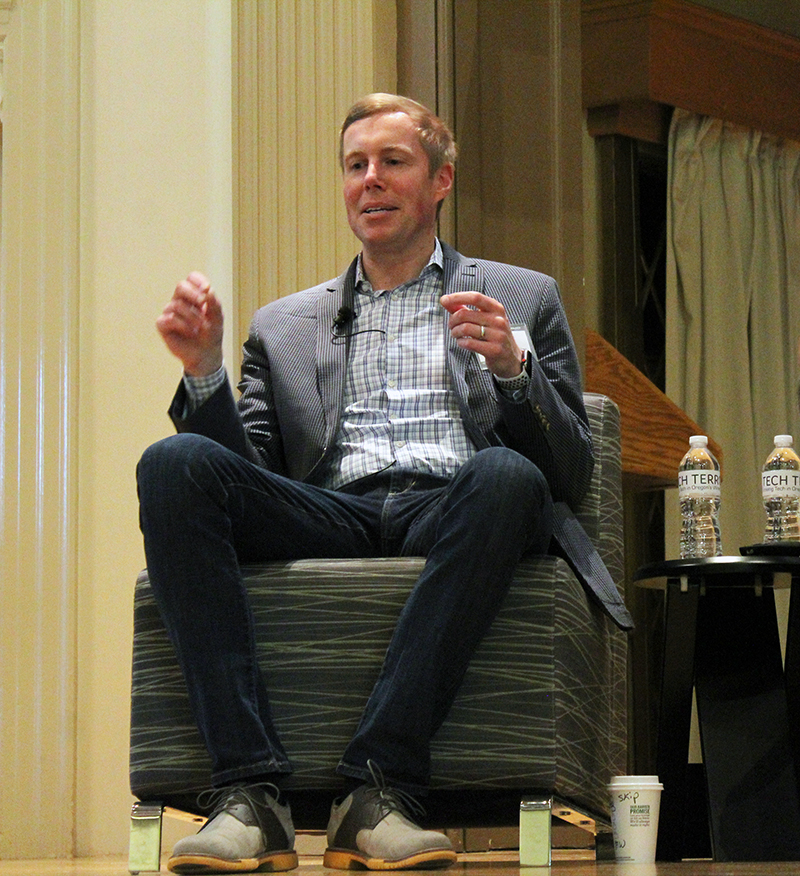 Skip Newberry, President and CEO, Technology Association of Oregon (TAO)
The first question asked by our moderators MEDP Executive Director Jody Christensen and Linfield Student Heather McNutt-Kaestner was directed to Skip asking what technology in Oregon currently looks like and what we could see for the future. He spoke on the population trends in Oregon, pointing to the large migration into Oregon of a skilled labor force meaning businesses have "the ability to access talent" which makes Oregon an attractive location for relocation, expansion, and more. But he also spoke on a changing assumption when it comes to technology.
It used to be that people had "an idea of tech as a bunch of twenty-somethings in hoodies and ironic t-shirts riding around on skateboards and designing apps with the goal of getting somebody to click on something. And yes, that's a part of it, but there's so much more that tech is now getting involved in and influencing." From infrastructure to healthcare, security, transportation, education and more, technology is influencing important components of people's lives, and it's even changing how tech companies are evolving. Many are moving towards being mission driven with a focus and awareness of the the communities they are trying to serve and how the new technology can enhance lives. They are embracing the human benefits realized by the rapid tech advancements.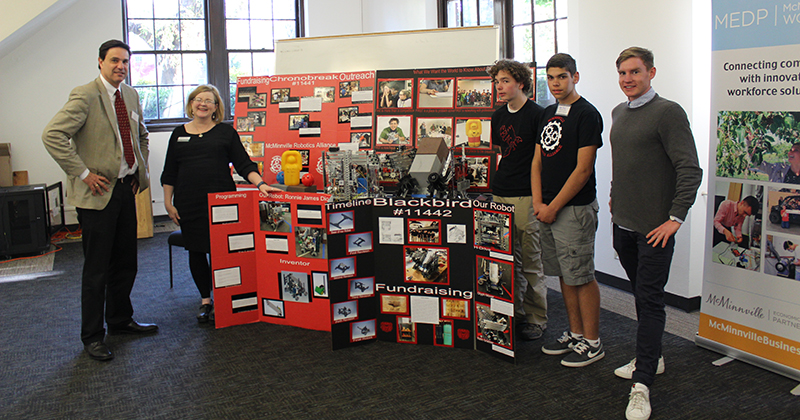 John Tapogna stands with MHS Robotics Team at MEDP Tech Bytes Event
John Tapogna, President, ECONorthwest
John Tapogna spoke largely on automation. He Revealed information from a recent report done by ECONorthwest for the Portland Business Alliance which showed that rural communities have a large portion of jobs that are at a high risk of being automated. In cities like those in Yamhill County, over 50% of jobs are at risk of being automated. But, John contends, humanity shouldn't panic. In a slide titled "Why Are There Still So Many Jobs?" John focused on four points.
One, technology compliments labor and increases the importance of human expertise judgement, and creativity: "When technology comes in, it makes a job more productive and changes the task. Think of bank tellers, back in the day, bank tellers used to spend a lot of time counting money, but they don't have to do that part anymore, so they became relationship managers." Two, humans know more than they can tell, "for example, when the panelist were called up here, none of us sat on the table. AI has a hard time sorting out stuff like that." Three, consumers never get enough "We invented air conditioning, and when we invented air conditioning we were able to create Houston, Texas. Technology creates things that creates new things." Finally, innovation requires private and public investment.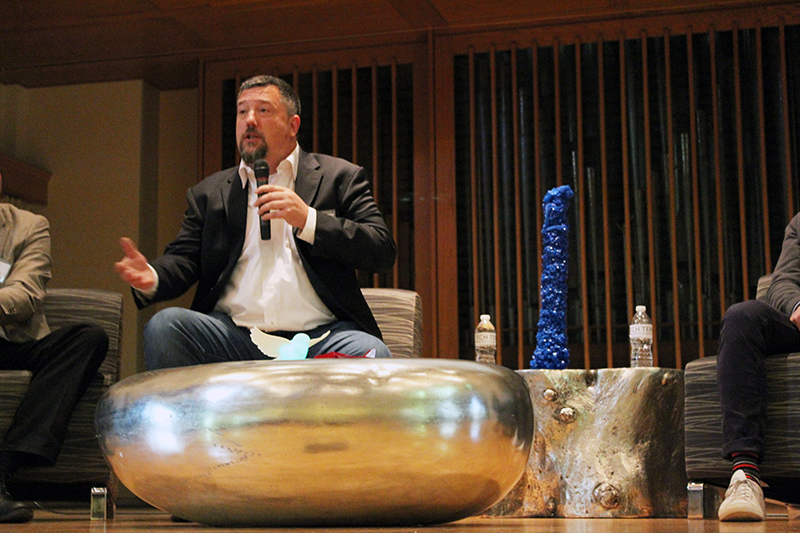 Brian Feucht, Chief Revenue Officer, Predicta
Brian Feucht is the Chief Revenue Officer of Predicta, Inc. A company that uses AI to inform companies how consumers view their products. It essentially takes information ranging the entirety of the world wide web, from blogs to articles to social media posts and compiles it into easy to digest information.
He explained there are multiple AIs used for different function such as language, images, intrinsics, and more. "Lipstick has 476,000 comments in the last two years. It takes us about 24 hours to sort through all of those comments, dilleniate by feelings, sort by brand and rack and stack your brand against your competitors." This new way of gathering information has allowed smaller companies to compete on a larger scale. When looking at technology Brian goes beyond his own company, telling the audience that thinking outside of the box is the most important component. New technologies have the ability to change the way we think about things we currently view of as constants, and those who look at the world differently can profit from these changes.
Brian's company is a proof in point that tech companies can be located in any community and that rural communities like McMinnville should take notice. He stated, "We used to be a Silicon Valley, San Francisco company. We're not anymore. We've shut down the office, we've moved employees, we're hiring them here and we're now an Oregon/McMinnville company. The reason we moved: it's a quality of life."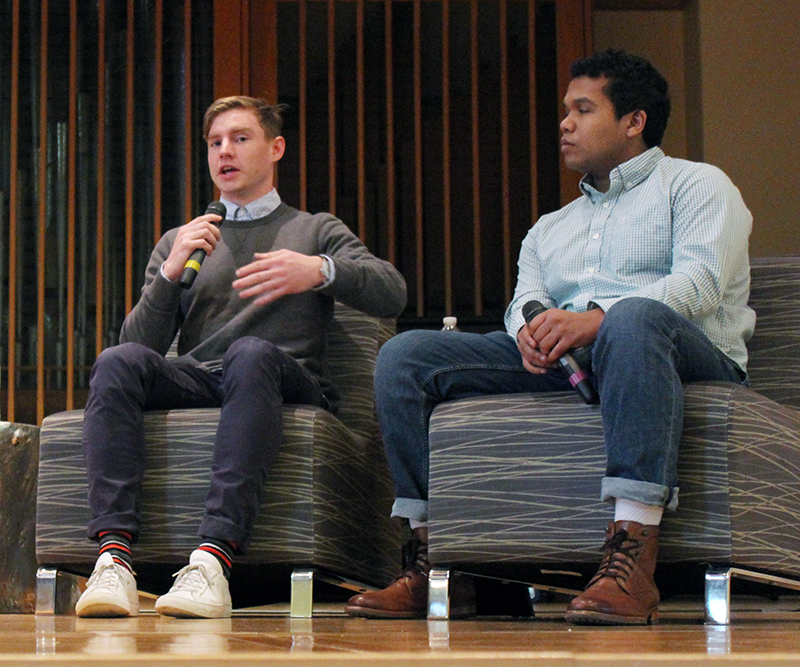 Robin Fahy, Systems Engineer and Software Development, Self-Driving Technology
Robin Fahy specializes in Systems Engineering and Software Development for a company working on Self-Driving Technology in San Francisco. He's a McMinnville High School and Linfield College graduate who utilizes his skills in philosophy and environmental science to think differently about emerging technology. Robin spoke on how autonomous vehicles are defined and how even today, we are interacting with components of this technology. Every time you see a car that has lane assist or parallel parking assist technology, that is an autonomous vehicle technology. Systems engineering is "the glue that pulls in other technical developments and components of the overall process. If we think about a self-driving car, it's like any other vehicle. It comes from an OEM manufacturer, gets sent to a self-driving technology company and from there they have to instal the sensors which can gauge and perceive the world."
Robin continued "When you combine the ability to see an image and classify something in a picture with the ability to judge how far away it is, you have a very powerful mechanism for understanding the world." But that's just the surface level. "All of that information has to feed into a central unit," which means "The car itself is one computer." Beyond creating the technology, Robin works as a systems engineer for on board software meaning much of his job is asking questions like "what kind of things or situations can we introduce to test and evaluate the performance of the software that's running on a moment by moment basis?" His job is an important piece in testing the safety of autonomous vehicles, but the definition of "safe" necessitates deeper thinking as well "Is the car as safe as a human driver? That's really the only argument we have to prove." He continues by asking, "What does it mean to be better than a human driver? Is it taking a perfect right turn? These cars can do that every time."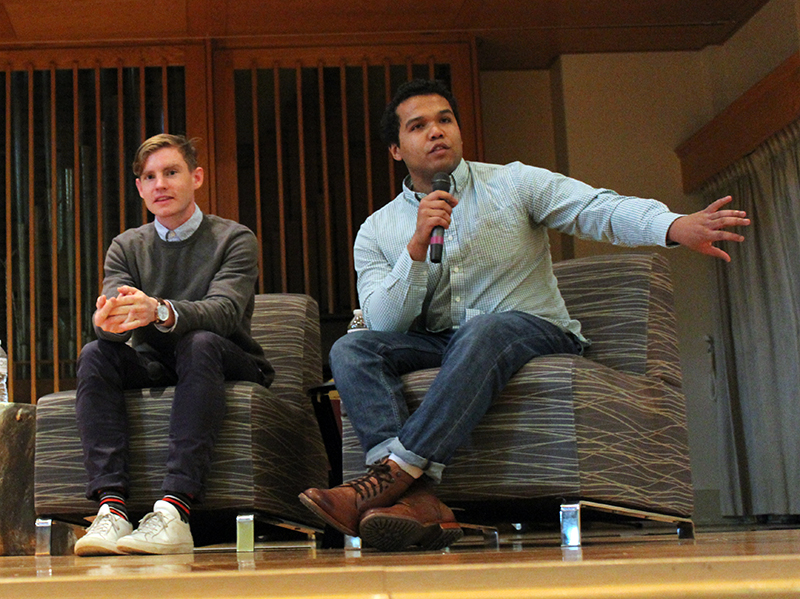 Achmat Jappie, Financial Analyst, Apptio
Achmat Jappie currently works as a Financial Analyst for Apptio, a company that specializes in software that show the value of IT departments. Since graduating from Linfield College in 2016 he has been immersed in technology fields. During college and after graduating he worked at Amazon which he says "being in the company for about two years, I got to see a lot of innovative things happening and how technology has changed our lives today and how it's impacting us. I think what it's going to do in the future is both scary and good." He points to Amazon's Alexa as a device we can interact with and use to answer a question in a moments notice. When looking back 50 years, this concept was something only seen in a science fiction movie.
Achmat believes technology is based around the questions: "How can we make our lives more convenient, more productive, and easier? Whether that's good or bad is a subjective opinion." Where Achmat sees the most value in technology is to further bring opportunity to third world countries, "I think with different avenues and different platforms, where you're allowing people to come in and get a fair chance, it's crucial for economic development and for society." He points to both China and India who have been able to utilize technology to become key players in a larger global game. Continuing that technology can be a force for good and that there is no denying how much we, as humans, are immersed in this new world.
Since holding the technology panel, we at MEDP have gotten one piece of consistent feedback: the audience wanted to ask more questions. The word technology invokes countless images, feelings, and thoughts in people's minds, and having a conversation about technology never truly ends. We cannot begin to guess what the world will look like twenty years from now, but we do know the more we discuss and prepare for the changes around us, the better off we will all be.
MEDP is leading efforts to grow technology in McMinnville with our Tech Terroir campaign. Want to ensure you hear about our next event? Email us at info@mcminnvillebusiness.com!
Want to see the entire discussion? Check out the video captured by McMinnville Community Media: