McMinnville Tech Companies featured in Annual Techlandia Publication
Oct 15, 2021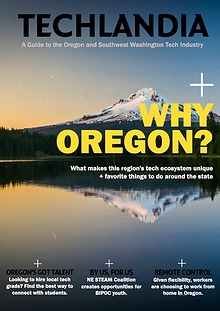 Technology Association of Oregon (TAO) and Techlandia Presenting Sponsor JLL are honored to introduce the fifth annual edition of TECHLANDIA, our online guide to technology in Oregon and SW Washington. View McMinnville's Tech Terroir feature on page 14.
Amidst the change and uncertainty of the past year, as people reevaluate their priorities and many tech workers now have the flexibility to work remotely, the TAO team was interested in exploring the question of "Why Oregon?" What draws newcomers to our region, and what keeps tech leaders and employees invested in our local industry? This year's edition of Techlandia Magazine explores this question from multiple angles.
In addition, the magazine highlights some consistent trend lines in the regional tech industry:
Oregon and Southwest Washington's tech industry continues to set new benchmarks for growth. Several companies have recently gone public or are planning to, and numerous companies in the area acquired startups or were acquired. Startup activity also accelerated. Of the more than 180 new member companies that joined TAO last year, more than 40% were early-stage startups from all over the region.
All of this growth has resulted in a big supply-demand gap of experienced talent. We have added over 3,000 new cybersecurity jobs in Oregon in the past three years alone. Oregon's leading higher ed programs have launched new programs and initiatives designed to prepare analytical thinkers with the technical expertise to solve problems facing local companies.
To close this talent gap and continue to diversify their workforce, more companies need to invest in training and developing entry-level folks. This edition of Techlandia highlights the work of several organizations working to increase representation in tech careers and improve STEM education opportunities for underrepresented youth throughout our state.
McMinnville-based tech companies Buildable Custom Design and Software, NW Rapid Manufacturing, NWUAV, Precision Analytical, and Applied Physics Technologies are featured in an article about the growing the "Tech Terroir" of our community.
Read the full e-magazine here.