TECH BYTES: A beer, a byte, and a little bit of networking
Aug 17, 2017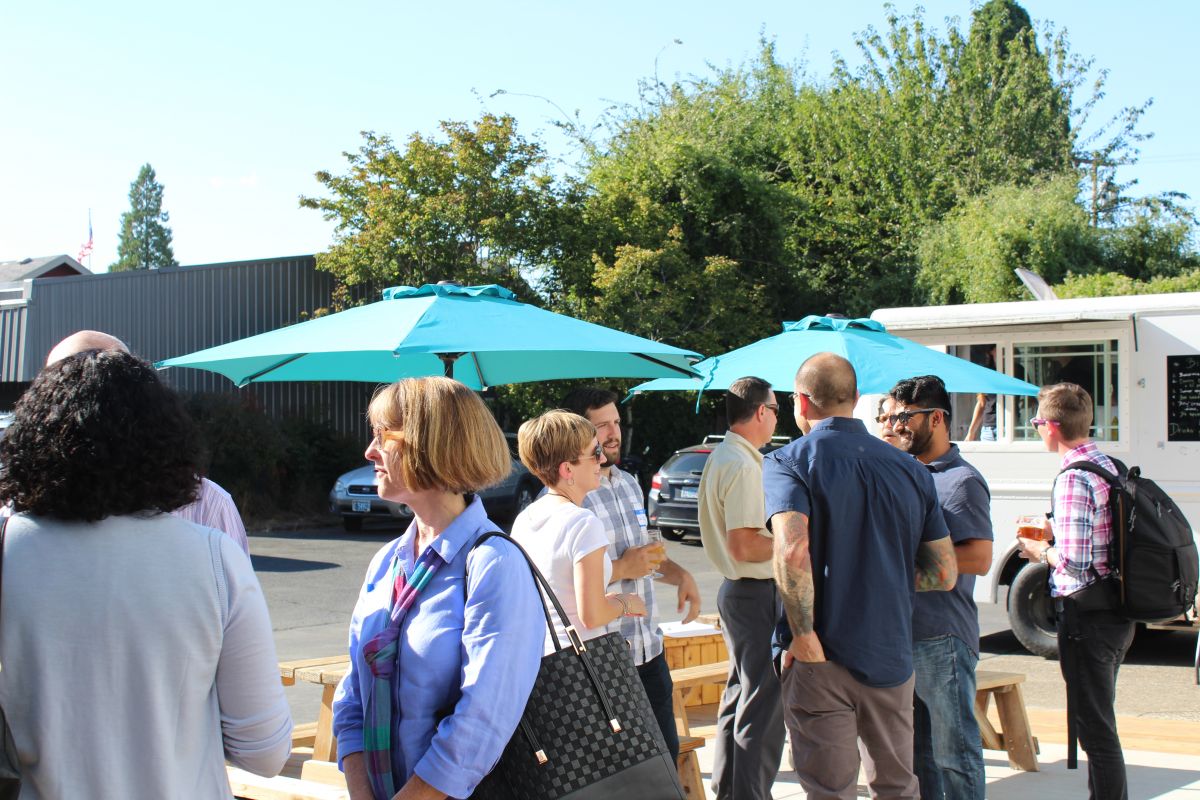 A variety of industries were able to speak on how they utilize tech at MEDP's most recent event.
When you live in a relatively small town like McMinnville, it's easy to overlook the big innovation that constantly surrounds us. Immersed in the everyday grind, you may not be aware of the innovative creations and entrepreneurial spirit found in your neighbor's garage or the small, unassuming, workspaces placed around town. At MEDP (McMinnville Economic Development Partnership) we believe that creating future economic vitality in McMinnville will deal largely with enhancing and supporting tech companies, tech jobs, and the companies utilizing technology in innovative ways.
Accordingly, we at MEDP created Tech Bytes. When trying to engage people who live and breathe technology, we've found it's a good idea to offer a beverage, some food, and lively but casual conversation. On August 16, 2017, we invited tech companies from McMinnville and around the area to come together and discuss all things tech while also informing MEDP of what we as an organization and city can be doing to foster the growth of these types of companies.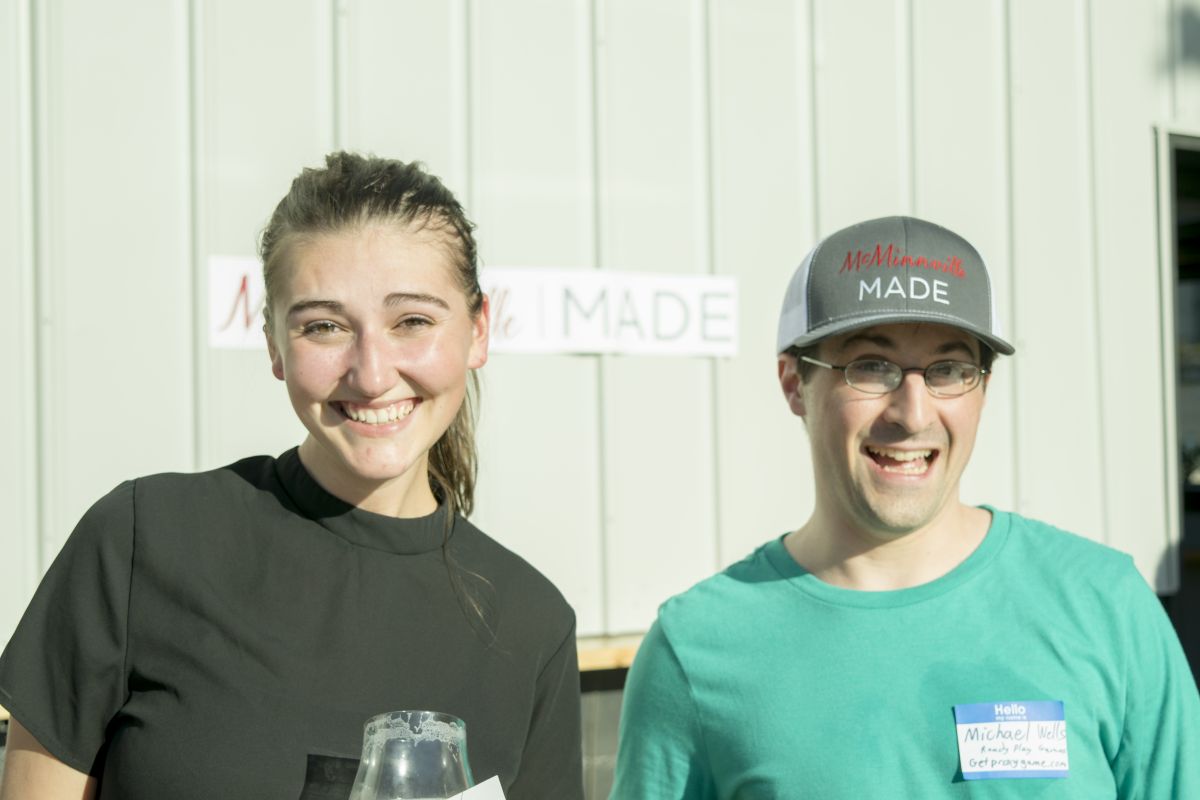 Video Game Developer and Project Lead at Ready Play Games, Michael Wells, wins MEDP's McMinnville MADE hat.
So what happens when you bring 25 people to a brewery with the loosely formed request to share their experiences in Yamhill County together? You start to learn about great things. Take Michael Wells, Project Lead/Developer of Ready Play Games. Michael has spent the past years pursuing a passion he has always had in the back of his mind: video game programming. After self teaching himself how to computer program (it took over 400 hours) he created his own game, Proxy - Ultimate Hacker, by starting with a weekend challenge to himself and continually building until he launched his first game. Where did he do all this? In his home in McMinnville, Oregon. With other games on his mind, like Battle Sheep, Michael is looking to find individuals who can bring skills that compliment his own including a 3D artist and marketing specialist.
Or take Marc Bowman, CEO of Tektology, a new company in town who has begun creating a program to "bring visibility to your data." In a small office in McMinnville, Oregon, three partners are hashing out the details of designing a program that will make the integration of data more affordable and make cities, buildings, and even parking lots "smarter." With big ideas, small companies benefit greatly from those with experience in the region. Bringing together budding entrepreneurs/startups with seasoned professionals like Kathy Tate, CEO of OnlineNW, and Ken Christensen, Project Engineer at NW Rapid Mfg, brought a series of insightful conversations on what it means to be working in tech in the Yamhill Valley.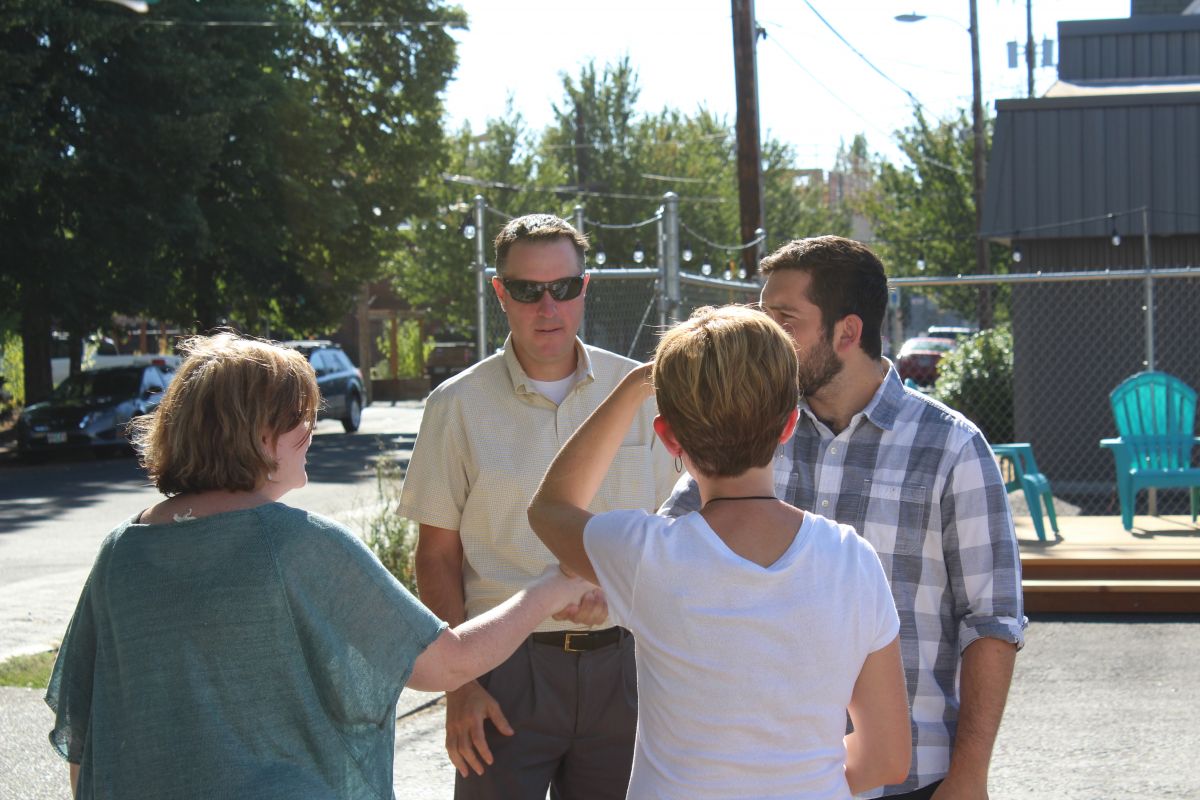 MEDP discusses tech concerns with individuals working in the field
To increase MEDP's efforts in recruiting, retaining, and helping companies grow, attendees were also asked to answer questions from "What trade association do you belong to?" to "Who's in your supply chain?" and "What is our region missing that would make it easier to do business?" Participants were also able to vote on what they believe is the most important and relevant resources to them and their company. Choices included a Venture Capitalist program, a collaborative workspace, industry networking events, and more. MEDP will utilize this data going forward in how they develop marketing strategies.
With a look towards the future, we see McMinnville growing at a rapid rate. The type of growth we experience and how the city grows along with industry will depend largely on how engaged and how active of a role the community plays. We at MEDP know that fostering the creation of 1,500 family wage jobs in 15 years will not happen without a community ready to embrace new technology companies and growing companies that are already working and starting here.
Tech Terroir: Growing Technology in Oregon's Wine Country is a collaborative effort to not only display McMinnville and Yamhill County as a great place for technology to land, but also our effort to learn the best ways to help technology grow. Have any insight? We'd love to hear it. Email us at info@mcminnvillebusiness.com.
Thank you to Allegory Brewing and Biscuit and Pickles for hosting our event at their newly opened brewery!