MEDP Spark - Type A Press: Vintage Process, Hometown Passion, Authentic Products
May 11, 2017
MEDP Spark, Volume 2, Issue 5 -- May 2017

Chelsey and her trusty workhorse.
Chelsey Nichol's workspace bleeds passion, creativity, and a love for her hometown, McMinnville, Oregon. She is the owner and founder of Type A Press, a letterpress printing company that offers custom letterpress printing to a variety of clients. Each piece is printed in a workspace that Chelsey knows well; a space she remembers running around in when she was a child that seems to invite an imaginative spirit with large windows, exposed bricks, and inspiration. As the fourth generation in her family in the printing industry (her father, Jeb Bladine, owns both the News Register and Oregon Lithoprint), she's come to love and appreciate all the artistic possibilities it offers.
Chelsey's journey in letterpress printing began through a series of resources, timing, and an ability to look at the world differently. After a conversation with a friend in which they both expressed a fascination and love for stationery and letterpress designs, Chelsey remembered an old letterpress sitting unattended in a family warehouse. Her now beloved press was originally acquired in the 40s when her grandfather bought the Tillamook Headlight Herald. In 2010, through research, weekend classes, and a careful balance of life, Chelsey learned the mechanics of the machine and fell in love with the process.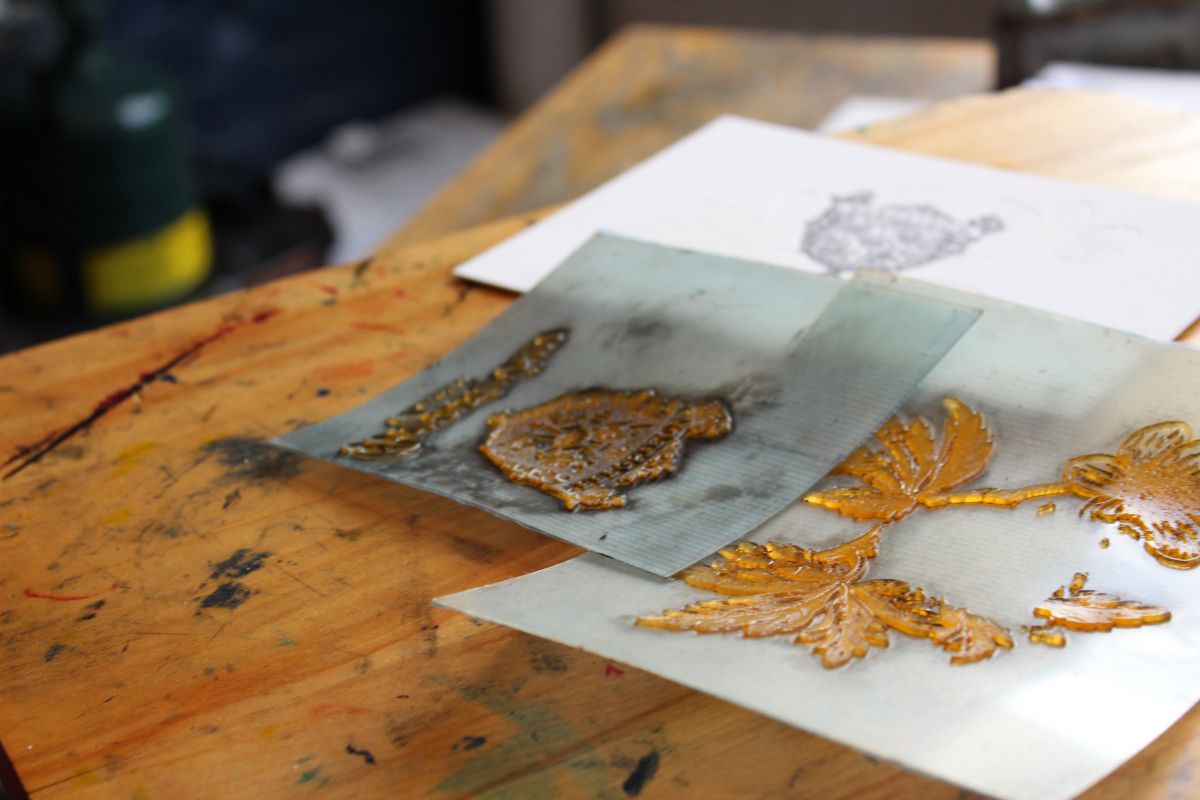 A design, ready to be printed.

After two years of mastering the craft and printing on nights and weekends, Chelsey made the leap to doing print full time. Now, in her fifth year, she's still working in the warehouse that once served as the News Register's paper and bindery space. As Chelsey states: "There was nothing more satisfying than walking around this space and finding the things I needed to do this." Most days, looking through the large front window, you can see her methodically placing paper in the machine, creating pieces for clients.
The letterpress has changed a bit as well. Chelsey and her husband outfitted the old letterpress with a tractor motor to help improve the process, allowing her to focus on the prints. To date, the press has more than 400,000 prints under its belt. Though Chelsey no longer uses the metal vintage letterpress type to create manual compositions, the polymer plates created from vector files of client's designs still go through the press one at a time. Chelsey still touches every piece of paper, every label, and every card that she delivers to clients.


"That's as fast as it goes." Chelsey demonstrating the printing process.
Though Type A Press is a full time job, Chelsey has her hands in multiple projects in McMinnville. Her current goal is to transform part of the old warehouse into an event space to provide another venue for downtown McMinnville events. She is seeing other developments around her on Fourth Street with a new brewery, Allegory Brewing, preparing to open, and Atticus Hotel, a boutique, 36-room hotel set to open in the Spring of 2018.
Along with this, Chelsey is engaged with the tourism and hospitality industry in town. She's worked on social media with Visit McMinnville and currently manages social media for both 3rd Street Flats and the Atticus Hotel. Each gives her the opportunity to highlight some of the great aspects of McMinnville, the place where she's grown up and made a life. You can also find her this summer selling her custom, screen-printed, McMinnville Oregon products at her shop. While some t-shirts share inside jokes with McMinnville residents (see her 472 shirt), others appeal to tourist and locals alike with designs that embrace the essence of the area.
All of this stems from her love of her hometown. "A lot of people, for a lot of years, have been very intentional about making McMinnville so great. These people are still very active in town. There's such an emphasis on being a part of the community. Volunteer, get involved. People have put in a lot of time and effort, and we have a great collection of open, thriving businesses." A testament to Chelsey's commitment and love for our city, she won the 2017 "Junior Citizen" award through McMinnville's Distinguished Service Awards, a long-standing tradition since 1955 and an award her father won before her.
Type A Press office decor.
With the creative air around her, Chelsey has found a community of "makers" within McMinnville, one she hopes grows over the years. Though she recognizes this trade isn't for everyone. Her words of advice to potential makers: "Check your nerves at the door. This is not for the faint of heart. You have to really believe in your product and what you do. You have to be your biggest cheerleader. I don't let other people tell me that what I'm doing is weird, or that they don't understand. Pricing is difficult. Have the confidence to ask people for the value of what you're providing. Build relationships. I get so many referrals from my clients because I've provided what they needed or gone above and beyond, exceeding their expectations."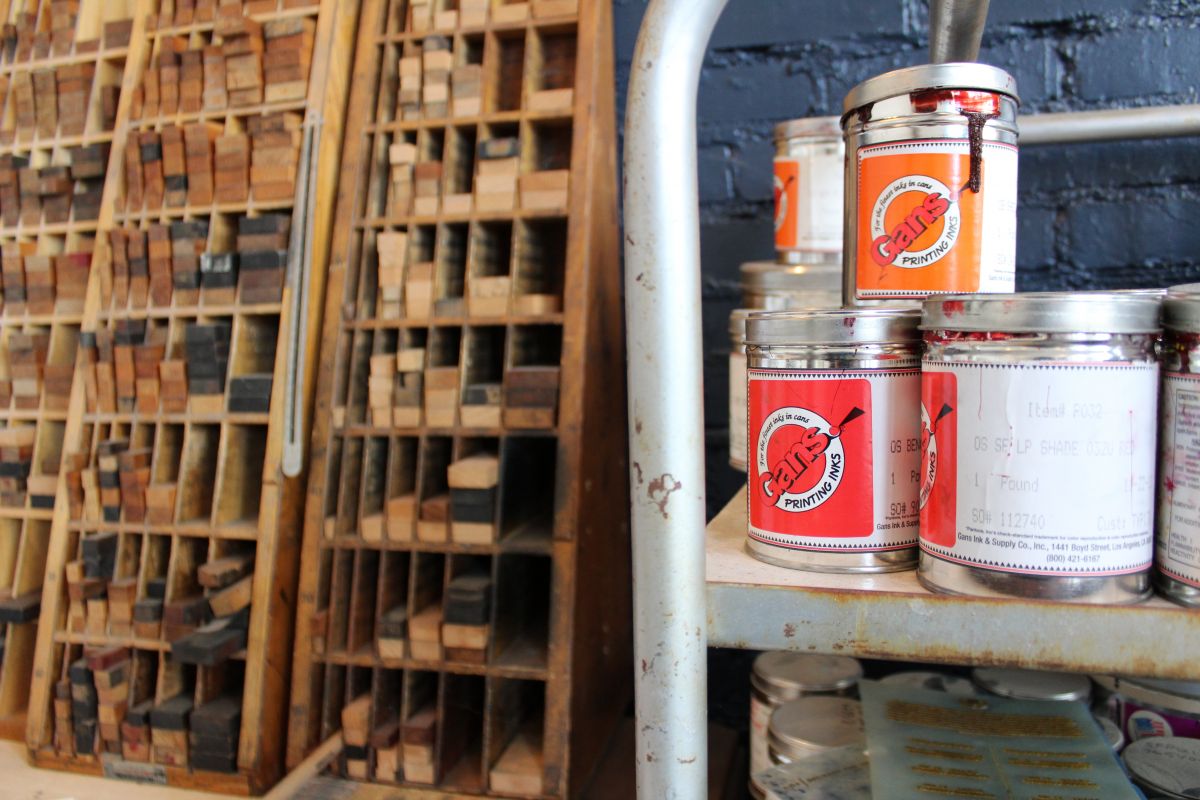 Tools of the trade, including a collection of blocks from days past.
"In McMinnville, there is an art world. I didn't really connect with that at first, but I'm learning more and more to realize that what I'm doing is creating a piece of art. One of the biggest creative struggles I've had was rethinking what I do. There's a supportive population in town. While shopping local has been pushed heavily over the years, locally made is now getting a boost." Though she's a business owner in a perceivably antiquated industry, Chelsey is a leader in promoting McMinnville's economic development. Her story just goes to shows that in a culture where we attempt to automate everything, sometimes the human touch makes all the difference.
At MEDP, we love to recognize the variety of industries and traded sector businesses located in our community. We believe McMinnville's entrepreneurs and seasoned business leaders - the innovative makers, producers, and processors - are all important for our community to thrive. Together, we are all part of fostering the growth of family-wage jobs in our town. We at MEDP are committed to our 1,500 in 15 goal and our newest campaign – Tech Terroir: Growing Tech in Oregon's Wine Country.