2018 McMinnville WORKS Internship Application Opens January 8
Jan 4, 2018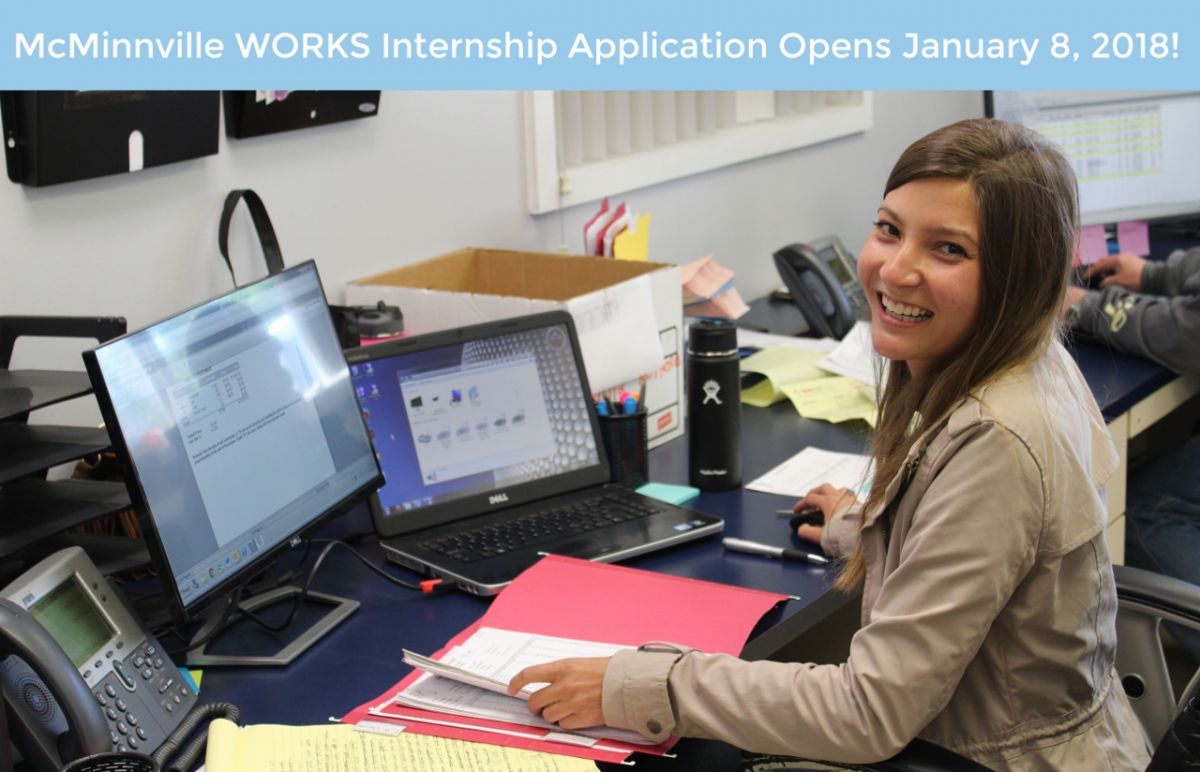 (MCMINNVILLE, OR) - In its sixth year, the McMinnville WORKS Internship Program Application opens on January 8, 2018 on the McMinnville Economic Development Partnership's (MEDP) website. With 17 participating host sites and 24 available positions, there is a wide range of internships for applicants.
The McMinnville WORKS Internship Program is organized by MEDP. Companies and organizations in the McMinnville area sign up to host an intern through the program. MEDP then collects applications and sends qualified candidates to the participating companies. Companies use their own hiring process to hire the intern. All positions are paid, full-time, and last 9-weeks from June 11 to August 10, 2018.
During the 9-week program interns attend weekly Professional Development Workshops where they learn professional skills from community and business leaders. Interns are also able to network with like-minded peers in the intern cohort and with a variety of businesses. Professional Development Workshop topics range from finance, to marketing yourself, to workplace expectations, project management and more.
Applicants are able to indicate areas of interest on their application on MEDP's website. This year available internship positions include marketing, electrical engineering, information technology (IT), mechanical engineering, human resources, graphic design, civil engineering, project management, event management, construction project development, and more.
Participating host sites include Cascade Steel, the City of McMinnville, Chehalem Valley Dance Academy, HBF International, Hillside Senior Living, Homeward Bound Pets, MEDP, McMinnville Water & Light, New Energy Works, Online NW, Precision Analytical, Predicta, Sea Reach Ltd., Solid Form Fabrication, Swede Mom, Willamette Valley Medical Center, and the Yamhill County Clerk.
2017 McMinnville Water & Light Intern Sylvette Benetti said of her experience in the program: "It's more than just something to add to your resume. It is an opportunity to gain real world experience all while finding things out about yourself you never knew you were capable of. In the 9 weeks you can grow tremendously in knowing how to brand yourself, talk with business professionals, gain crucial connections for the future, and become close with individuals you otherwise would have never known."
In 2017, 57% of interns were offered extended internships or job offers upon completion of their internships. The application is open from January 8 to February 16, 2018. Apply online at mcminnvillebusiness.com/mcminnville-works-internship-program#apply.