The Local Ingredients for Growth
Betty Lou Carrier is a rock star in the snack industry. She is a homegrown success story having started making delicious, healthy bars in her kitchen some 30 years ago.
"In a sense you feel like a little dream maker," says Carrier. "I had a dream, so I'm very compassionate to people starting out."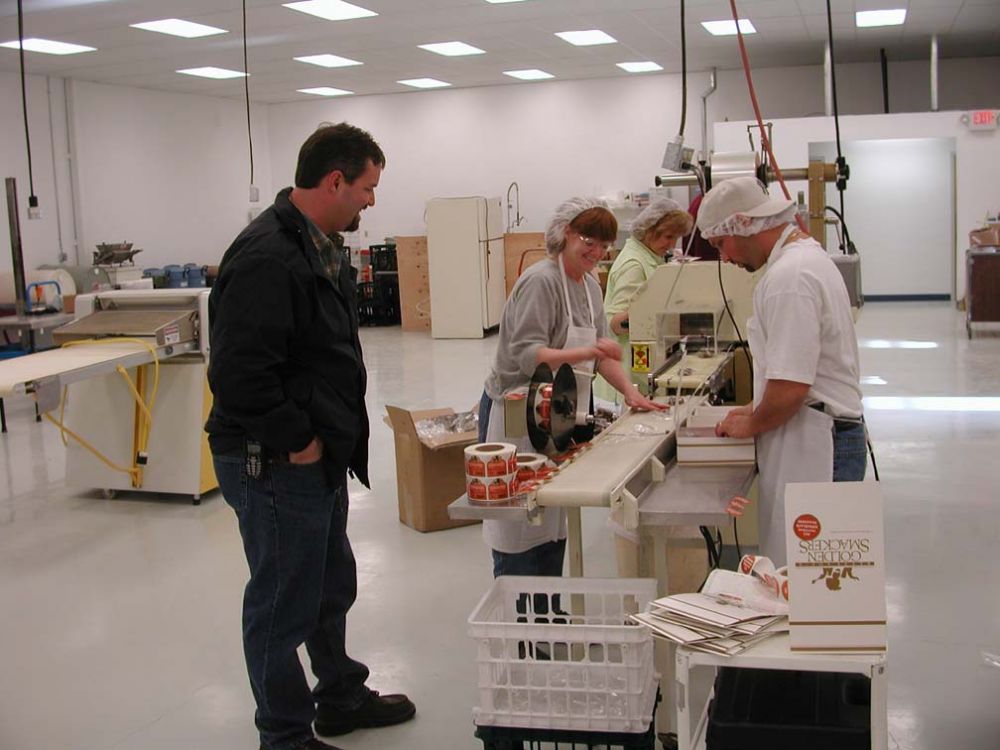 Betty Lou's first production line
In 2008, Betty Lou's, Inc. made a major expansion with the purchase of 94,000-plus square foot building. The McMinnville based organic snack manufacturer moved from a leased 32,000 square foot facility. Betty Lou's has been in production since 1987. The company currently employs over 230 people in marketing, production and sales.
"Some may play it safe in this economy," says Carrier, "but I'm looking to the future, seeking out ways to expand our capabilities and our processes."
The Betty Lou's product line is an extensive variety of snack offerings including all organic, dairy-free, low fat, low-carb, vegan, wheat-free, kosher, and soy-free. The product line communicates the benefits of great tasting snacks with a high nutritional value for the health conscious lifestyle.
Betty Lou's Inc. has a number of critical food processing certifications (i.e. gluten free facility) and business relationships (i.e. TV Personality Elizabeth Hasselbeck's New NoGii Bars). They produce snack products that are shipped globally both for their co-packing clients and their own Betty Lou lines including the wildly popular powdered peanut butter.
In early 2015, Betty Lou Carrier announced a new partnership with business guru Marcus Lemonis.
"We've had tremendous growth over the past 30 years, and I attribute that to our people, our product quality and consistent focus on providing only the best finished goods," commented Betty Lou Carrier. "This partnership gives us access to the additional resources needed to take the company's development to the next level, and we will now be better equipped to give our customers a faster turn-around through receiving assistance with elements such as regulation, marketing, package designs and most importantly sales. Today is a great day at Betty Lou's."
(from a company press release)
Company Updates:
Announces partnership with Marcus Lemonis in January 2015
Current employment at 236 in 2014
Growth Stats:
MEDP McMinnville Works Summer Internship Host Site (2014)
Leased additional 33,000 sq. ft. building in the industrial park (2013)
55 new jobs created (2012)
MEDP Manufacturer of the Year (2012)
MEDP Manufacturing Leader of the Year (2009)
70 local jobs retained (2008)
Purchased 94,000 sq. ft. building (2008)
Resources used by Betty Lou's:
McMinnville Economic Development Partnership
Governor's Strategic Fund
Employer Workforce Training Funds
Mid-Willamette High Performance Consortium
Oregon Manufacturing Extension Partnership
McMinnville Industrial Promotions
Click here to view an article in Oregon Business about Betty Lou's Inc.
Click here to view the Marcus Lemonis partnership annoucement