We Can't Do it Alone: Governor Kate Brown Visits McMinnville, Oregon
May 19, 2017

Business and community leaders came together to speak with Governor Kate Brown and Representative Ron Noble
On May 16, 2017 MEDP hosted Oregon Governor Kate Brown to help the state learn more about the community and businesses in McMinnville, Oregon. The visit was coordinated with the help of our Regional Solutions Coordinator, James LaBar, and our partners throughout the community and state. State partners, Director of Regional Solutions and Jobs and Economic Policy Advisor, Jason Lewis-Berry, and Assistant Director of Business Oregon and Executive Director of Infrastructure Finance Authority, Chris Cummings also attended the visit and spoke with our community leaders.
At MEDP we have set an aspirational goal of fostering the creation of 1,500 family wage jobs in the next 15 years to celebrate McMinnville's 150th anniversary in 2032. We know that this is a large goal, and we cannot complete it on our own. Partnerships throughout the state and support on all levels will be needed to reach the 1,500 mark. Working with our local Regional Solutions Coordinator, Business Oregon, and both our local and federal representatives, the task becomes easier when you leverage partnerships and collaboration. Hosting the governor was an opportunity to bring rural Oregon into the focus and express concerns we are facing as a community. It was also an opportunity to show the state some of the fantastic people and products that represent #McMinnvilleMADE.

CEO Shon Holyfield explains the workspace he has helped custom design for his company TTR
Both Lewis-Berry and Cummings began the day with a tour of the building that will house TTR's new office. The building, still under construction, was a previous Evergreen Aviation building and is being remodeled to reflect TTR's unique company culture. With a designated gym, a large kitchen, and an open floor plan that encourages communication, the company plans to move in by the end of June. As one of Oregon's top 10 places to work, Holyfield expressed his excitement for the move as not only does he feel like it will reward his current workers, but will also allow the company to grow from 70 employees to around 150. True to the company, Holyfield was joined by a crew from TTR who expressed the caring nature of everyday interactions within the business.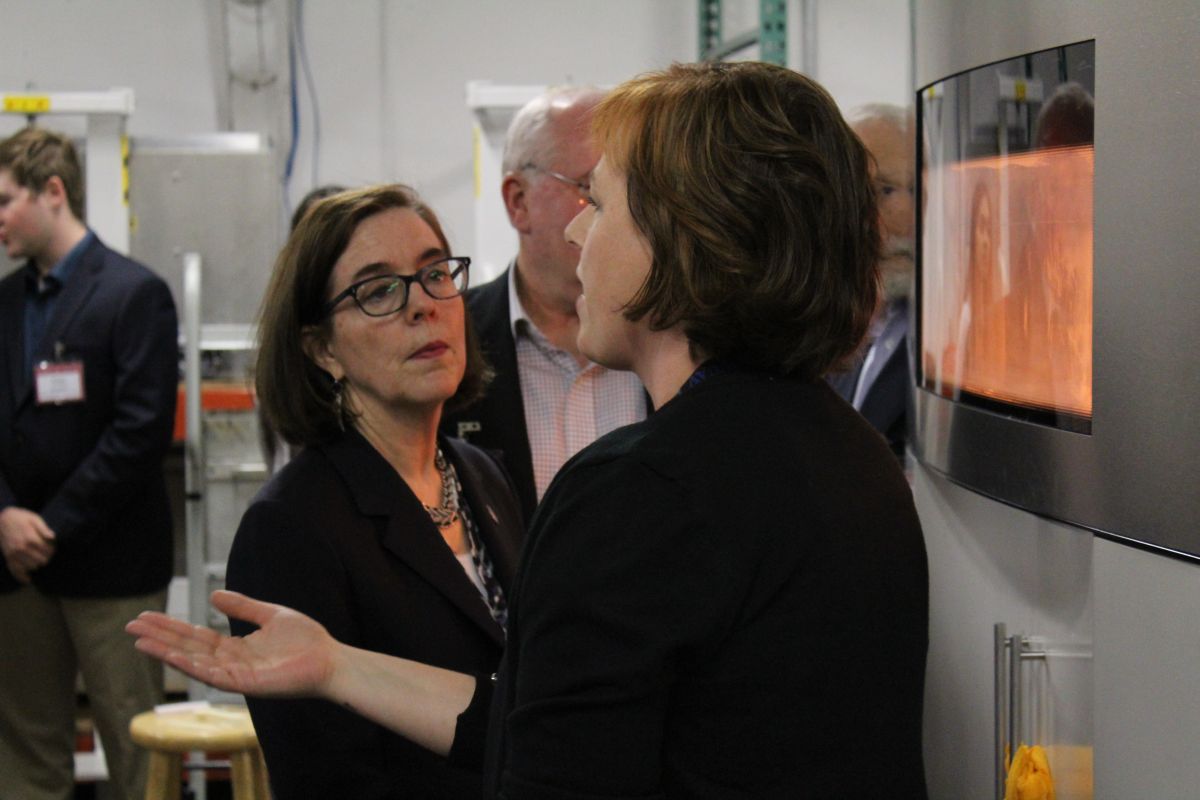 Governor Kate Brown listens to NW Rapid Manufacturing Owner, Heather Harris, explain the SLS (Selective Laser Sintering) Process
The day continued at NW Rapid Manufacturing where Governor Brown met local officials and community leaders and was able to tour the 3D printing facility. Owner and President, Heather Harris led the tour. While explaining how the SLS (Selective Laser Sintering) Process her machines use create products, Harris also touched on some of the things her business concerns including workforce and land use. Walking in between buildings Harris explained that though having her business operating in three separate buildings is complicated and inconvenient, having access to land is a struggle, especially considering her machines would not be able to operate successfully under certain conditions, such as the vibration of a nearby train.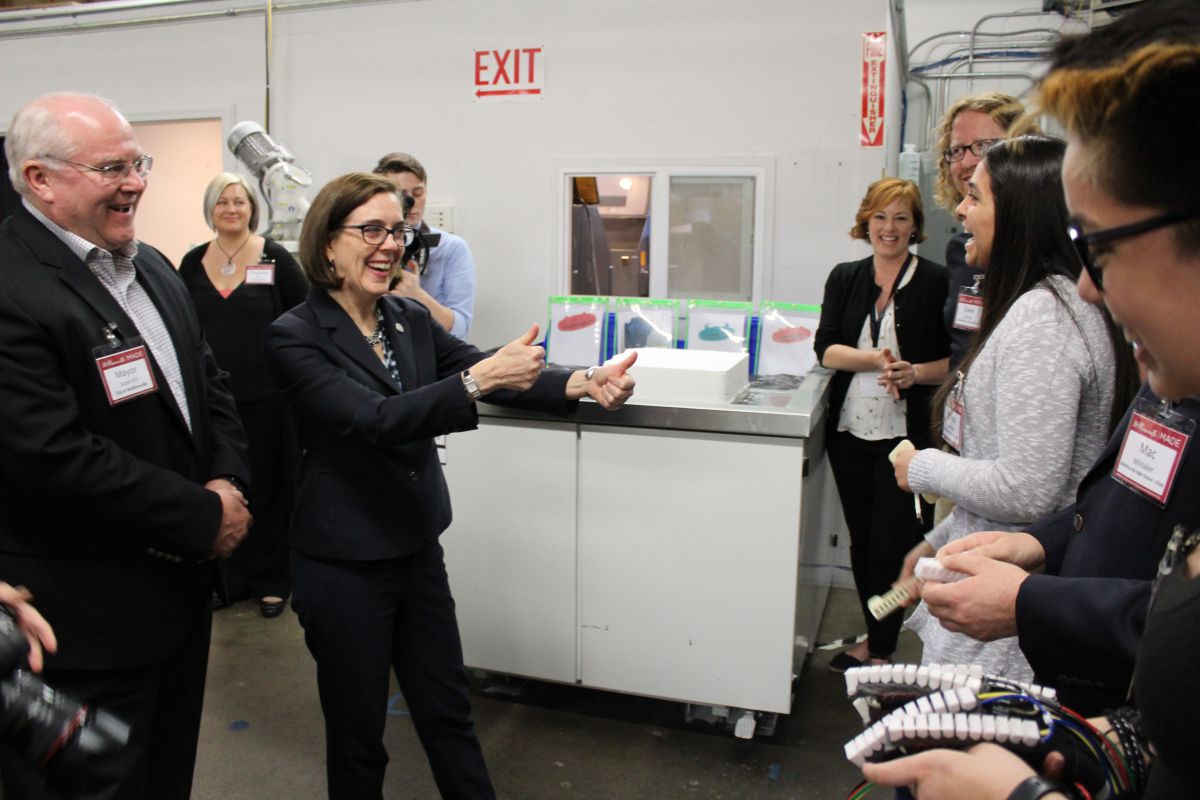 Governor Brown gives a thumbs-up to EASA student, Maria Martinez, after she tells the governor that the biggest lesson she's learned is EASA is that sometimes, it's okay to fail.
While speaking about workforce, Harris introduced the governor to three McMinnville High School EASA (Engineering & Aerospace Sciences Academy) students who had been invited to speak. Maria Martinez, Mac Whitaker, and Rebecca Long are all seniors in the EASA program and attended the tour with teacher Dave Larson. They spoke to Governor Brown about their most recent project, a Soft Hand Exoskeleton, as well as the impact the EASA program has had on their lives. From helping them discover what type of engineering inspires them the most, to how to work with different personality types, the students explained how the Career Pathways changed how they thought about their futures.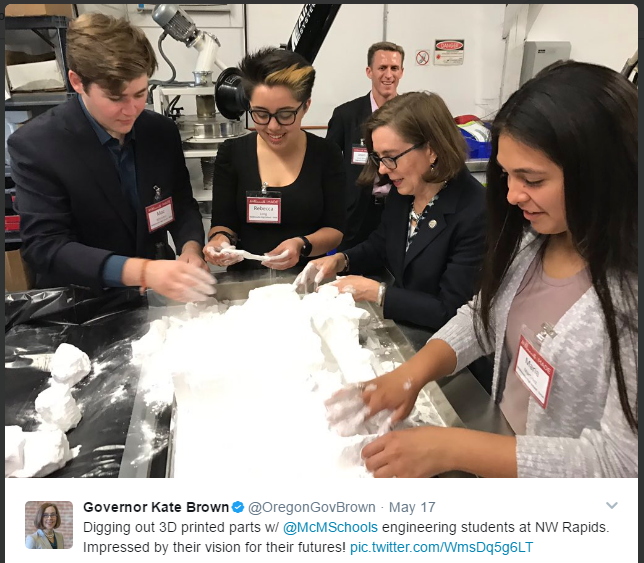 Photo from Governor Kate Brown's Twitter
After speaking on their project, the students and Governor Brown also had the chance to get a more "hands-on" approach to 3D printing as they broke apart a "partcake" (a loaf of 3D printed parts and support powder) to find previously printed pieces.
As the tour continued Governor Brown also had the opportunity to learn about MEDP's McMinnville WORKS Internship Program. She spoke with both companies who had participated and past interns who are now working full-time in McMinnville. The McMinnville WORKS Internship Program is MEDP's contribution to helping our local companies "Grow Our Own" workforce. Deven Paolo, Owner/President of Solid Form Fabrication and one of the founding members of the WORKS Program spoke on how the program has helped him find three mechanical engineers who continued to work for him after their internships ended. John Mead, Co-Owner of Cellar Ridge Construction spoke on how the internship program allowed them to fill a position that had been vacant for six months. Their employee, Abhinav Mishra found his position as a Project Manager of Cellar Ridge after completing the WORKS Internship at another Host Site. He felt passionate about Cellar Ridges' mission for green construction practices and made connections through the program.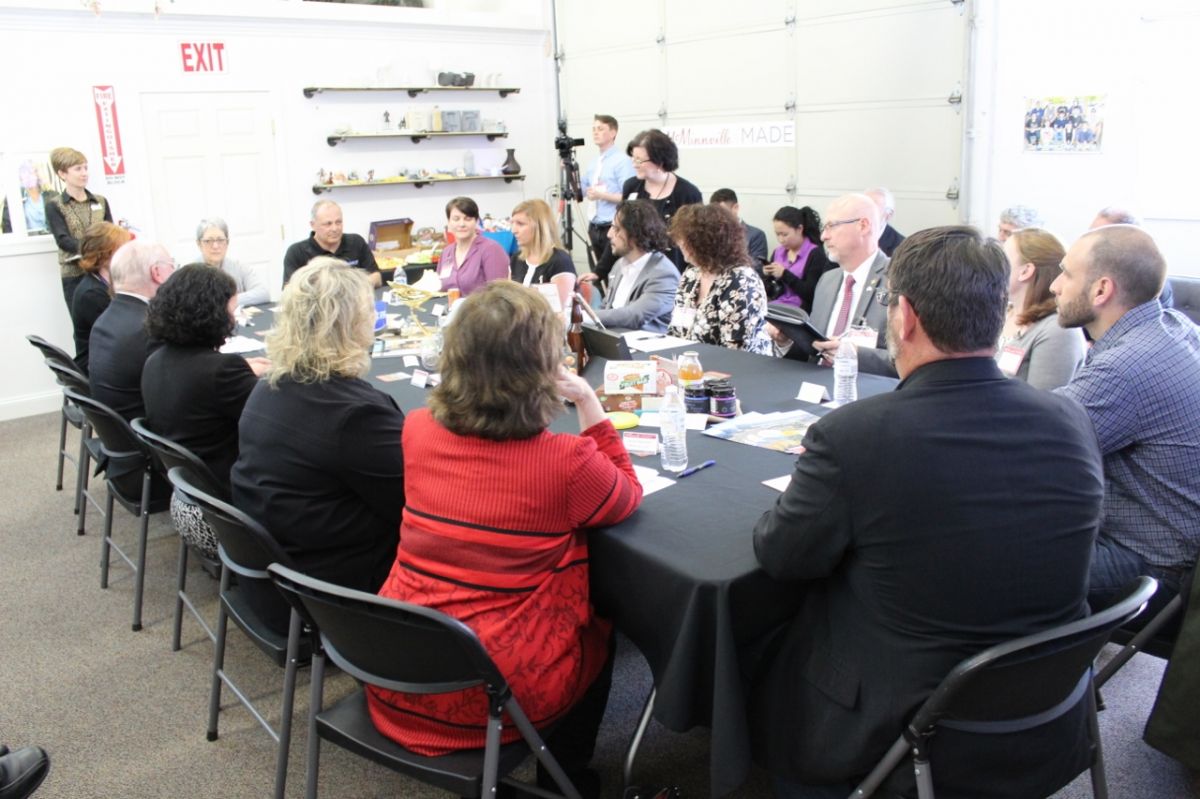 Business and Community Leaders have a roundtable discussion with elected officials.
The day ended with a roundtable business discussion with 14 business and community leaders who spoke openly about concerns and questions they had for the future. Governor Brown, Representative Ron Noble, and McMinnville Mayor Scott Hill also had seats at the table and partners lined the room, available to answer questions. A variety of businesses and industries were present including agriculture, tourism, healthcare, manufacturing, aerospace, technology, and food-products. Topics of discussion ranged from land-use to housing availability to transportation, workforce, agriculture, and taxing structure.
The roundtable gave our business leaders a voice to air concerns that many rural areas in Oregon face. While McMinnville has a large and growing manufacturing base, it requires energy, collaboration, and persistence to ensure that McMinnville remains business friendly while maintaining our tight-knit community.
We are excited to work with state partners, our local businesses, representatives, and community to meet our goal of 1,500 family wage jobs in 15 years. We know that this goal will not be accomplished alone, and feel incredibly fortunate to have the partnerships that we do within our community, region, and state.