MEDP Spark - Low-Hanging Fruit Located on Fertile Ground
Jun 8, 2017
MEDP Spark, Volume 2, Issue 6 -- June 2017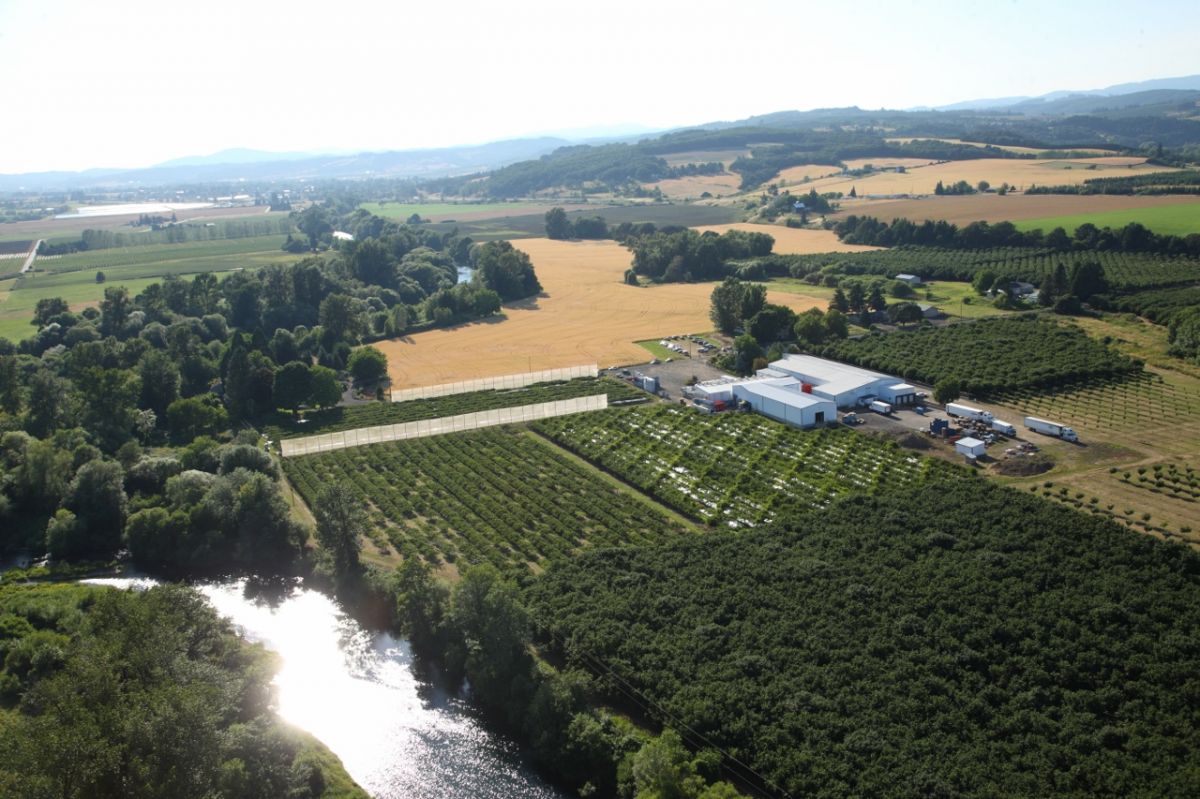 McMinnville and Yamhill County are ripe for agriculture, from grapes to apples to berries. Photo courtesy of HBF International.
When you think of farming and agricultural land, images of the good-ol-days may come to mind - perhaps a single farmer, with a plow, doing the same process that has been done for hundreds of years - but hold that thought. When is the last time you talked to a local farmer? To someone who is using soil to grow food and create beverages? Recently, we at MEDP got the chance to talk to two companies in McMinnville, Carlton Cyderworks and HBF International, and learned that working in agriculture is anything but business as usual.
Through speaking with these two companies, two things became very clear. One, innovation and creating new products are at the front of mind and two, it takes a county.
Ripe with opportunity, Yamhill County—and McMinnville in particular—is primed and ready for growth. Both Carlton Cyderworks and HBF International got their start in Yamhill Valley. Through collaboration with local farmers, creating their own farms, and years of living in the valley - these companies have been able to not only become successful, but produce products that may have you thinking differently on what cider making and berry farming mean.
Carlton Cyderworks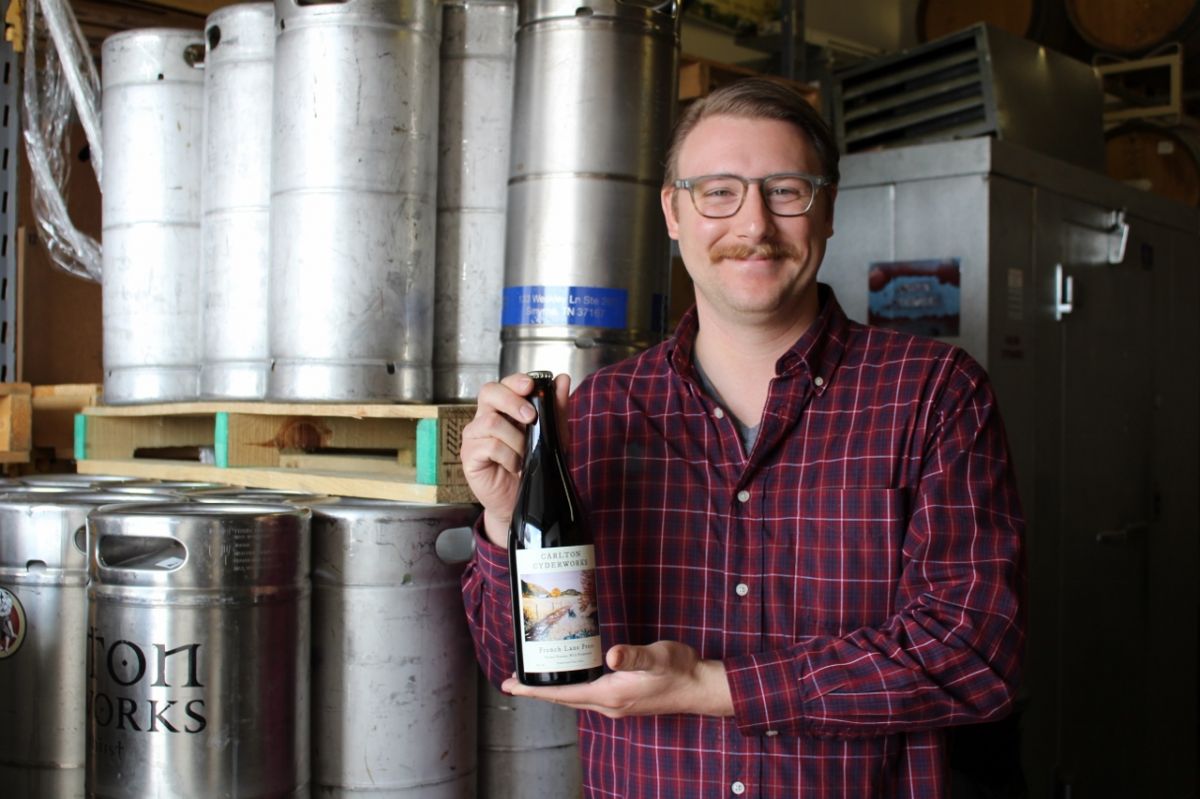 Keenan Bailey, Carlton Cyderworks' Owner.
Classic Carlton Cyderworks ciders are easily recognizable by the image of one colonial man choking out another. The company was started and is owned by the Bailey family who live next to an apple orchard in the Willamette Valley. At first cider making was a hobby for the Bailey's, but in 2009 they sold their first bottle and became one of the first three cideries registered in the State of Oregon. Since selling their first bottle, the cider industry in Oregon has only grown. Today there are somewhere between 30 and 50 cideries in Oregon. At his production facility in McMinnville, Oregon, Keenan Bailey, owner of Carlton Cyderworks eagerly pours samples of products and shows us where the brewing and fermentation process takes place.
Though they love making carbonated ciders in a variety of flavors (check out this summer's seasonal flavor - rhuberry) six years in, CEO Keenan Bailey realized a prime distinction and opportunity for his company: "We're a family-run company. We're right here in wine country, which is our one advantage over the companies that have more of a marketing budget and financial backing." Being in wine country granted him a unique perspective, and he decided to utilize this perspective by looking at cider with a flourish for the old and mindset of the new.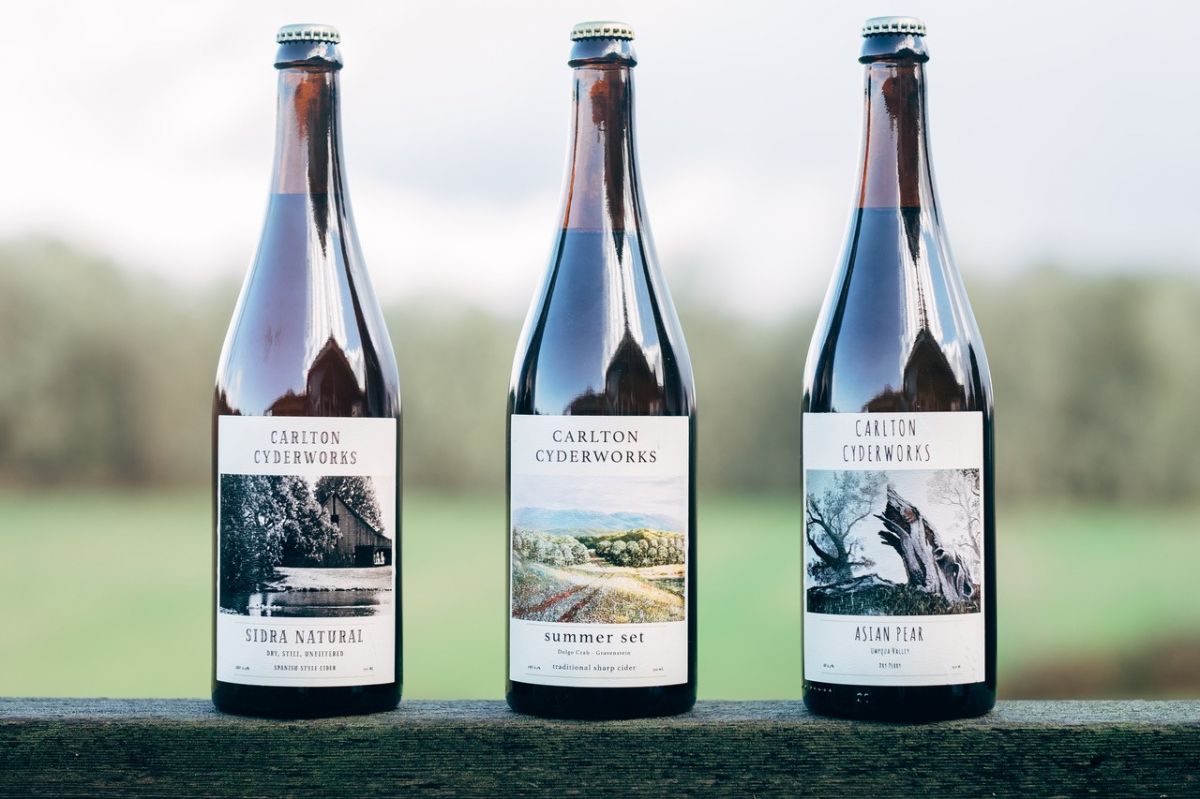 A sampling of the Carlton Cyderworks line: Sidra Natural, Summer Set, and Asian Pear. Photo courtesy of Carlton Cyderworks
Cue the release of Carlton Cyderworks' newest creations, a series of higher-end cider. Keenan labels himself as obsessed with apples, admitting he could talk about the different varieties for hours. But by talking about these apples, Keenan makes an important distinction clear: most ciders are made with apples that people generally don't eat. Apples that grow plentiful but are mixed with sugars and other flavors to produce the flavor that people commonly think of when they hear the words "hard cider." The new line of ciders Carlton Cyderworks has released, the Summer Set, Asian Pear, and Sidra Natural, have a format that is more associated with wine. This is not an accident and when you taste them, you begin to understand.
In all three varieties, it is the fruit that matters, not the flavoring that has been added. Keenan makes the comparison stating "You wouldn't ask a winemaker why the grapes he's using matters." Not only this, at the time of this interview Keenan had recently returned from a trip to the northern outskirts of Spain, visiting cider makers who barely understood English to delve into traditional Spanish cider making techniques. The outcome was the Sidra Natural. A cider that has to be tasted to be understood. It's not carbonated and it's not sugary. Rather, it taste like an apple with tangy, sharp, acetic notes dancing on your tongue. And not just any apple, but the exact kinds that were used to make the product. The taste begins to make you understand Keenan's obsession with the varieties of apples he grows here in Yamhill County.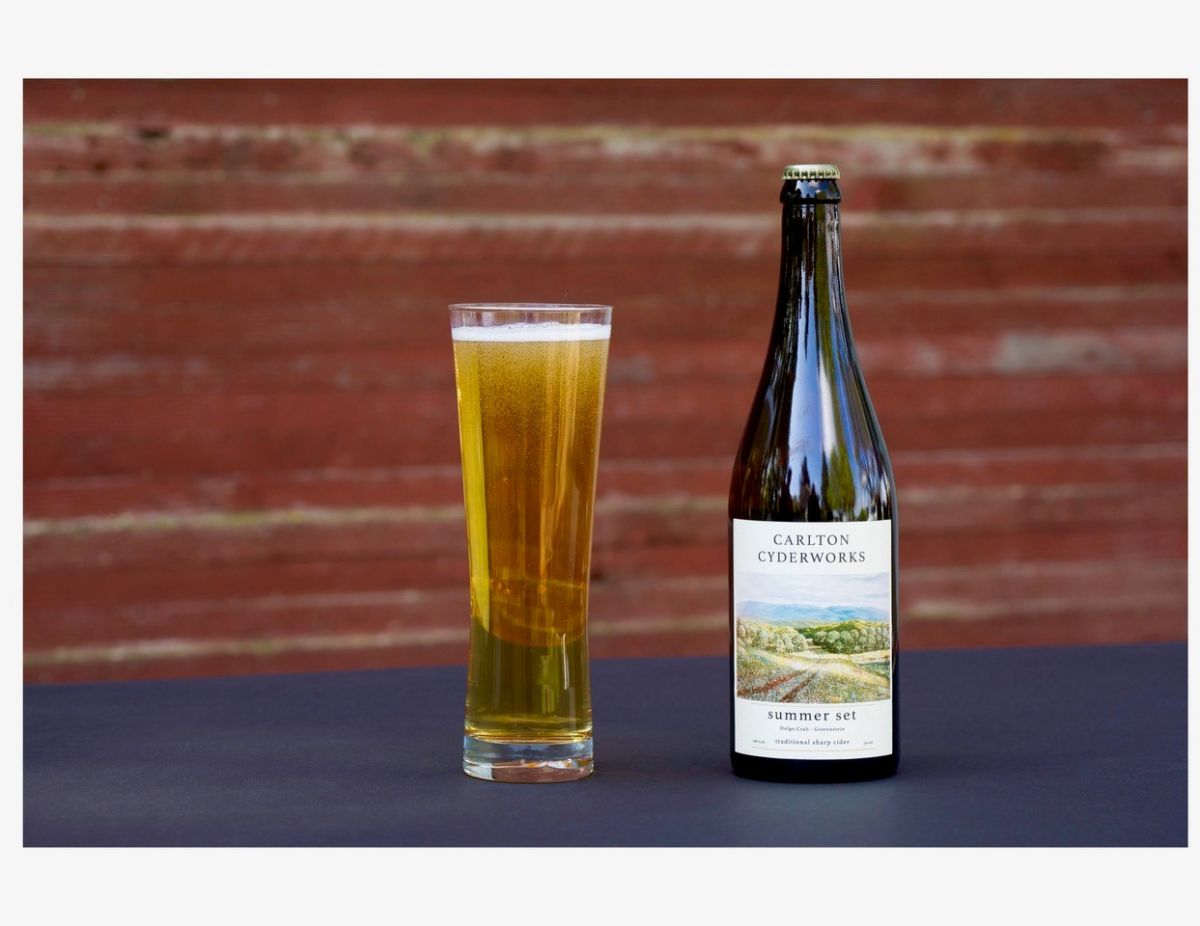 Carlton Cyderworks' award-winning cider, Summer Set. Photo courtesy of Carlton Cyderworks
People have already began to notice these new products. The Summer Set, a combination of dolgo crab apples and heirloom gravensteins won the "Heritage Cider" in the dry category at the 12th annual Great Lakes International Cider and Perry Competition (GLINTCAP), the largest cider competition in the world. The cider was made with wild fermentation which gives it a depth and unique charm.
The company is also growing a presence on the streets of McMinnville. To increase their reach and cider-making possibilities, Carlton Cyderworks purchased the Growler's Tap Station, found on Baker Street and 11th, just over a year ago. There you can try some of their classic flavors like Slake and Mad Perry, as well as their seasonal tap. With direct access to what's being poured, Carlton Cyderworks can make experimental small batches to test out at the taphouse, have a gathering space for tastings, and can have more interactions with the makers of products. Moreover, it's provided an opportunity to formulate relationships with breweries, as there are 25 brew taps at the Tap Station.
With apple orchards in Lafayette, Dayton, and Carlton, and their production facility based in McMinville, Carlton Cyderworks is a company that relies on a county to help produce a product. They are also a company that is using ingenuity and a different approach to create something revolutionary in the cider industry.
HBF International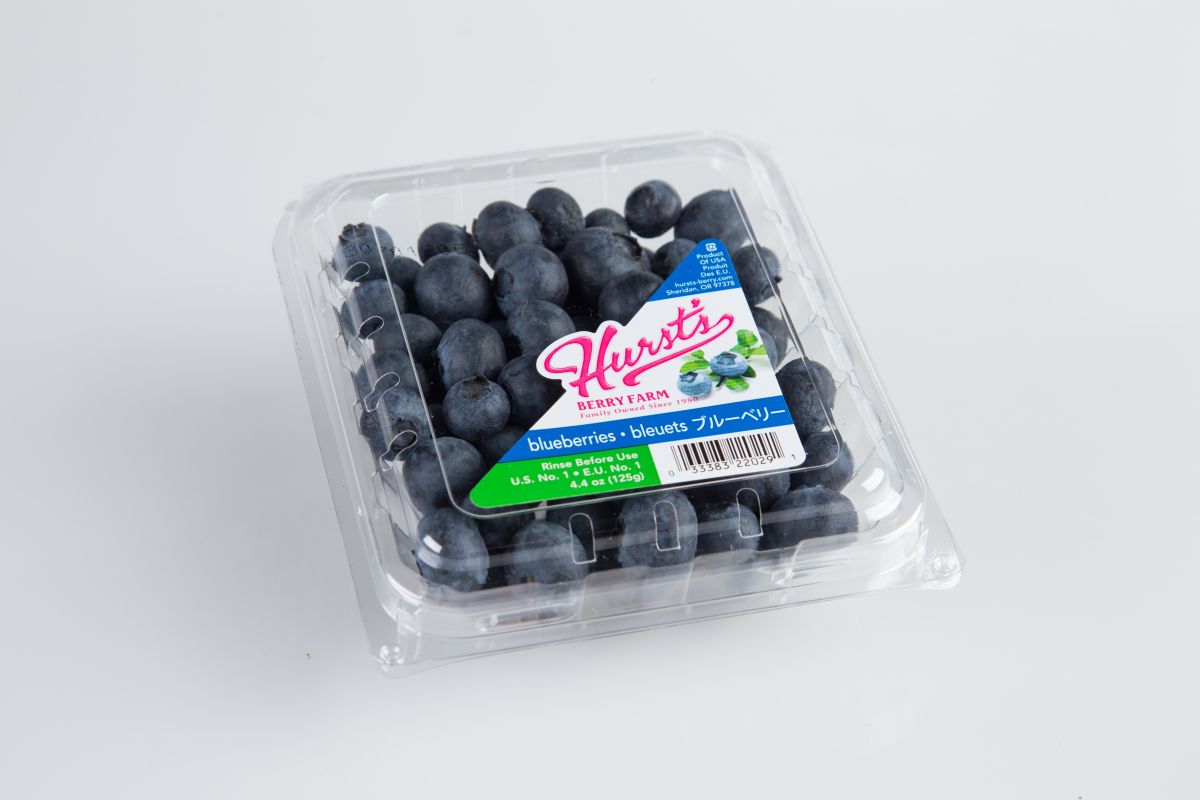 Did you know? McMinnville is home to the biggest supplier of blueberries in the State of Oregon! Photo courtesy of HBF International.
From Hong Kong, Japan, Singapore, and the UK, to Chile, Argentina, and Peru, what began on three and a half acres in Sheridan, Oregon, Hurst's Berry Farm is now operating on an international level. With the company's headquartered in McMinnville, Oregon, the berry company and founder, Mark Hurst, have seen growth and changes throughout the years in the industry.
Walking into the HBF International office there is a clear appreciation for the natural. From large plants, to numerous photos of farms and fields, to the wooden coasters that resemble tree trunks placed on an expansive wooden conference table, the vibe is laid back and caring. It's hard to believe what has been created was started on a decision by Mark Hurst's to move his family from California to Oregon over 30 years ago.
Today, Mark Hurst serves as the research and development director for HBF International and President of Hurst's Berry Farm Inc. When hearing the words berry farming combined with "research and development" there may seem to be a disconnect. What new development could there be in the world of berries? Mark was happy to fill us in.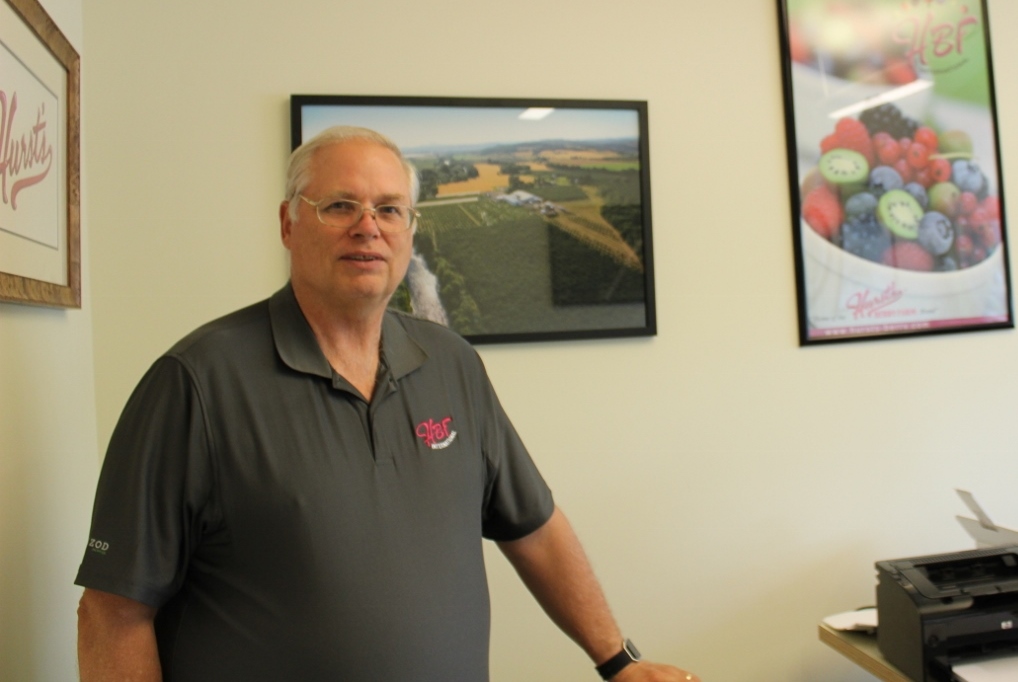 Founder and Research and Development Director, Mark Hurst, stands in his office in McMinnville, Oregon
First, there are new processes and machines that are changing the way berries are picked and sorted. Mark told us animatedly about a new piece of equipment, which has 24 cameras, each inspecting 40 berries per second and taking photos of every angle of every berry. This machine not only helps them establish how firm the fruit is, but allows them to sort the fruit with more accuracy than ever before. It will be able to determine if there are any defects in the fruit, such as bruising and will allow them to confidently separate out the fresh market berries from processed fruit and other categories. This allows the company to send better products out to customers.
Second, HBF International is on the forefront of bringing new fruit into new markets. Many American consumers may still be unfamiliar with the company's kiwiberry. A berry the size of a grape that taste like a kiwi but has a green, edible, skin. The berry originates in New Zealand and though the company already grows and sells one variety of the berry, Mark has plans to plant 100 acres of a new kiwiberry in Sheridan. HBF International has an exclusive agreement with the breeders to grow the new variety and after extensive testing, the U.S. has approved Mark to begin planting.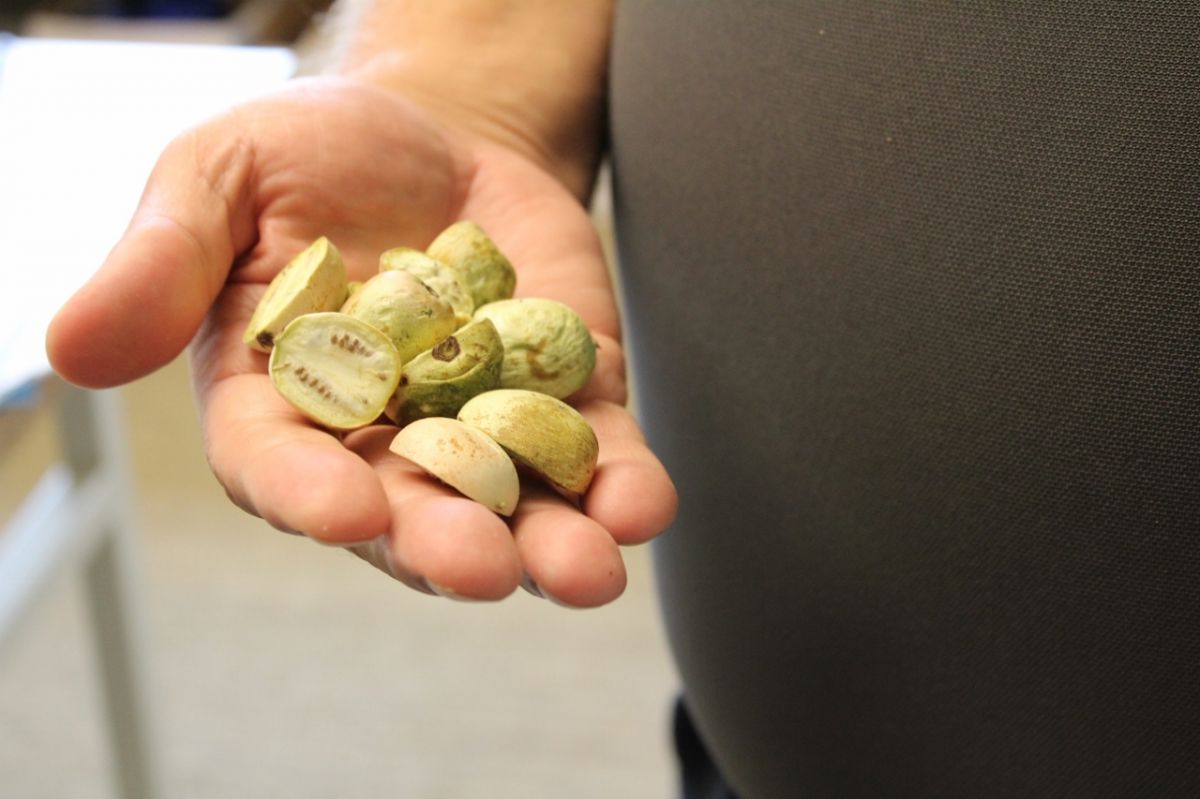 Hurst holds and handful of kiwiberries he had freeze-dried at home for snacking
While innovation and research are at the front of Mark's role, the care doesn't end with the technology they use: "Our success comes from our care for our growers, employees, and customers" Hurst shared. "Loyalty is a key thing we strive for. Loyalty, excellence, and doing things for the right reasons and the right way. We feel like we have a higher calling than just making money." HBF International has an impact all over the country and world. With two offices, one located in McMinnville and one in Fresno, and a farm in Sheridan, the company reaches far internally and utilizes strong relationships with farmers around the world to continuing growing.
At MEDP, speaking with our local industries continually makes us realize the innovation and collaborative nature of the companies surrounding us. In Yamhill County, we look at our neighbors as though we're all on an ocean on a rising ship. When a new orchard, vineyard, or farm opens, new jobs are created, and new products can be processed. Through connections, hardwork, and great soil, we as a county rise together, with our companies, no matter their field, continually innovating along the way.