McMinnville WORKS Internship Program Returning for the Sixth Year
Jun 7, 2018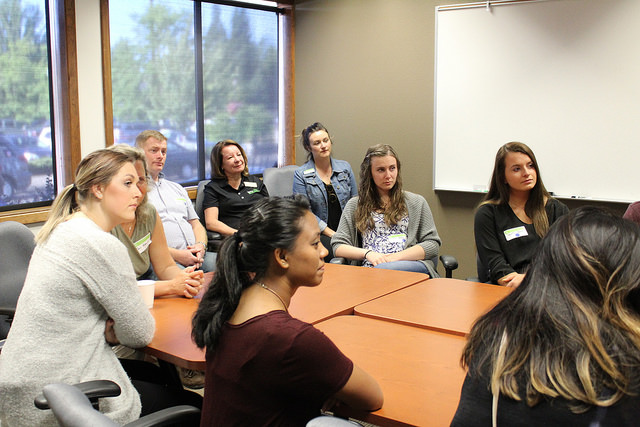 (MCMINNVILLE, OR) - The McMinnville Economic Development Partnership (MEDP) will launch its sixth award-winning McMinnville WORKS Internship Program on June 11, 2018. This nine week, project-based, paid internship program is an opportunity for local businesses and students to connect, and to get young professionals engaged with the community. With a wide variety of Host Sites and internship positions, MEDP promotes the "Grow Our Own" approach to workforce development in McMinnville by working with talented individuals and demonstrating the local career opportunities available.
Interns are given the tools needed to gain hands on experiences in professional settings through project based internships and weekly Professional Development Workshops. The program was made with the intent to connect multiple companies in the surrounding area, teach interns important development skills, and promote the next generation of leaders. With an early start, MEDP's intern Jasmine Pfau will be joining the MEDP team this summer as the McMinnville WORKS Internship Program Coordinator.
As an advocate for the great outdoors, and someone who has lived in the Pacific Northwest her whole life, Ms. Pfau is studying management and entrepreneurship at George Fox University. As the McMinnville WORKS Internship Program Coordinator, Jasmine will be communicating with 13 interns and 7 Host Sites this year. As a member of the McMinnville WORKS team, she will be working on numerous projects throughout her time with MEDP. This includes managing Professional Development Workshops every Wednesday for the interns and their Host Sites.
Jasmine commented on the opportunity stating "I am excited to challenge myself in a more professional setting, and for this opportunity because it will help me grow and take on new experiences," As a visual storyteller, Jasmine hopes to use her interest in photography to capture the innate culture, and diverse talent that the McMinnville WORKS Internship Program promotes.
Young professionals from local colleges will be interning at multiple host sites that specialize in topics such as event planning, finance, and engineering, until the programs' end date on August 10th. The 2018 Host Sites include Cascade Steel, HBF International, McMinnville Economic Development Partnership, McMinnville Water and Light, OnlineNW, Sea Reach Ltd., and the Willamette Valley Medical Center.
After many years of investing in the younger generation's success, MEDP's McMinnville WORKS Internship Program is an exceptional opportunity that builds long lasting relationships, creates community involvement, and helps students find the confidence within themselves to face the world.