MEDP McMinnville WORKS Internship Program Launches 5th Year
Jun 1, 2017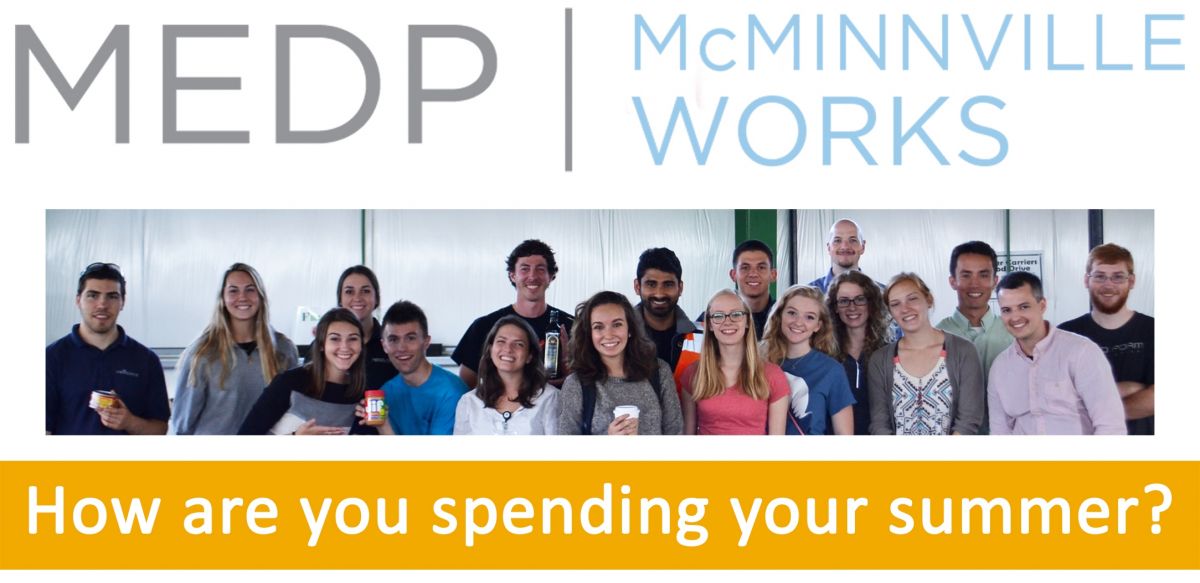 (MCMINNVILLE, OR) -- With the summer season rapidly approaching, another year of the award-winning McMinnville WORKS Internship Program officially begins on June 12, 2017. The McMinnville Economic Development Partnership (MEDP) created the program to offer opportunities for young professionals as well as businesses. The program embodies a "Grow Our Own" workforce approach which aligns with MEDP's mission. This year's program will host 16 interns with 13 area businesses. The McMinnville WORKS Internship Program has attained widespread success since its inception and now serves as a model for other municipalities seeking to develop similar programs.
Last year's McMinnville WORKS Intern Coordinator and current MEDP Marketing Specialist, Lacey Dykgraaf, comments on the 5th year saying, "As an 'alumni' of the program and someone who has worked closely with it, I can fully appreciate the triple bottom line the program offers. It's good for the young professionals participating, good for the businesses with interns, and good for the community."
With a new year of MEDP's award winning internship program also comes a new face in the role the McMinnville WORKS Intern Coordinator. A recent Linfield graduate, Jack Chapman, has taken the reins of this position and hopes to ensure another successful year of the program. Jack will graduate from Linfield with a major in Business Management and dual minors in both Spanish and Sport Management. He has already been learning extensively in his first week and noted, "I've been really surprised by how robust the local McMinnville community is. As a Linfield student I never really got to see the full scope of the local economy and that's something that has taken me by surprise."
MEDP looks to build off of the success attained in previous years. This year holds plenty of promise as local businesses, including AP Tech, Chehalem Valley Dance Academy, the City of McMinnville, HBF Inc., McMinnville Water & Light, MEDP, Meggitt Polymers & Composites, OnlineNW, Solid Form Fabrication, Suite 4, Swede Mom, Willamette Valley Medical Center, and the Yamhill County Clerk's office, have all invested in the program by onboarding an intern. Interns will hold a variety of positions in these local businesses, such as research, marketing, engineering, data management, conservation, social media, administration, and human resources. In total there will be interns from a multitude of institutions, including local Linfield College, Pacific University, University of Portland, Oregon Institute of Technology, California Polytechnic State University, Oregon State University, George Fox University, Corban University, and Western Oregon University.
To learn more about the McMinnville WORKS Internship Program, visit our web page and watch our newest video explaining the program!