MEDP Receives International Award for SITES Opportunity Tour Events
Oct 4, 2018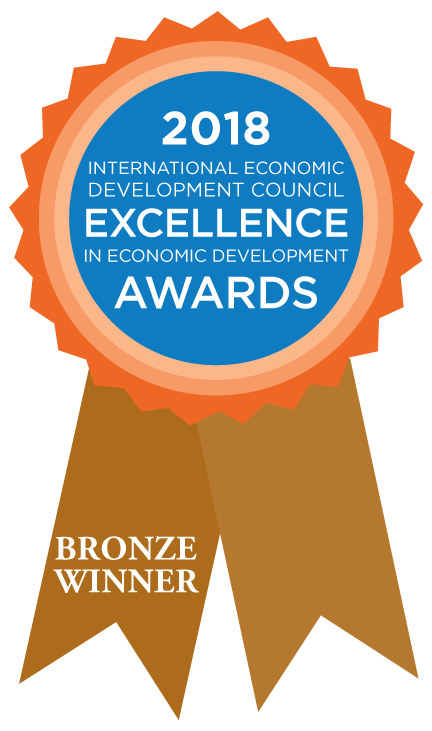 (MCMINNVILLE, OR) - On October 2, 2018 the McMinnville Economic Development Partnership (MEDP) received a bronze award for their SITES Opportunity Events from the International Economic Development Council (IEDC).
The IEDC is a non-profit, non-partisan membership organization who serves economic developers around the world. The annual IEDC Awards were created to distinguish the world's best economic development programs. The special event award recognizes the effectiveness of an event for its innovation and creativity, quality, and the contribution it makes to the economic development profession.
MEDP's SITES Opportunity Tours were created to encourage more private investment in McMinnville. The tours are designed to help individuals interested in developing a property, resource partners, and those with experience developing properties learn about an interesting spaces within our community. MEDP curates the experience to include expert presentations about available resources and a tour led by someone knowledgeable in the historic background of the property. In the past two years MEDP has hosted a SITE Opportunity Tour at both the old Huberd Shoe Grease Building on Lafayette and in the Buchanan Cellers building where guests had the opportunity to tour the upper floors.
Craig Richard, President and CEO of the Tampa Hillsborough Economic Development Corporation and 2018 IEDC Board Chair spoke on the awards saying, "this year our judges reviewed some extraordinary projects that advanced both communities and businesses. We congratulate all the award winners. What we learn from each other helps us to grow and advance as a profession."
MEDP works to ensure that all of our events are valuable uses of time for our partners, businesses, and those wishing to learn. Since the SITES Opportunity Tour at the Huberd Shoe Grease building, the building has been sold and is currently being constructed as the "Mac Market" which will hold food carts, event space, a tap room and more.
Program Manager at MEDP and the lead planner of the SITES Opportunity Tours Heather Hadley Blank, commented of the events saying: "SITE Development Opportunity Tours were launched in 2017 with the intent to highlight available McMinnville properties, available resources and to create and build collaborative partnerships for future growth and development. We at MEDP are excited to continue delivering events that positively impact McMinnville's economy and help companies access resources for growth."