MEDP Spark - And the Winner is: MEDP's Annual Awards
Oct 12, 2017
MEDP Spark, Volume 2, Issue 10 -- October 2017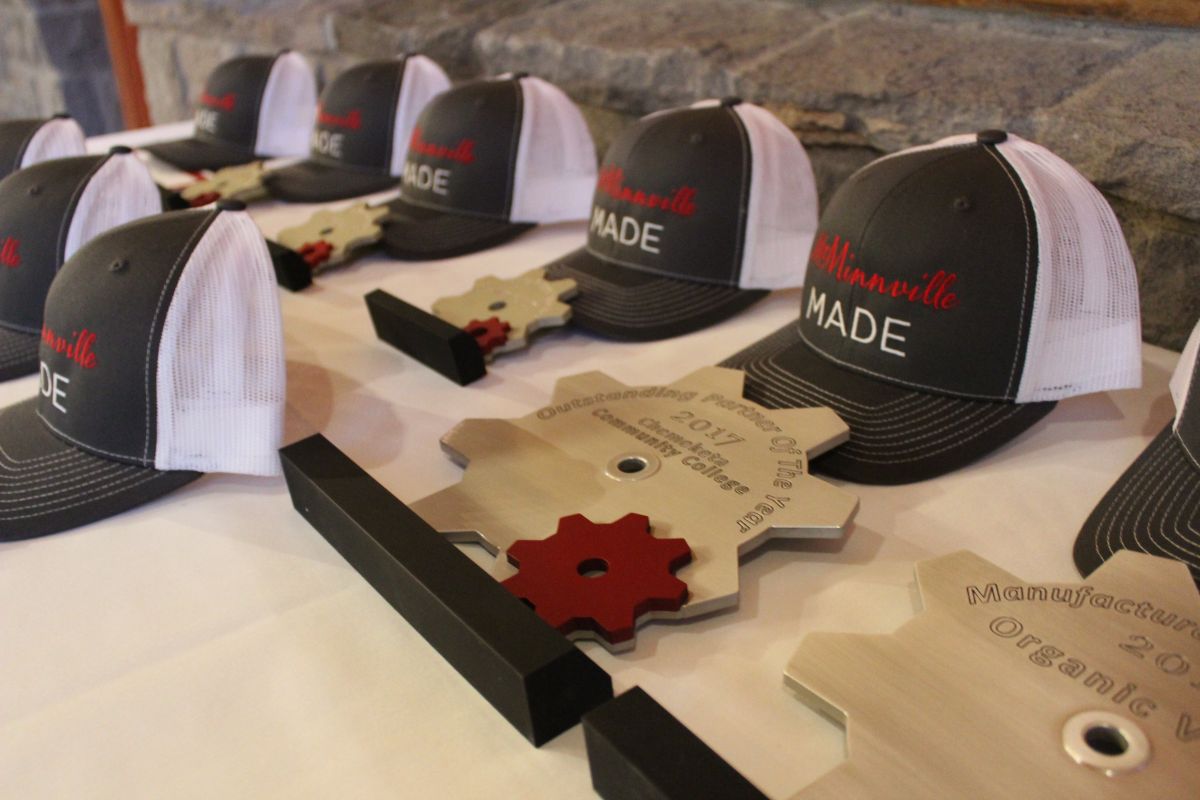 eCNC, inc. created custom awards for MEDP's Annual Award Winners
Each year, we at MEDP (McMinnville Economic Development Partnership), have the privilege of celebrating the manufacturers, leaders, and partners that do business in the City of McMinnville. Through the amazing stories we learn about industries, the innovative products they are creating, and the partnerships that make programs and improving the community happen, we get to celebrate the thriving economy in McMinnville. At MEDP, our Annual Event and Awards Ceremony means more to us than a time to remind the community what economic development means and what we as an organization do, it also allows us to recognize the unsung economic heroes of our community: our manufacturers and partners who create economic vitality without expecting recognition.
Held on the same week as National Manufacturing Day, this year at our annual event we were able to recognize and celebrate more partners and businesses than ever before. We added two new award categories: Collaborators of the Year, which celebrated the successful Educational Manufacturing Tours, and the McMinnville WORKS Intern's Choice Award for Professional Development. MEDP also honored the Board of Director's Award for Outstanding Partner of the Year, Manufacturing Leader of the Year, and Manufacturer of the Year.
Collaborators of the Year: McMinnville School District, eCNC, inc., Northwest UAV, and NW Rapid Mfg.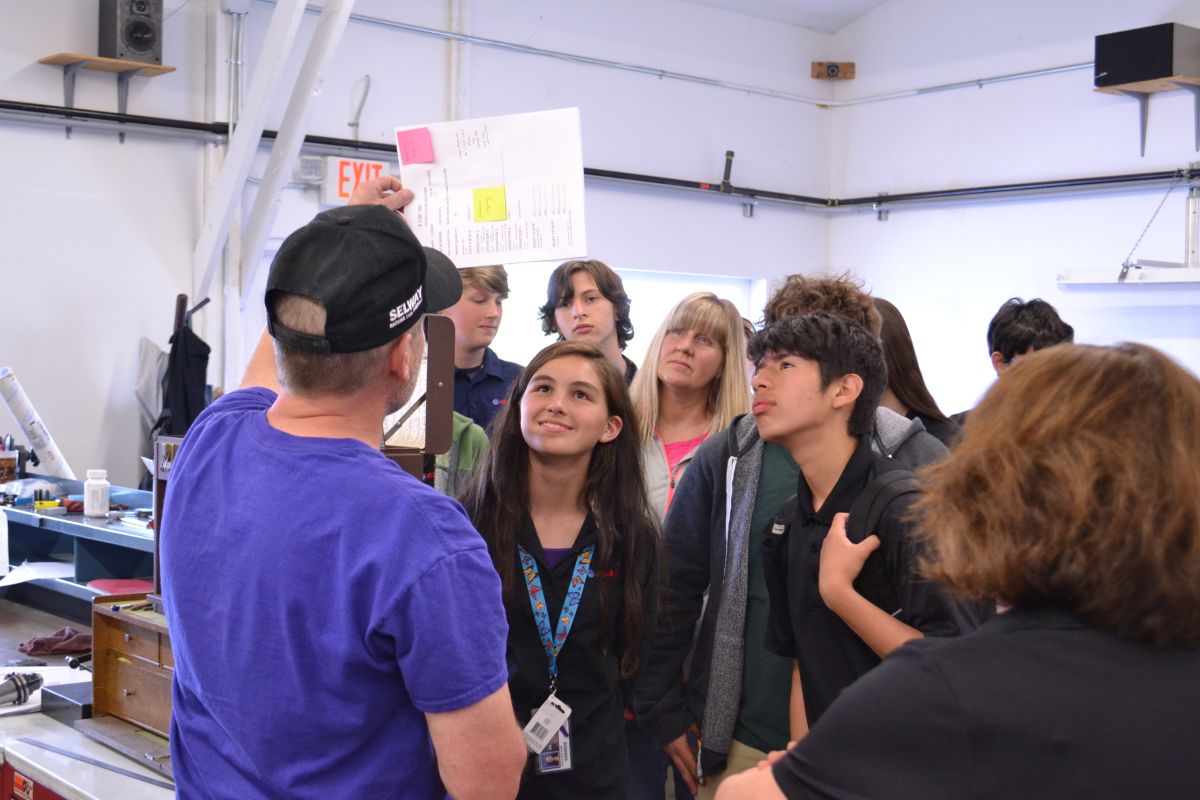 Students learn about CNC Machining at eCNC, inc.
Our new award category was created to celebrate community collaboration with MEDP. Throughout the spring of 2017, and in collaboration with the McMinnville School District and local manufacturers, MEDP was able to organize six educational tours for both McMinnville High School and McMinnville Middle School students at three different manufacturers. These tours gave students from MSD's Robotics Alliance program as well as the EASA (Engineering and Aerospace Sciences Academy) program a chance to see new, innovative technology in action, understand how concepts they were learning in the classroom could be applied to real-world work, and to learn about what it could mean to have a career right here in McMinnville, Oregon.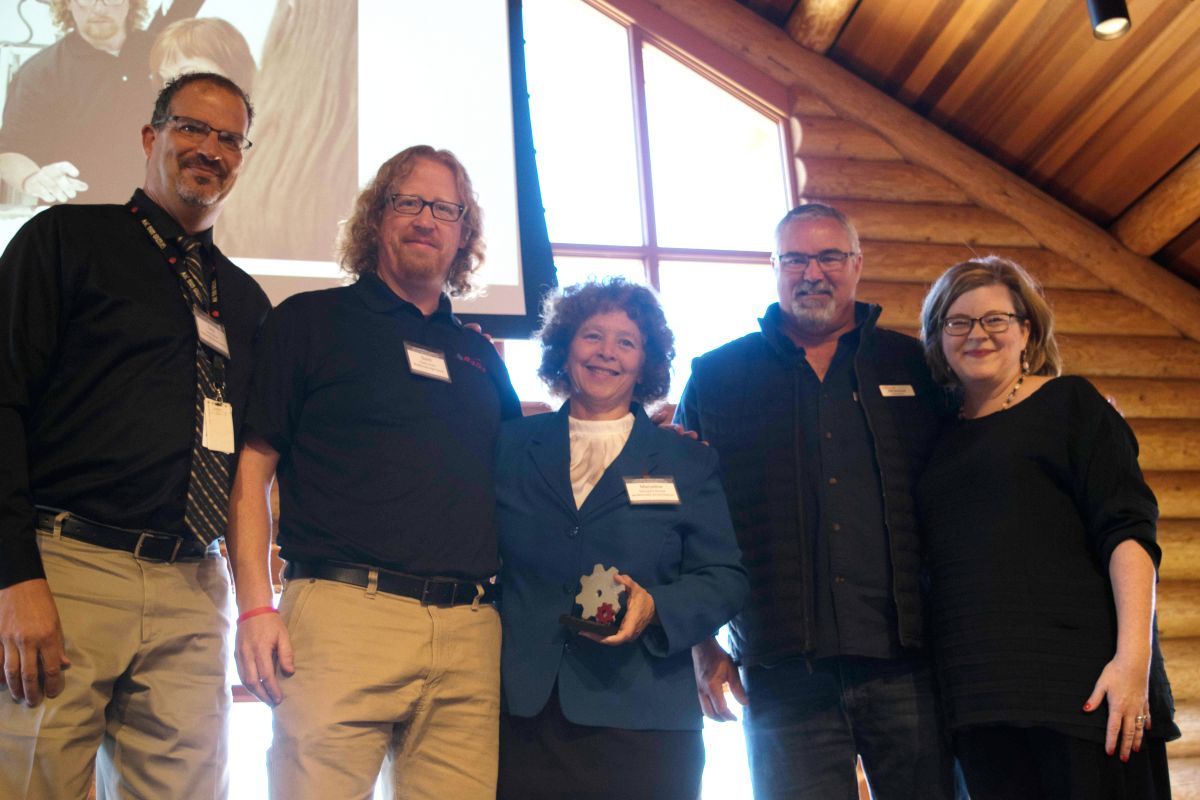 MSD accepts the Collaborator of the Year award at MEDP's Annual Event
MEDP was proud to present the Collaborator of the Year award to McMinnville Superintendent Dr. Maryalice Russell, McMinnville High School Principal, Tony Vicknair, McMinnville High School EASA teacher, David Larson, and Patton Middle School teacher Michelle Brantner. Not only did the school play a large part in coordinating the educational tours, but with the opening of their new Career Technical Center and dedication to helping all students learn, it is clear that they believe that careers in manufacturing and the traded sector are valuable pathways for students.
MEDP also presented the award to the three manufacturers who opened their doors to local students. At eCNC, inc. President Dave Edelman told students the importance of "getting paid for your brain" saying that his favorite jobs have always been ones that paid for his brain rather than his brawn. At Northwest UAV students were challenged immediately when walking into the door to "stump the engineer" with the reward being a NWUAV Challenge Coin for the student who managed to stump Chief Technical Officer Jeff Ratcliffe. At NW Rapid Mfg. the students were given a literal hands-on tour of 3D printing - breaking recently printed pieces out of a "partcake."
McMinnville WORKS Intern's Choice Award for Professional Development: Stacy Stack, Deven Paolo, and Shon Holyfield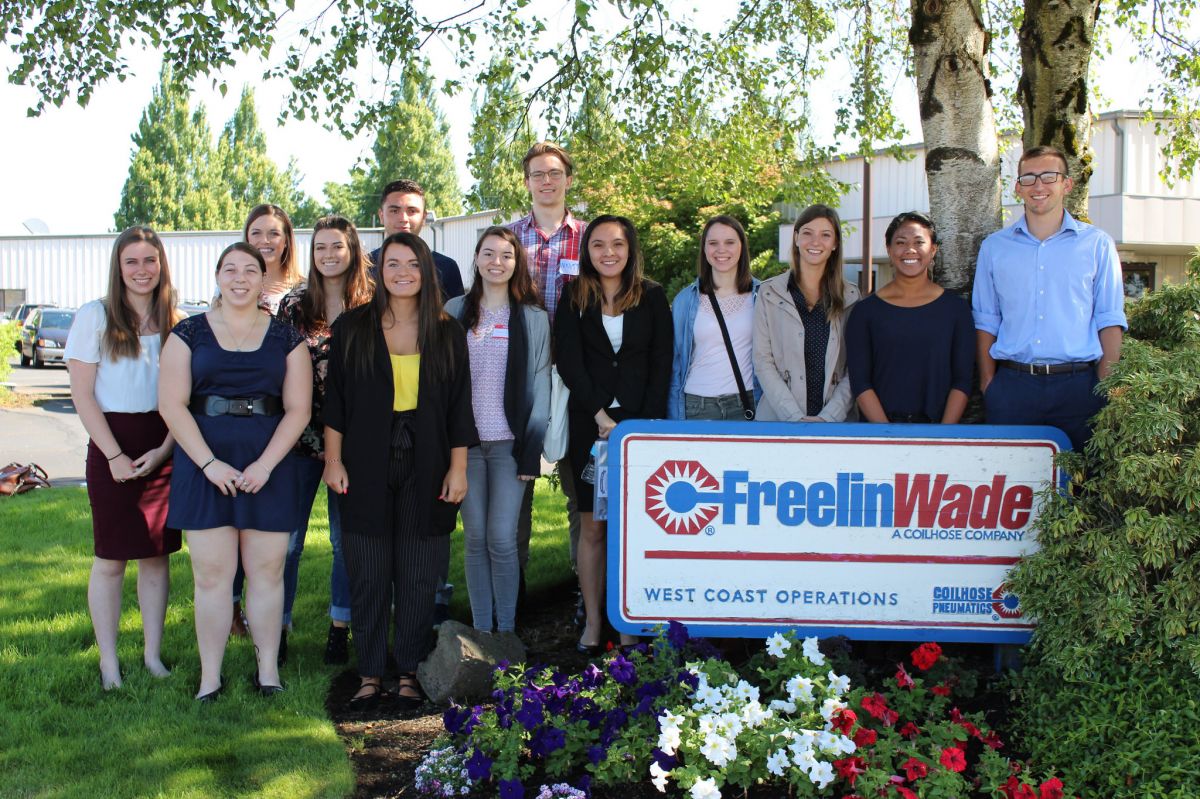 The 2017 McMinnville WORKS Intern Cohort
The McMinnville WORKS Intern's Choice Award for Professional Development gave the 2017 McMinnville WORKS Intern cohort the opportunity to select their favorite Professional Development Workshops from the summer. This award gave MEDP the chance to recognize not only the time that Professional Development Speakers give to the program, but also an opportunity to see which workshops held the greatest influence on the interns.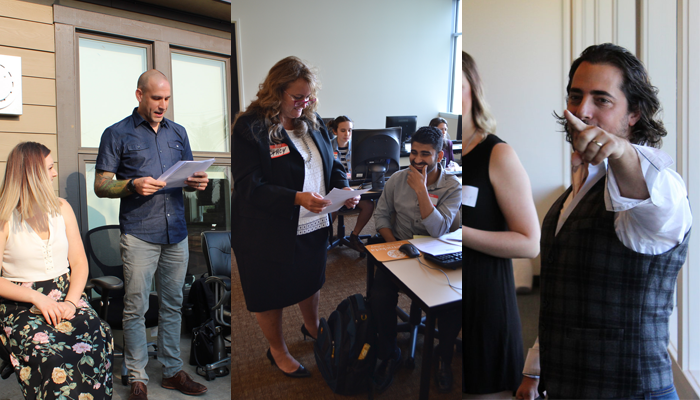 From left to right: Deven Paolo, Stacy Stack, and Shon Holyfield.
Our first WORKS Intern's Choice award went to Stacy Stack, Vice President of Training and Recruiting at Express Employment Professionals, who teaches Job Searching Techniques each year to our WORKS Interns. This is Stacy's 4th year sharing her expertise regarding the scope of searching for a job. With advice ranging from how to make a cold call to standing out on online applications, Stacy delivers immediately applicable advice that interns have been utilizing each year upon completion of their internships.
Deven Paolo customizes his Professional Development Workshop to each year's cohort. As a Host Site and as a Professional Development Speaker, Deven has continued to be a champion for the program. As owner and president of Solid Form Fabrication, Deven teaches his session on Project Management using games such as puzzle making to demonstrate the many layers that come with completing a project.
2017 was the first year that Shon Holyfield, CEO of TTR, spoke at a Professional Development Workshop. Leading the charge at the newly refurbished and recently purchased TTR office, Shon spoke with the interns about entrepreneurship. Through group sessions and a panel, Shon made an impact on the WORKS Interns when he shared his simple philosophy: to be successful, surround yourself with good people.
Board of Directors' Award for Outstanding Partner of the Year: Chemeketa Community College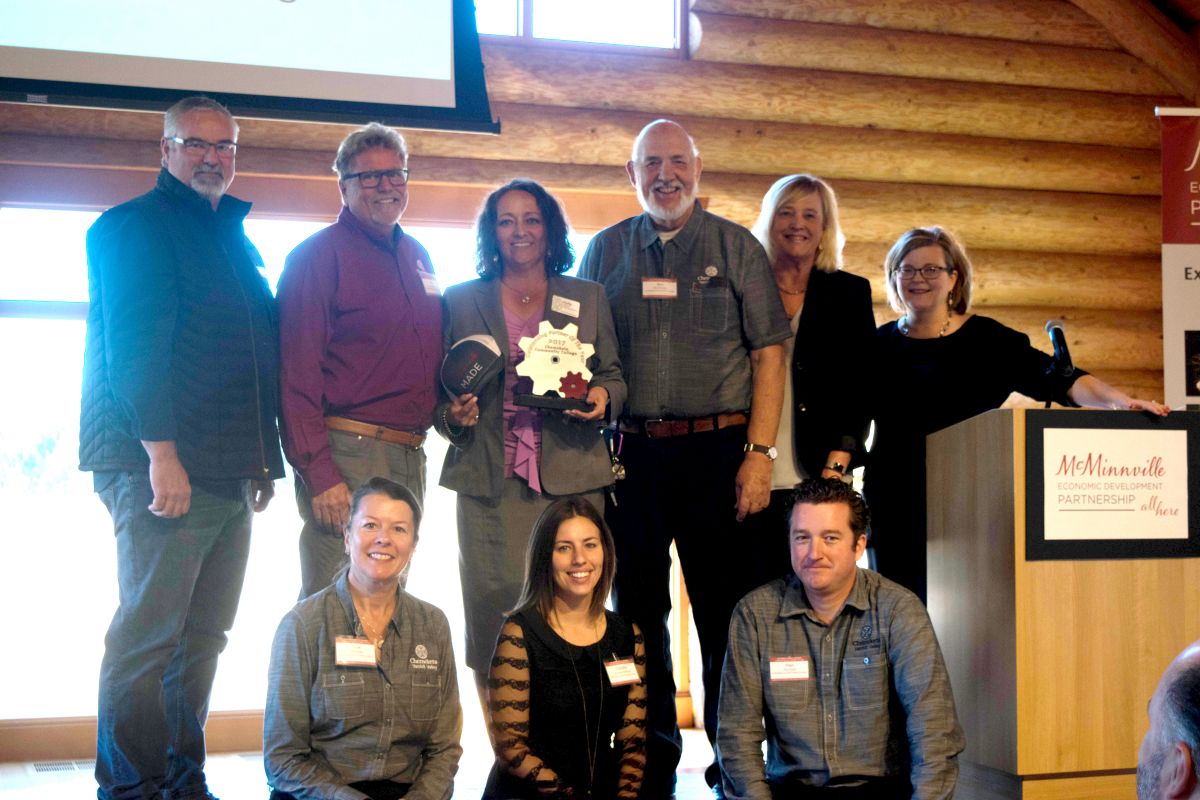 Chemeketa Community College receives the Outstanding Partner of the Year Award
Each year Chemeketa Community College proves their dedication to their students, employees, and the communities where they have campuses. In Yamhill, Marion and Polk Counties, we are lucky to have a college that demonstrates their dedication to creating future workers who are dedicated to lifelong learning. Chemeketa has had a long lasting partnership with MEDP and the manufacturers in the area. From creating innovative programs to helping students integrate into the workforce to teaching critical skills, the community college plays an important role in McMinnville.
During the past year, in partnership with MEDP, the team at Chemeketa launched the new Chemeketa WORKS Internship Program which will offer a year-round internship to local businesses and organizations. From the beginning of the McMinnville WORKS Internship Program, MEDP has wanted to connect and partner with Chemeketa to place students at the Yamhill Valley Campus into internships with local employers. With the addition of Julie Miller as the Chemeketa Community College Internship Coordinator, the Chemeketa WORKS program is officially launching during the winter quarter of Chemeketa's school year.
We thank Chemeketa for their partnership and are overjoyed to present them with Outstanding Partner of the Year.
Manufacturing Leader of the Year: Heather Harris, President, NW Rapid Mfg.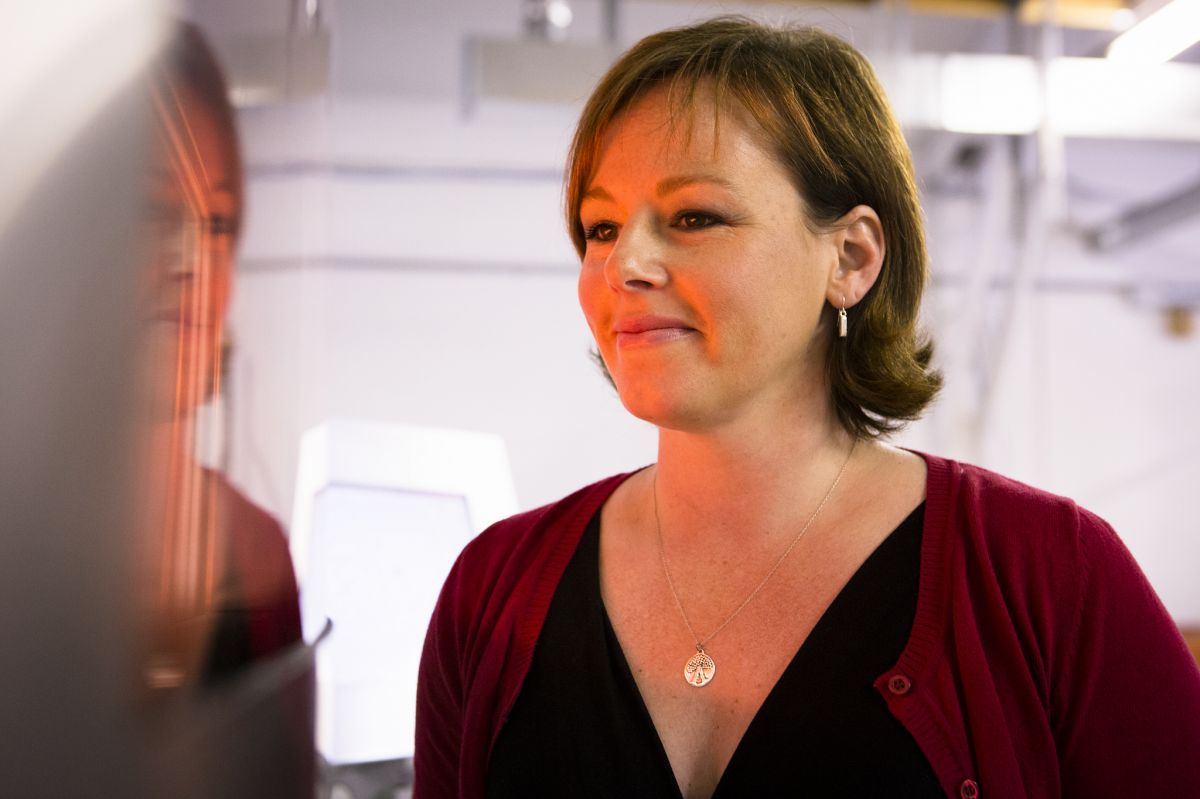 Photo courtesy of Yamhill County. Heather Harris observes one of her 3D printers in action
Heather Harris shows her commitment to the McMinnville community through many facets. As the owner and president of Northwest Rapid Manufacturing, Heather deals in a world of innovation, new technology, and ever changing applicability. As Vice Chair of the Board of Directors for the Yamhill County CASA Program, Heather works to ensure that children have a voice and are supported in all aspects of their lives. And as a community member who was born and raised in Yamhill County, she cares deeply about this town and the developments that surround us.
Heather worked closely with us throughout the year to ensure the success of a multitude of MEDP's programs. She opened her doors to McMinnville Middle School, High School, and Amity school students to show them the process of 3D printing through SLS (Selective Laser Sintering). Throughout the tours Heather and her team provided opportunities for kids to get a hands-on feel of the process, even allowing Amity school kids to design products to be printed.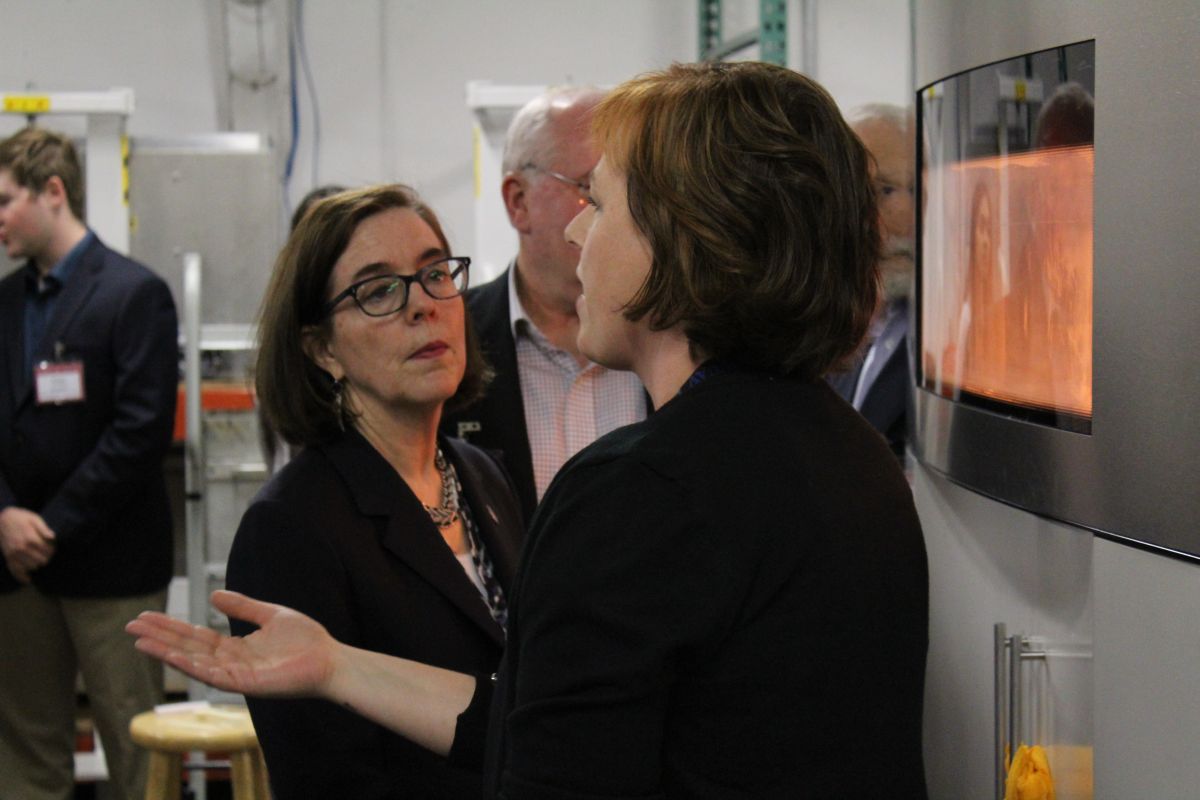 President and Owner Heather Harris explains the 3D printing process to Oregon Governor Kate Brown and her team.
On May 16, 2017, Heather was instrumental in assisting MEDP with coordinating a visit with Oregon Governor Kate Brown and her team. Not only did Heather open up her facility and use her tour to explain both the challenges and benefits of doing business in a high-tech field in Oregon, she opened up her space to other business leaders and organizations for a Business Roundtable conversation. This type of collaboration has allowed McMinnville to be more visible and present in the state of Oregon while providing a platform for local businesses to voice concerns.
With Heather Harris' work to make the McMinnville community better, and her commitment to making her company grow, MEDP was proud to present her with Manufacturing Leader of the Year.
Manufacturer of the Year: Organic Valley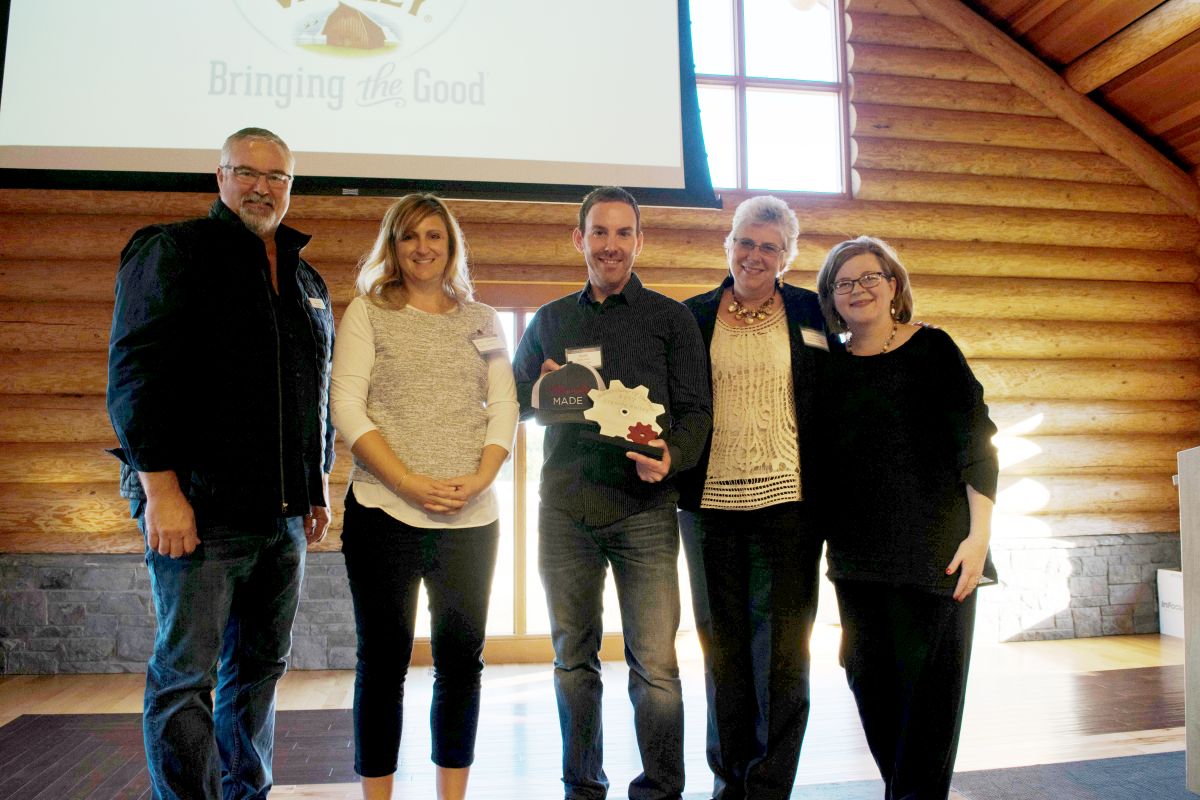 Organic Valley accepts their award for MEDP's Manufacturer of the Year
If you have ever wondered if Organic Valley's community oriented persona and "farm town" charm were genuine, you wouldn't need to look any further than their grand opening event they held in McMinnville on August 12, 2017. Starting with farm tours, local farmers presented their dairy cows and land with an unmatched pride for what their milk will become. Children squeal in delight as cows suck on their fingers and in rural Oregon, you never feel more at home than when your shoes get stuck in a little bit of mud. With over 2,000 registered guests, McMinnville welcomed Organic Valley with the promise of butter making, free lunch, and a lot of chocolate milk. Over the past year, seeing Organic Valley invest in the community of McMinnville and expand into Oregon has been one of the largest success stories in our city.
After purchasing the Farmer's Co-op Creamery on Highway 99, Organic Valley quickly began investing in their new community. With over $20 million dollars in redevelopment in their new facility, Organic Valley's commitment to McMinnville is already creating ripple effects. Whether it's employing local farmers to create their products (Organic Valley gets ingredients from 72 family-farms in Washington and Oregon) or creating new, family wage jobs, the company has a bright impact on McMinnville's economy.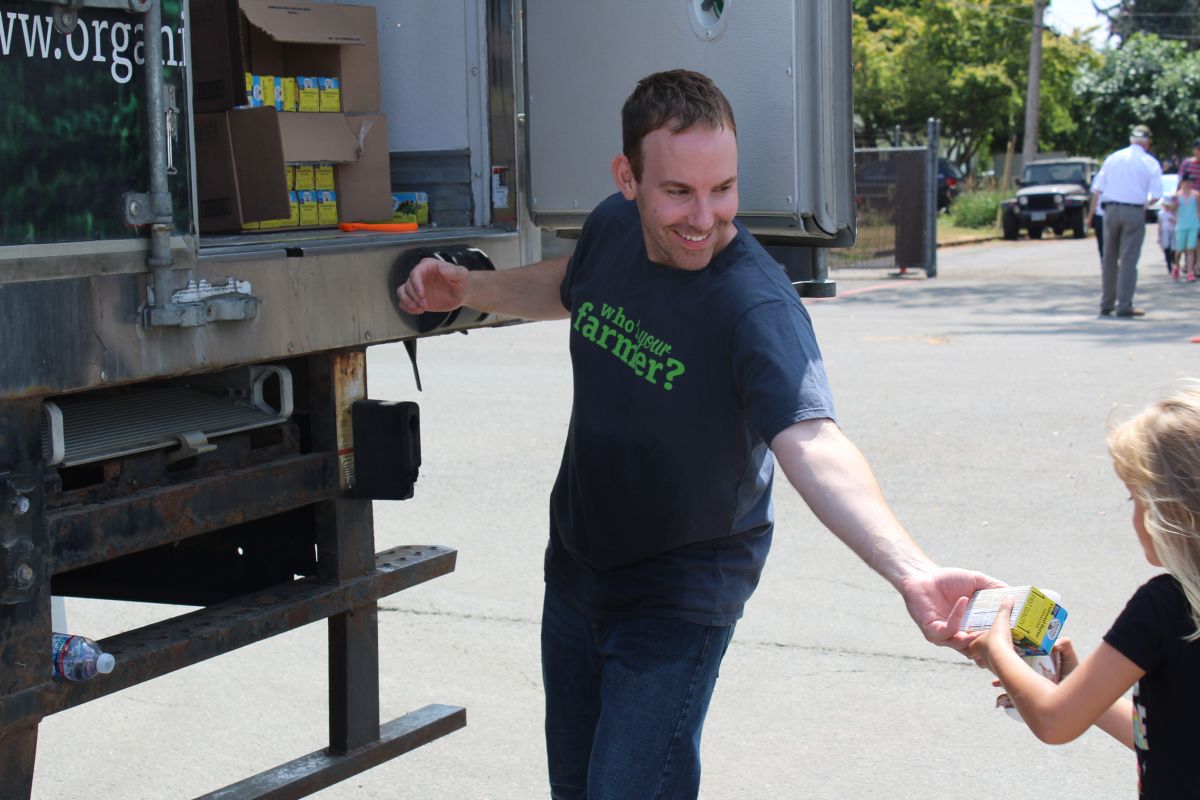 General Manager Scott Fields gives out butter to the McMinnville community at the company's grand opening.
In the past year the company has updated their facility, received a $350,000 Strategic Reserve Fund from the Governor's office, has hired employees from the McMinnville community, and have begun creating organic products on their new butter line. This is Organic Valley's second facility, with their first located in Wisconsin. Not only did the company state that the "Oregon Welcome" was instrumental in their decision to locate in McMinnville, the state of Wisconsin helped Organic Valley locate here, recognizing the importance of growing this brand.
We're proud to have Organic Valley in our community and find them well deserving of this year's Manufacturer of the Year award.
MEDP's Annual Event and Awards Ceremony is our opportunity to recognize those who often go unrecognized in our community: the manufacturers, employees, and partners who create economic vitality for the city of McMinnville. We're thankful every year that we get to work with such impassioned and brilliant individuals. Together, we can all Forge the Economic Future in McMinnville.