MEDP Spark – Touring MEDP's Ten Year Timeline
Sep 13, 2016
MEDP Spark, Volume 1, Issue 9 -- September 2016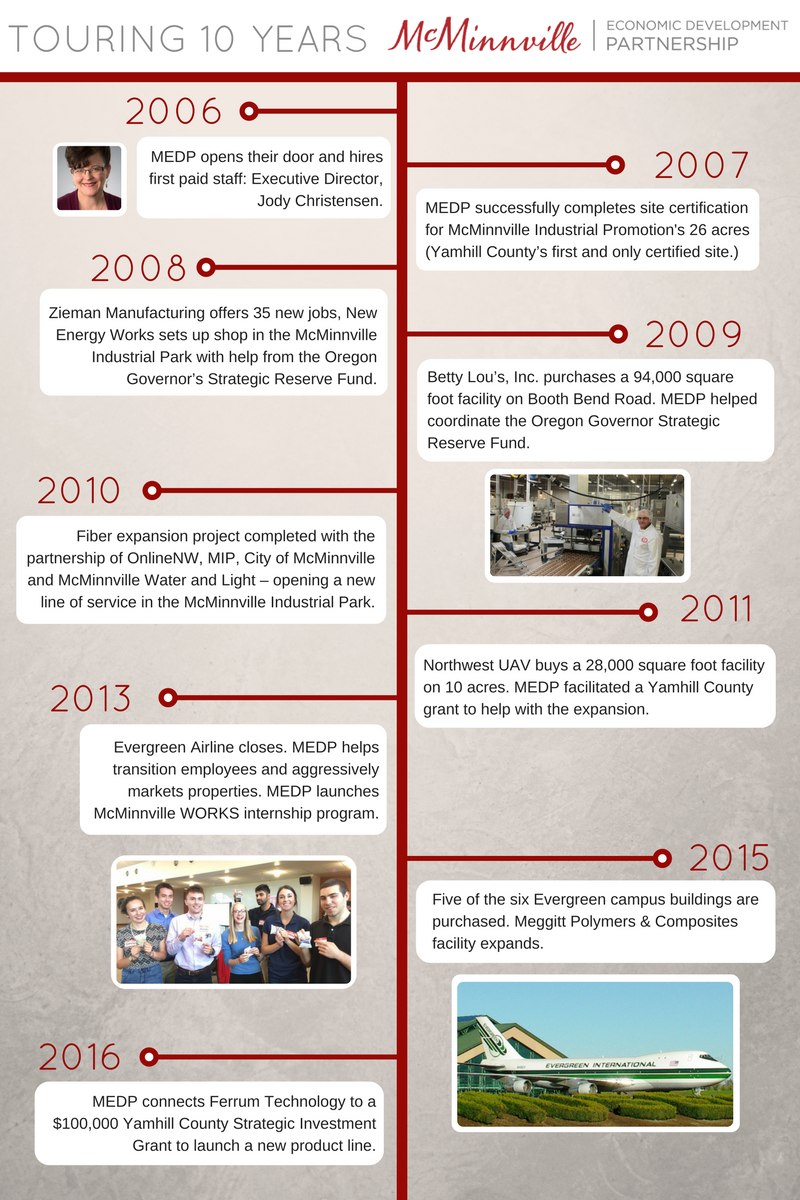 Over the last 10 years, the McMinnville Economic Development Partnership (MEDP) has experienced the ebb and flow of its local economy. On paper it looks simple; a business opens, a company relocates, a site is purchased, a building is expanded. However, the stories that make up MEDP's timeline are longer than a line or two, and they tell more than square footage, water pipes, or lot line adjustments. A quick tour into MEDP's past offers stories of innovation, perseverance, commitment and the day-to-day of work where nothing is business as usual.
2006 - 2007: Open for Business
MEDP officially broke ground in the McMinnville community in 2006. What started in 2004 as a volunteer effort under the name MOREDI morphed into the McMinnville Economic Development Partnership. The long-term funding spurring the change was secured by the founding partners: McMinnville Water & Light, the McMinnville Area Chamber of Commerce, McMinnville Industrial Promotions (MIP), the City of McMinnville and many local businesses.
In September 2006, MEDP found the leadership it needed in hiring Executive Director Jody Christensen. With volunteers, interns, and a rotating staff, Jody has guided her team along an exceptional and sometimes "hurry up and wait" approach to business development over the past decade.
"Our work isn't about the headlines," says Christensen. "It's about the slow and steady and being prepared. We never know what the next opportunity or challenge may bring."
MEDP's first big win arrived in 2007 when it received shovel-ready certification for Yamhill County's first industrial site. The year-long application process it required was well worth it, considering the incentive it created for businesses to stay in or move to McMinnville. The certification was granted to the property owner, MIP, which designated 26 acres of land on Orchard Avenue in the McMinnville Industrial Park as shovel-ready in 180 days. This is the only certified site in Yamhill County.
2008 - 2011: Peaks and Valleys of the National Economy
In 2008, the entire country was in the throes of the Great Recession. Some companies would close and some jobs would be lost, but with the foresight and knowledge that only time can grant, each piece has been realized as an important stepping stone into growth.
The year started with the exciting news that Zieman Manufacturing would offer 35 new jobs and New Energy Works, which recently helped build the amphitheater in the Granary District, set up a branch of its New York-based business in the McMinnville Industrial Park. MEDP connected the companies to state grants to assist with the expansions.
At the same time, Richmond's Bakery and Skyline RV closed. While helping employees transition, MEDP also kept an eye on the possibilities. A closed building could mean a prosperous future for another company. As the tide pulls out, there's always another wave coming in.
With other companies beginning and ending, movement doesn't stop for the ones still standing. In 2009, Betty Lou's Inc., which started in Betty Carrier's kitchen, relocated production from 34,000 square foot leased buildings in the Granary District to a purchased 94,000 square foot building on Booth Bend Road. This building was formerly owned by Skyline RV and with Betty Lou's, Inc. purchase, it showed the company's commitment to staying in McMinnville. MEDP helped to facilitate two Governor's Strategic Reserve Fund Grants for the company. The office also helped to coordinate the Governor's visit in 2010.
"Some play it safe if this economy," said Carrier in 2009. "But I'm looking to the future, seeking out ways to expand our capabilities and our processes."
The takeaway from 2010 was the fiber expansion project in the McMinnville Industrial Park. MEDP pulled together OnlineNW, City of McMinnville, MIP, and McMinnville Water & Light to carry out the project. This expansion opened a new line of service in the industrial park making it more marketable to companies needing high-speed fiber.
In 2011, MEDP gave the Manufacturing Leader of the Year award to Chris Harris, owner of NWUAV, (Northwest Unmanned Aerial Vehicles), the nation's largest propulsion system manufacturer. Harris started NWUAV in his garage, which made it all the more exciting when he chose to stay in McMinnville and upgrade to 28,000 square foot facility on 10 acres. MEDP facilitated a Yamhill County grant to help with the expansion.
"This new facility will give us room to spread our wings and take advantage of strategic growth opportunities," Harris said.
To top off exciting purchases in 2011, Amerson Precision Sheet Metal acquired its fifth building in the McMinnville Industrial Park. The company purchased the property from MEDP partner, MIP. The sale triggered MIP's purchase of the former Richmond Baking production facility. As a result, MEDP leveraged the statewide recruitment effort called TEAM Oregon to help market the food processing plant. Again, one sale is not an isolated incident. It often has a ripple effect of activity.
2012 - 2015: Finding the Right Fit
Over the years, growing companies find new homes in buildings with histories of various types of production. The passing time gives rise to new development such as Betty Lou's, Inc. leasing the building formerly occupied by Richmond Bakery for a secondary space and Elk Creek Forest Products purchasing the site where Forest Grove Lumber used to be located. Both of these facilities required increased business support from the MEDP office which hosted site tours, submitted property and community profiles, and even created a YouTube channel for videos of the facility interiors.
Time also gives way to companies' final chapters. The closing of Evergreen Airlines in December 2013 left the McMinnville community stunned. After addressing employee transition needs, MEDP seized the opportunity to assist with marketing the unique properties.
"Instead of getting bogged down by the negative press, MEDP recognized an opportunity," says Christensen. "We would have high-profile properties on the market soon." MEDP worked tirelessly to help the Evergreen employees who were left without work. The office spent hundreds of hours working with site selectors, interested parties, and area businesses. A few years later, in 2015, five of the six Evergreen campus buildings are under new ownership and capital investment improvements are slated for the coming months.
Other times, a problem can be seen that takes an active hand in solving. In 2013, MEDP launched in partnership with local businesses, a "grow our own" workforce solution – an award-winning program called the McMinnville WORKS Internship Program. It was designed to bring talented workers to McMinnville, building the workforce. The program began with 5 interns at 3 host companies and has grown into 20 interns placed at 14 different host sites in just 3 years. Over 14 participants have been placed in post-internship jobs.
"Where else can you gain real world experience, network with other interns your age, learn valuable professional skills and experience a vibrant community such as McMinnville?" says Chris Poole, the MEDP Intern Coordinator in 2015 and a Social Media Marketing intern at Oregon Lithoprint in 2016. Poole now works as a Social Media Consultant for the company.
2016 - Beyond: Content not Complacent
Ten years into her career at MEDP, Christensen is proud of what her team and the entire McMinnville community has accomplished. The most recent success happened in August 2016 when MEDP connected Ferrum Technology to a $100,00 Yamhill County Strategic Investment Grant to launch a new product line. With new opportunities on the horizon, MEDP itself ebbs and flows through the community, connecting businesses with resources and listening to concerns.
MEDP is currently managing a number of projects in the pipeline with over 1,000 jobs and $95 million in potential results. These projects are confidential and in the pre-development stages, but the numbers show that McMinnville is a strong contender in this economy.
"It's strange to reflect on the last ten years," notes Christensen. "It feels like yesterday when I walked into an empty office armed with a phone and a few business cards. We are not done helping businesses locate and grow in McMinnville. The reality is that our work is never done. The possibilities are endless. This work is important to our business community, for our city, and for future generations. It is extremely satisfying to serve this community. I am honored to do this work and am looking forward to the next ten years."