NWUAV: Soaring in McMinnville
Discover a company that relies on innovative break-through technology to set itself apart in the competitive world of military equipment and drone engines in McMinnville Oregon.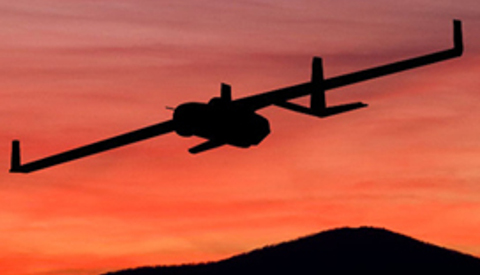 Resources Used by NWUAV:
McMinnville Economic Development Partnership
Governor's Strategic Fund
On-the-Job Training Funds
Yamhill County Economic Development Fund
Pacific Northwest Defense Fund
Oregon Manufacturing Extension Partnership (OMEP)
Company Stats:
108 Employees (2018)
Expanding facility 28,000 sq. ft. (2018)
Collaborator Award (2017)
64 Employees (2016)
28,000 sq. ft. facility on 10 acres purchased (2011)
MEDP Manufacturer of the Year (2011)
MEDP Manufacturing Leader of the Year (2010)
Leased out 18,000 sq. ft. building (2010)
60 local jobs retained (2011)
Where Reliability and Precision Soar:
NWUAV (Northwest Unmanned Aerial Vehicles Propulsion Systems) focuses production and innovation on unmanned aerial vehicles, or as they're more commonly know, drones. Beginning with assembling engines in his McMinnville garage in 2005, Chris Harris, founder and owner of NWUAV, describes starting the now multi-million dollar company as a side project from his job. He started with 3 engines a month, which quickly grew to 6, then 15, 24, 40, and 75. "At this point I had about 12 people working in my garage. Then we moved up to Bunn Village." Harris states.
The move came in 2007, NWUAV's first expansion which moved the facility from a 600 square foot garage into an 18,000 square foot building also located in McMinnvile. It quickly became clear that even this would not be enough. Three years later the company was leasing out "half the village" according to Director/Compliance Officer Heather Sorenson, and was looking to move again.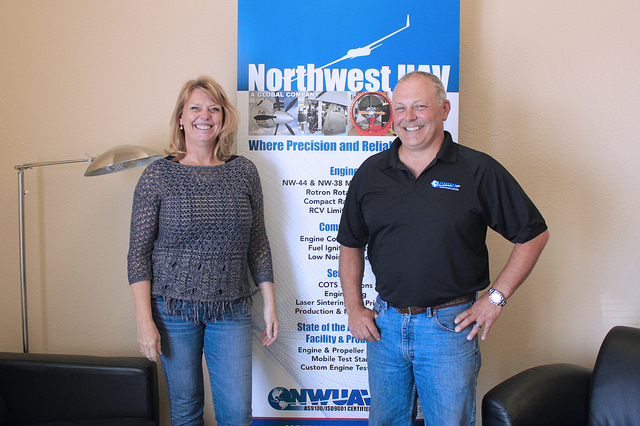 Director/Compliance Officer Heather Sorenson and President Chris Harris stand in NWUAV's office. Sorenson has been with NWUAV since 2007.
In 2011, NWUAV purchased a former RV retail site, a 28,000 square foot facility on 10 acres in McMinnville, Oregon. With the expansion, the company began hiring more employees, employing 60+ people in 2016. The company also expanded its line of production and sales with the facility also housing RP Advanced Mobile Systems which creates all-terrain side by side kits designed for everything from military use, to law enforcement, to "outdoor adventure."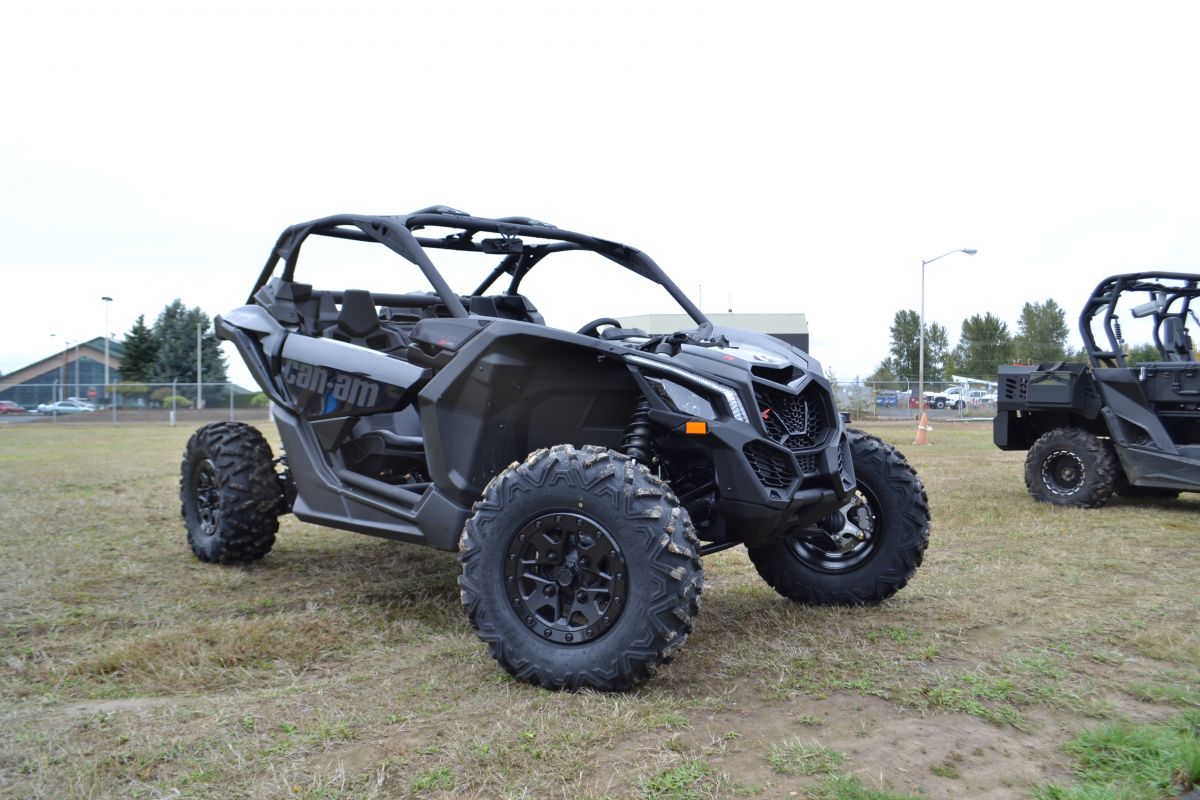 "I think it's fair to say that we're the world's largest UAV engine manufacturer at this time. That was probably true three years into it." Harris notes. While Harris explains complex systems and describes the differences between engines, one thing is clear, running a business that specializes in UAVs is not about immediate results. Often, building something new is about investing heavily today and seeing results in 5-10 years. "It's a really niche market, it's not a get rich quick scheme."
To date, NWUAV has built well over 11,000 engines and 2016 was a highlight for the company. In 2016, NWUAV began producing their own engine which boasts less weight and the ability to stay in the air longer than its competitors. Harris can now hold the result of 10 years worth of innovation, hard work, and determination in his hands.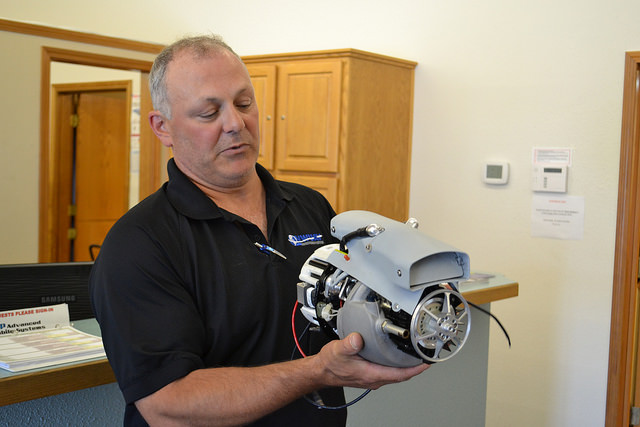 Harris examines one of the engines he has designed and manufactured himself.
When asked about the advantages of doing business in McMinville, Harris is quick to answer simply, "Electrical power rates." He adds, "It's worth thousands and thousands of dollars for us." Sorenson adds, "I like [McMinnville] because you can drive an hour or three and be where you want to be. You can be in the ocean, you can be in the mountains, you can be in the high desert, you can be fishing in the Columbia. But you still get to live day to day in a small town family community and that's a blessing that most people won't ever experience."
Looking forward, Harris expects NWUAV to double in size: "Once the national airspace opens up, which is a big deal for us, for the UAVs, that's going to multiply quite a bit as well. We have our own engine, which is what we're really trying to highlight here."
Learn more about NWUAV at http://www.nwuav.com/
To read more, see our newsletter:
MEDP Spark - The People Behind the Products