MEDP Receives 2014 Outstanding Collaborative Partnership Award
Oct 27, 2014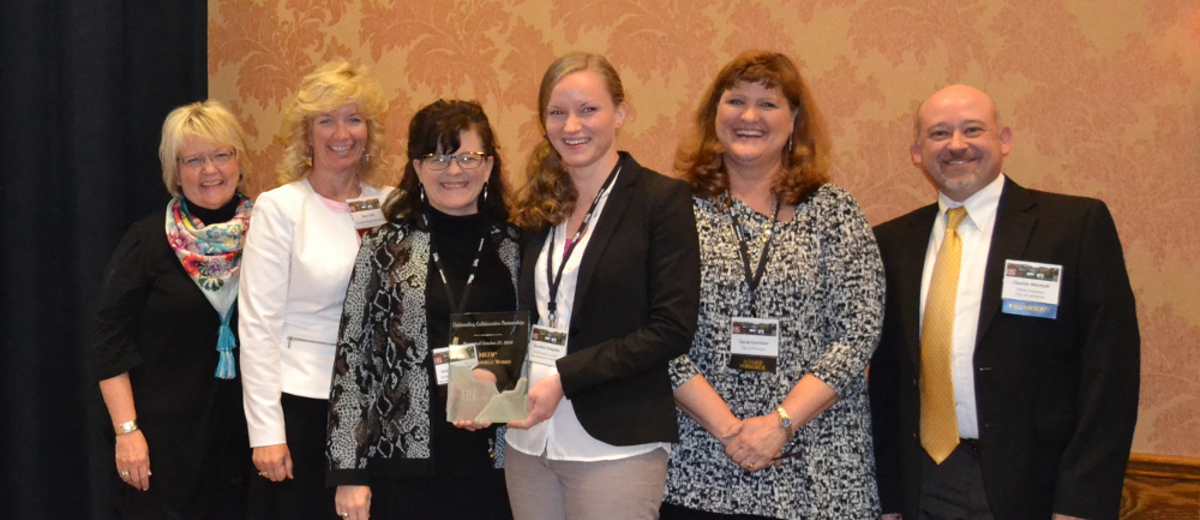 (McMinnville, OR) – Today, the Oregon Economic Development Association (OEDA) presented the McMinnville Economic Development Partnership (MEDP) with the 2014 Outstanding Collaborative Partnership Award for its innovative McMinnville WORKS Internship Program. The OEDA Annual Awards were presented at the Annual Conference in Eugene, Oregon on Monday, October 27, 2014. OEDA's Awards of Excellence in Economic Development are intended to recognize those individuals, projects and organizations that have made significant contributions to job growth and retention, new development, and community improvement in Oregon.
MEDP Executive Director, Jody Christensen and Marketing Specialist, Heather Simpson along with Freelin-Wade General Manager and McMinnville WORKS' steering committee member, Sherl Hill and Climax Portable Machining and Welding Systems and internship mentor, Joni George, were on hand to receive the OEDA award.
"We are truly honored to be recognized," stated Christensen. "We believe the success of this program is a testament to the power of a Grow Our Own workforce initiative being led by our local business community."
MEDP has learned about the critical workforce shortage from local companies. In partnership with industry leaders and mentorship from Climax Portable Machining and Welding Systems, MEDP developed the McMinnville WORKS Summer Internship program, to grow and attract talent in McMinnville. The program successfully launched on June 15, 2014.
The pilot had eight organizations hosting 21 paid, 9-week, project-based, internships and summer work positions with a variety of work plans in a variety of industries. The interns were working in a range of areas including engineering, research and development, marketing, information technologies, event planning, and specialized recruitment. The program also included weekly professional development sessions on topics such as Workplace Expectations, Project Management, Communications, Personal Finance, and Job Search skills. McMinnville community leaders in the public and private sector taught all the sessions.
"This program is only possible because of the extraordinary collaboration between our companies and community," stated Simpson.
The McMinnville WORKS program will be continued in summer 2015 with expanded and improved methods to ensure the Grow Our Own workforce approach continues to flourish. Additional host sites have signed on, with more internship positions available and an expanded and updated list of Professional Development sessions slated.
About MEDP's McMinnville WORKS: McMinnville WORKS is an industry led, collaborative internship program. The program involves multiple host companies from varying industries and project-based, paid internship positions. Please contact Lacey Dykgraaf at Lacey@McMinnvilleBusiness.com for more information.
About the Community Campus at Climax Portable Machining & Welding Systems: Please contact Joni George at joni@cpmt.com for more information.
About the McMinnville Economic Development Partnership: MEDP serves as a one-stop business development office currently working on numerous industrial recruitment, retention and expansion projects. The partnership includes the City of McMinnville, McMinnville Water & Light, McMinnville Industrial Promotions, McMinnville Area Chamber of Commerce, and area businesses. To learn more about MEDP, visit www.McMinnvilleBusiness.com