Registration Open for MEDP's 2018 Annual Event: Leveling Up on Innovation
Sep 6, 2018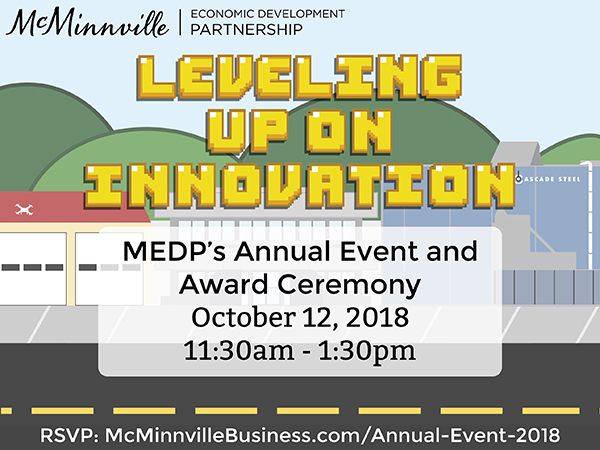 (MCMINNVILLE, OR) - The McMinnville Economic Development Partnership (MEDP) has opened registration for their 2018 Annual Event and Awards Ceremony: Leveling Up on Innovation. The event will take place on October 12, 2018 from 11:30am to 1:30pm at The Bindery event space in McMinnville, Oregon. The event is MEDP's annual opportunity to celebrate McMinnville | MADE products, recognize organizations and businesses who have gone above and beyond in the past year, and to celebrate partnerships and economic vitality in the community.
This year, the theme of the event, Leveling Up on Innovation, is both a nod to the City of McMinnville's Strategic Planning Process which took place over the past year called "Mac-Town 2032," and a look into the future of McMinnville's economy. McMinnville has always been an innovative community and has taken the necessary steps to thrive. Moving forward, MEDP is placing focus on business retention and recruitment efforts that will lead to living wage jobs in high growth sectors.
In 2017, MEDP revealed an organizational goal of fostering the growth of 1,500 new, living-wage jobs by 2032. The 1,500 in 15 years campaign is coming to the close of its second year. While revealing the results of year two, MEDP will also be speaking on their Tech Terroir: Growing Tech in Oregon's Wine Country campaign and plans moving forward.
Awards will also be presented at the event to the Manufacturer of the Year, Manufacturing Leader of the Year, and the Board of Directors Award for Outstanding Partner of the Year. Two new awards will also be presented for Collaborator of the Year and McMinnville WORKS Champion of the Year. 2017 winners included Organic Valley for Manufacturer of the Year, Heather Harris, President of NW Rapid Mfg, as Manufacturing Leader of the Year, and Chemeketa Community College as the Outstanding Partner of the Year.
Interested parties can learn more and register for the event at MEDP's website: McMinnvilleBusiness.com/annual-event-2018. The event will include a luncheon, ceremony, and time for networking with guests. Tickets cost $45.00 for MEDP Investors, Partner Board Members, and McMinnville | MADE Manufacturers. General admission is $55.00. Registration closes on September 28, 2018.