Solid Form Fabrication: Welding Passion with Success
Solid Form Fabrication is a fabrication company that has found success in McMinnville through working with different wineries, companies, and individuals to make hand-crafted, customized products.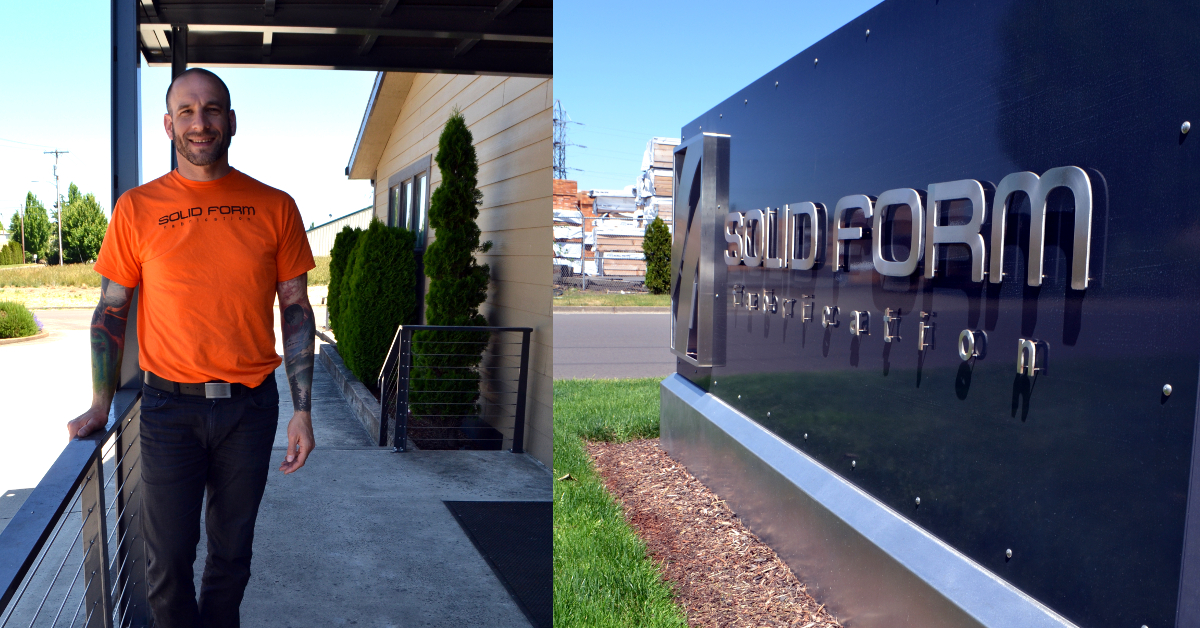 Deven Paolo stands outside the Solid Form Fabrication office in the McMinnville Industrial Park
Resources Used by Solid Form Fabrication:
Governor's Strategic Reserve Fund
Team Oregon Advanced Manufacturing - Fabtech
McMinnville WORKS Internship Program Host Site - 2013, 2014, 2015, 2016, 2017, 2018.
McMinnville Economic Development Partnership
Company Stats:
14,000 sq. ft. facility expansion (2017)
15 Employees (2016)
MEDP Manufacturer of the Year (2013)
Custom Design Craft:
When the recession started in 2007, there were not many people clamoring to start a new business. The Paolo brothers, Keath and Deven, knew that starting a business during the tumultuous time would require dedication, skill, and a great product. Even with the outlook, the brothers really only knew one thing, they wanted to own their own company. This passion and drive resulted in a company that utilizes both brother's skills: Solid Form Fabrication.
Deven looks back at his time at Yamhill-Carlton High School, working in the high school wood shop, as a turning point in his young life. At fifteen, Deven recalls his desire to never work in a cubicle. Instead, he had a passion for craftsmanship and drafting, and that passion carried him forward. While Deven was learning mechanical engineering and studying for a graduate degree in business, his brother, Keath, was forming an expertise in fabrication and machining.
Solid Form began with the two brothers running the shop by themselves. In the beginning they found success working with local wineries and from there they were able to build their portfolio through a wide range of products and clients. Quickly it became clear that they would need to update their equipment. With the assistance of the McMinnville Economic Development Partnership, Solid Form was able to explore state-assisted funding option and purchase a state-of-the-art water jet.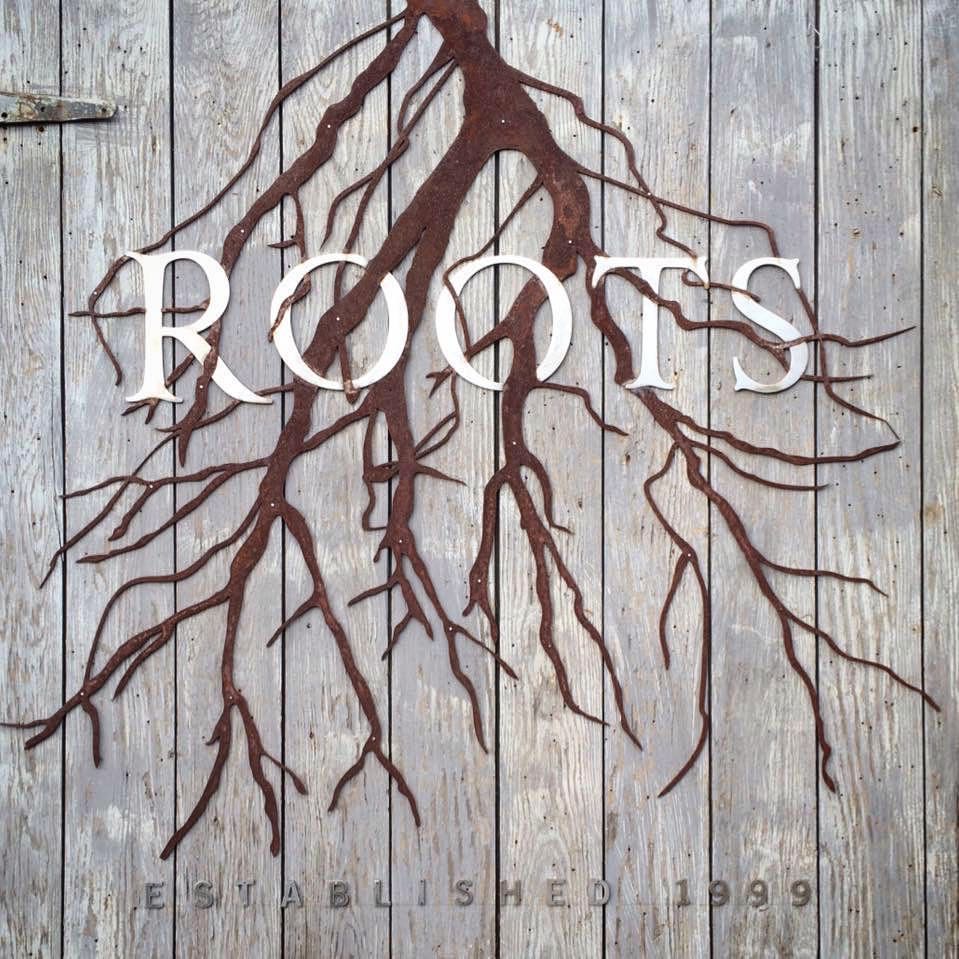 An intricate sign that Solid Form created for Roots Wine Co. from Solid Form's Facebook.
Today, Solid Form Fabrication has found success creating high quality and customized products. Their expertise is utilized in projects from intricate signs designed for wineries to stairs created for veterinary offices, to customized railing that leads up to someone's home. The company focuses on high quality material and work with a customized touch and feeling throughout the process.
Beyond the amazing products and work Solid Form Fabrication creates on a daily basis, there is also a continual commitment to community. Not only does Solid Form partner with McMinnville companies, they also have a deep commitment to the next generation of fabricators. In the past, they've come together with Meggitt Polymers & Composites, Davison Auto Parts, and Slater Machine Tools to clean, rearrange, and help re-build the Yamhill-Carlton High School Wood Shop. The same woodshop where Deven found his passion. The company also finds workforce solutions through the McMinnville Works Internship Program. The company has been a part of the program for four years, hiring two interns to continue with the company upon completion.

Creating high quality, customized metal work is a priority for the company.
According to their website, the company has continued to find success in designing "craft metal products for life - life at home, work and throughout the Willamette Valley." Through this success they have also found a need to expand. In 2017, the company plans to expand their workshop to 14,000 square feet. With this expansion will come the ability to take on more projects, hire more employees, and to continue to create high quality designs and products for both a more practical and a more beautiful life.
Learn more about Solid Form Fabrication at http://teamsolidform.com/
To read more, see our newsletter:
MEDP Spark - McMinnville's Ironman: The Man Behind the Metal.