Student Tours Offer a Glimpse of McMinnville's Manufacturing Future
Jun 15, 2017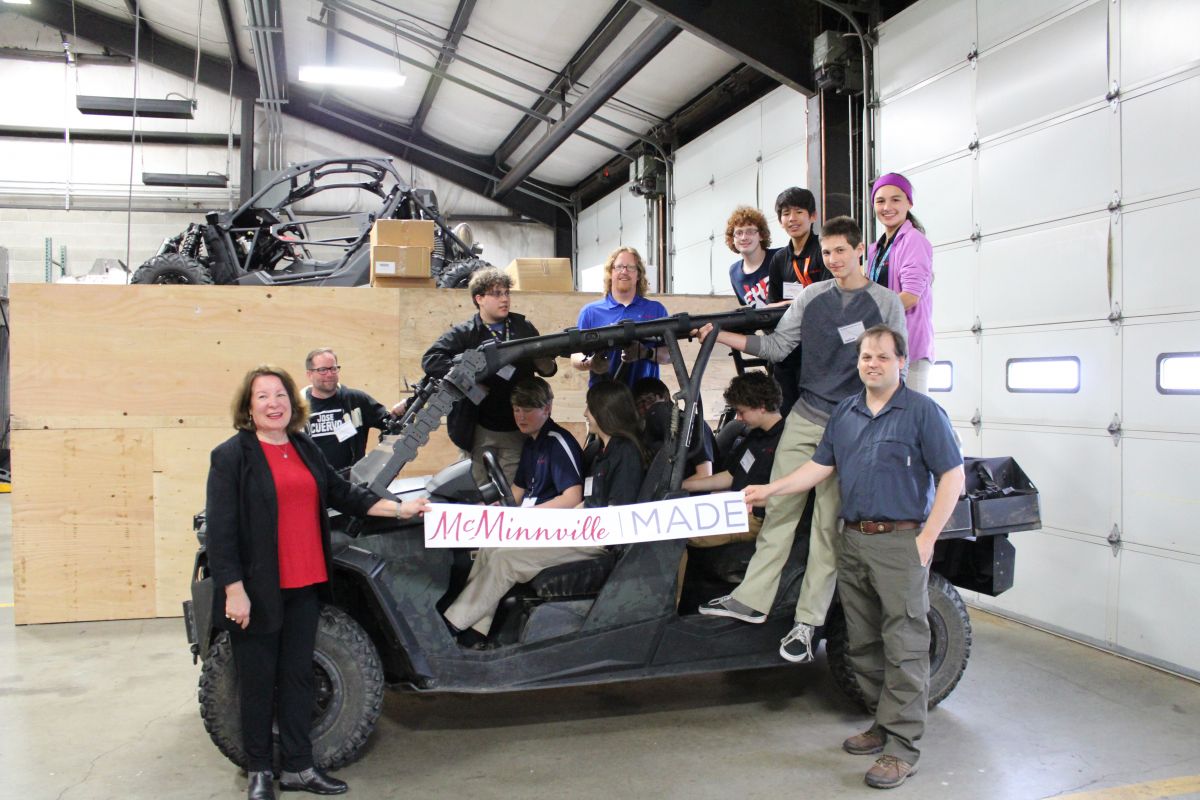 McMinnville High School Students and McMinnville City Councilor, Kellie Menke, jump into a RP Advanced Mobile Systems UTV
We at MEDP (McMinnville Economic Development Partnership) believe that one of the best ways to get students interested in manufacturing is to show them what modern day manufacturing looks like and the very cool things that are being made right in their hometown. In honor of National Manufacturing Day, and as a continuation of our McMinnville | MADE celebration, we worked with our local middle and high schools, three McMinnville manufacturers, and our elected officials to give McMinnville students a glimpse of what we mean when we say McMinnville | MADE.
Through tours at NW Rapid Manufacturing, eCNC, inc., and NWUAV (Northwest Unmanned Aerial Vehicles), students were able to see various ways parts are fabricated, interconnected, and what different technology is used for. With students from McMinnville Middle School Robotics teams and students from McMinnville High School's EASA (Engineering and Aerospace Sciences Academy) program, the students were well versed in 3D printing, machining and drafting designs. These tours were a way to take those concepts they were learning in the classroom and show them real life applications and how these innovative processes are shaping the future.
NW Rapid Manufacturing: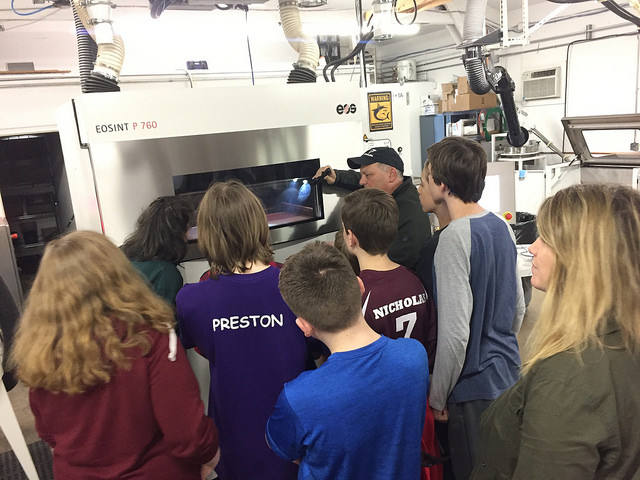 McMinnville Middle School Students observe a 3D printer using a SLS (Selective Laser Sintering) Process
As middle school students walked through the space that holds NW Rapid Manufacturing, a steady theme held through -- students looking, touching, and expressing "This is so cool!" Not only were students able to learn about what goes into to making these pieces, they were able to help in the process. With their hands wrist-deep in what NW Rapid calls a "partcake", students broke printed parts out of a white block of nylon support powder that had been created within the printer.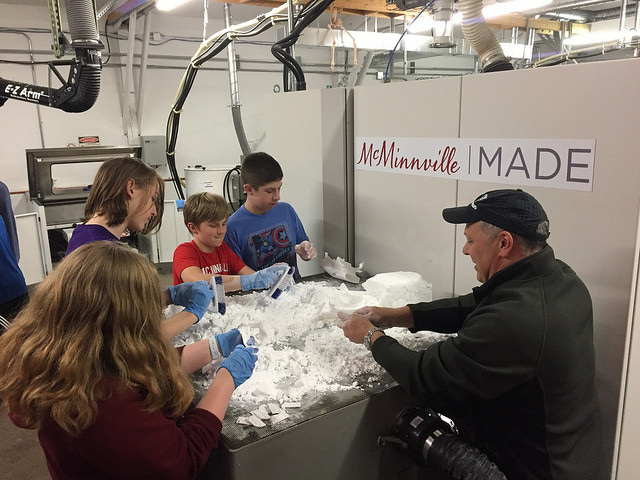 Though these students had some experience with 3D printing through their robotics programs, the type of 3D printing that NW Rapid uses is different. Often called additive manufacturing, both the high school students who toured and the middle school students had questions regarding the durability, cost, and make up of the pieces they saw being printed in large machines that NW Rapid's owner, Heather Harris, has lovingly named Hansel, Gretel, and the Wicked Witch. As Heather Harris pointed to the Wicked Witch she explained it was the most temperamental of her machines and that any vibrations or power outages could cost hundreds to thousands of dollars to her company.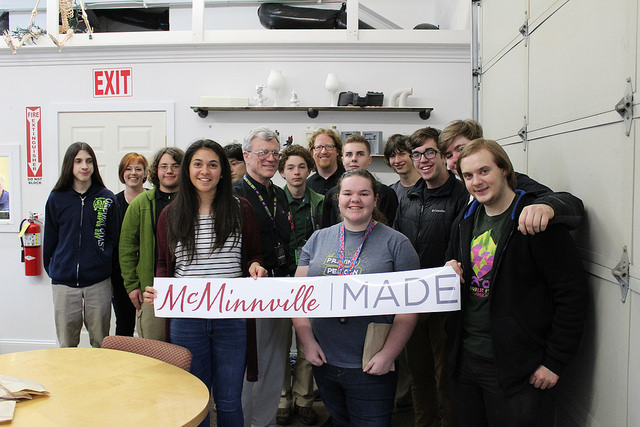 McMinnville High School EASA students prepare for their tour of NW Rapid
eCNC, inc.: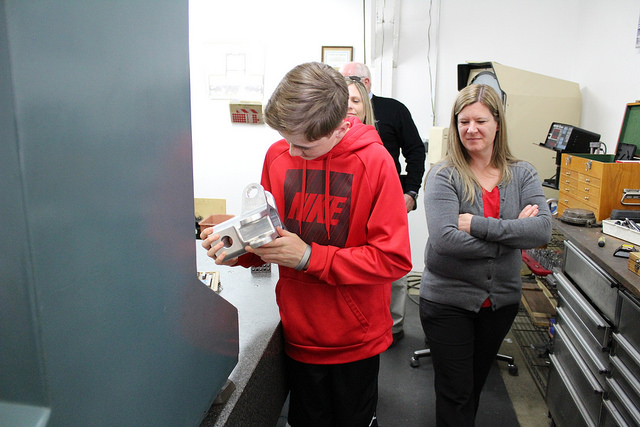 A McMinnville Middle School student holds a piece manufactured by a CNC machine. The students were told the piece would be landing on Mars.
Dave Edelman, owner of eCNC, inc. had a very specific message that he passed onto both the McMinnville Middle School and High School students: make sure you learn enough that someone pays you for your brain. Using his own story to speak about it, Edelman explained the differences in jobs he has had and what they depended on. His favorite jobs have all be ones where he's constantly challenged and used his brain rather than his brawn. As students walked through the shop, Edelman told the story behind every machine. He has built his shop from the ground up over the years, receiving certification that allows him to do CNC (computer numerical control) machining for companies and organizations all over the world.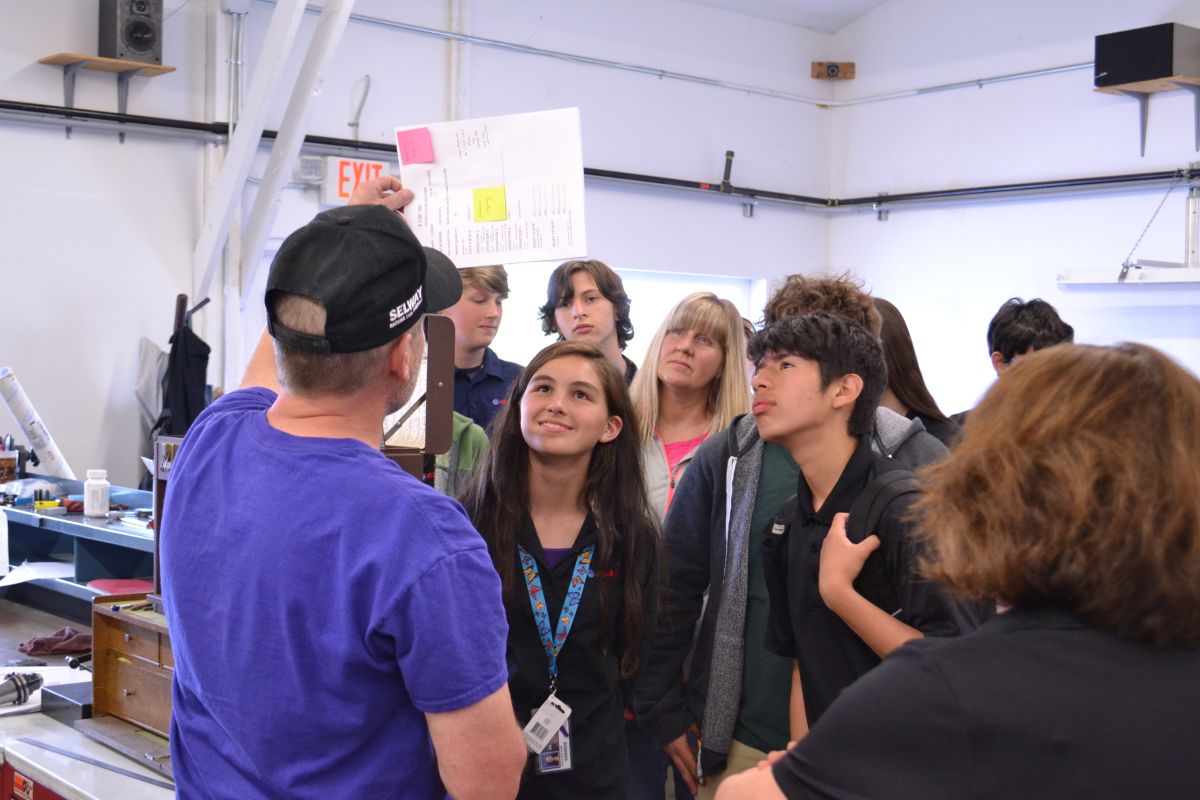 McMinnville High School students view plans for a piece being manufactured in the CNC machines
As students wandered through questions ranged from programming used to design pieces, to how pricing is calculated, to why there needs to be a giant slab of granite under one of the machines. When one high school student asked what types of materials could be cut with the machines, Edelman listed titanium as a material with impressed nods of approval going through the crowd. Edelman even offered Saturdays for students to come in and create parts for their robotics teams on their machines, promising to walk them step by step through the process. This community engagement from local manufacturers is an essential component to connecting McMinnville's emerging workforce with important skills and tools. Offering real-life experience creating parts from machines students would not originally be exposed to is just one way to create stronger learning.
NWUAV: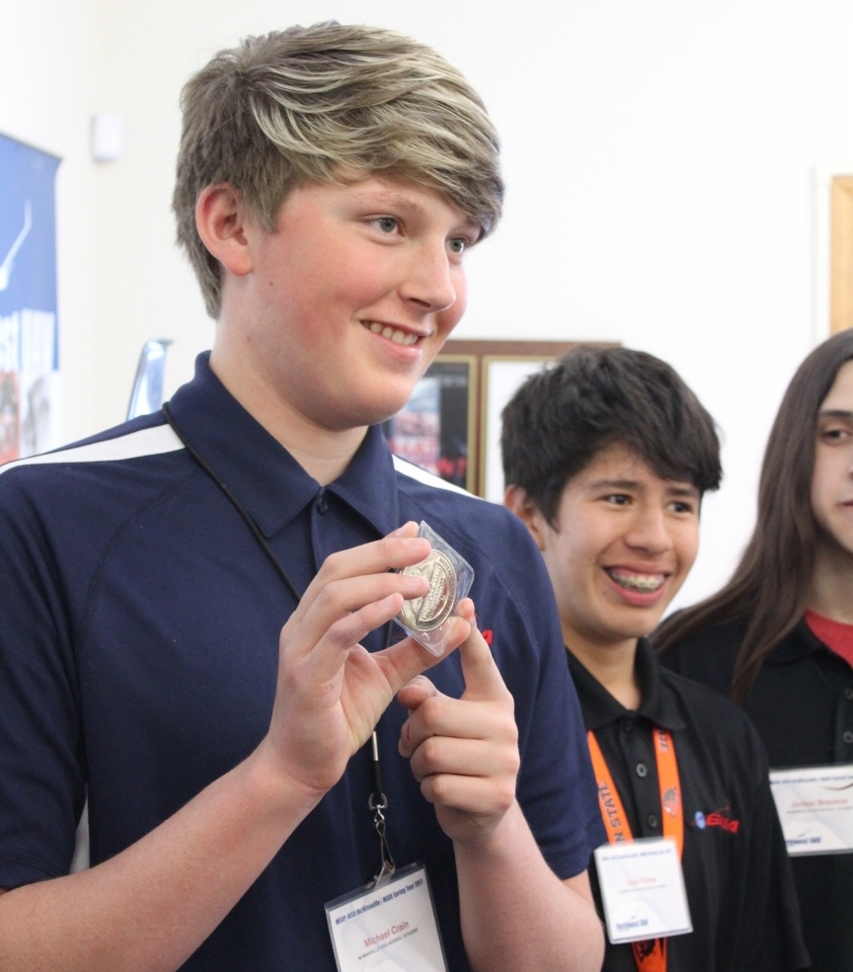 A McMinnville High School EASA student holds a "challenge coin" presented by NWUAV
At NWUAV, students were challenged as soon as they walked in the door to "stump the engineer." The engineer, Jeff Ratcliffe, Chief Technical Officer at NWUAV, who has worked with drones for over 13 years took questions from students as they walked down the hall, looking at photos of different drones the company has had a part in creating. Students were promised a NWUAV challenge coin if they could stump Ratcliffe - a coin often given in the military and presented by a unit commander to recognize an achievement in a unit. The question that finally stumped him? "Who made the first UAV?"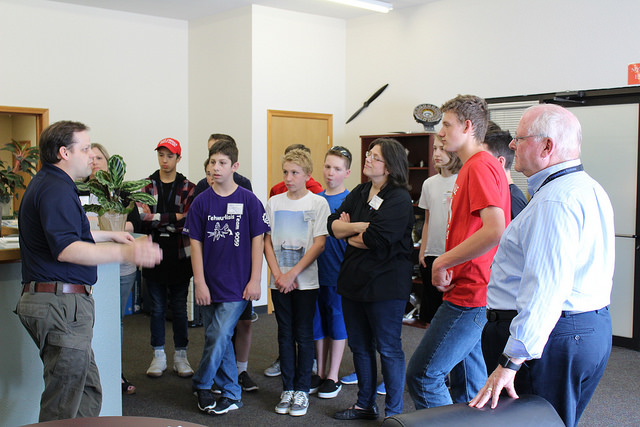 According to their website, "Northwest UAV is America's industry leader in UAS Propulsion System Manufacturing." Ratcliffe walked students through some of the most important components of making the propulsion systems, including consideration of weight: "On a small UAV one paperclip of mass removed from an airframe, and added as fuel mass translates to roughly .5 kilometers of vehicle endurance" and how many types of engineers it takes to make one propulsion system - in case you are wondering, it's 15. That includes systems engineering, 4 different types of mechanical engineering, 4 different types of electrical engineering, 3 different types of aeronautical engineering, manufacturing engineering, quality assurance engineering, and test engineering.
With unassuming locations, spaces like NW Rapid, eCNC, inc., and NWUAV are often missed by residents in the area. Exposing students to some of these manufacturers shows them that amazing things are being made right in their hometown. According to EASA teacher Dave Larson, "MEDP's work to connect us with these businesses is really valuable for us and I hope we'll be able to continue to look for ways to connect local companies with our students."
Student tours also allows manufacturers the opportunity to peak interest in what a future in manufacturing could look like for students. With technology changing how processes are done every day, students with an interest in STEM fields are perfectly positioned to shape what the future of manufacturing will be. McMinnville | MADE student tours are one way we at MEDP are helping Grow Our Own workforce, exposing students to the possibilities in rural communities, and celebrating the companies who make things in McMinnville. We're also fostering tech in our community with the launch of our Tech Terroir campaign. We created this campaign to build better resources for the future, including exposing students to the wide range of technological career possibilities in the rural communities they call home.