MEDP Spark - An Idea, a Passion, and a Whole Lot of Guts
Aug 10, 2017
MEDP Spark, Volume 2, Issue 8 -- August 2017


From left to right: Shon Holyfield, Paul Peterson, and Kristen Stoller lead a discussion on what it means to be an entrepreneur.
Every business, every career, and everything surrounding us started with an idea. An idea that sparked a passion. A passion that sparked the desire to act. And a desire to act that allowed an individual to ignore nay-sayers and take on the underlying basis for entrepreneurship: risk. As we explore the streets of McMinnville, Oregon, through the Industrial Park, down Third Street, and off Highway 18, we can't help but contemplate that each building we see began with a passion that outweighed a fear.
Every week during the McMinnville WORKS Summer Internship Program we at MEDP organize Professional Development Workshops, in which interns in the program travel to different locations in McMinnville to learn skills from industry and community leaders. This year the interns had a unique opportunity to learn from local entrepreneurs in different stages of business development and with different goals in mind. Through this workshop the interns were given a glimpse at three very different companies, one working to create clean energy in the form of electric airplanes, a tax answer company, and a dance studio. All three companies are located in McMinnville and the owners/CEOs spent a morning sharing their stories with 14 young professionals eager to learn what it's like to jump into your own idea and succeed.
Paul Peterson, CEO at Volta Companies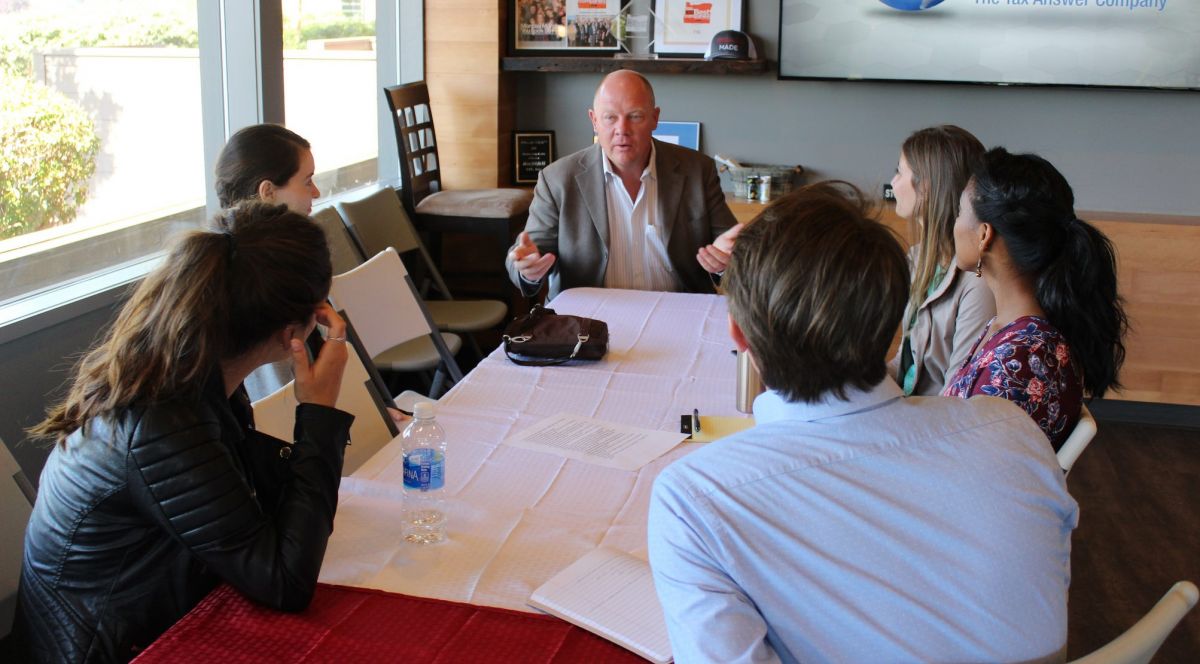 Paul Peterson, CEO of Volta Companies, speaks to the WORKS Interns about his experience
When Paul Peterson, CEO of Volta Companies, speaks of his childhood, one word stands out: resilience. Paul attributes this quality to supporting roles by his parents, teachers, and extended family. He provides the example of enlisting as soon as he was eligible in the Air Force and his time spent as a fighter pilot flying an F16B to further his point and provide an insight into his current passion. The overlying Volta Companies is home to multiple businesses including Volta Volaré, which is working to produce the world's first hybrid electric super plane. Paul's vision stems not only from a passion of innovation and furthering technology, but also in his environmental principles.
Though ideas play a large role in Paul's success as an entrepreneur, his advice to the interns was clear, "Spend time hiring the right person for the job. You can get a lot more done with one right person than ten slackers." Paul's career has seen ups and downs from working in the Air Force, to being in the thick of the dot-com bubble crash, to helping other companies succeed. The one thing that he always searches for in a career is to find something fulfilling, telling the interns, "If It makes sense to you, do it. Entrepreneurship doesn't necessarily mean success, and often times it means failure." Though there have been trying times, Paul's journey has brought him where he is today, employing over 50 individuals and ultimately working to make the world a better, greener, more efficient place.
Kristen Stoller, Owner and Artistic Director of Chehalem Valley Dance Academy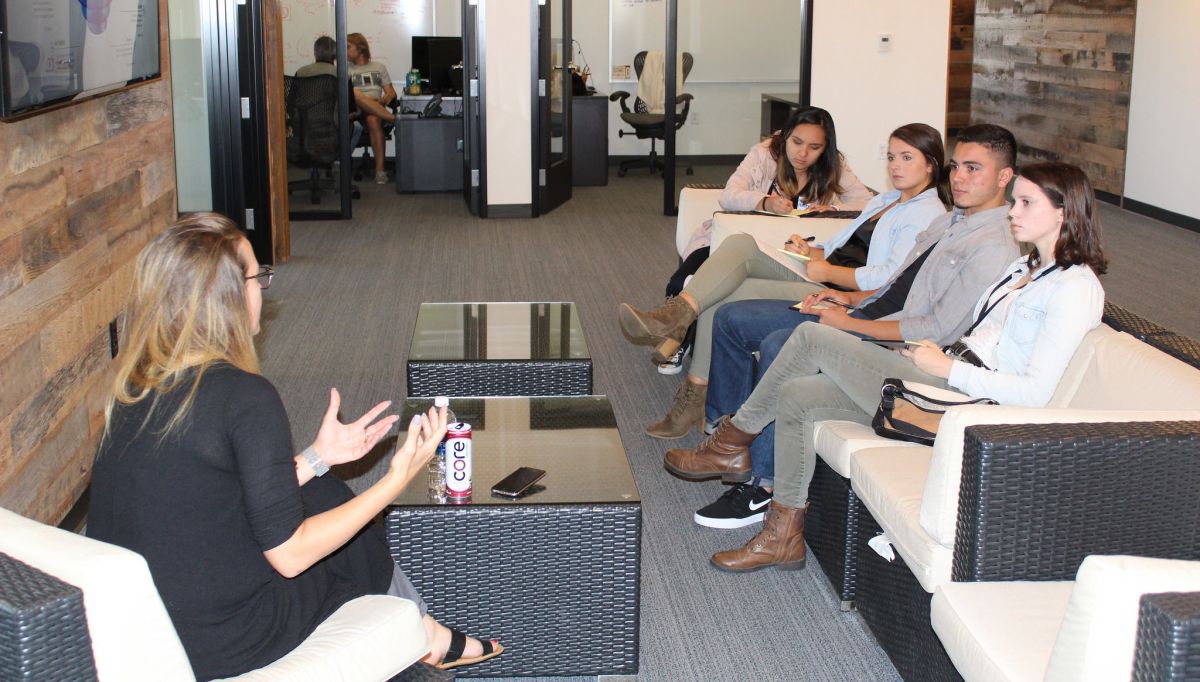 Kristen Stoller sits down with interns to discuss her experience purchasing and owning Chehalem Valley Dance Academy.
Kristen Stoller, Owner and Artistic Director of Chehalem Valley Dance Academy said one thing remained consistent as she was growing up in Yamhill County; if she didn't like how something was done, she would go in, take control, and fix it herself. She points to a time in high school when she took charge of the morning announcements to improve the way they were done. The ability to take control has inspired Kristen's pursuit of entrepreneurship. Kristen has also proved she's not afraid to take risks. As a competitive dancer since the age of five, upon finishing high school she packed up and moved to Los Angeles to pursue her dream of dancing professionally. After touring in Southern California, Kristen moved back to Yamhill County and began working in a dance studio. When the owner told Kristen she was selling, Kristen took another risk and bought the business.
With almost no business experience at the time, Kristen told the interns it was not the best time to purchase, yet "By taking small risks in my life I was able to build my self-confidence to take bigger risks and increase my confidence in decision making." Now Kristen is committed to teaching the skills that have shaped her life so significantly: "Dance skills are life skills—you learn discipline, dedication and perseverance." In doing so, she hopes to give back to people and a community that impacted her so greatly as a child. With this thought, Kristen also recognizes her capacity and need to adapt and grow. She is still filling in her skill gaps with business expertise, but with an intention to inspire children she says the thing she wants to teach the most is even if you don't succeed, it's always important to "still love yourself and persevere."
Shon Holyfield, CEO of TTR, Inc.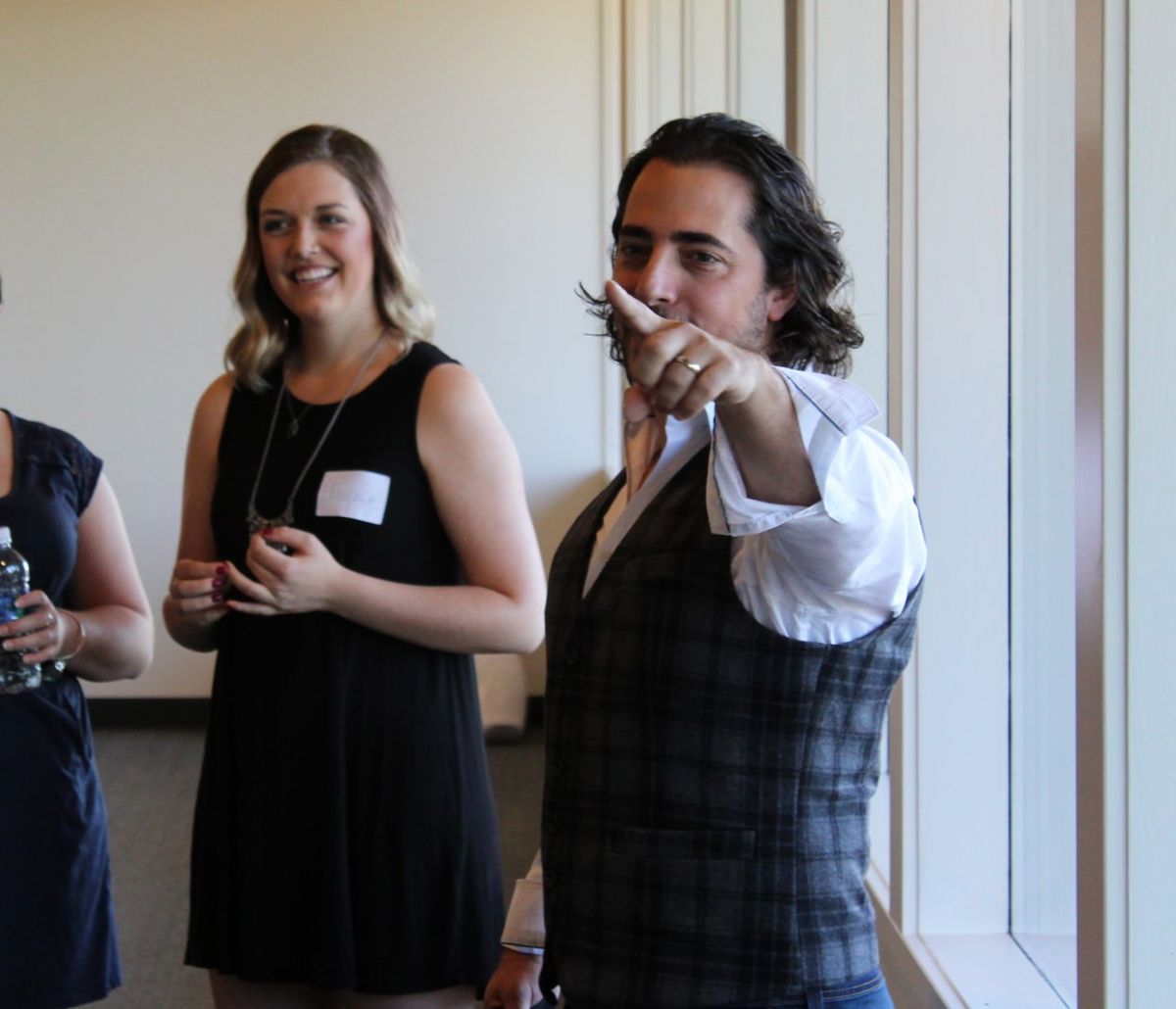 Shon Holyfield, CEO of TTR, takes WORKS Interns on a tour of the company's new building.
TTR, or Tax Transaction Resources, handles tax issues from across the nation, providing a one-stop shop for any ongoing tax inquiries a business or individual might have. Yet, the company is about, and stands for, so much more. CEO and founder of the business, Shon Holyfield, is as unique as his award-winning business. Citing a family military background as the foundation of Shon's values in integrity, honesty, and respect, each aspect can be found walking around the company's building. Shon's values highlight what is at the very center of TTR's philosophy: helping people. While he understands that creative tax solutions may not be the most intimate way, the goal was always to "create a product so people didn't have to stress about this piece of their business and could go home at night and be with their families".
Shon's journey, like many other sole proprietors, was chalked full of personal realizations along the way: "My epiphany was realizing I couldn't do it all and finding skill sets that compliment my own…. I was forced to acknowledge what I was not good at and find the right people to build my team." It's clear walking around TTR's office that no matter the goal, the company also likes to have fun along the way. Just walking past Shon's office you'll find multiple superhero figurines and a Iowa-Class Battleship ordnance. On a saunter through the kitchen you might find the remnants of recent ice cream sundae bar. Shon's passion for helping people has become a facet to create a "safe, fun, interactive, and honest" environment for himself, his family, and all his employees.
To be an entrepreneur it takes an idea, some passion, and a whole lot of guts. In McMinnville, a passion to create something impactful and to influence lives in a positive way seems to be in the air we breathe. The businesses and entrepreneurs here choose to believe in a triple bottom line approach to business. Yes, they care about profits, but they also care about people and the planet. Speaking with three local professionals, who are working each day to improve lives, created not only inspiration for our 2017 WORKS Interns, but also pulled at the underlying pride that is always there when we tell people where we live.
Want to learn more about locating, starting, or expanding a business in McMinnville? We're your first call. Contact us today.