MEDP Spark - High-End Expansion on the Highway: 18's New Business Campus & Hotel
Jan 9, 2017
MEDP Spark, Volume 2, Issue 1 -- January 2017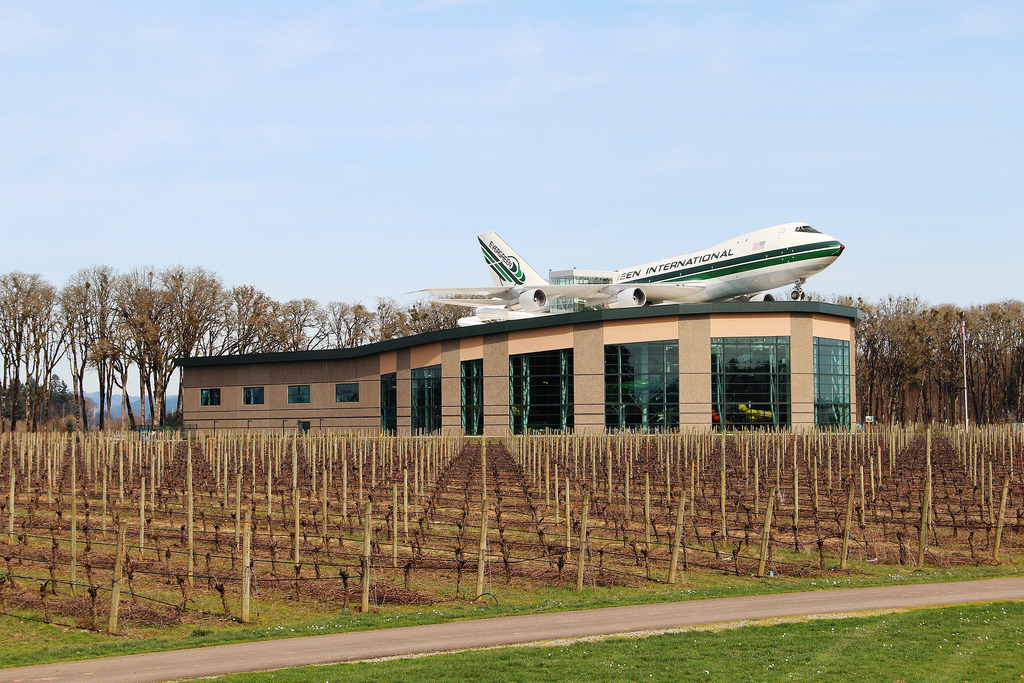 You may recall the first issue of the Spark, "Behind the Scenes of Evergreen Aviation." It was a year ago this month when we talked about the closure of Evergreen Aviation and how we were involved. The McMinnville Economic Development Partnership (MEDP) is a confidential resource for businesses in the McMinnville area. We help solve problems, make connections when needed, and present McMinnville to companies as a viable, thriving place to do business. With Evergreen Aviation and every business that comes to us for help, MEDP serves as a liaison and advocate.
When companies like Ferrum Technology Corp are ready to expand, they call our office. "In Ferrum's case, they called us because they had confidential questions about their next steps," shared our Executive Director, Jody Christensen. Most days, we get to be the champions for businesses. Other times, we have to address and assist businesses when things aren't going well, when things are uncomfortable. No matter how many resources are put into place, businesses can (and do) close. When that happens, it's difficult to explain to the public. Business is hard, and we're here to help regardless of the situation.
Over the last year, McMinnville has seen many changes. While the closure of Evergreen Aviation was detrimental, it opened up five buildings for new businesses. Where there was just one business before, there are now two businesses ready to expand: TTR (Tax Transaction Resource), who has been featured on the MEDP website, and Jackson Family Wines, who has purchased two buildings for expansion.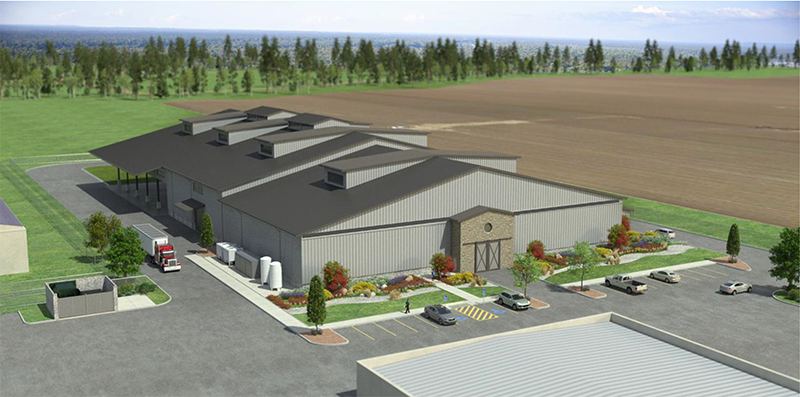 Jackson Family Wines' Winery rendering, courtesy of Jackson Family Wines.
Jackson Family Wines will be constructing a new, modern winery for the production of artisanal Pinot Noir, Chardonnay, and Pinot Gris. With an emphasis on crafting world-class, estate-grown wines from the Willamette Valley, the Jackson family is incorporating sustainable technology in the new building that will house a small-lot winery and barrel room.
The layout of the winery has been planned to handle small lots of fruit with hand sorting lines and multiple small, open-top fermenters. Quality is always at the forefront. The former Evergreen office space will be renovated to house a state-of-the-art laboratory and offices for the winemaking and production team. New construction began in August 2016 and the winery is expected to be operational for the 2017 harvest season.
"Since we began sourcing wine from Oregon, we've taken the time to study our estate vineyards so that we could deliberately design a winery to fit our winemaking style," said Hugh Reimers, president of Jackson Family Wines. "Building our own facility enables us to create a contemporary environment for crafting luxury wines. We're proud to be a part of the McMinnville community, bringing additional employment to the area and joining in the overall revitalization and enhancement of this part of the city."
Just next door you'll find TTR, a business born in McMinnville that is experiencing growth. "The strength of any great company is its people. Getting the right people at the right pace is important." CEO Shon Holyfield commented. When asked what's most exciting about moving to their new location, Holyfield said "The opportunity we'll have to reward our team. They've worked hard for so many years, and to give them a space that represents their level of commitment to the company is something I'm looking forward to."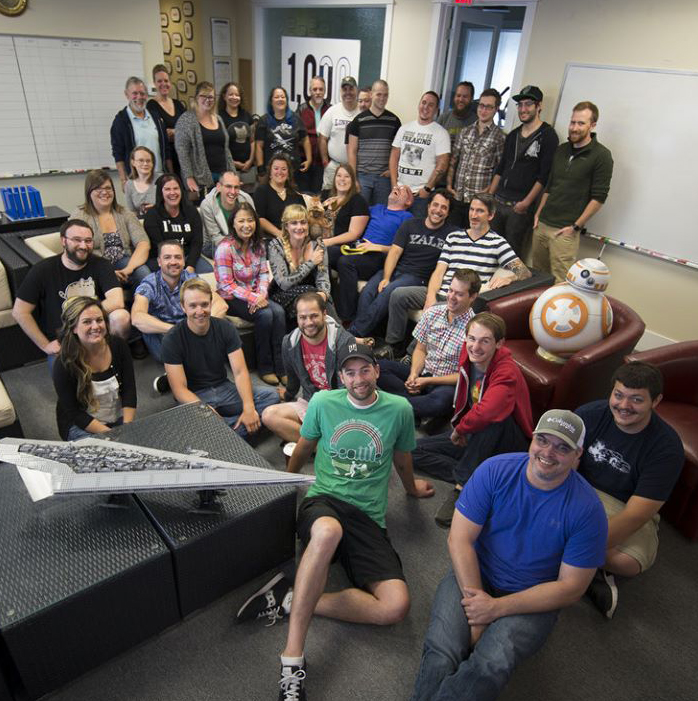 The TTR Team, courtesy of TTR.
Holyfield attributes TTR's success to TTR's professionals. "I cannot thank our staff and their families enough. It was because of them that we were voted the #1 small businesses to work for in Oregon and southern Washington. I really admire how our professionals, who come from such diverse backgrounds, have come to work together and have made TTR a great place. In addition to that, having a great city to call home helps to give our team a better quality of life. McMinnville is such an amazing city. Just walking down 3rd street or stopping in to have a bite to eat, it quickly becomes apparent just how warm and welcoming this community is."
Holyfield plans to grow the team organically over the next few years from their current count of 78 to ~120-150. "I can see us doubling in size in the next 24 months, but I'd like to get to a happy balance, growing the team through smart, organic expansion. MEDP has been very supportive, and they've reached out directly to offer assistance. I really appreciate and admire their commitment to staying connected in the community to ensure that companies stay here in McMinnville."
On the museum side, there's been a lot going on in the last three years. In August of 2016, the Falls Event Center LLC, the investment group led by Oregon native Steve Down, made an offer to purchase some of the property involved in the 2013 Evergreen bankruptcy. Down closed the deal for $10.9 million, changing ownership of the space museum, the Wings & Waves Waterpark, and other property on the campus, including the vineyards that run along Highway 18, which they plan to revitalize.
Light renovations have already been made to the Evergreen Chapel, which offers 5,500 sq. ft. of rentable space. Plans are in the works for Steve's Hotel, which will be built on a previous hotel pad. This hotel will be the first of many Steve's Hotels, and they hope to break ground for the Evergreen location in late Spring 2017. Final architectural plans are being drawn and construction is scheduled to take 12 months. The hotel is planned to open in Spring 2018.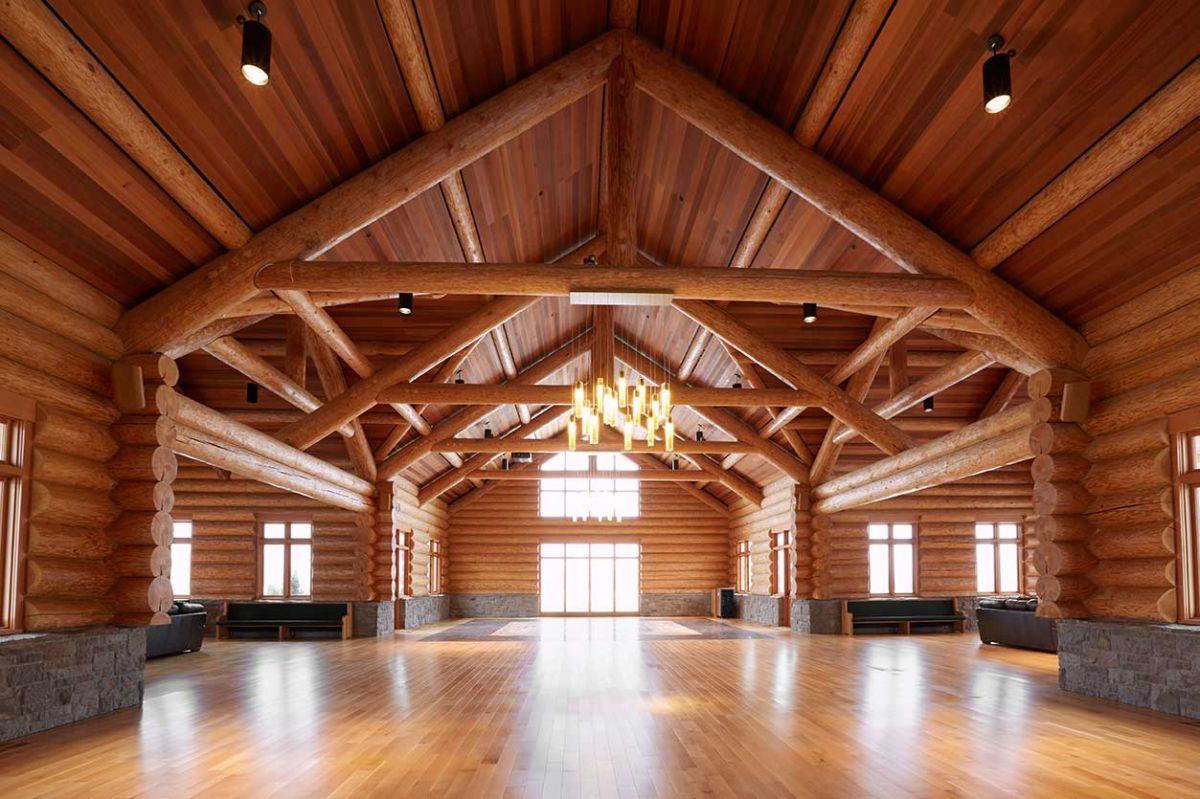 The Main Hall in the Evergreen Chapel, courtesy of TheFallsEventCenter.com.
The vision for the Evergreen campus is one that Down has incorporated into the planning for Steve's Hotel: a full-service resort with amenities for the whole family. MEDP spoke with Sam Ramirez, Chief Operating Officer of the Wings & Waves Waterpark and the newly formed company, Steve's Hotel. He shared that the hotel will be "a 4-diamond experience. This will be truly a resort experience. We are committed to bringing a high level of quality and personal service. We call it 'Luxury for All' and it is our version of a revolution in hospitality where we believe every traveler should be able to enjoy luxury at a fair and affordable rate. We will welcome families and special getaways alike."
A four diamond hotel is, according to AAA, a hotel that is "[r]efined, stylish with upscale physical attributes, extensive amenities and a high degree of hospitality, service and attention to detail" (Source). With more than 100 rooms, a full restaurant and lounge, meeting space, a full-service spa, an indoor pool, and fitness center, Steve's Hotel is poised to live up to the rating. In addition to the hotel, plans are in the works for an RV park and campsite. Visitors can also enjoy the waterpark and the space and aviation museums, rounding out the whole resort experience. Down has been very clear in his goal: to make the Evergreen campus the number one destination in Oregon.
In our conversation, Ramirez spoke highly of McMinnville. "We have about 15 different sites in a number of other states, and McMinnville has immediately felt like home. Everyone has made us feel welcomed from the beginning." Down's companies are already planning how they can give back. They plan to open another one of his businesses in McMinnville, Even Stevens. With every sandwich purchased, another sandwich is donated to a non-profit to help those affected by food insecurity. Through their current locations, they've donated more than 966,000 sandwiches! A portion of proceeds from the hotel will also go toward helping those in need. Ramirez refers to their business as "for profits that serve non-profits." Rather than changing the communities they join, Down and his team hope to better them.
With all of the exciting happenings taking place, just one building remains for sale at the Evergreen campus, and it's been getting attention. We're excited to see what the future will bring for the F15 building, which Christensen refers to as "a corporate headquarters ready to happen." All of this development and increase in tourist attractions will greatly benefit McMinnville through job and economic growth, and we look forward to keeping the public abreast of new changes.