Is Oregon Future Ready?: 5 Lessons Learned for the 15th Oregon Leadership Summit
Dec 21, 2017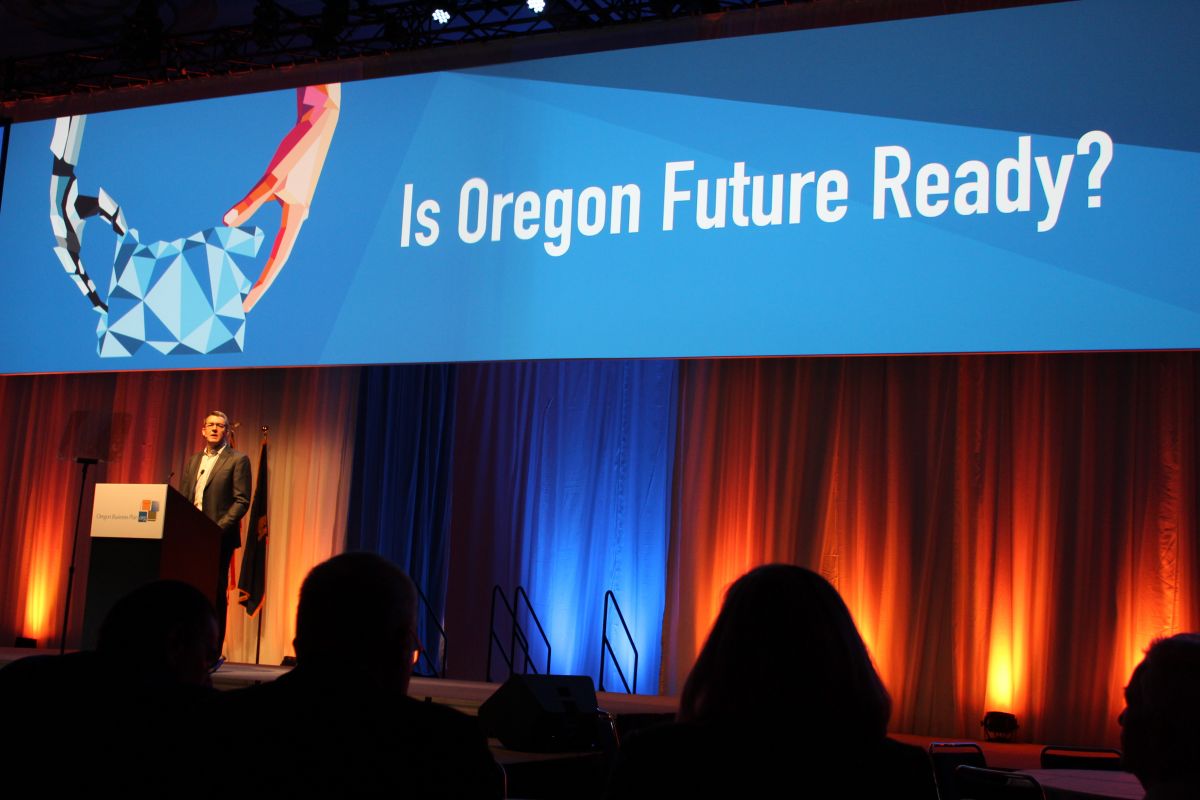 Patrick Criteser, CEO of the Tillamook County Creamery Association and Oregon Business Plan Chair, speaks on the goals of the conference and the challenges for the future.
On December 4, 2017 leaders in cities, counties, economic development, and more from areas throughout Oregon organized in the Oregon Convention Center to hear the evidence, arguments, and aspirations that would answer the question: Is Oregon Future Ready? With presentations, forums, and discussions from various influencers and leaders, concerns for the future were examined.
McMinnville was well represented at the conference with City Manager Jeff Towery, City Mayor Scott Hill, Yamhill County Commissioner Stan Primozich, City Planning Director Heather Richards, McMinnville Chamber of Commerce CEO Gioia Goodrum, and McMinnville Economic Development Partnership (MEDP) Executive Director Jody Christensen and Communication Manager Lacey Dykgraaf all present. Attending the conference gave a wide scope of what Oregon's future could look like. To learn some of the lessons we gleamed from the conference, continue reading below.

Representatives from McMinnville attended the summit
1. Oregon needs to address PERS
The State of Oregon's Public Employees Retirement System (PERS) is causing a huge deficit. For those who are not aware of the problem, PERS is a retirement plan that was guaranteed to public employees which includes teachers, city employees, and more. With a combination of unfortunate planning and circumstances including a guaranteed return on investment, the recession, and more, the system does not have the funds to supply those enrolled with their promised benefits.
As an example, last year Oregon passed a bill to increase the education budget by 11.2%. As the Summit Panel of school representatives stated, by the end of 2017, none of that money reached the classroom. This is due to PERS and needing to pay public employees the benefits they have been promised by the state. Through the last two years, PERS cost the State of Oregon over $2 billion. At its peak, in the space of two years, PERS will cost the state over $10 billion. The state currently has no plan in place to pay for this, and without a plan, Oregon is looking at an insurmountable deficit.
Members of the Oregon Business Plan are looking for strategies to address the issue that both businesses and citizens can agree on. A large portion of the summit was dedicated to getting people inspired and motivated to take on the challenge.
2. Oregon needs to change how we think about public finance
Currently, Oregon faces two large fiscal issues. One, though there is more money to spend and this revenue is growing, the costs and amount being spent is growing at a more rapid pace. Though we are investing in necessary systems such as education, with a looming deficit, we risk not being able to pay for public services in times of need.
Two, because Oregon's budget depends largely on income tax, when there is a downturn in the market, such as the 2008 recession, employment numbers drop and so does the money coming into the state. When there is a downturn in the economy, it often requires to the State to offer more services. With less money coming in from taxes and an increased request for services, necessary programs start to lose out on money they need to function effectively.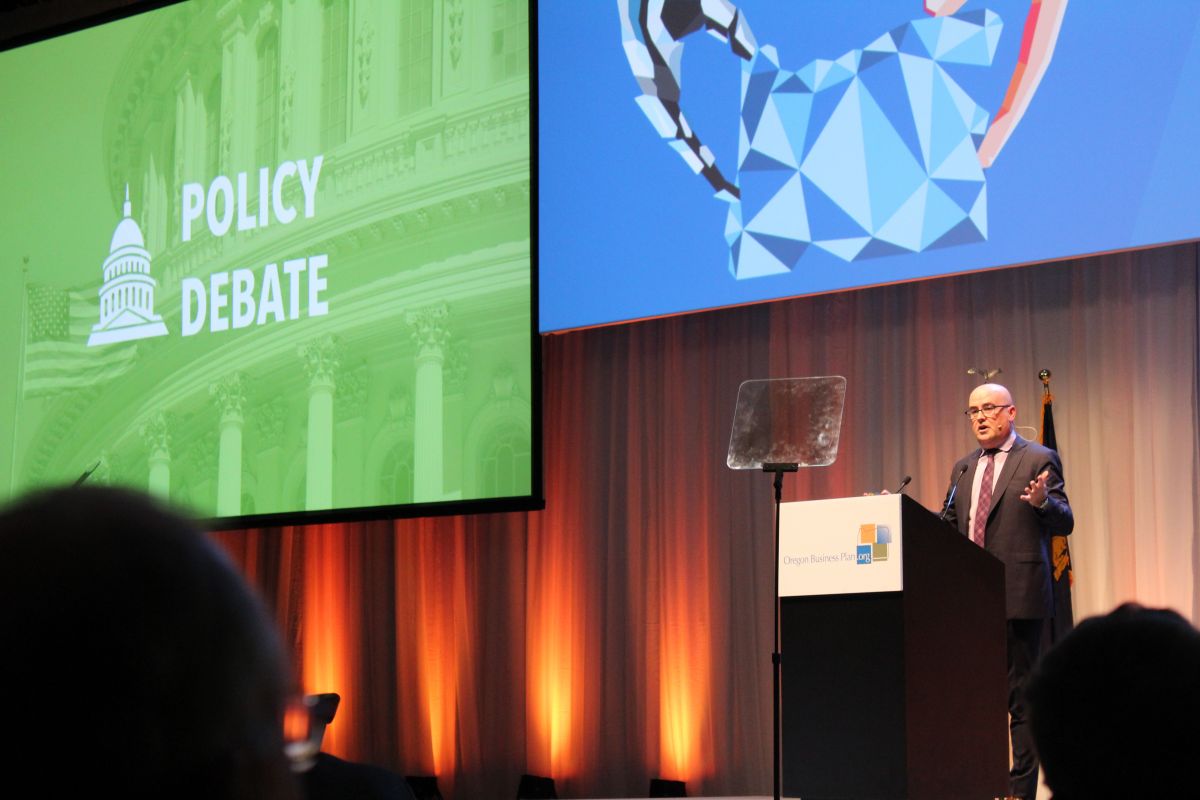 Steve Brown speaks on the future of the economy
3. The future is coming, and so is automation
According to speaker Steve Brown, also known as the Bald Futurist, the next wave of automation is possible because robots are now able to see and hear. Before the advent of new technology in machining including Artificial Intelligence (AI), robots had to sectioned off from humans with protective glass and machines that performed one specific function, over and over. Now, robots can interact with the environment around them. With this advent we can now see technology such as autonomous vehicles take hold in the world.
This technology will cause an extreme disruption to the classic workforce. It's predicted that around 47% of jobs in the U.S. are at risk for automation. Though lower and middle wage jobs are at a higher risk, so are some high-skilled high-wage jobs such as doctors, pharmacist, and more.
Technology will impact how we move around, manufacture products, interact with one another, and how we get goods to market. Preparing for this wave of automation is key to have a healthy economy in the future.
4. We need to prepare future workers for the tidal wave of automation
The jobs most at risk of automation include ones that depend on one task that needs to be completed, while those that require very human skills, are less at risk. Meaning jobs that require empathy, a human touch, creativity, and the skills to program and fix automated machines. Jobs that are relatively safe from automation include computer and mathematical occupations, educators, community and social-service workers, and more.
What all this means is that in the future, people will be working at jobs that haven't been invented. It also means that some crafts may become more valued based on things that a robot cannot provide, like a personal touch. It also means that education may need to be approached differently. We may see a rise of trade schools that teach skills that previously required a four year degree, while our education system is already leaning towards Career Technical Education (CTE) programs to give students a more applicable education to their future careers.
5. No one entity, city, or person can do it alone
In order for Oregon to address some of the looming problems presented at the Oregon Leadership Summit there needs to be a concentrated effort to come together, hear all voices, and be willing to compromise.
Luckily, the final lesson we learned from the summit is that Oregon is ready to collaborate. Together, we are ready to to find a solution with each other rather than against one another. Our legislators, business leaders, and community members are all committed to solving problems and preparing for the future.