McMinnville | MADE Day - A Manufacturing Celebration Recap
Oct 27, 2016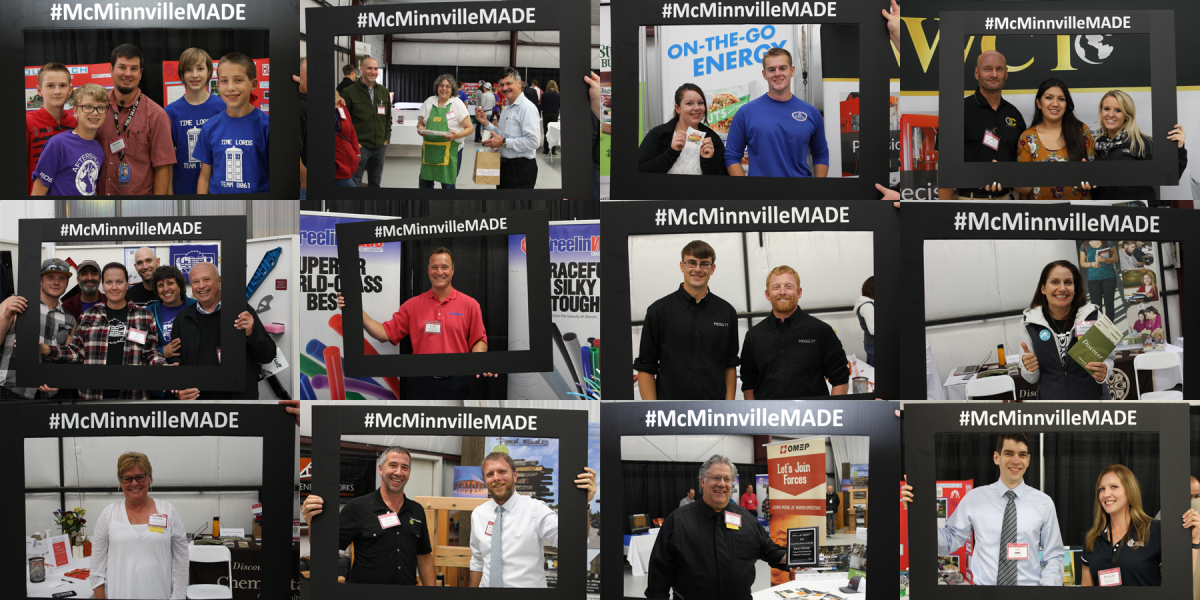 On October 7, 2016, in conjunction with National Manufacturing Day and 10 years of service, the McMinnville Economic Development Partnership (MEDP) hosted McMinnville | MADE day in order to highlight and celebrate the diverse manufacturers and traded sectors that help create economic vitality within McMinnville. With VIP Manufacturing Tours, an Award Luncheon, and an Expo the event was truly an opportunity to celebrate the impact manufacturing has on our community.
The day started with 48 guests attending manufacturing tours at five of McMinnville's top manufacturers: Betty Lou's, Inc., Meggitt Polymers & Composites, NWUAV, NW Rapid Manufacturing, and World Class Technology. With a diverse group of individuals ranging from community leaders, to students, to elected officials, the manufacturing tours gave a wide range of the community the ability to connect with these companies in a different way. Anna Thames, a sponsor through OMEP (Oregon Manufacturing Extension Partnership) spoke of the tours and manufacturers stating: "You have hidden treasures in the area (and some of these are good sized companies!) Tours give great insight into the opportunity and highlight innovation and growth in the region."
Along with elected officials and leaders, students from Linfield College were given the chance to tour Betty Lou's, Inc. and World Class Technology with the Linfield College Career Development. Check out some of their experience with this video created by Linfield College:
After the VIP Tours returned, guests filed in for the MADE Award Luncheon. With catering provided by a local favorite, Ribslayer BBQ and Haagenson's Catering, guests were able to load up plates, talk to manufacturing booths, and sample local caramel tastings from One Fork Farm and local sauce tastings from Can-Do Real Food.
With the luncheon also came speeches from MEDP's Executive Director, Jody Christensen and former McMinnville Mayor, Rick Olson. The message of the speeches aligned with MEDP's mission of celebrating manufacturing as a priority and providing the community with the opportunity to experience some of what MEDP sees on a daily basis. The more the community knows about the manufacturing that takes place in the town, the more McMinnville manufacturers will be recognized for what they are: an essential component of the town's economy. As part of the luncheon, MEDP announced their annual awards and recognized Ultimate RB as Manufacturer of the Year, Shon Holyfield and Shahab Emrani from TTR as Manufacturing Leaders of the Year, and Gary Conner with OMEP as Outstanding Partner of the Year.
Kristi Mackay, an Assistant Director at the Linfield College Career Development talked about her experience with National Manufacturing day and how it helps grow our workforce: "The value in Manufacturing Day lies in learning about the jobs that exist in these facilities. We were able to discuss with our hosts how a liberal arts student can be a benefit to a manufacturing company. We also learned what they look for in top employees."
After the luncheon, the McMinnville | MADE Expo was open to the public and guests were invited to speak with local manufacturers, sponsors, and resource partners. With prizes given away and local connections being made, McMinnville | MADE day truly welcomed the opportunity to celebrate industries and business that are not often spotlighted. We at MEDP are proud to have been a part of the event and look forward to continuing to support local manufacturers for years to come.
Thank you to our event sponsors: Chemeketa Community College Yamhill Valley, Express Employment Professionals, KeyBank, Family Business Counsel, Citizens Bank, First Federal, OMEP, Recology Western Oregon, Willamette Valley Medical Center, Konect Aviation, Suite 4
Thank you to our exhibitors: Betty Lou's, Inc., Cart-Away Concrete, Can-Do Real Food, Carlton Cyderworks, Cascade Steel, Dundee Fruit Company, eCNC, Inc., Freelin-Wade, Meggitt Polymers & Composites, New Energy Works, NW Rapid Manufacturing, NWUAV, One Fork Farm, RP Advanced Mobile Systems, Solid Form Fabrication, Walnut City WineWorks, World Class Technology
Thank you to our resource partners: Business Oregon, Incite, McMinnville WORKS, OMEP, OSU Extension, Small Business Development Center (SBDC), WorkSource Oregon