MEDP Spark - An Innate Experience: McMinnville's Investment in Young Professionals
Jul 12, 2018
MEDP Spark, Volume 3, Issue 7 -- July 2018


The McMinnville WORKS Interns at their first Professional Development Workshop
On June 11, 2018, the sixth year of the McMinnville WORKS Internship Program started. 15 interns at 10 respective Host Sites embarked on a new opportunity with one overarching theme: To train the next generation of young professionals to positively impact the world. This nine week, project-based, paid internship program is an opportunity for local businesses and students to connect, while ingraining interns in the local community.
While most of the interns are native to Oregon, Jonathan Fyre, Sales Intern at OnlineNW, moved from Germany to McMinnville just last year. As an experienced young professional, Jonathan participated in an integrated degree program in Bank-Specific Economics in Germany, where he also gained work experience in banking, project finance, and the bond market. Jonathan stated, "I hope to develop my business knowledge and sales knowledge throughout the internship. In addition, I hope to learn more about IT services as I come from the business field only."
Allan (Mac) Whitaker, a McMinnville High Graduate, now attending University of Southern California, describes McMinnville as "Destination, connections, and quality. People get in their cars on weekends to come visit the amazing place where we live, and that's pretty neat. You can sit on 3rd Street on a Friday afternoon and see everyone you know walk by. McMinnville has been a great place to grow up and the things developing here are only getting better with time. Between someone who is new to McMinnville, and someone who grew up here, McMinnville is a place where people want to live." Mac is the Videos and Social Media Developer Intern at HBF International.
The award-winning McMinnville WORKS Internship program was created with the intention to connect diverse talent with local career opportunities. Aimee Bruner, McMinnville Water & Light's Engineering Intern stated, "I expect to meet many new people, build relationships, and gain experience in the workforce." Interns encounter real world experience, networking opportunities, and weekly Professional Development Workshops to help them grow and meet their future aspirations. Internships range from a multitude of positions, including marketing and sales to civil and electrical engineering.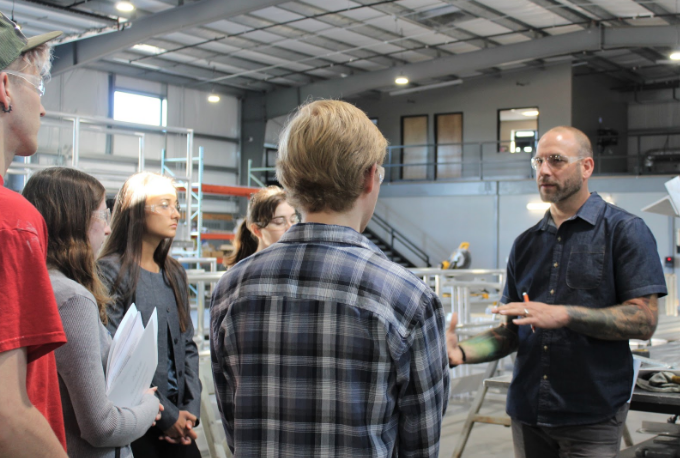 Leading by Example: WORKS Interns tour Solid Form Fabrication with Owner/President Deven Paolo
Every Wednesday, all of the interns from partnering companies have the chance to come together to learn about each other's field of study and passions. As this year's Intern Coordinator, Jasmine Pfau noticed one overarching theme among this year's cohort: humbleness. "Each intern has their own story that comes alive when they realize how valuable they are to this community. They come into this program with a dream, and McMinnville is definitely the place to help them connect with people who will support their dreams." Some examples include Noah Daugherty, Sales Intern at HBF International, who wants to be a CFO, or Rachel Williams, Executive Assistant at OnlineNW, who wants to work at a business that is committed to community development.
This internship opportunity is a new experience for most of the interns, which provides an avenue for personal and professional growth. Professional Development Workshops help aid interns to see all of the opportunities that are here in McMinnville. So far, interns have heard from passionate speakers on the topics of Marketing Yourself, Finance, and Project Management. Topics such as Entrepreneurship, Job Search Techniques, Work-Life Balance, and Volunteering are on the schedule to be spoken about next. As the Intern Coordinator, Jasmine Pfau had the opportunity to decide on some of the Professional Development Workshop topics. With this, she decided on the topic of Diversity, Equity, and Inclusion, in the hopes of promoting respect in the workplace because everyone comes from different backgrounds.
Internships pay off. According to Forbes, about 60% of internships turn into job offers. They are beneficial for both companies and interns because they give interns real world experience, provide growth opportunities, allow them to connect to a professional network, and develop professional skills. Employers can meet new diverse talent, find future employees, and enhance their perspective. Internships.com found that 35.3% of employer's full time, entry-level college hires came from their internship programs. Just this year alone, over 200 applications were sent in to be considered for the McMinnville WORKS internship program. Since the program started in 2013, 32 interns had extended internships or have been hired after completing their internships.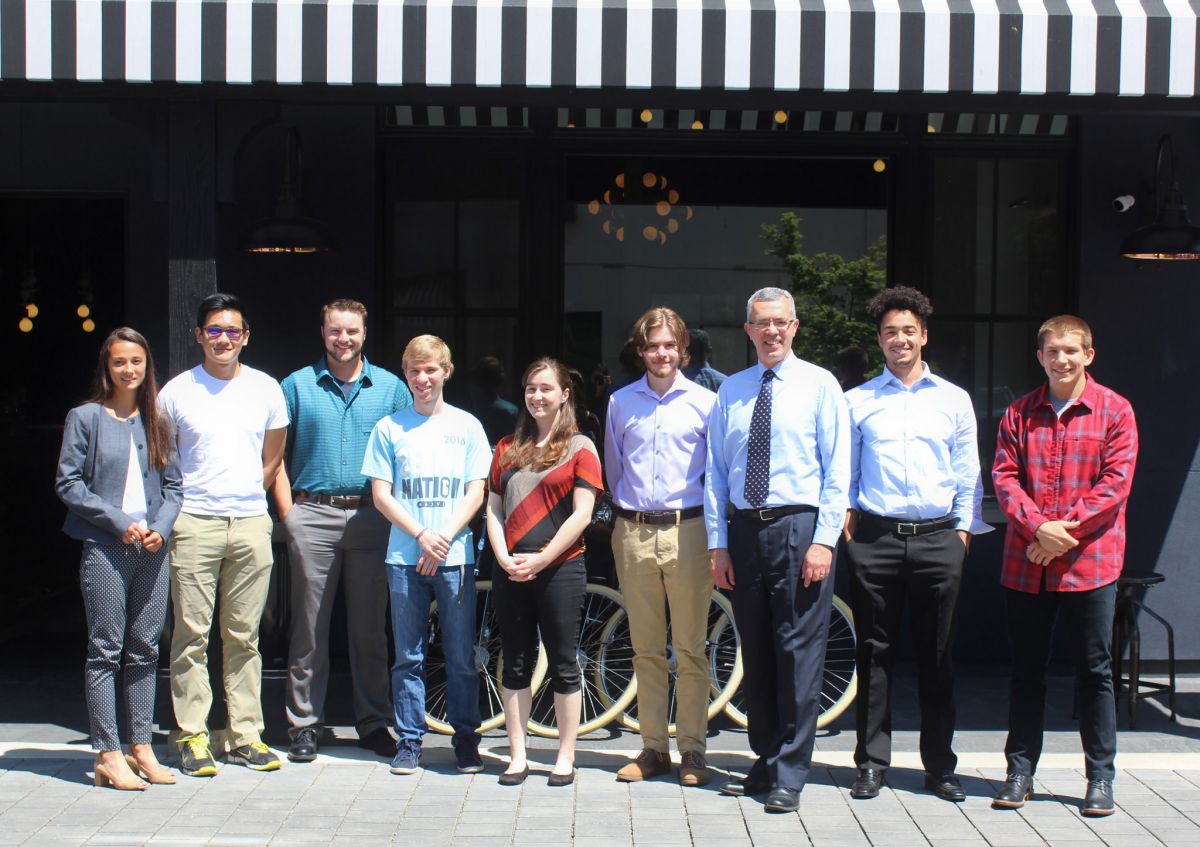 Building a Network: WORKS Interns learn about Finance from
local business professionals at the Atticus Hotel
With six more weeks until the end of the official 2018 McMinnville WORKS Internship Program there is still a lot of time to network, explore, and learn in this gem of a town. Through the support of local companies, business leaders, and community stakeholders, the WORKS program creates results for the interns, the companies, and the community.
Jasmine Pfau is the McMinnville WORKS Internship Coordinator for McMinnville Economic Development Partnership (MEDP) during the summer of 2018. She attends George Fox University, where she will be graduating with a bachelors in Management and Entrepreneurship in the spring of 2019. She enjoys scouting out new photography locations and learning new artistic techniques.
MEDP would like to thank the 10 host companies/organizations participating in this year's McMinnville WORKS Internship Program: Cascade Steel, City of McMinnville, HBF International, McMinnville Water & Light, MEDP, OnlineNW, Sea Reach Ltd., Solid Form Fabrication, Willamette Valley Medical Center, and Yamhill County Clerk.
We would also like to thank all of the companies and professionals helping with the Professional Development Workshops and giving their time to speak with the 2018 interns. To learn more about the program and to be updated on the WORKS 2018 timeline, please email Jasmine Pfau at Jasmine@McMinnvilleBusiness.com or visit McMinnville WORKS.