MEDP Spark - 50th Anniversary of 9 for '69
Aug 8, 2019
MEDP Spark, Volume 4, Issue 8 ~ August 2019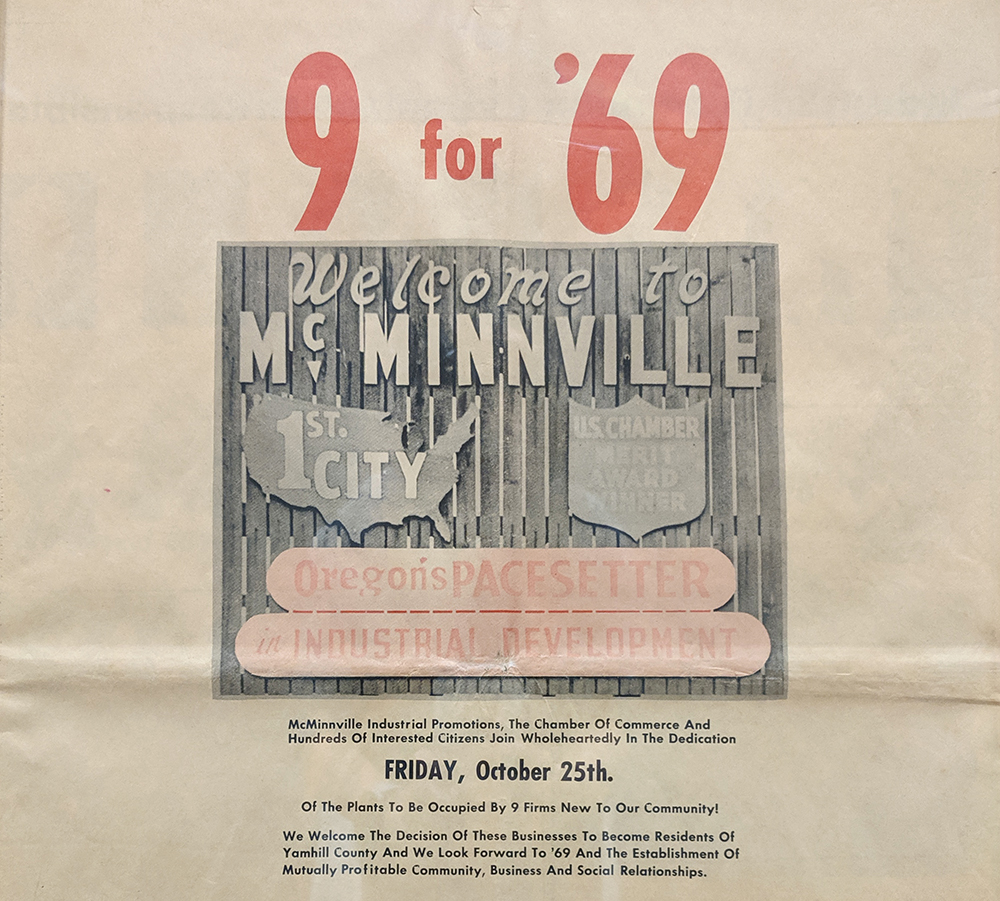 McMinnville is unique in a lot of ways. There are few places in the world where a town of just under 35,000 has a main street that not only has a vacancy rate of under 5% but also thrives through the support of the local community. We are a short drive away from the ocean, a major metropolitan city, rich forests, and mountains. We live in the very heart of Oregon Wine Country and truly reap the benefits of the agriculture surrounding us in the valley. Beyond all this, there's one thing that McMinnville has that allowed it to grow into the community it is today. Something that no other town can lay ownership over, and which has created economic vitality in a small city that had nothing guaranteed. What McMinnville has that others don't, our secret ingredient that created success, is a small group of committed individuals with the vision to recognize what needs to be done - McMinnville Industrial Promotions.
This small group of local business owners and community members was created in 1953 after the closure of two large manufacturers in McMinnville. Facing a slow down in the timber industry caused by a World War II surplus and a rising cost of farming, a group of forward-minded individuals recognized the need to take action. McMinnville Industrial Promotions (MIP) began as a nonprofit organization, and in 1955 expanded to a community corporation. Funding was achieved by selling shares of stock to anyone and everyone who wanted to buy them. Some local families still hold this "stock" today while others have been purchased back by the organization.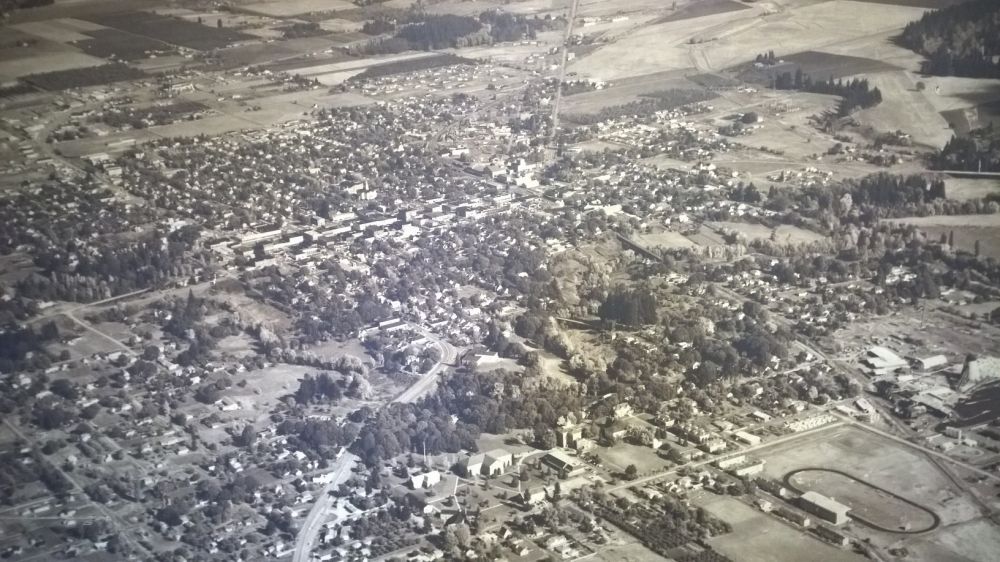 An aerial shot of McMinnville in the 1950s.
According to current MIP Board Member Carol Granger, "MIP's goal has always been to promote living wage jobs in McMinnville." Carol continued that MIP has had so much success because of the board's dedication to staying true to that goal. "No one has ever been on the MIP board to further their own objectives." To make a group like MIP work, it took selfless dedication, a dedication that has allowed McMinnville to thrive today.
Perhaps MIP's biggest and most talked about accomplishment happened 50 years ago in 1969. In partnership with the McMinnville Area Chamber of Commerce, MIP set out to attract nine new industries to town by 1969, an effort they dubbed "9 for '69." The industrial committee quickly went to work doing numerous studies on community needs, creating promotional materials for McMinnville's industrial land, and promoting McMinnville's government, facilities, and quality of life. Key players on the team included Phil Bladine, Chuck Colvin, A.T. Beall, Rudy Windishar, Gale Vinton, Glen C. Macy, Gene Marsh, Forrest Garrigus, Hal Heller, Harper Jamison, Willard Cushing, and R.R. Mains.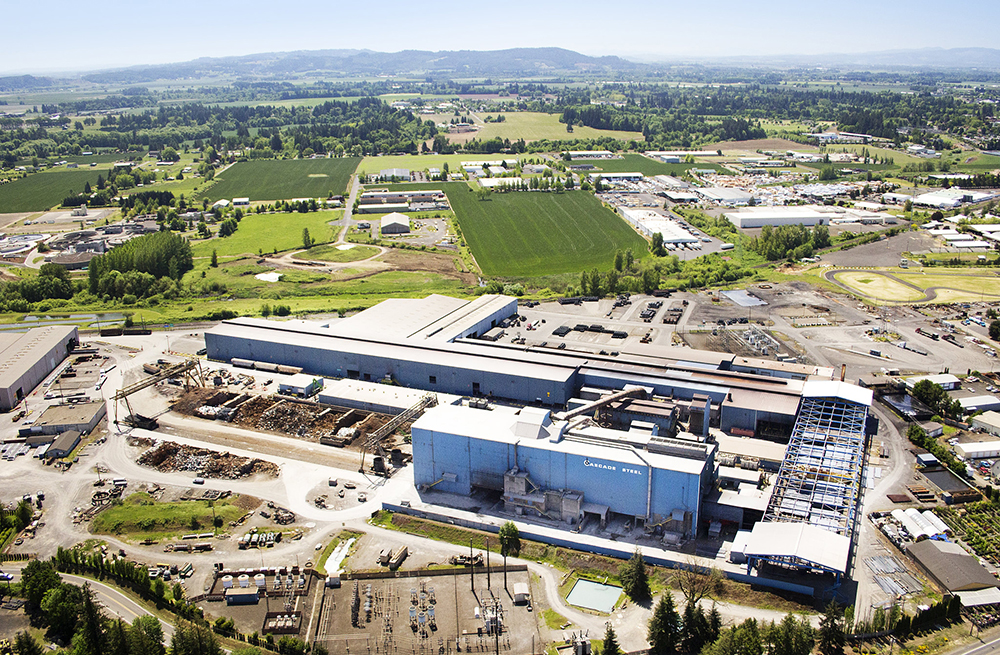 Cascade Steel first came to McMinnville in 1969. They have since expanded multiple times and remain one of McMinnville's largest employers.
On October 25, 1969, a historic event took place. MIP members and Oregon Governor Tom McCall led a tour of nine new industrial plants opening in McMinnville - a record-breaking number, not only for Oregon, but for the nation. The tour included stops at sites that would become Consolidated Metal Products, Cascade Steel Rolling Mills, Motor Rim, Wheel Service of California, and Zieman Manufacturing, as well as stopping by Ore-Land Industries and an expansion announced at Divco-Wayne Industries. New signs were erected at Imperial Mobile Suppliers and Silvercote Product. Finally, the tour concluded with a visit of construction by Skyline Corp. To MIP, all of these companies coming in represented 500 new jobs being brought to the community. According to the current President of MIP, Doug Hurl, "It fostered economic stability and nurtured the whole economic base for all of Yamhill County. It's a tough one to match."
Since that historic year in 1969, MIP has never wavered from their mission. The organization has continued to attract new businesses into the area and, until 2006, served as a main sounding board for new businesses looking to locate to McMinnville. Perhaps even more notable is the organization's ability to be forward-thinking when recruiting. McMinnville has a diverse industrial base when stacked against cities of a similar size. This is not an accident. Since the beginning, MIP has sought out smaller companies that will make an impact and will protect McMinnville in the case of downturns in the economy.
According to Carol Granger, "It's never been about making money. It's about creating jobs and creating the right jobs for McMinnville." In an editorial piece written in 2000, Phil Bladine, former MIP board member stated, "MIP will turn down - and has - the opportunity to provide very substantial amounts of land with big, huge employment base, because they feel the impact would be too great on the existing economy in schools and all the other costs of government that come with an operation of that kind." In 2004, MIP came together with the McMinnville Area Chamber of Commerce and local business leaders to take this mission one step further and by 2006, the group had officially formed the McMinnville Economic Development Partnership (MEDP) to be a one-stop business resource for traded sector companies in McMinnville. MIP is still one of MEDP's partners and a main support system for the organization today.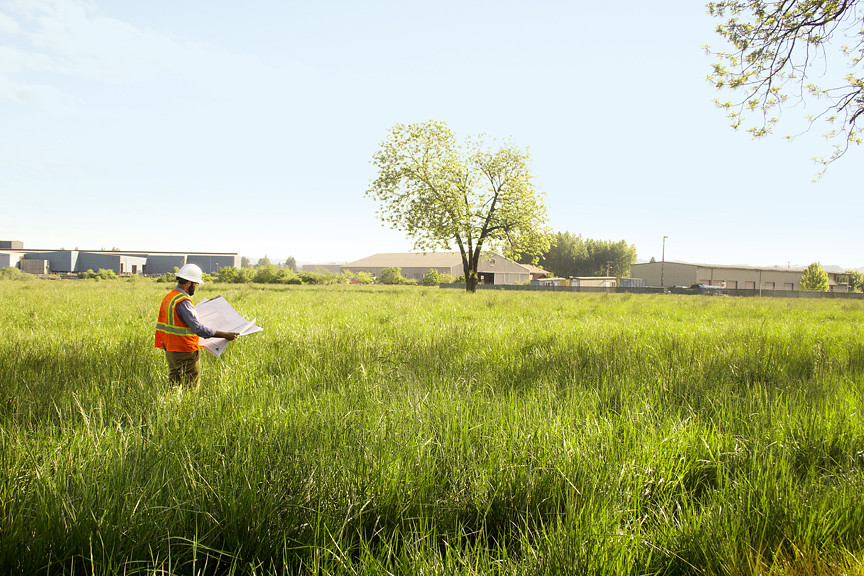 MIP owns 26 acres of "shovel ready" industrial land in McMinnville's Industrial Park
Looking around McMinnville's Industrial Park today, there is plenty of evidence of all MIP has done to create a robust economy. Currently, MIP has building's leased to large employers such as Meggitt Polymer's & Composites, Betty Lou's Inc, and Fastenal as well as helped smaller companies locate to McMinnville such as Dundee Fruit Company and Excel Tech. They also own 26 acres of industrial land that has been certified as "shovel ready." The organization is currently working out a sale with a potential buyer. Examples like Meggitt Polymers & Composites represent what MIP does for companies today. When Meggitt came to McMinnville over 33 years ago with an interest in opening a plant, MIP owned the property Meggitt wanted to be located on. Working with the company, MIP built a "build to suit" building and leased it to Meggitt. Today, Meggitt still holds this lease through expansions and growth.
Today, the MIP Board consists of nine members: Carol Granger, Skip Huwaldt, John McKeegan, Harold Washington, Tom Tankersley, Doug Hurl, Deven Paolo, Ken Patton, and Teresa Smith. While many board members are long-serving and have been an integral component of MIP's success, MIP knows that longevity comes from finding the business leaders of today to help shape tomorrow. Teresa Smith, Harold Washington, and Deven Paolo are all recent additions to the board sought after due to the active role they held in the community. Being a part of the MIP board is entirely volunteer-based. Every member of the board, from the very start in 1955, to today, serves on the board because they believe in the mission. Deven Paolo commented on his choice to join MIP saying, "I consider it an honor to serve on the MIP board considering how much this organization has done for the McMinnville community over the past 60+ years. MIP's foresight and dedication to significant industrial and commercial development have resulted in thousands of high-paying jobs for the citizens of McMinnville and Yamhill County. It allows us to live and work in the city we love."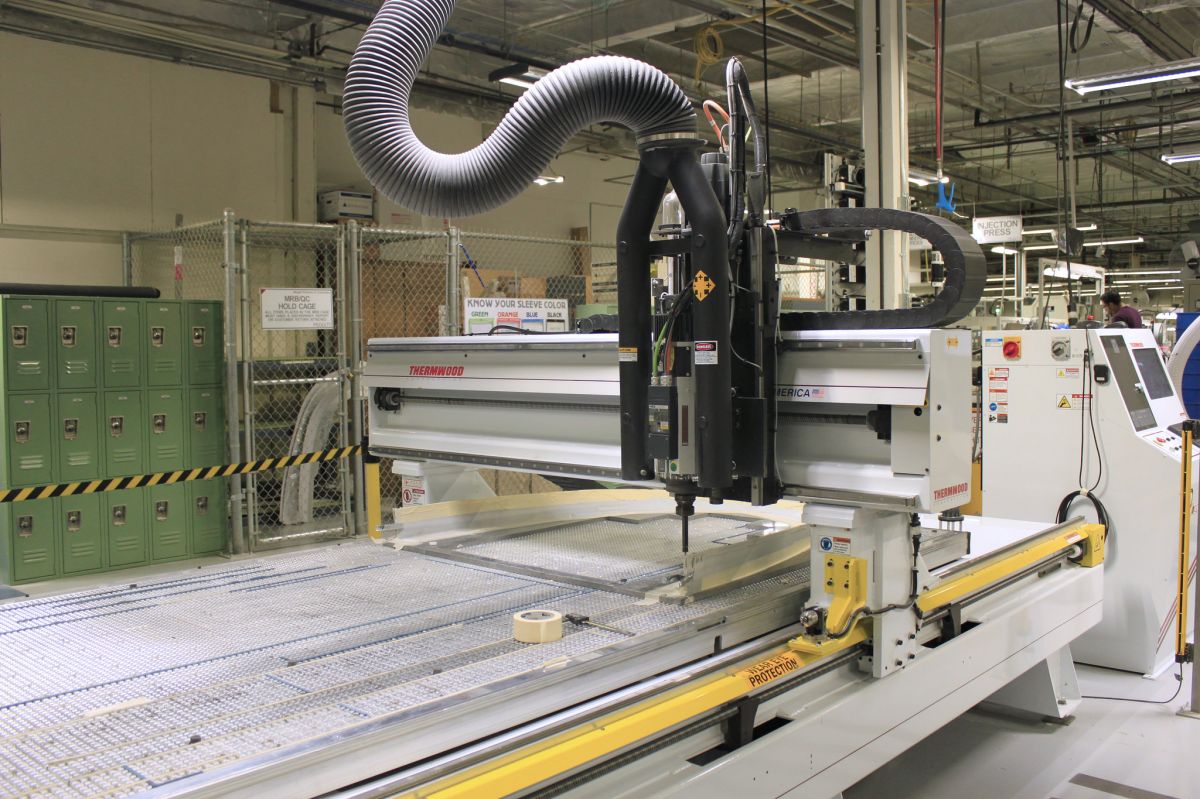 A laser cutter in Meggitt Polymers & Composites, a site MIP helped develop
Carol believes MIP will continue to be influential in the future, "Personally, it's been a real joy to be involved. The board members are committed to seeing that everything we do reflects our vision first and foremost. We will continue looking at projects through those eyes." Though McMinnville has limited industrial land, Carol says she believes MIP's future lays in thinking creatively about land, and buildings we already have. As tech grows in the Willamette Valley, she says she believes there's a place for MIP to come to the table with projects such as refurbishing old buildings to create new office spaces and thinking creatively about what types of projects go into the industrial park. Deven commented on the future of MIP as well saying "I see the future of MIP as a continued focus on the promotion of industrial and commercial development, assisting businesses and industry needs wherever we can. As a member of the MIP board of directors, I hope my contributions will help McMinnville's existing businesses thrive and in some small way, help make the future of this amazing town a little better."
Though the future can never be concrete, it's reassuring to look at all MIP has done in the past to help create what McMinnville is today. A group of leaders in 1955 had a vision for the town we now call home, and it is through their efforts that we enjoy the economic prosperity we see today. A volunteer effort in 1969 resulted in nine companies locating to or expanding in McMinnville. Today, the same stewardship is seen all around us and as we look at all of the community volunteers paving our future, we can say with confidence, we're in good hands.
Interested in learning more about McMinnville, Oregon? Call us today at 503.474.6814.