MEDP Spark - Encapsulating a Community: The Atticus Hotel
Apr 12, 2018
MEDP Spark, Volume 3, Issue 3 -- April 2018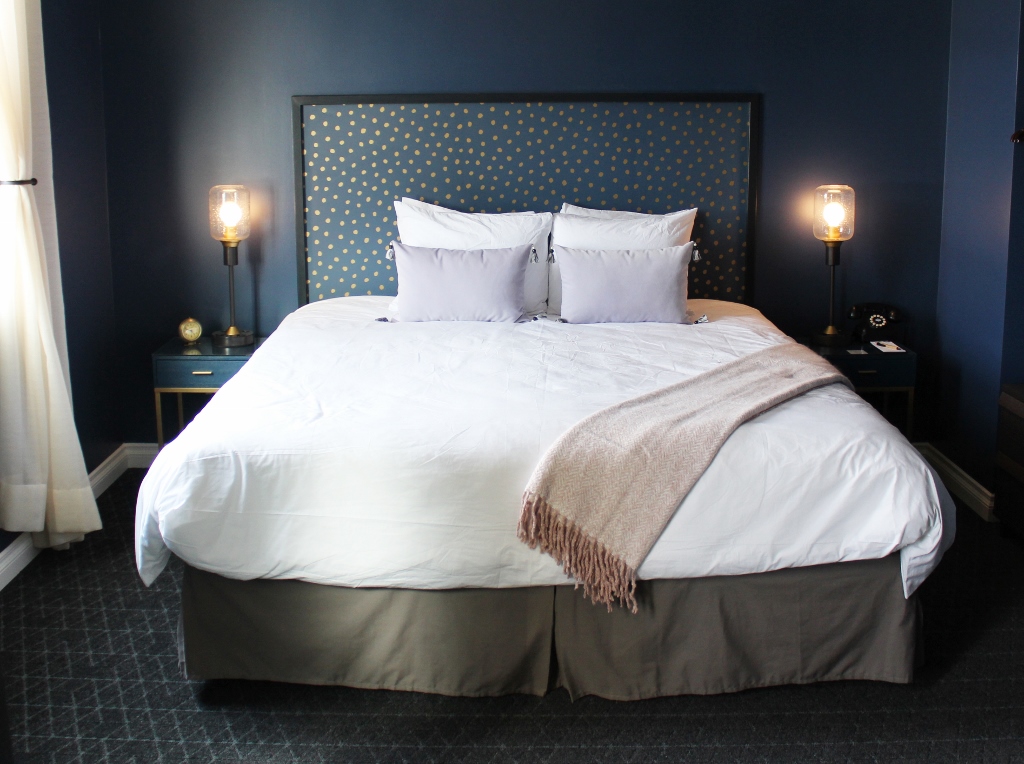 A room in the Atticus Hotel
It's with large eyes and big hearts that we let our fingertips lightly graze the newly painted walls at the Community Open House at the Atticus Hotel on March 28, 2018. With an estimated 1,500+ community members streaming by, you could watch each have an individual experience. Each person pointed to different details, every person felt the excitement, and there was a general consensus: there was no denying the beauty of the space we were all in. But here's the thing with the Atticus Hotel, it goes beyond everything being beautiful, which it truly, indisputably, is. Rather, the beauty extends itself to being about McMinnville. The walls seem to hold the heartbeat of the city. The rooms seem to remind us of our small pinpoint on the map. It seems that we are in on the joke the paintings are telling, that we alone can understand the love put into every stitch. The community members of McMinnville love the Atticus Hotel because we, as a community, love McMinnville and the Atticus is a love song written for us.
"How can you write a love song and not share it?" This is the sentiment Erin Stephenson, co-owner of the Atticus shares with me as we sit down in the hidden conference room. Erin owns the hotel with partner Brian Shea, who along with development group Rob Stephenson and Jeb Bladine, have turned a gravel parking lot into four stories of meticulously designed rooms. A fire roars behind Erin and she places her hand on the mantel telling me that it was saved from the Pike School in Yamhill, Oregon. She points behind me to explain the paintings on the walls featuring silhouettes of recognizable people from around the community, "These silhouettes on our wall represent the broad backgrounds in our community and tell the story of a real community with real people. The thing that drives our tourism is the proximity to the wine industry, but what we're doing with the silhouette project and our community art project as a whole is really showcasing that one of the things that makes McMinnville so special is the people."
Erin continues, "Our community has a wonderful, creative, independent, kind of earnest spirit. We really wanted to tell the story that it's the people of McMinnville that make McMinnville such a special place. It's all of these homegrown dreamers, or dreamers who move here, people who fall in love with us and come to pursue their own passion and their own dream. I think that's what you feel with a lot of the businesses here, that this is somebody's dream."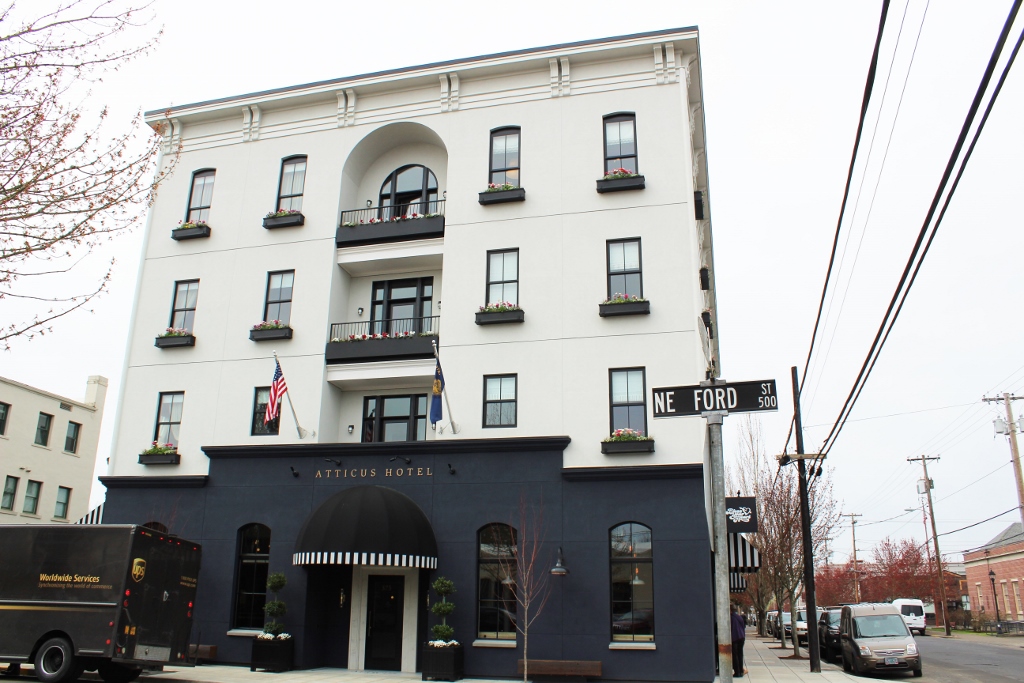 The Atticus itself was built out of a dream. A dream concocted while Erin traveled Europe following graduating college. A dream inspired by the things that Erin loved when she traveled and an experience she wanted to create for others. Upon returning to her hometown of McMinnville, Erin began working in nonprofit management. In 2010 she "had the opportunity to dip my toe in the dream world with our first branch location, Third Street Flats." The goal was to provide the type of experience to guests where they felt engrained in the community. Or in Erin's words, "suspend imagination and pretend that it's their home." Very soon after opening, Erin and her partner Brian set their sights on the big dream, the hotel.
According to Erin, "studies show that overnight visitors spend three times more than day trippers." She sees the Atticus as filling a hole in the current McMinnville market, "I feel like what we're doing is really rounding out the offerings that we have in downtown McMinnville." While running Third Street Flats, Brian and Erin were constantly checking in with their guests, getting a better understanding of what they liked about their visits and things they wished could change. Accordingly, no two rooms is the Atticus are the same. Each has its own design elements, colors, and yes, antique door knocker. Erin reflects on this choice saying, "Everybody's world is different and we're all here for a different experience and seeking different things. We wanted our rooms to reflect this diversity."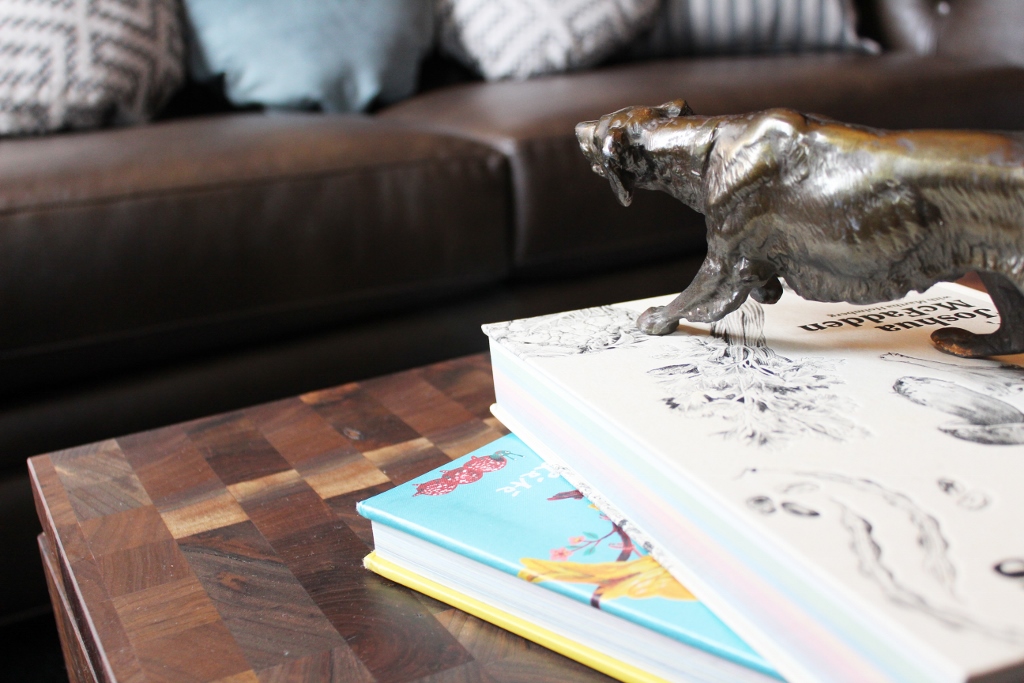 Each room in the Atticus has a curated stack of books.
There is one common theme that can be seen throughout the Atticus - a commitment to shopping local and using local vendors and products. To Erin, this is a no brainer: "Recirculating money in your own economy is such an important part of doing anything. Why spend dollars out of your community when you can spend it in your community? McMinnville has so many talented artisans, there's so many talented people to be able to showcase that it's truly a joy." In this list of McMinnville companies with products in, or who helped create, the hotel, you'll see Basile's Workshop, R. Stuart, Type A Press, the Velvet Monkey, Flag and Wire, Washington Roofing Company, Third Street Books, local antique stores, Currents Gallery, Marilyn Affolter Fine Art Studio and Gallery, MAC Sign Painting, Farnham Electric Co, Craftmark Inc, Cellar Ridge Construction, Bernards Farms, and many many more. Moving just outside of McMinnville you'll find New Brighton Force out of Amity, Red Ridge Farms out of Dayton, Oregon Mattress Company out of Newberg, and the list goes on. The majority of products you will find in the hotel and services used were located in Oregon.
This list doesn't even begin to cover the artists featured. Erin estimates there are over 200 pieces of local art. Zach Hixton has a painting in each of the 36 guests room. A large painting by Carmen Borrase dominates the space above the check-in desk, and Mitch Horning completed the mural in the hotel's gym, while also hand painting each room's door. John Basile, of Basile's Workshop, constructed the walnut display proudly standing in the lobby, which begs guests to take a photo under the arch which proudly reads "McMinnville ~ Walnut City." Erin explains, "The recreation of the Walnut Clubs display case from 1908 is not just a cool piece of walnut love, it's an actual recreation of something that was beautifully crafted over 100 years ago to represent McMinnville's culture and economy at that time." Basile's work can be found all over the hotel having created the drawing room table, the conference table, the end tables in every room and in the lobby, the coffee tables in the lobby and bunkhouse, the shower caddies, and the shower door in the bunkhouse.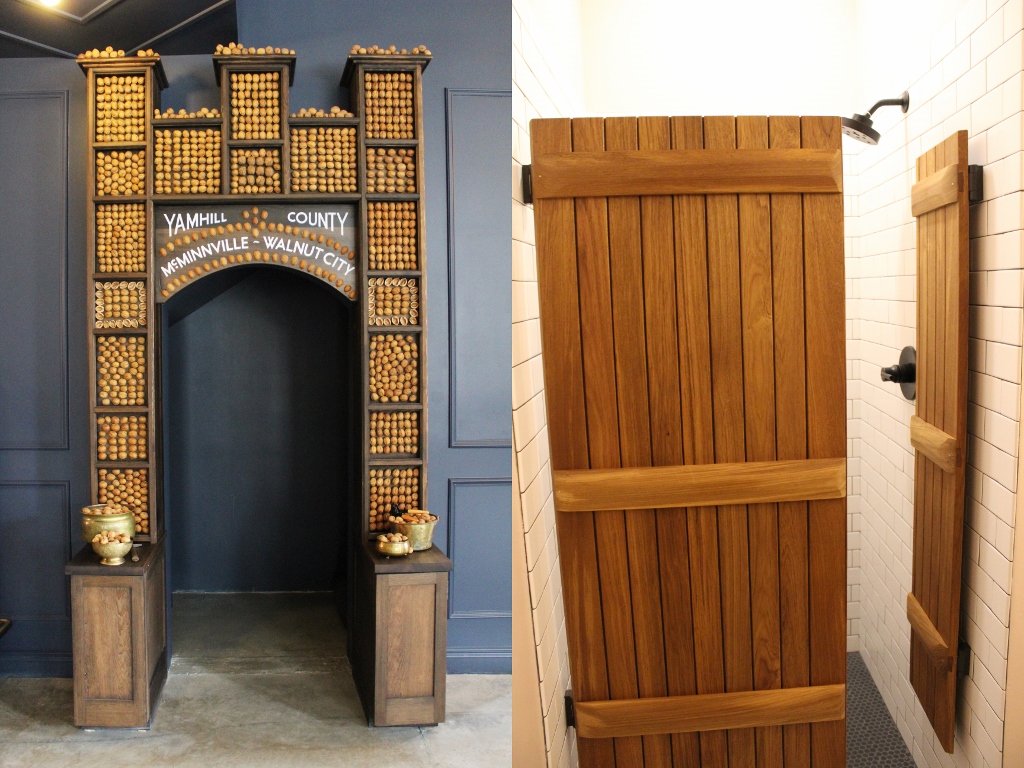 Basile's Workshop created many pieces for the Atticus including the walnut display in the lobby and shower doors in the bunkhouse.
While trying to find every bit of McMinnville | MADE items in the hotel could send you on your own scavenger hunt, Erin states, "There's a lot of easter eggs for locals in the hotel." From paintings with hidden meanings, to the curated list of books in each room, to nods to the past, the Atticus speaks to the people who live in the community, but more so, helps to tell the story to the guests it will serve. "The idea of discovery is really important to us. We talk a lot with our staff about about creating a sense of discovery and also being storytellers. We want to share a sense of McMinnville's story with different elements. We will be explaining these elements to our guests."
Along with telling the story of the community, Erin hopes that the hotel is a space, "this community can be proud of and celebrate, but also a place where the community always feels welcome, that's so important to us. The drawing room is open all the time to this community, as is the lobby. Go grab a cocktail or a glass of wine at Bless Your Heart Burgers, come here and hang out with your friends. We wanted to create a space that wasn't an island for visitors, but that actively engaged the community and brings the community in contact with people who are visiting, because that's where the magic happens." The hotel runs a "Local Love Program" that speaks to this desire, "The program offers 50% off for people with a 97128 zip code after 8:00pm every night. Go out to dinner and stop by on your way home and if we have any open rooms and you have a 97128 zip code, we'll give them to you half off. That's a permanent program."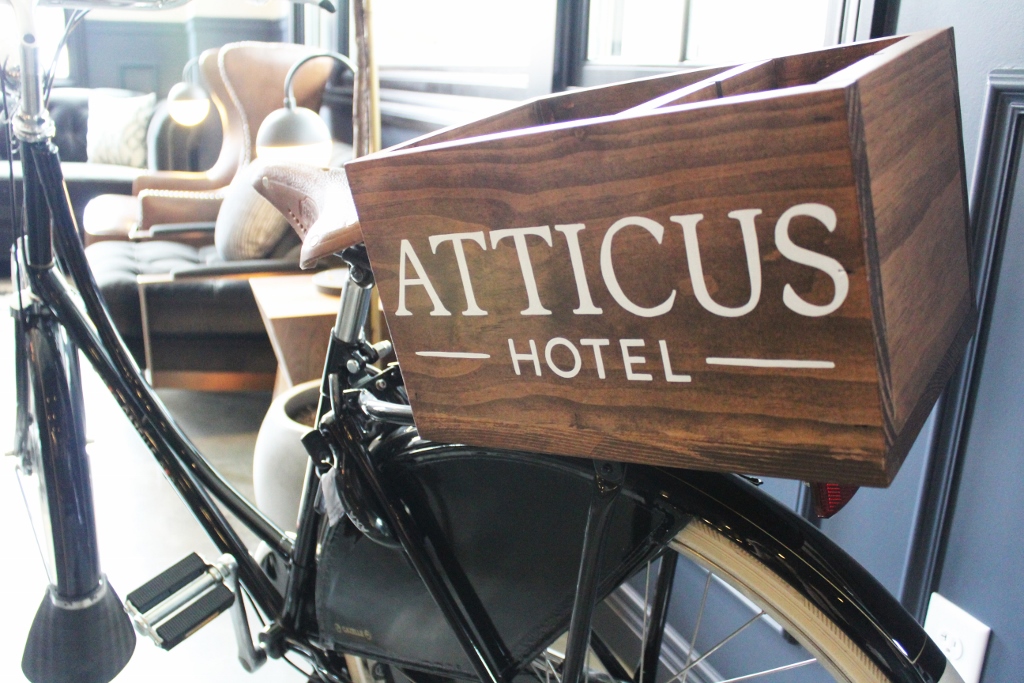 The hotel has already found other ways to engage the community as well. The weekend before their official opening they held a fundraiser for Habitat for Humanity which according to Erin, "Preliminarily, it looks like it raised about $22,000." The hotel also features McMinnville's newest restaurant, Bless Your Heart Burgers, a creation by John Gorham of Tasty n Sons. Open from 8:00am - 11:00pm the breakfast menu features items similar to the Tasty n Sons breakfast while their lunch and dinner menu offers "an amazing bar program with a big focus on whiskey cocktails and their throwback alcohol slushies. It's really fun concept and they do such a great job. The burgers are amazing. You're basically talking about this very fundamentally American food done in a fast and casual way."
The McMinnville Economic Development Partnership (MEDP) Executive Director, Jody Christensen, recently had the chance to explain the hotel to a site selector from San Francisco saying, "It's unexpected, but it makes sense." What was meant to be a quick pop into the lobby turned into a tour as the site selector took in the details. He nodded along, it's unexpected, but it tells our story. MEDP is delighted to see the Atticus Hotel open in downtown McMinnville. Located in McMinnville's Urban Renewal Zone, the Atticus can be seen as an opportunity to spur growth and add to McMinnville's economy. If you have any questions about what your business could look like in McMinnville, give us a call today at 503.474.6814.