MEDP Spark - Engineering the Future of UAVs
Jun 14, 2018
MEDP Spark, Volume 3, Issue 6 -- June 2018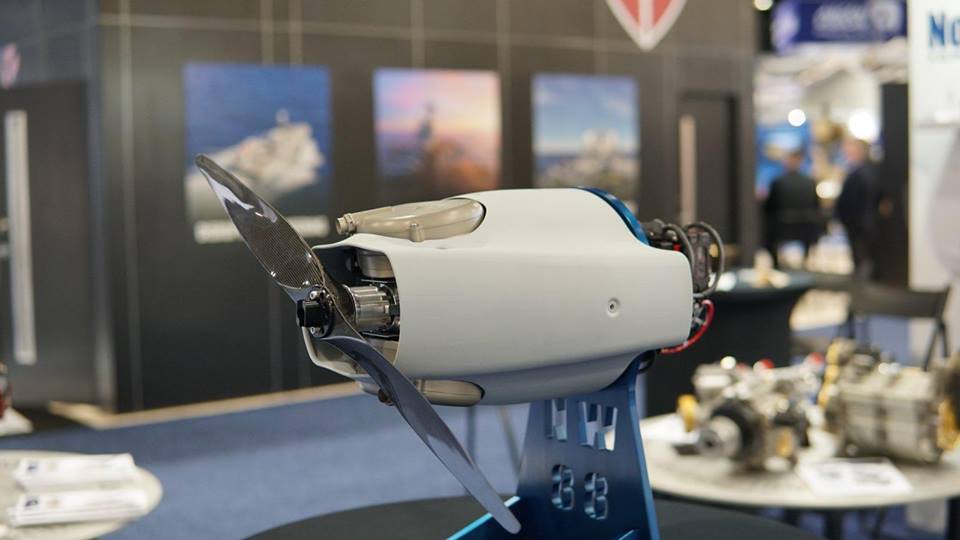 NWUAV's NW-88 Engine on Display at AUVSI XPO via NWUAV Facebook
Sometimes, life is all about taking the calculated risks. It's about sensing the potential in something and allowing yourself to find the courage to carry it forward, despite not knowing what is at the end of the road. It's not about immediate success, but rather a strongly held belief that what you're doing can change the world. At MEDP, we have the pleasure of getting to meet the type of people who take the risk. Even better, we get to see how the products they create change the way we live and the world around us. Thirteen years ago, Chris Harris took an idea, his ingenuity, and his garage and turned it into what is now the still growing company of Northwest UAV or Unmanned Aerial Vehicles (NWUAV).
When Chris Harris, President of NWUAV, started the company in 2005 out of his garage, unmanned aerial vehicles (or drones) were a relatively unknown concept to the average citizen. Nowadays, the word drone conjures up images of floating cameras above us being used by a variety of people and being utilized for multiple purposes. NWUAV originated to manufacture engine systems for unmanned aerial vehicles. This is a company that had to depend on the long game. Though drones were being used at the time, one of the greatest advantages that NWUAV has over their competitors is getting in on the ground floor. According to Director Heather Sorenson, "Getting into this business takes a lot of know how. We were able to grow along with the industry and that has been a huge benefit to us."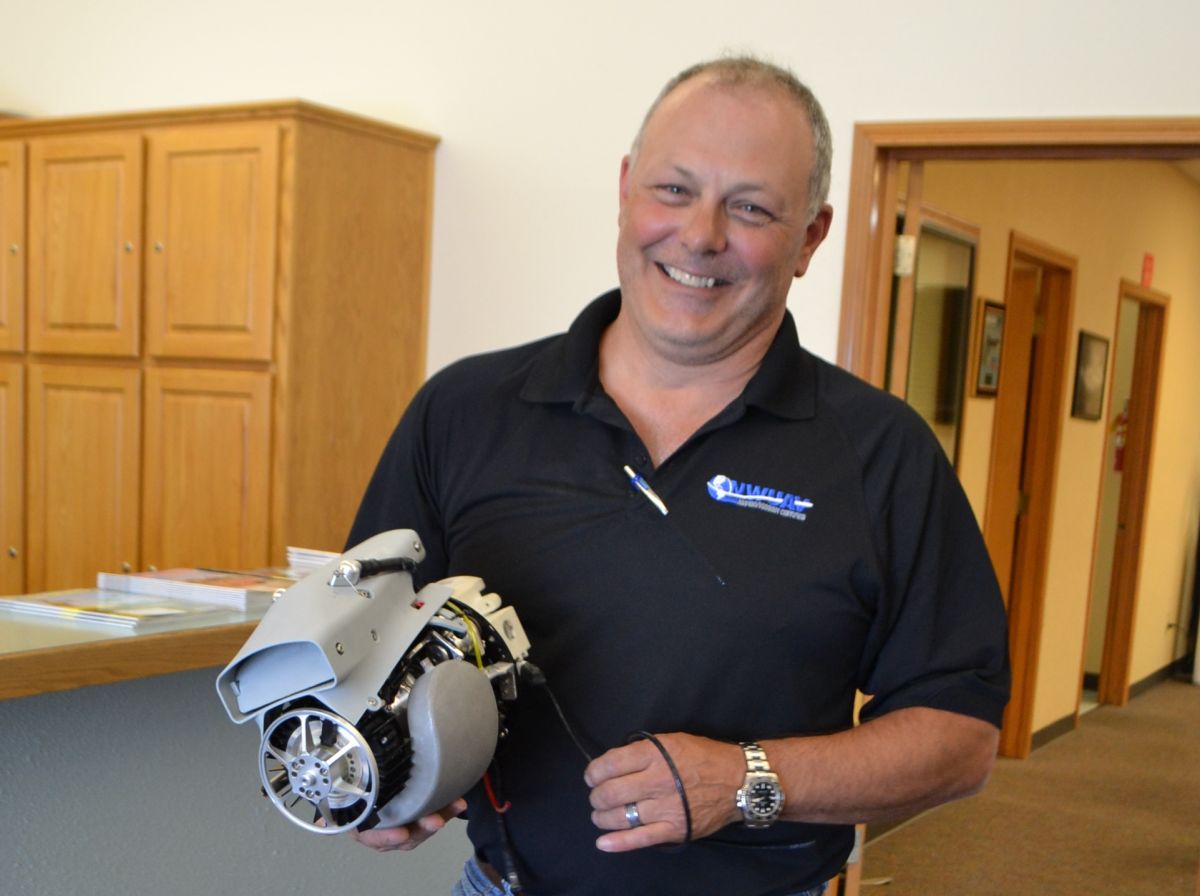 President Chris Harris holding NWUAV's NW-44 Engine
Recent headlines have shown that NWUAV has remained ahead of the game in a few categories. Both NWUAV's NW-44 and NW-88 Engine hold a special place in the market. According to the company's recent press release, the NW-44 engine has been receiving notoriety about its performance abilities, and along with that, more orders, including a large quantity of purchases from a major OEM (Original Equipment Manufacturer). While NWUAV provides services such as system and parts manufacturing, engine testing, engineering, and more, the NW-44 is significant to the company for being designed and built completely in house. According to Chris Harris, the NW-44 was "designed and developed to solve a very specific problem - reliably support UAVs in the 40-75-pound weight class attempting to fly 12 hours or more in extreme weather conditions." The engine, along with being tested thoroughly by NWUAV, also had the opportunity to be mission tested. According to Heather Sorenson, "The performance of the engine in the field is what is driving sizable purchases of the NW-44. It outperforms its counterparts."
NWUAV has recently begun manufacturing and procuring parts for their NW-88 multi-fuel twin-cylinder engine. The design for this engine variant was in response to industry's need for an engine that was designed for a higher weight-class. Pulling on the success and design elements used in the NW-44, the NW-88 promises to extend the same reliability to Group III UAVs, which fall into the 75-150 pound weight class. Not only will the engine be more reliable and efficient, it will also be more cost effective, offering a "complete engine system ready to install with minimal or no development costs for the end customer - a plug-n-play engine" says Chris.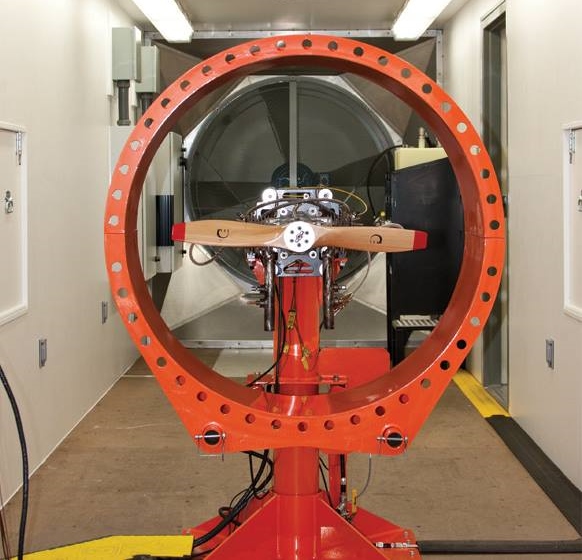 A Custom Engine Test Cell (CETC) at NWUAV via NWUAV Facebook
You can literally see the growth at NWUAV as they prepare to expand their 28,000 sq. ft. facility in McMinnville. The company plans to add an additional 30,000 sq. ft. to the property. The company is also growing their employee base. At the end of 2016 the company had just over 60 employees. As of the end of May 2018, the company has reached a record high of 108 employees and plans to continue hiring. This growth makes sense when looking at how much the use of drones have grown and the applications they are taking on. In countries around the world unmanned aerial vehicles are being used for commercial operations and services such as fire rescue and forestry. Heather comments, "fighting a wildfire is a lot easier to do when you have an unmanned aircraft circling to find the hot spots, and then instantly relaying that information to the experts on the ground."
Success for NWUAV is not just about sales. It's about ensuring that the company offers an environment where people want to work. Heather remarks, "It's a family culture here, and it has been since the beginning when we were just "4 guys in the garage". We're at over 100 employees now and we still work hard to maintain that culture." This, to Heather, is a no brainer, "When employees and staff come here to work, I want them to know how important they are in every aspect of what we do. Everybody plays a key role. We don't have layers of hierarchy. It's truly a team environment. We're all working towards one end goal, to provide the best product and service to our customer, and that is as important to me as it is to our newest hire."


NWUAV had a company celebration in honor of the total solar eclipse
NWUAV doesn't just talk the talk. Take a peek at their social media and you'll see countless photos of office dogs, company bbqs, and fun happenings around the office. Last year, the company took advantage of the total solar eclipse in Oregon, inviting employees to bring their families, setting up a breakfast buffet, and all watching the event together from lawn chairs set up in the parking lot.
When hiring, it's not always about the degree as much as the skill level. Technical aptitude is important for many positions at the company, but previous experience does not have to be working on drones. Heather points to the example of one of the company's employees working in research and development. "His background was in motorcycle racing, and he comes up with some really out of the box thoughts on how internal combustion works and solutions for better performance." As of June 2018, the company is hiring for multiple positions in different departments and is searching for common sense problems solvers looking to get their hands dirty with the drive toward continuous improvement.
NWUAV is also focused on future workforce and ensuring that young people know that there are opportunities in their own communities. A big proponent of reaching middle school students and up, NWUAV has participated in multiple educational tours. Heather wants students to know "Opportunities outside of school are endless. If going to college and becoming an engineer is important to you, there's a track for that. And there's work in your community to be done. But if going to college is not your thing, there are technical aptitudes that can be learned. And there is still work to be done in your community, right here at home, that allows you to stay local and have a great job and raise your family where you grew up." She also comments on how valuable it is for the company to bring in students, "You bring kids in here and their eyes light up and they start asking these amazing questions, things that you don't think about day to day."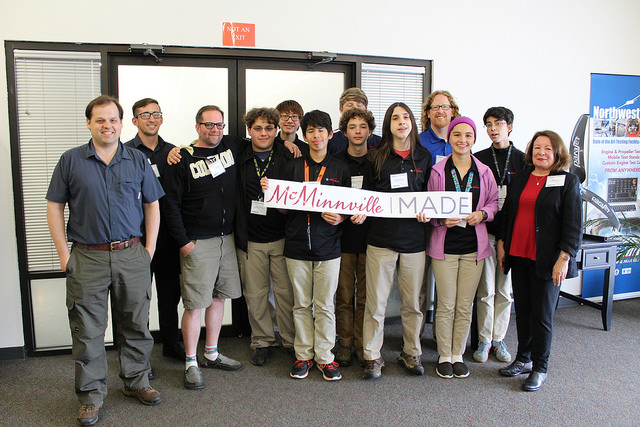 McMinnville Engineering and Aerospace Sciences Academy (EASA) students on a tour of NWUAV
In an industry like Unmanned Aerial Vehicles, there is always a bit of risk when looking towards the future. In 2005, Chris Harris took on the challenge of creating something for an industry that was just beginning to grow. For many of us, drones have only come into our lives in recent years, while people like Chris were working behind the scenes, creating something that has changed the way the world functions. But, the fact that Chris took the original risk is not what has made NWUAV the company that it is today. It has taken years of patience, design, learning, expertise, and a focus on a company culture that functions like a family to create the company the NWUAV is today. We can't wait to see what it will be tomorrow.
MEDP initiative "Tech Terroir: Growing Tech in Oregon's Wine Country" is focused on building the tech scene in McMinnville, Oregon. Are you a company that is looking to expand, start, or locate in McMinnville? Give us a call today.