MEDP Spark - One Golden Shovel at a Time
Mar 8, 2018
MEDP Spark, Volume 3, Issue 3 -- March 2018
A lot of residents in McMinnville have a vague concept of the industries making products here. They've seen the giant blue structure while driving on 99 West that seems to symbolize Cascade Steel, maybe they know one of the over 400 people working at Meggitt Polymers & Composites or they recognize the Betty Lou's logo placed on the outside of their building as they drive past on Highway 18, but few understand the vast amount of companies and products created in our town of just over 34,000.
Perhaps you've driven up Lafayette Avenue countless times and never thought to take a turn onto Riverside Drive. Maybe you've never made it past Joe Dancer park and into the district that continually makes the greatest economic impact on McMinnville's economy. Today we're here to give you an insider's view into the McMinnville Industrial District. We're going to highlight the developments taking place, the companies who have been thriving for years and a look into what the future might hold. We also encourage you to take time and drive through the McMinnville Industrial District, you might be surprised at all you find.
Recently, MEDP brought in the Lead National Business Recruitment Officer from Business Oregon (the state's economic development agency) to tour industrial properties in McMinnville. The tour, she said, was impressive. Sites in McMinnville show well and there are many large plots of land that still have the capacity to be developed. We at MEDP want to reveal the activity, the expansions, and the opportunity that can be found right within our own community on a virtual tour of some of our industrial properties.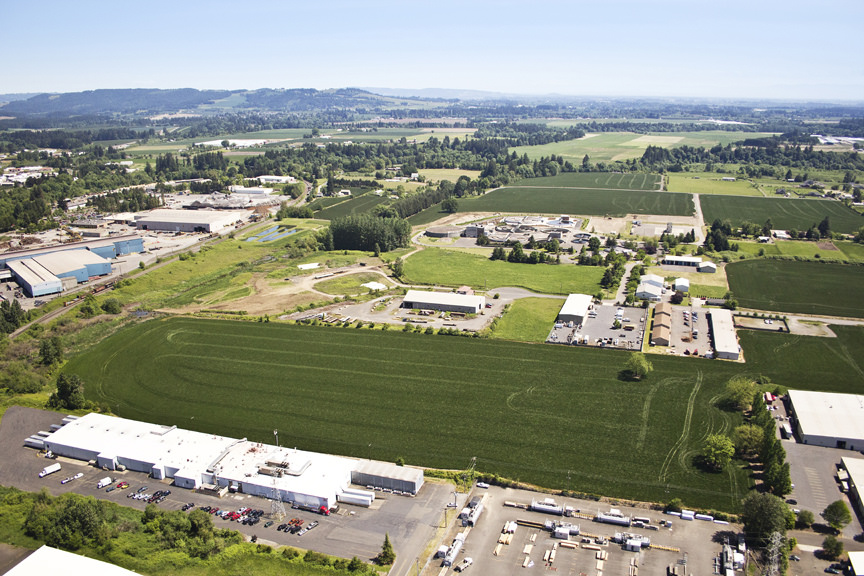 Aerial photo above the McMinnville Industrial District
Expansion
Solid Form Fabrication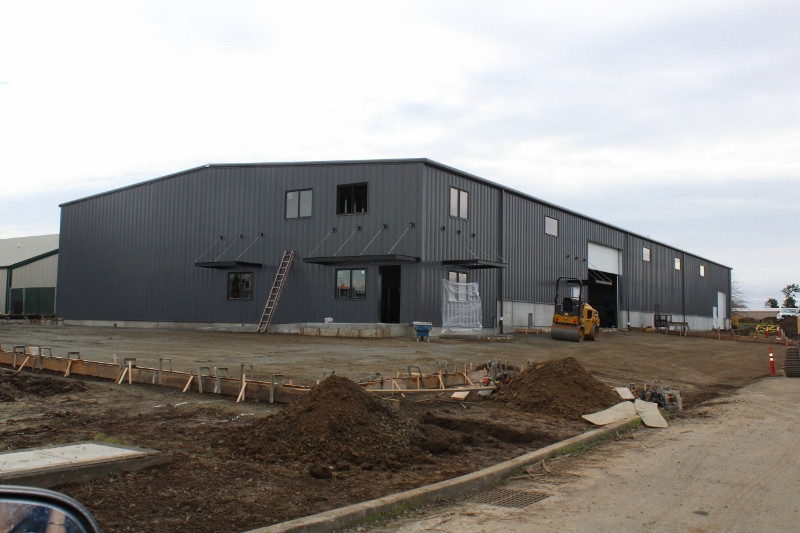 Solid Form Fabrication is nearing the completion of their new facility
Solid Form Fabrication is a custom fabrication shop that both designs and crafts custom metal products for commercial, industrial, and residential products. Located in McMinnville's Industrial District the company has found a niche in the wine industry as well as creating intricate signage and customized elements for homes and businesses. Since 2007 the company has been growing. In 2016 they were pushing at the seams of their existing 6,000 sq. ft. space, according to Company Owner and President, Deven Paolo, "We've had to be creative and efficient in our use of space the past two years as we've reached 15 employees and sales have quadrupled since we moved into our current building in 2011." This led to the purchase of a 1.5 acre lot next to the company's existing building on Riverside Road.
The company's new building is 14,000 sq. ft. and will accommodate a new fabrication and assembly space with office space for both the engineering department and production manager. With their employees as one of their top priorities, the new building will also include space for a new break room. The building is starting to near completion and will allow Solid Form to add more employees with plans to add up to five in 2018.
Ferrum Technology Corp.
Looking at Ferrum Technology Corporation's website you'll see the phrase, "Ferrum Technology has been built from the ground up to produce evolutionary metalwork." In the past two years, Ferrum has started creating knives that use a different technology than any other knife company in the world. The technology allows them to produce knives with a better balance and to use exotic materials that used to be reserved primarily for custom knife design. Beginning in McMinnville's Bunn's Village, our as we like to call it, our industrial incubator, the company is in the process of moving into a custom designed space in McMinnville's Industrial District.
Located on Alpha Drive, the new 38,000 sq. ft. facility includes a commercial kitchen and an event space to help the company more readily engage with the community. Dubbing themselves a local secret, the company finds inspiration from being located in the culinary mecca that is the Willamette Valley. General Manager, Marc Wade comments that amongst all of the buzz surrounding Ferrum's line of knives, "The wheels are in motion, and we are on schedule to be out of the old building by March 30th."
Microtech Precision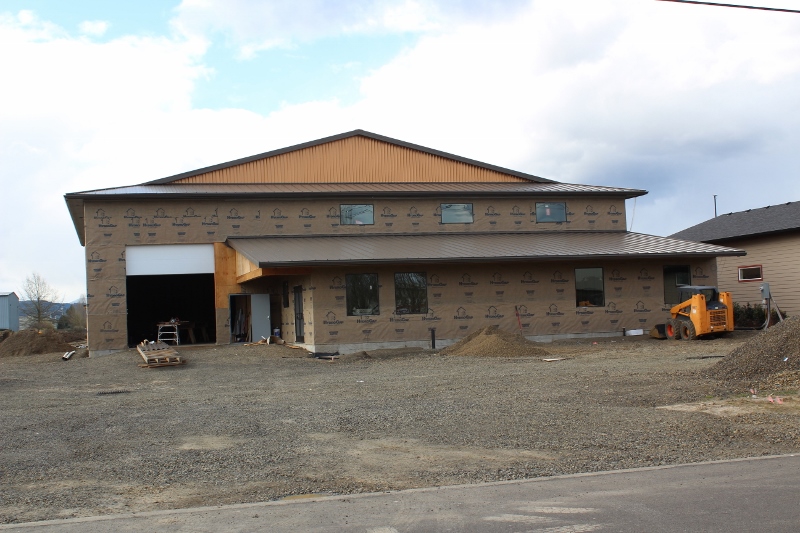 On Miller Street a new building is quickly forming before our eyes with plans to hold the new facility for Microtech Precision, Inc. Moving from a location on Riverside Drive, the company produces precision tooling and molds that utilize modern "non-traditional" machining. The company offers services from design and engineering to tooling, mold making, machining, surface grinding, heat treating and more.
The company is in the process of building the new, 8,000 sq. ft. space and plans to move into the new facility by the end of June. Microtech Precision started in 2006 and works with a multitude of industries. According to Owner John Ashton, "The new building will allow us to expand our capabilities by acquiring larger machines." At MEDP we love seeing home grown businesses expand capacities, and are excited to see the company invest in McMinnville through building a new facility.
Development
Owyhee Development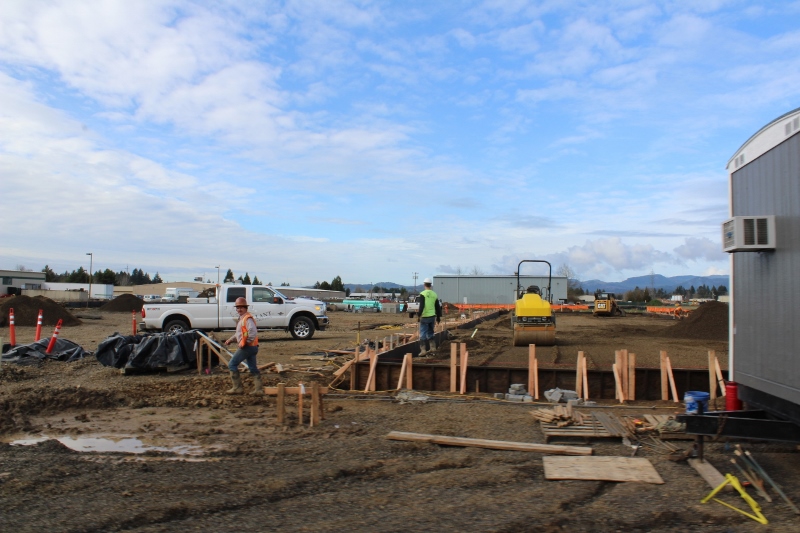 There is a lot of activity currently surrounding 1445 NE Miller St. in the Industrial District. This activity is thanks to a new development: the Owyhee Development. The name comes from the property owner's tradition of naming their sites after great mountain ranges. Placed on 3 acres of land, the developer as of June 2017 is building out the property to create leasable space by March of 2018. This includes two 10,000 sq. ft. buildings which will have divisible space. Another two 10,000 sq. ft. buildings will be online in September 2018.
The property sits next to Oregon Lithoprint Inc. and will have 226 ft. of frontage. This property answers a growing need in McMinnville for leasable industrial space for growing businesses. With all of the activity currently occurring in McMinnville we can't wait to see which businesses land in these new exciting developments. To learn more about this site, make sure to visit the listing on our properties page.
Rail Spur Property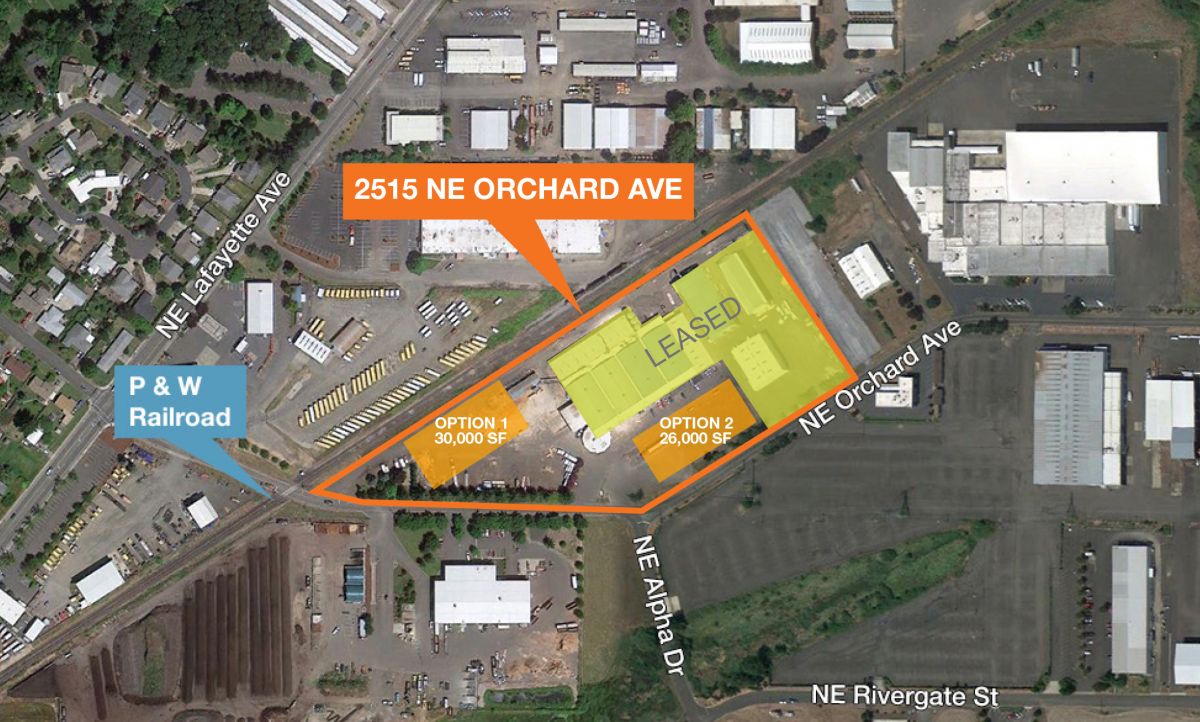 Located on 2515 NE Orchard Avenue along the rail spur line, sits a building which holds the Red Hills Distribution Center. The property the building sits on is 8.92 acres, and recently the developer has made plans to construct two new buildings on the property. The site can hold a 26,000 sq. ft. building and a 30,000 sq. ft. building with build to suit options available for both. With the buildings being located next to the railroad, there is also access to Portland & Western's rail spur on site. The site, zoned M-2 General Industrial, could be the perfect location for a company who needs to transport a lot of product and is looking for a building they can help design to lease. Visit our properties page for more information.
Opportunities
26 Acres on NE Orchard Ave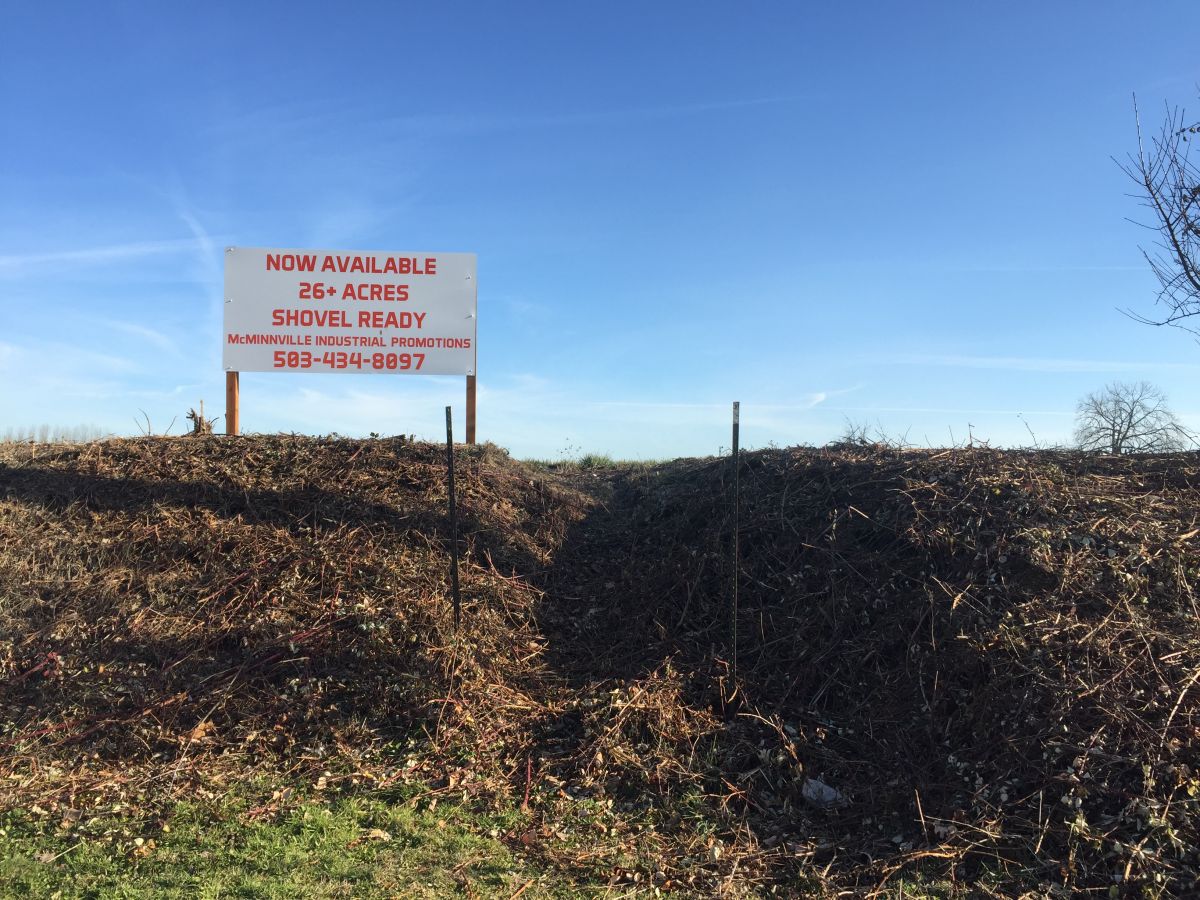 When an industrial site is dubbed "shovel ready" in Oregon it means that the plot of land has been through a certification process led by Business Oregon. This certification indicates that the site meets a need as a market-ready, employment-oriented site that has passed a series of stipulations. One of the most important stipulations being that the land must be developable in 180 days or less. McMinnville has one large industrial plot that has been certified "shovel ready" - the 26 acres on Orchard Avenue.
The site, owned by McMinnville Industrial Promotions (MIP) presents a great opportunity for a business looking to create its own facility. MIP has options for buyers to create both a build to suit and lease to own building. The property is divisible and even has possible access to the rail spur. A large opportunity exists for a company looking to invest in McMinnville and to create something specialized for their business model. Learn more.
The Orchards at Riverside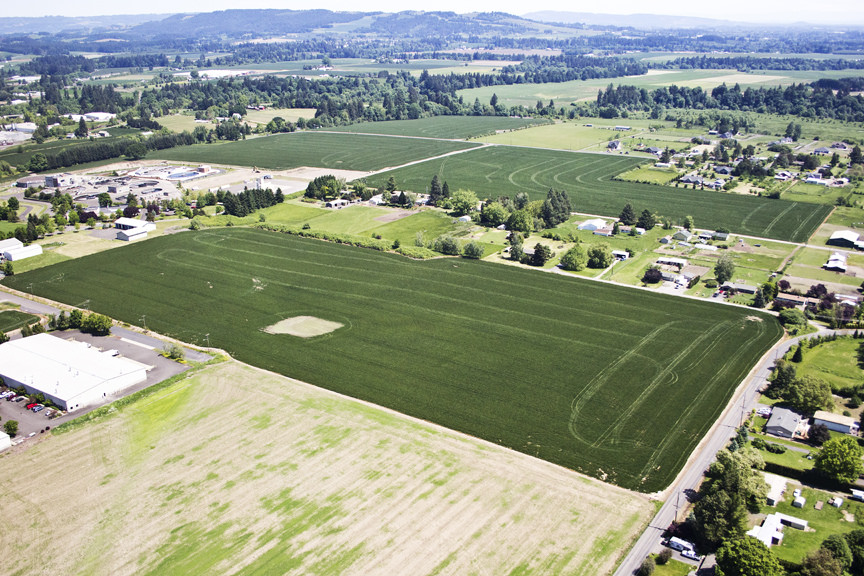 Under new ownership as of November 2017, the Orchards at Riverside is setting up to be something amazing. Though we can't say much at the present moment, the plot of land offers the chance to become a hub within McMinnville. With plans in the works to create a mixed-use manufacturing, office, and commercial campus environment with over 400,000 sq. ft. of possible space, the future of the 28 acres of land could be just what McMinnville needs.
90 acres on Highway 18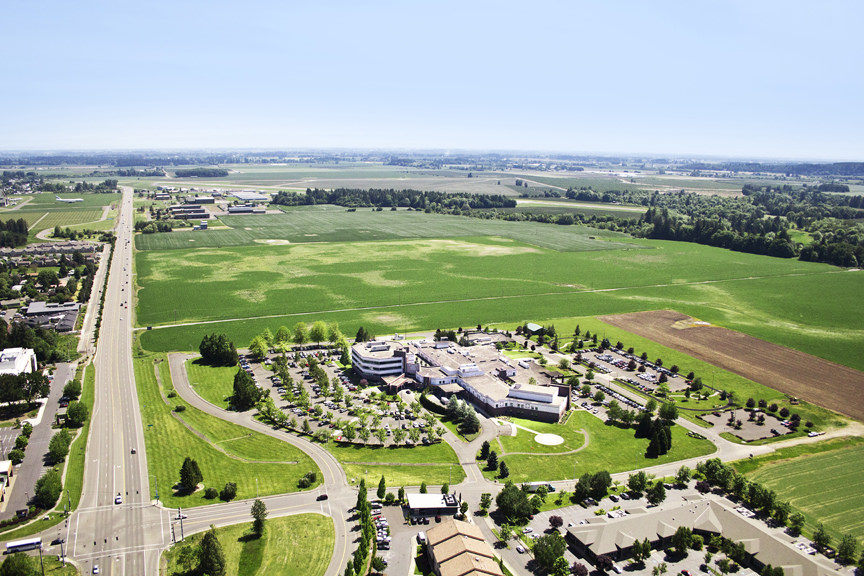 Though not in the industrial district, the 90 acres, divisible property along Highway 18 offers a unique opportunity for someone looking to develop. Not only is it near to the airport, the Willamette Valley Medical center, and just an exit away from McMinnville's downtown, the property will greet people as they come into town.
Currently zoned M-1/Commercial-Retail and light industrial, we're excited to see what this property could offer to the ever growing business campus out on Highway 18. Learn more.
Want to learn more about any of these properties? Contact us today!