Meggitt Polymers & Composites: Sealing Success and Growth
Meggitt Polymers & Composites designs and manufacturers solutions for aerospace, energy, and marine applications. In McMinnville, the company primarily creates sealants for aircraft and has been able to grow and expand over the years.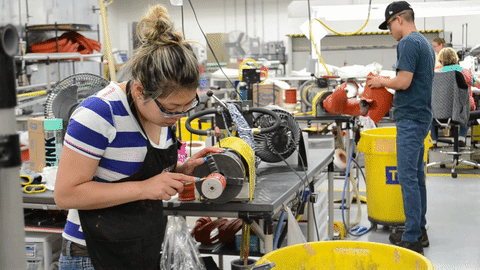 Resources used by Meggitt Polymers & Composites:
McMinnville Economic Development Partnership
McMinnville Industrial Promotions
OMEP (Oregon Manufacturing Extension Partnership)
Business Oregon
Pacific Northwest Defense Coalition
McMinnville WORKS Internship Program Host Site 2014, 2015, 2016, 2017
Mid-Willamette Valley Consortium
Company Stats:
391 Employees (2017)
281 Employees (2016)
Expanded facility in 2015 with new 10,000 sq. ft. warehouse next to existing 88,000 sq. ft.
MEDP Manufacturing Leader of the Year (2012)
MEDP Manufacturer of the Year (2009)
Sealing Solutions:
Meggitt as a company has existed for over 160 years. The Meggitt headquarters resides in England, but has several divisions that focus on different components. Meggitt Polymers & Composites has been located in McMinnville, Oregon for over 33 years. Over the course of those years the company has gone through many changes and has grown to become a prominent part of McMinnville's economy and community.
Meggitt Polymers & Composites (MPC) specializes in creating seals for commerical airplanes. Essentially, whenever you are sitting in a Boeing airplane, you are more likely than not surrounded by hundreds of Meggitt's products. The company has been able to stay ahead with processes such as lean manufacturing, automation, and continually embracing the latest technologies. Along with this, they have been able to reduce the density of their silicone up to 20% which reduces most aircraft's weight by around 100 kilograms. The McMinnville plant produces over 17,000 unique parts and has a customer list featuring Boeing, Airbus, Embraer, and more.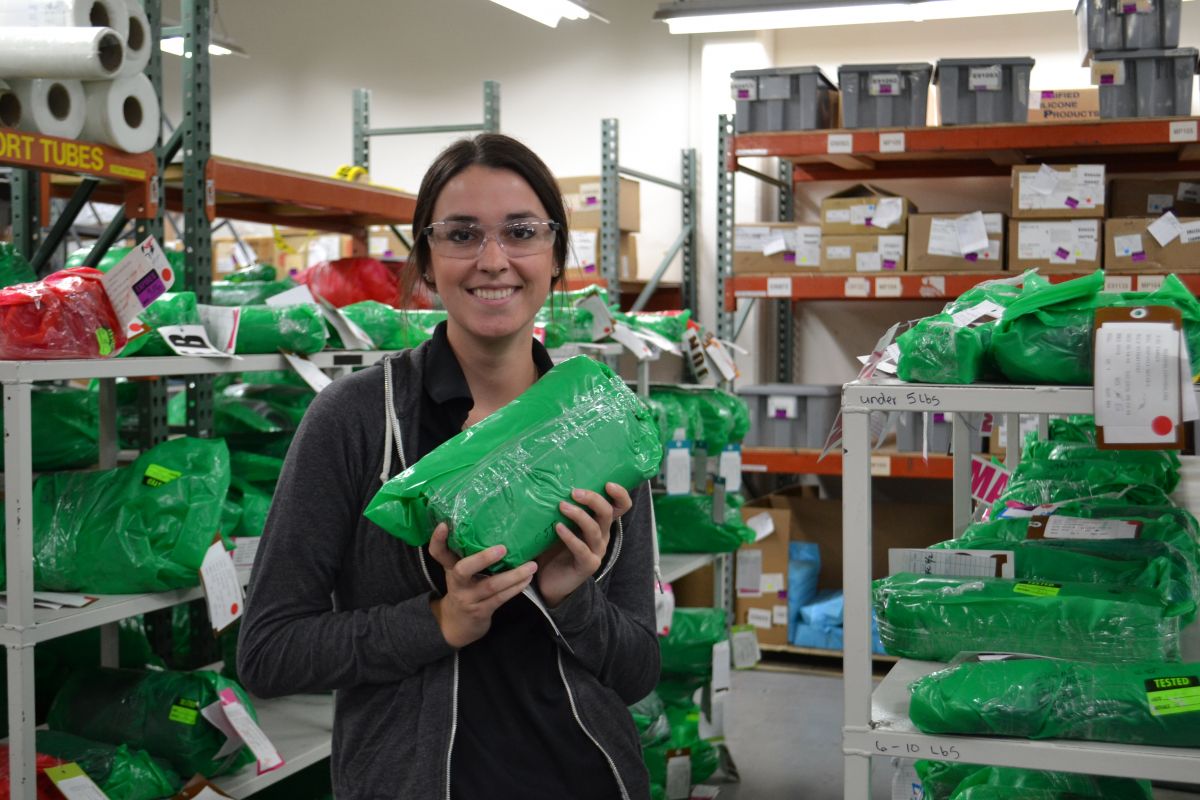 A McMinnville WORKS Intern holds a bag of silicone, or as it's commonly called a Meggitt, a pig.
MPC is not done growing. According to Steve Fackler, the Director of Manufacturing Technology who has worked at the facility for over 30 years, "We've had a minimum of 10% growth over the last 3 years." This growth has been within departments, capacity, and the facility. One department that has seen tremendous growth and efficiency is the engineering department. Speaking with Engineering Manager, Trevor Crumrine, the commitment to continuous improvement becomes clear: "The main focus the site has had, has been a very fundamental integration of continuous improvement and lean, and making that a key priority of our day-to-day." The company has put in an office dedicated to continuous improvement and manufacturing technologies.
Along with a company culture of growth and innovation, the enterprise also invests within the community. MPC supports local robotics clubs, encourages high school students interested in welding about quality, planning, and organization, and has played an instrumental part in the Yamhill County High School fabrication program. The company is also a part of the grow our own workforce solution program: McMinnville WORKS Internship Program. Over the past three years the company has hosted a variety of interns, hiring one intern full time upon completion of his internship.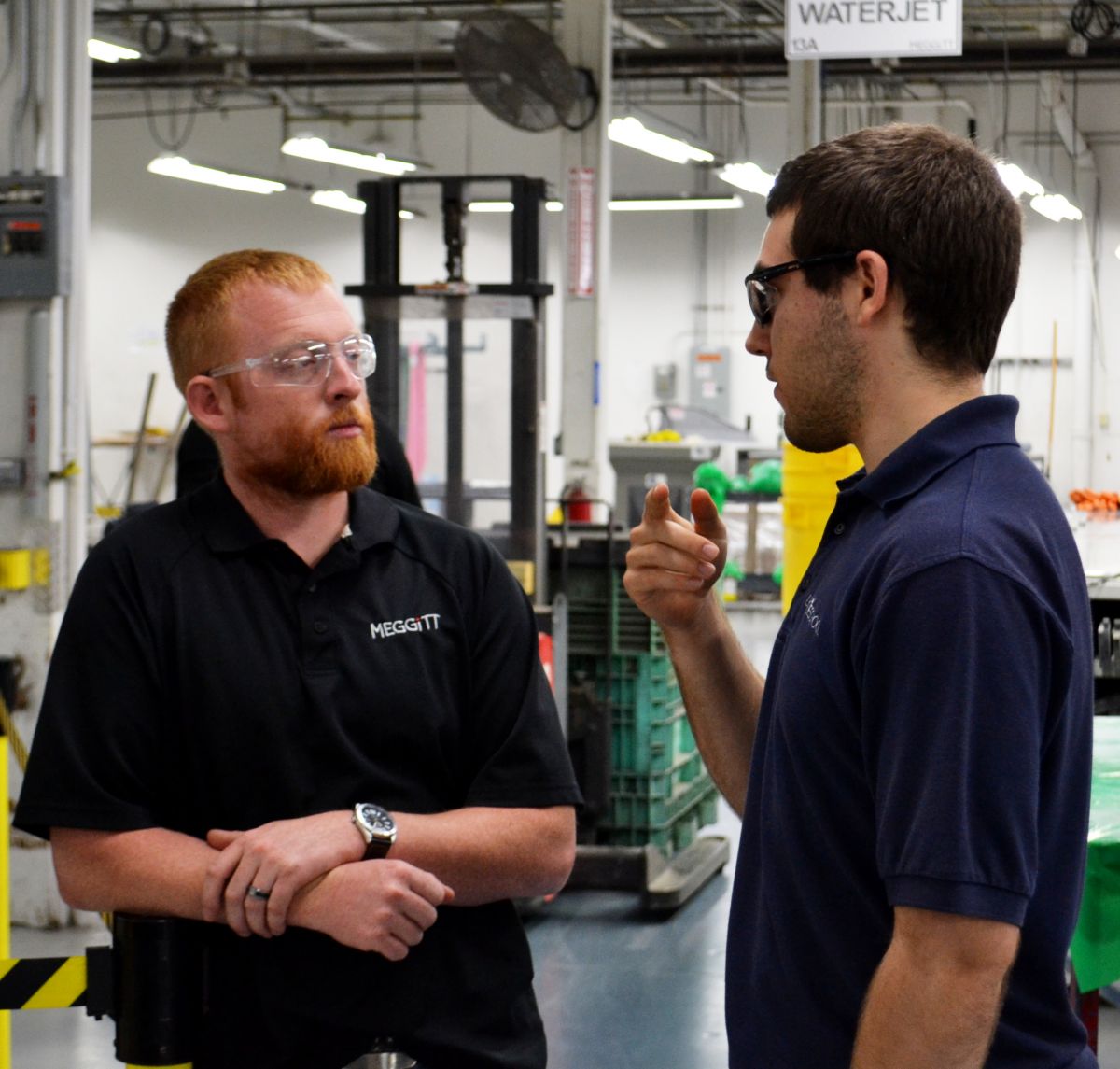 Crumrine speaks with McMinnville WORKS Engineering Intern, Andrew Marino, in the Meggitt Plant
MPC succeeds with a desire to help employees grow within the company. When asked about automation, it's made clear that when a machine comes into the facility, no one loses a job. Rather, management takes this as an opportunity to train employees on new systems, resulting in employees being placed in higher wage roles. The company promotes from within, constantly looking for individuals who stand out with their dedication to the company and process.
It's clear that the McMinnville Meggitt Polymers & Composites plant is an important part of the McMinnville community. With long standing growth and a history of over 33 years, the McMinnville plant is one of Meggitt's top performing production facilities. The company currently has over 250 employees with 2 facilities: a 88,000 square foot manufacturing plant with an added on 10,000 square foot warehouse that was built in 2015. With growth and innovation, the company will continue to make seals to make flying a safer, better, and more efficient process.
Learn more about Meggitt Polymers & Composites at http://www.meggitt.com/meggitt-polymers-composites/
To read more, see our newsletter: