"The Humanity of Technology" Tech Panel Coming to McMinnville
Apr 5, 2018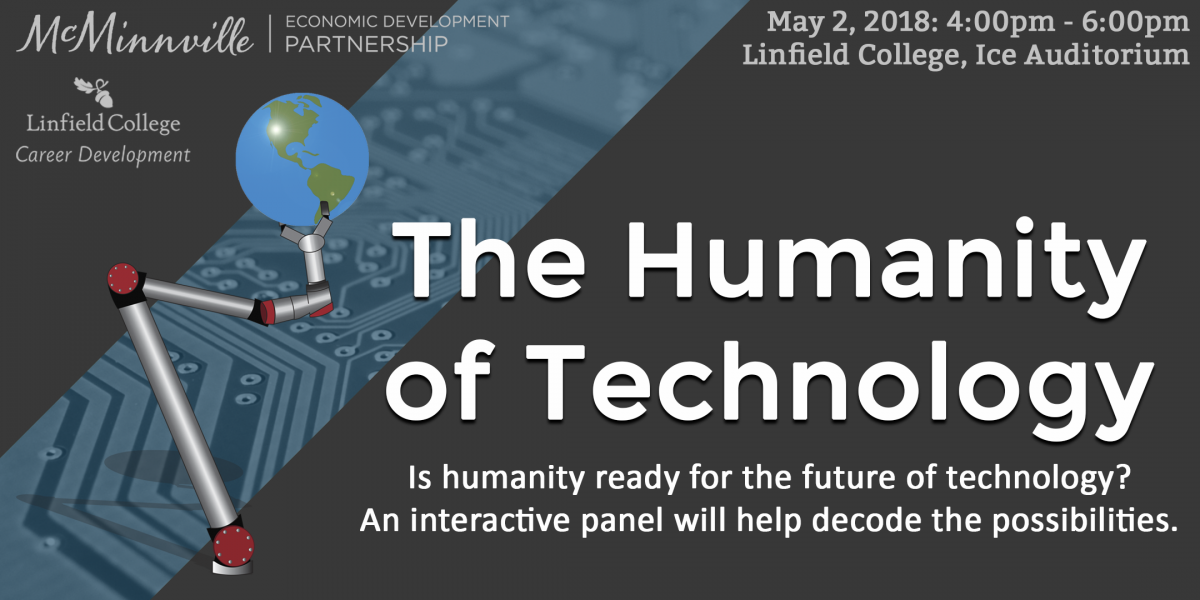 (MCMINNVILLE, OR) - As we look around the world today, it seems as though things are changing at a faster pace than they ever have before. Cars are becoming automated, cities are becoming smarter, and the jobs that will hold high prestige tomorrow have not yet been invented today. In this ever changing world, we need to consider how we handle these changes responsibly.
On May 2, 2018 from 4:00pm to 6:00pm the McMinnville Economic Development Partnership (MEDP) in partnership with the Linfield College Career Development Center, is hosting an interactive panel called "The Humanity of Technology."
The panel will feature technology experts who work with and use technology everyday. Linfield student Heather McNutt-Kaestner and MEDP Executive Director Jody Christensen will prompt the panel to answer big questions about the future of technology and its impact on both our community and the world by taking a futurist look into what we can expect from the technology tsunami between now and 2050. With questions addressing how as a citizen, consumer, and a community we can plan for the future and how we remain responsible citizens, adapting and making thoughtful choices in a transformed world. Attendees are encouraged to come prepared to ask questions, visualize an automated world, and examine the implications of Artificial Intelligence (A.I.), automation, and more.
The tech panel includes President and CEO of the Technology Association of Oregon (TAO) Skip Newberry, President of ECONorthwest John Tapogna, Chief Revenue Officer of Predicta Brian Feucht, Software Development and Safety Compliance Officer for Self-Driving Technology Robin Fahy, and Financial Analyst at Apptio Achmat Jappie. Additional panelist are being contacted now to join in on this enlightening event. "We know technology will be an integral part of McMinnville's future. We need to be early adopters in aspects of our planning including MEDP's business development strategies. The panelists insights will be informative and inspiring," said Jody Christensen, MEDP Executive Director.
The event will take place in the Richard and Lucille Ice Auditorium on Linfield Campus. The event is free to students and educators (from any school) with valid I.D. and cost $10.00 for general admission. Check in begins at 3:30pm and the program begins at 4:00pm. Following the event, a no host Tech Bytes networking event will be held to give attendees further opportunity to discuss the ever changing world and the effect of technology with other guests and panelists.
The event aligns with Linfield College's 2018 PLACE (Program for Liberal Arts and Civic Engagement) theme: The Digital Citizen which asks individuals to consider the "ethical consequences of the increasing global adoption of digital technology."
As part of MEDP's commitment to nurturing technology and innovation in manufacturing, MEDP is proud to present their first Tech Terroir event. The Tech Terroir initiative aims to grow tech in Oregon's wine country by highlighting the creative networks, technical expertise, and collaborative spirit of the emerging tech industry in Yamhill County.
Registration is available for both student/educators and general admission through MEDP's website: www.mcminnvillebusiness.com/medp-tech-panel. MEDP encourages guests to register early to save their seat for this event.