Women in Manufacturing: TTR and What it Means to be 50/50
Mar 16, 2017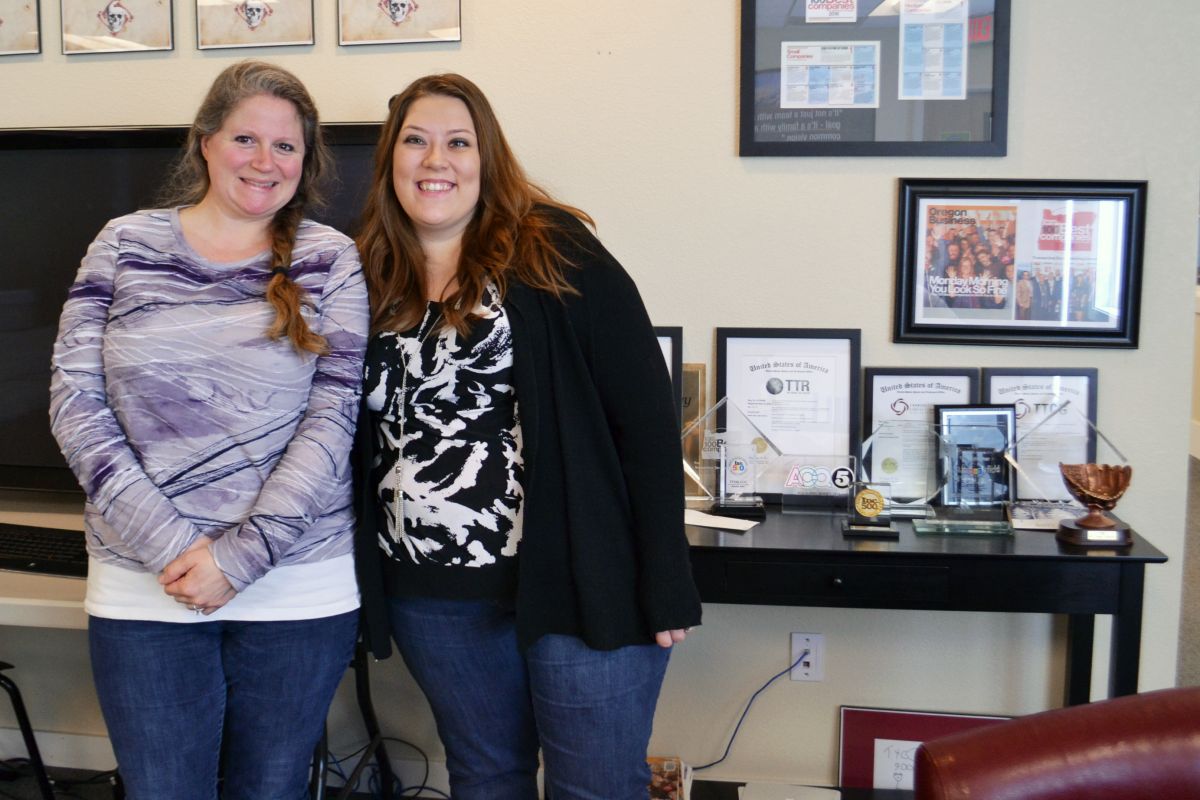 Accounting Manager, Caroline Devin and Manager of Content Development, Jennifer Kepler.
In 1987, the United States Congress declared March as National Women's History Month. While women have made countless strides through the past 30 years and are continuing to fight for equality, in manufacturing there continues to be a "gender gap." In fact, despite comprising 47% of the workforce in the U.S., women only make up 27% of manufacturing employees¹. Within manufacturing there is not only a "gender gap," but also a "skill gap." In the U.S, as older generations begin to retire and businesses grow, it is expected that in the coming years three and a half million manufacturing jobs will open and due to the current "skill gap" two million of those jobs will go unfilled.
What has caused this "skill gap?" A retiring workforce, a negative view on working in the manufacturing industry, lack of STEM skills, and less technical education programs in public schools². Women earn over half of the associate's, bachelor's, and master's degrees in the U.S.¹ In order to help fill in the "skill gap" that is facing U.S. Advanced Manufacturing, the "gender gap" needs to be filled as well.
How can manufacturers help lessen the gender gap? To start, manufacturers can look at companies that don't have a gender gap at all. TTR (Tax Transaction Resources) dubs itself a 50/50 company, meaning that not only does 50% of the employee base consist of women, 50% of managerial positions are held by women as well. How did the company go about doing this? They hired people they thought were a good fit and jelled well with their company culture. In short, gender wasn't part of the equation when hiring employees, personality and a capacity to grow and learn were.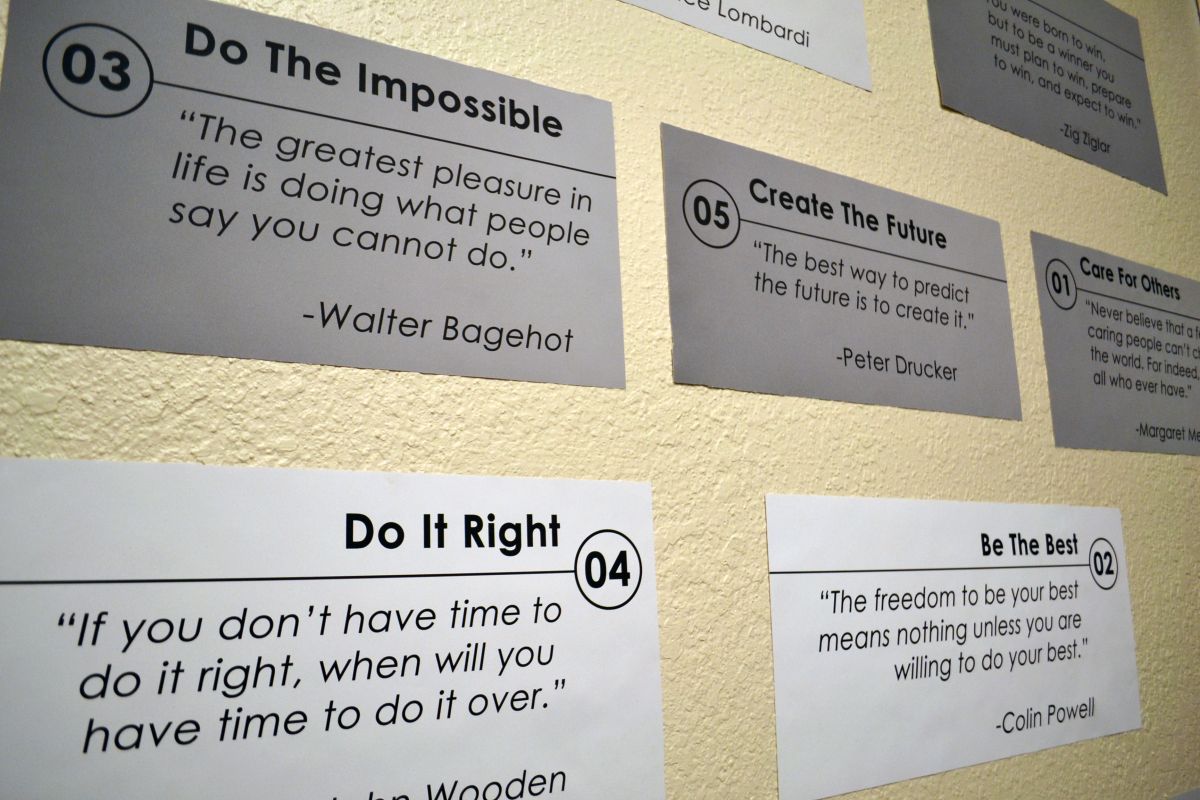 TTR's printed values and monthly focuses are printed and displayed on walls of the office.
We at MEDP define manufacturing as a product/service that is produced within a town and sold outside of that community which brings new money to the town where the product/service was produced. A little background on TTR, according to their website, "TTR's vision is to create a better life for tax and accounting professionals… by providing the best customer service anywhere and delivering valuable time-saving tax products." TTR delivers on this promise of financial service by creating a software that supplies tax answers to professionals. Along with a vision that inspires employees, TTR has also placed in the top ten, medium sized business to work for in Oregon Business' "The 100 Best Companies to Work for in Oregon" list two years in a row, and was voted the best medium sized company to work for by The Oregonian in 2016. With 30 days paid time off for employees, nerf guns and nerd paraphernalia lining the office, a on-site gym and fully stocked kitchen, and monthly meetings focusing on messages like "Do It Right," "Be Kind," and "Care for Others" it's easy to see how this company internalizes a message of promoting employees based on skills and drive rather an external factors. Continue reading to learn how two women at TTR embrace their leadership roles and manage teams.
Jennifer Kepler: Manager of Content Development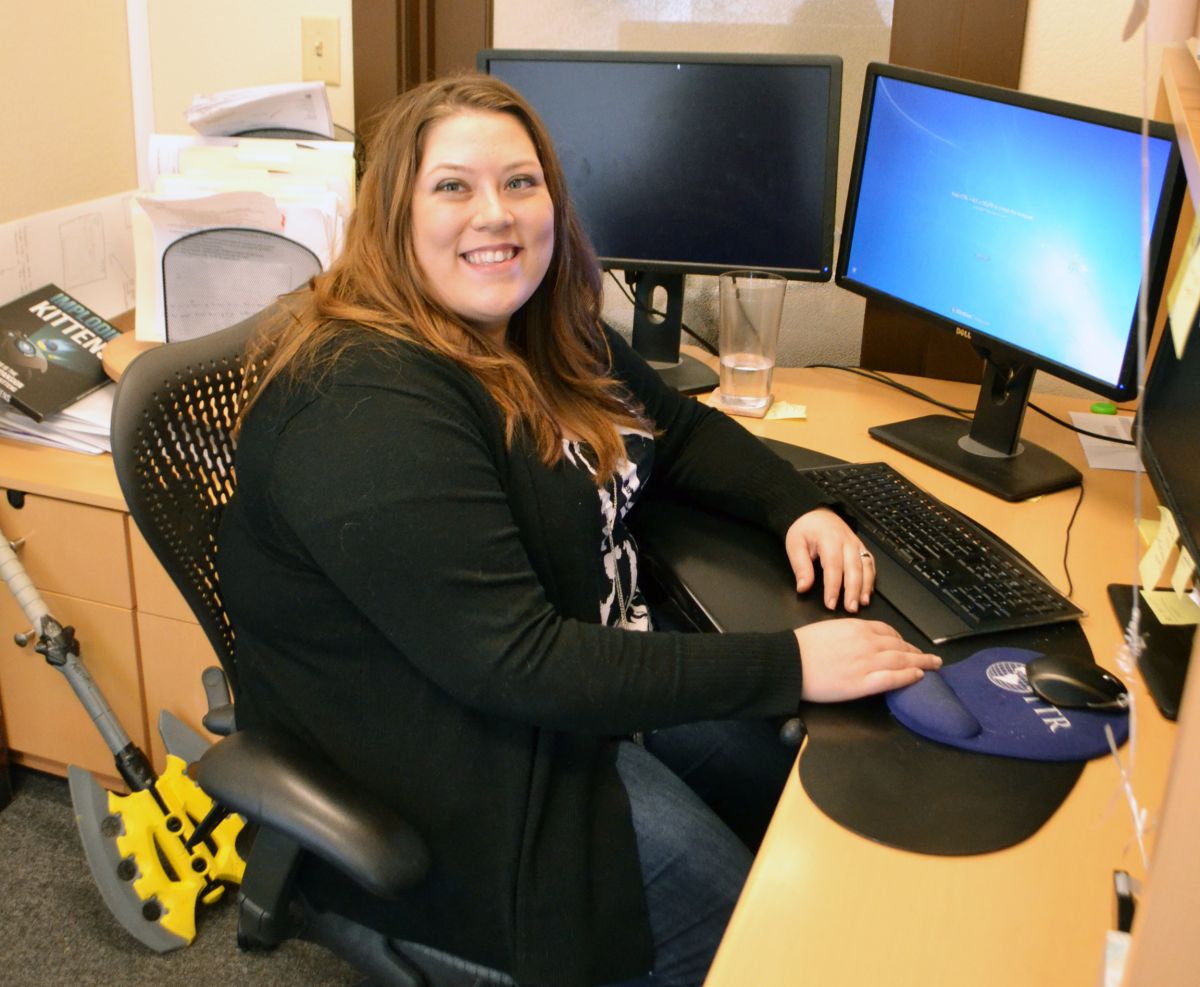 The Director of Content Development, Conan Royce, describes Jennifer Kepler's personality with a story: This past summer, when Conan returned from vacation he came back to an office that had all of its windows covered in post-it notes. With laughing employees following him, he opened his office door to find it filled with balloons and a cardboard cutout with a picture of his face taped to it perched on his computer chair (see video proof here). Jen had led this effort with the same humor and upbeat attitude that she uses to manage the Content Development team.
Jen is a long time resident of Yamhill County and was hired at TTR while attending college. Jen can point to numerous example of her attraction to leadership roles, including being Student Body President when she attended Eastern Oregon University. With a background in History and Anthropology, Jen has always liked "finding things others couldn't." Her management style is one of continuous communication and both acknowledging and capitalizing on the talents of the content development team.
It's joked by Jen's coworkers that she's the "nicest person ever" which she says has mostly to do with "making sure that everyone is good" and that she likes to "keep a smile on her face." It could be that what makes TTR great and allows it to maintain its 50/50 status is that being considered the "nicest person ever" does not detract from leadership, but rather is part of what it means to be a great leader. Following Jen's own story, it's clear that TTR is the type of company where if you show initiative, ingenuity, and passion, it will be rewarded with more responsibility. Jen has been able to be promoted to Content Development Manager in a relatively short amount of time (four years) by continually offering ideas and asking for more tasks with leadership aspects. TTR also tries to pick out employees they see who they believe could prosper with more responsibility. In this way, Jen says, at TTR, you don't need to be aggressive to get ahead. Rather, you need to do the work and do it well.
Jen's favorite thing about working at TTR? "The people. That's probably the answer you would get from most employees. You don't see cliques here. We do a really good job of getting people who work well together and that become friends and want to spend time with each other." Jen sees big things in the company's future and plans to continually work to help the company and her team grow.
Caroline Devin: Accounting Manager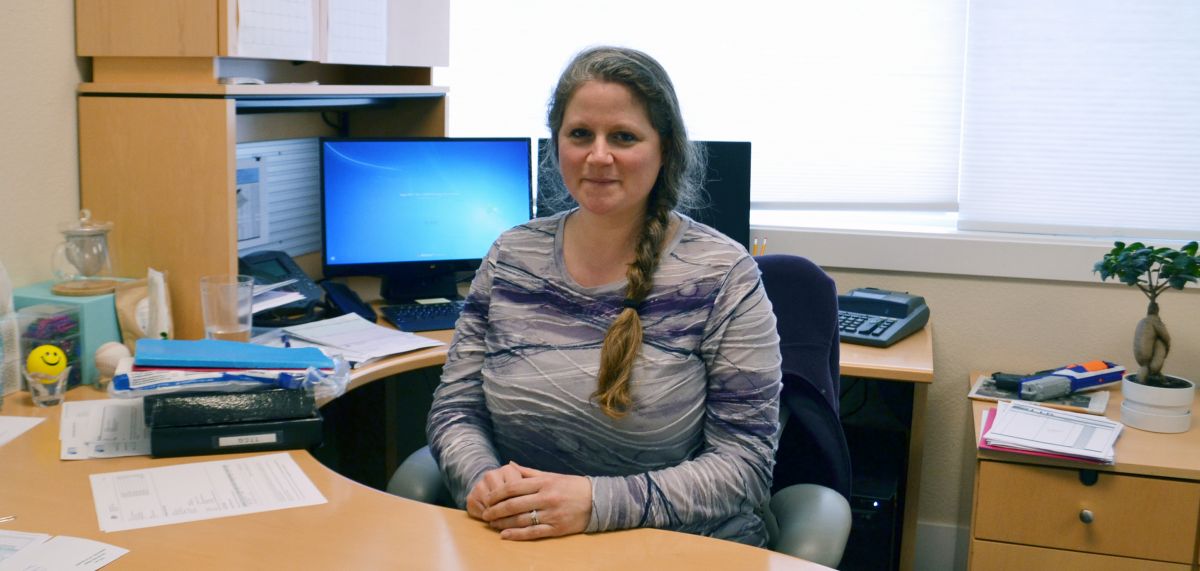 From a hazelnut farmer, to a nutritionist, to an accountant Caroline Devin has worked in a variety of locations and in a variety of fields. At the time of this interview, Caroline had been working at TTR four four weeks and as she states, "This is the most amazing place I have ever worked." Caroline backs up this claim by pointing to her interview process. After completing her first interview over the phone, Caroline was asked to come into the office and told by CEO Shon Holyfield, 'Don't dress up. Wear jeans.' Caroline describes it as a more casual atmosphere in which the interview wasn't about someone in a business suit with her resume in front of her, "he was asking me more about… me. Which is different because though we went over my experience, the interview really focused on what interested me about accounting."
Caroline describes TTR as: "the most amazing place I have ever been associated with. There's an amazing amount of respect for everybody. I can walk around and just smile all day long. That's how I feel. I'm just happy to be here." Currently, Caroline's challenge springs from the rapid growth that TTR has experienced, but this also provides an opportunity. "There's a lot of work to do, but it's awesome because I get to build this accounting department. I get wonderful people to work with and I get awesome job satisfaction."
Having a 50/50 company is also something that's new for Caroline. As she states, "I think looking back on my career, most of the positions that I've had have had men in my role as opposed to women." Caroline continues to explain: "There's been women in clerical positions of accounting, but in the higher level controllers, like CFO, it's been mainly men in my experience." Along with seeing herself and other women in positions at TTR that she hasn't seen them in at other places she's worked, Caroline doesn't see a limit to her ability to grow with the company. She shares her dream to one day be CFO of the company: "I think that's attainable here. I think that's part of the draw; there doesn't seem to be any limits to what you can do."
Talking to both of these women who have found success in manufacturing it seems clear that hiring women in manufacturing doesn't necessarily take a concentrated and pointed effort. Rather, it's part of creating an atmosphere where there are no limits to what people can accomplish, an environment where being nice is celebrated, and a company culture that celebrates friendships harbored in an office that steers clear of cliques. Talking to employees at TTR, the fact that the company is 50% men and 50% women, it wasn't something that every person realized, nor did it surprise anyone. When you have an environment where success is dependent on teamwork and allowing people to maintain personalities, the statistics eventually even out. Spending time in the TTR office the thought arises, perhaps, closing the "gender gap" in manufacturing is more about changing company cultures than anything else.
¹ Manufacturing Institute "Minding the manufacturing gender gap"
² Manufacturing Institute "The skills gap in U.S. manufacturing"