2018 McMinnville WORKS Host Site Application Open
Nov 2, 2017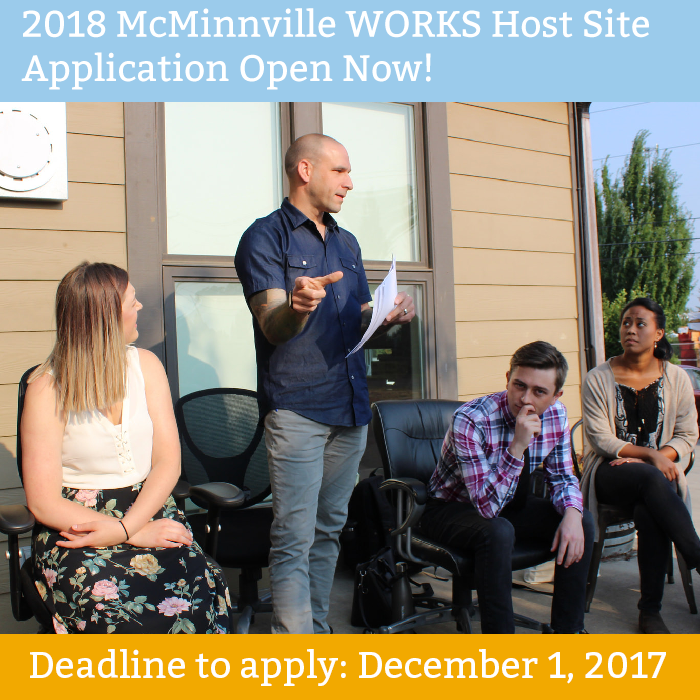 (MCMINNVILLE, OR) - MEDP (McMinnville Economic Development Partnership) has launched their Host Site Application for the 2018 McMinnville WORKS Internship Program. All businesses and organizations in or around the McMinnville area are encouraged to apply through the online application. The application will be open through December 1, 2017 with Intern Applications opening January 8, 2018.
The McMinnville WORKS Internship Program connects companies and young professionals for summer internships. Internships are 9 weeks long, full-time, project-based, and paid. A variety of projects are completed each year and are decided by the Host Sites. Examples of past internship positions include quality control, mechanical engineering, marketing, sales, finance, media relations, and more.
To host an intern, companies must be able to hire an intern full-time and at (at least) minimum wage for the 9 weeks between June 11 and August 10, 2018. Host Sites must have an employee willing to mentor an intern, have office or floor space to house an intern, and pay a small administrative fee to MEDP.
As a part of the McMinnville WORKS Internship Program, MEDP conducts marketing for all of the internship positions, receives and organizes all intern applications, facilitates the McMinnville WORKS Program, including weekly Professional Development Workshops, and creates marketing materials for the program utilizing the Host Sites and internship projects.
The program has won multiple awards including the 2014 Oregon Economic Development Association Outstanding Partnership Award. 2018 will mark the sixth year of the program and statistics have shown growth and value of participation. In 2017, 57% of interns had extended internships with two WORKS Interns receiving full-time job offers upon completion.
Deven Paolo, Co-Owner of Solid Form Fabrication, and five time McMinnville WORKS Host Site commented: "Our biggest struggle is finding employees who are the right fit. At the same time, we recognize how many grads leave Yamhill County for work. The WORKS Program allows us to bridge the gap and make connections between employers and potential employees."
The McMinnville WORKS Internship Program was created as part of MEDP's "Grow Our Own" Initiative. To learn more about the McMinnville WORKS Internship Program, please visit our website, mcminnvillebusiness.com/mcminnville-works-internship-program or email intern@mcminnvillebusiness.com