Host Site Application Open for MEDP Workforce Programs
Oct 24, 2019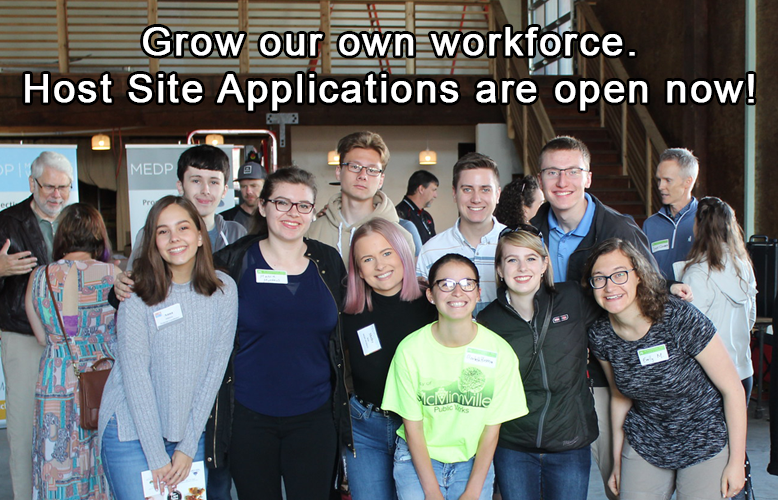 (MCMINNVILLE, OR) - Application forms are now open for both the MEDP McMinnville WORKS Internship Program and the MEDP Career Bound Program. Both applications can be found on MEDP's website, www.McMinnvilleBusiness.com. Applications for both programs will be open now through December 13, 2019. Businesses and organizations in McMinnville and surrounding communities are welcome to apply. Internship applications and summer position applications for both McMinnville WORKS and Career Bound will open to students and young professionals in January 2020.
This year, MEDP has two options for businesses and organizations in Yamhill County looking to host summer positions. The McMinnville WORKS Internship Program focuses on professional internship opportunities for collegiate students. The Career Bound Program connects graduating high school seniors with entry-level summer positions at companies focused on the skilled trades. Career Bound positions should have a career path individuals could follow to living-wage careers.
Entering its eighth year, the McMinnville WORKS Internship Program connects local businesses and organizations to talented young collegiate professionals through project-based internship opportunities. Internships are 9+ weeks, full-time, paid, and held during the summer. MEDP organizes the program by identifying local businesses that want to host interns, advertising positions to local colleges and young professionals, collecting and processing applications, and organizing summer professional development workshops for interns. Click here for the McMinnville WORKS Application Form.
Entering its second year, the Career Bound Program connects graduating high school seniors from Yamhill County with full-time local summer positions and internships at companies throughout Yamhill County. The program specifically targets students who do not plan to attend 4-year colleges directly after high school, providing them a direct professional work opportunity. After a successful first year of the program with a concentrated participating group of steering committee members, MEDP is excited to open the Career Bound Program Host Site application to any business in Yamhill County looking for entry-level workers. Click here for the Career Bound Application Form.
MEDP created both workforce programs as a "Grow Our Own" workforce effort. Executive Director Scott Cooper says, "both of these programs offer an option for our local manufacturers who are struggling to find qualified workers. By growing our own workforce, we are creating something good for companies, young professionals, and the community."