The McMinnville WORKS Internship Program Application Closes on February 10, 2017
Feb 2, 2017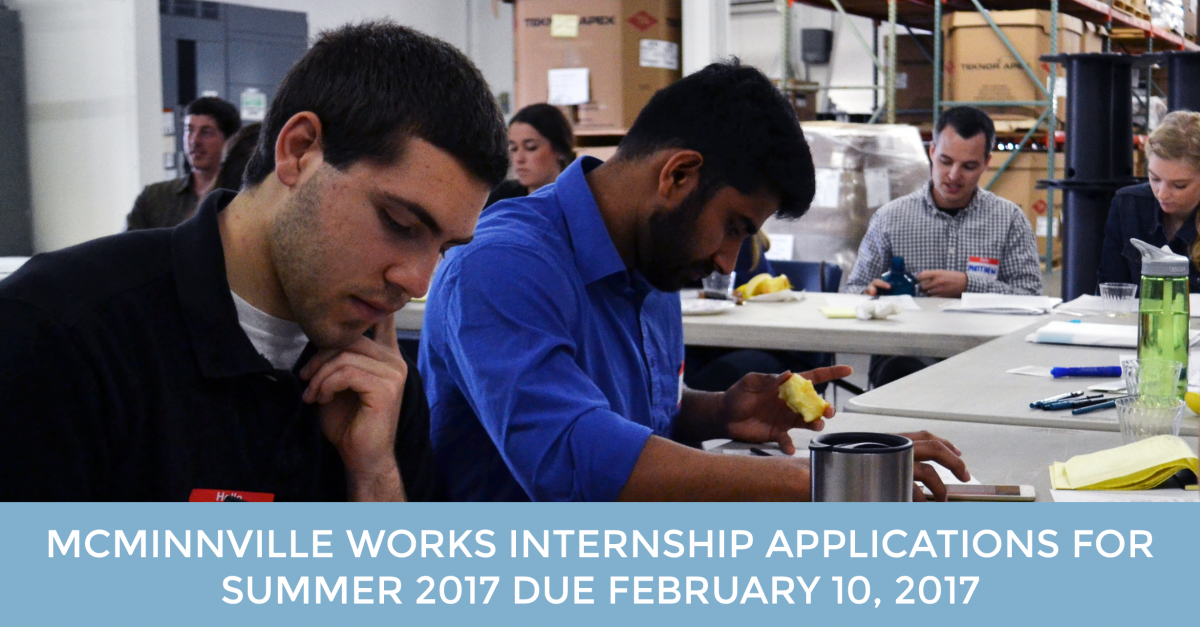 (MCMINNVILLE, OR) - Hosted by the McMinnville Economic Development Partnership (MEDP), the award winning McMinnville WORKS Internship Program is closing the application process to potential interns on February 10, 2017 at 5:00pm. In 2017 the internship program has 21 companies/organizations throughout McMinnville offering 27 different positions in a range of departments. Internship positions include event management, marketing, administrative services, mechanical engineering, civil engineering, electrical engineering, industrial engineering, city planning, sales, data management, information technology, and more.
To apply, candidates simply fill out the internship application form on MEDP's website: mcminnvillebusiness.com/internshipapplicationform. With one application, potential interns are able to apply for multiple positions. MEDP reviews and process the applications and then sends them to the McMinnville host sites who interview and eventually hire candidates.
Internships run for 9 weeks, from June 12 to August 11, 2017. Each internship is a paid full-time position including paid Professional Development Workshops held each week by MEDP. The workshops teach interns valuable skills in finance, lean manufacturing, workplace expectations, and more. Heather McNutt-Kaestner, Cellar Ridge Construction's Marketing Intern from the 2016 McMinnville WORKS Program, commented on the program stating: "It's better than a normal internship because you also get to interact with the community and professionals in different fields. This is incredibly important because it opens up options and you get to see beyond just one internship experience."
This year, applicants are being given the ability to boost their applications with a two minute "Elevator Pitch" video and with questions that will help establish what type of company culture applicants would best fit with. According to MEDP Executive Director, Jody Christensen, these components are proving important as tools to help place applicants in positions and companies where they will make the most impact and feel the most comfortable.
The internship application is open to any college student, high school student, or graduating senior over the age of 16 looking to gain professional work experience in the field of their interest. Applications must be submitted by 5:00pm on February 10, 2017 to be considered. For more information visit www.mcminnvillebusiness.com/works