MEDP Spark- Celebrating our Business Community: The 2020 MEDP Award Winners
Oct 14, 2020
MEDP Spark, Volume 5, Issue 9 ~ October 2020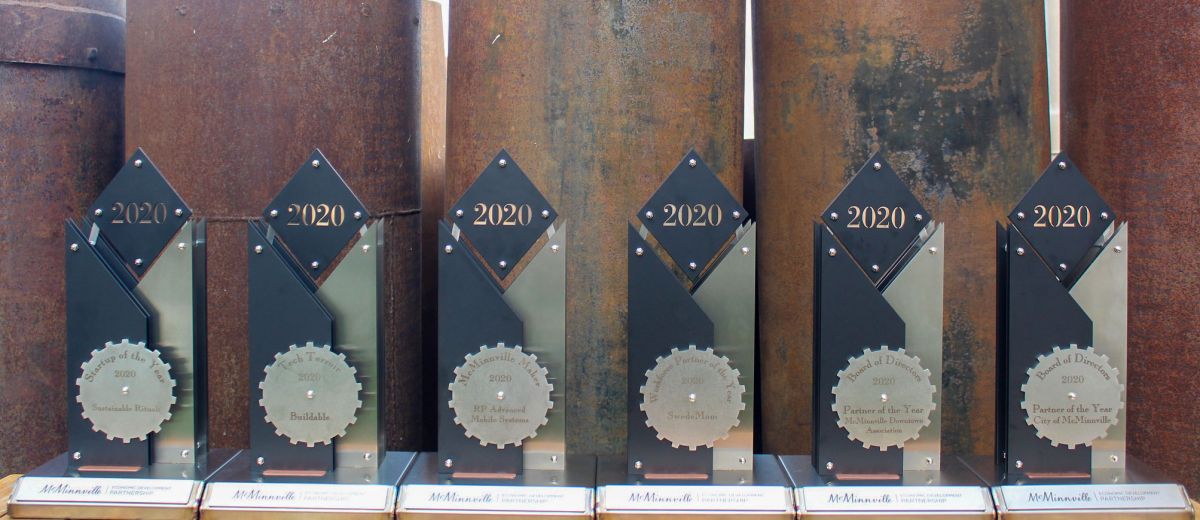 The 2020 MEDP Awards, Made by Cody Kime Designs
Since 2007, MEDP has been recognizing the outstanding companies and individuals that contribute to the growth of our local economy through best business practices, workforce development, and a positive company outlook. Traditionally these awards have been presented at an Annual Event in early October that was established as McMinnville| MADE Day in conjunction with National Manufacturing Day; however, with the current physical distancing requirements and indoor gathering guidelines, the 2020 awards were presented in individual ceremonies at each place of business the week of October 4th.
John Dietz, the General Manager of McMinnville Water and Light, and the President of the MEDP Board of Directors said "In what has been a unique year, it is a sincere pleasure to celebrate local business, industry, and the people that make this community thrive. The MEDP Board, and staff, are honored to work with these exceptional organizations who add so much to our entire community. We look forward to their continued efforts and growth in the city of McMinnville."
The 2020 MEDP Awards included: Startup of the Year, Workforce Partner of the Year, The Tech Terroir Award, the McMinnville Maker Award, and the Board of Directors Partner of the Year Award.
The awards themselves were designed by local fabricator Cody Jones of Cody Kime Designs. "We wanted to design an award with subtle elements that represent the community, we felt a blend of modern, and industrial elements were the way to go. We used an overlapping design to create a subtle modern "Double M" which represents McMinnville of course. Stainless steel was used for the project because it represents longevity. We used multiple layers and Powder Coating to add contrast and depth, and acorn style nuts, copper, and unfinished welds add an industrial feel to the finished piece."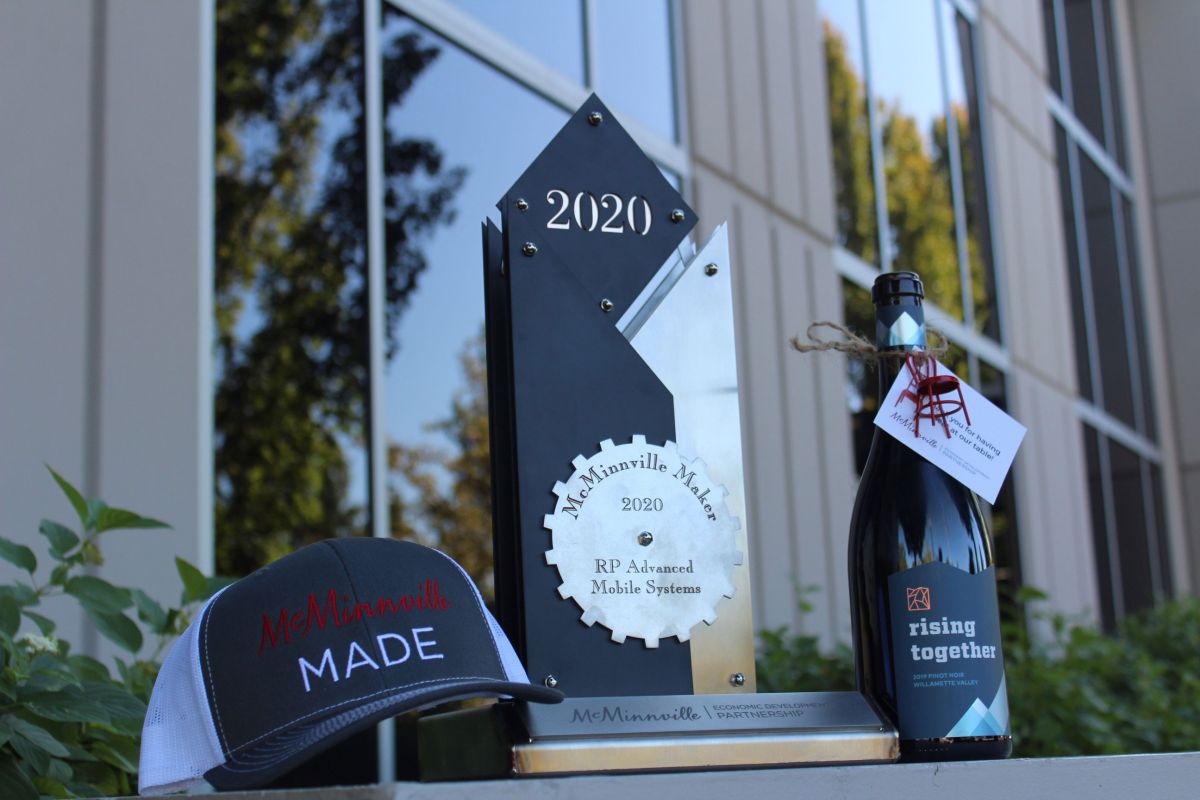 In addition, each award recipient received a McMinnville | MADE hat and a bottle of Rising Together wine. All proceeds from the Rising Together wine support the McMinnville Area Community Foundation Educational Endowment Fund which supports local students through scholarships, as well as local community colleges, trade programs, and businesses. To learn more about the Rising Together Pinot, please visit Solid Form's website.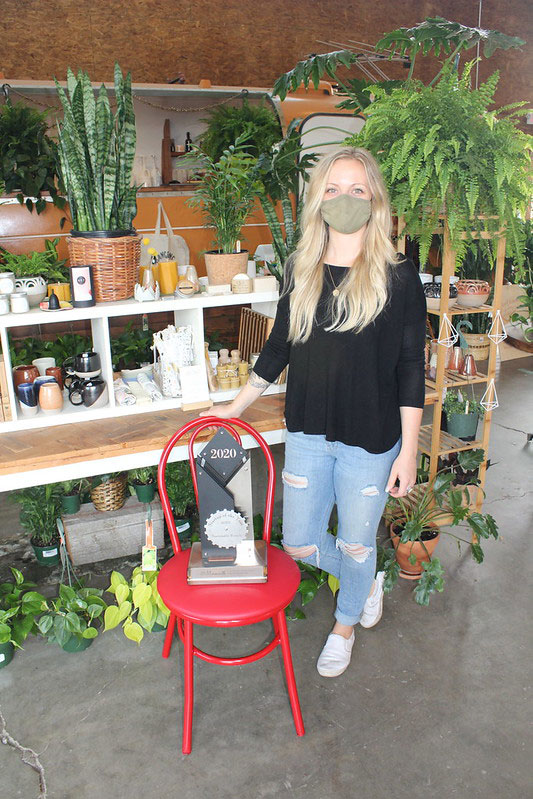 Haley Queen of Sustainable Rituals
The Startup of the Year Award was established in 2019 to recognize McMinnville's future looking focus on entrepreneurship and innovation. The award was created to recognize a new company or organization that demonstrates entrepreneurial spirit, fortitude, and has demonstrated the potential for a beneficial impact on our local community.
Haley Queen, attended the Launch Mid-Valley Startup Bootcamp in February 2020, and her business idea, Sustainable Rituals was recognized as one of the finalists and winners during the pitch fest that concluded the 3 day intensive workshop.
From there the business blossomed into more than an idea, and Haley opened her brick and mortar bulk refill shop in June of this year inside Mac Market with a curated selection of plants and sustainable products. Over the last four months, she has taken several opportunities to give back to the community. She took time to speak with the 2020 McMinnville WORKS interns about entrepreneurship and has donated a percentage of her sales to causes she believes in like AHIVOY, a non-profit organization formed to create opportunities and empower Latinx and Hispanic workers in Vineyards of the Willamette Valley to overcome socio-economic challenges.
Since opening in June she has already expanded her offerings and is beginning to stock products at other pop-up locations around McMinnville. It's been exciting to follow her entrepreneurial journey, and we are thrilled to award her the 2020 Startup of the Year Award.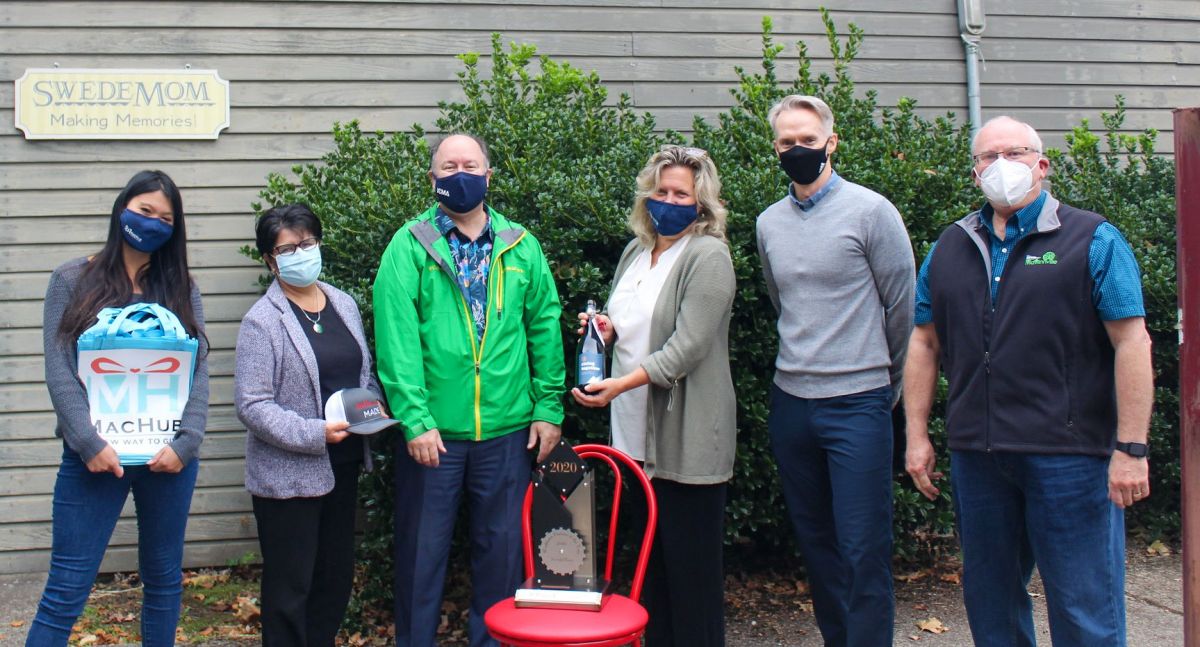 From right to left: Rayna Weinreb from Mac Hub, MEDP Board Member Teresa Smith, City Manager Jeff Towrey, Swedemom Founder Cami Nyquist, MEDP Executive Director Scott Cooper, McMinnville Mayor Scott Hill
This year's Award goes to the Swedemom Organization, which encompasses Swedemom Center of Giving and MacHub. What began in 1999 as an online resale business, evolved into a nonprofit that provides specialized financial assistance to a network of other nonprofits by leveraging ecommerce. The Center of Giving helps fundraise for over a dozen organizations across Arizona, Illinois, Oregon and Texas that support youth and family programs, community building initiatives, homeless shelters and more.
MacHub is one of the HUBS in the network and is flourishing under the Swedemom Center of Giving umbrella that lends aid to other nonprofit organizations and local donors. They filter unwanted objects from those in the community and maximize how the product is used.
When many businesses were faced with hiring freezes and putting a pause on summer internship opportunities, Cami Nyquist was able to find jobs for six of the McMinnville WORKS and Career Bound interns throughout her companies. She also hosted a community engagement and socially distanced networking opportunity for the 2020 intern cohort. This award was created to recognize an individual or business in the community that has worked to create strategic efforts around workforce solutions in our community, and we were thrilled to present Cami with the recognition this year.
Tech Terroir Award: Buildable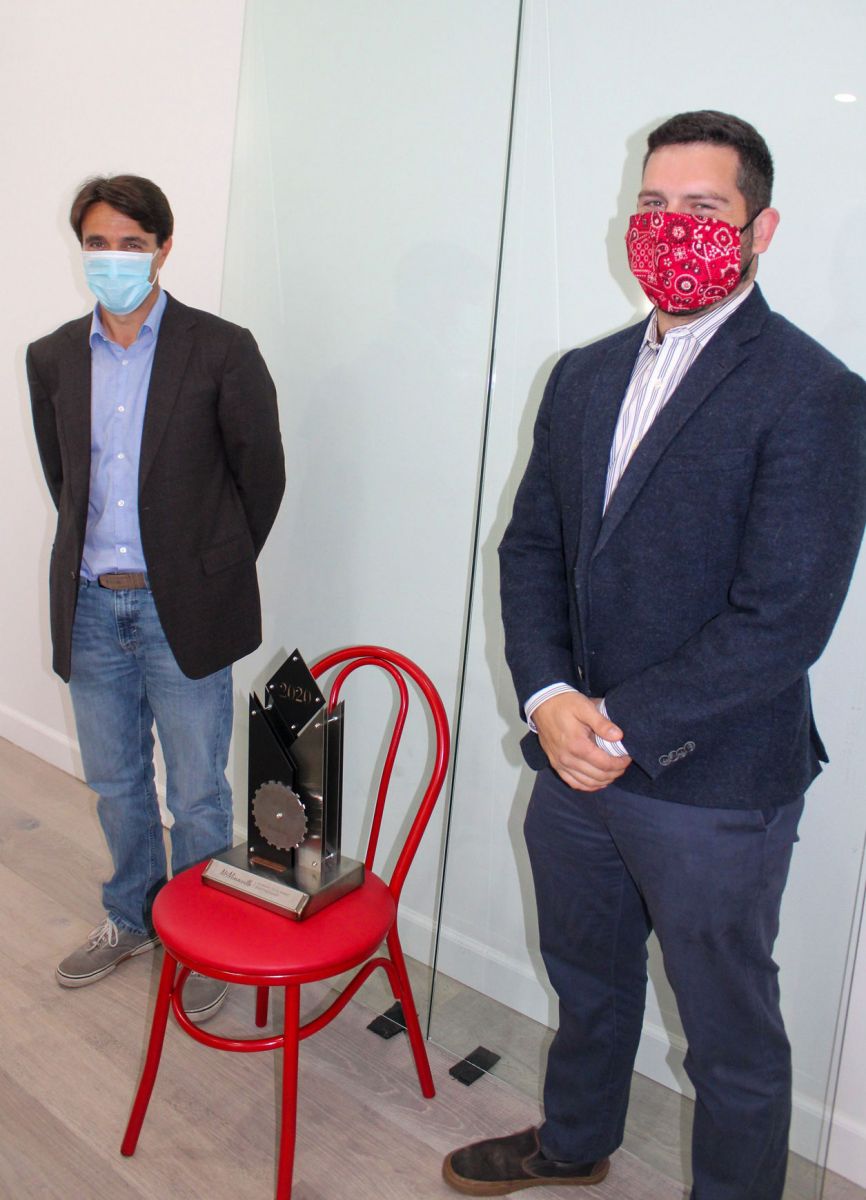 From left to right: Buildable Founder & CEO Max de Lavenne and Business Development Associate Miles Oliveira
Tech Terroir refers to MEDP's initiative to grow tech in Oregon's wine country and was given to a company that exemplifies both the type of company that helps make McMinnville prosperous and that has given back to the community. The winner of the 2020 award is Buildable, a custom software company that has actively played a role in the innovation development of our community since its founding in 2008.
This year Buildable supported the Launch Mid-Valley Startup Bootcamp, offering mentorship and guidance to the attending entrepreneurs. At the start of the pandemic Buildable offered to help local companies adapt and increase their online presence during the stay at home order, and helped develop yourmcminnville.com a food, beverage and resource directory. Buildable recently expanded their offerings to include open-source ERP (Enterprise Resource Planning), which will be a valuable tool for the manufacturing community. Buildable's Founder and CEO Max de Lavenne also helps contribute to the future of the local tech industry through his teaching at Linfield University.
With 17 employees, Buildable recently relocated into a 2 story building in the heart of downtown McMinnville, and we are looking forward to seeing what other innovations they bring to our community.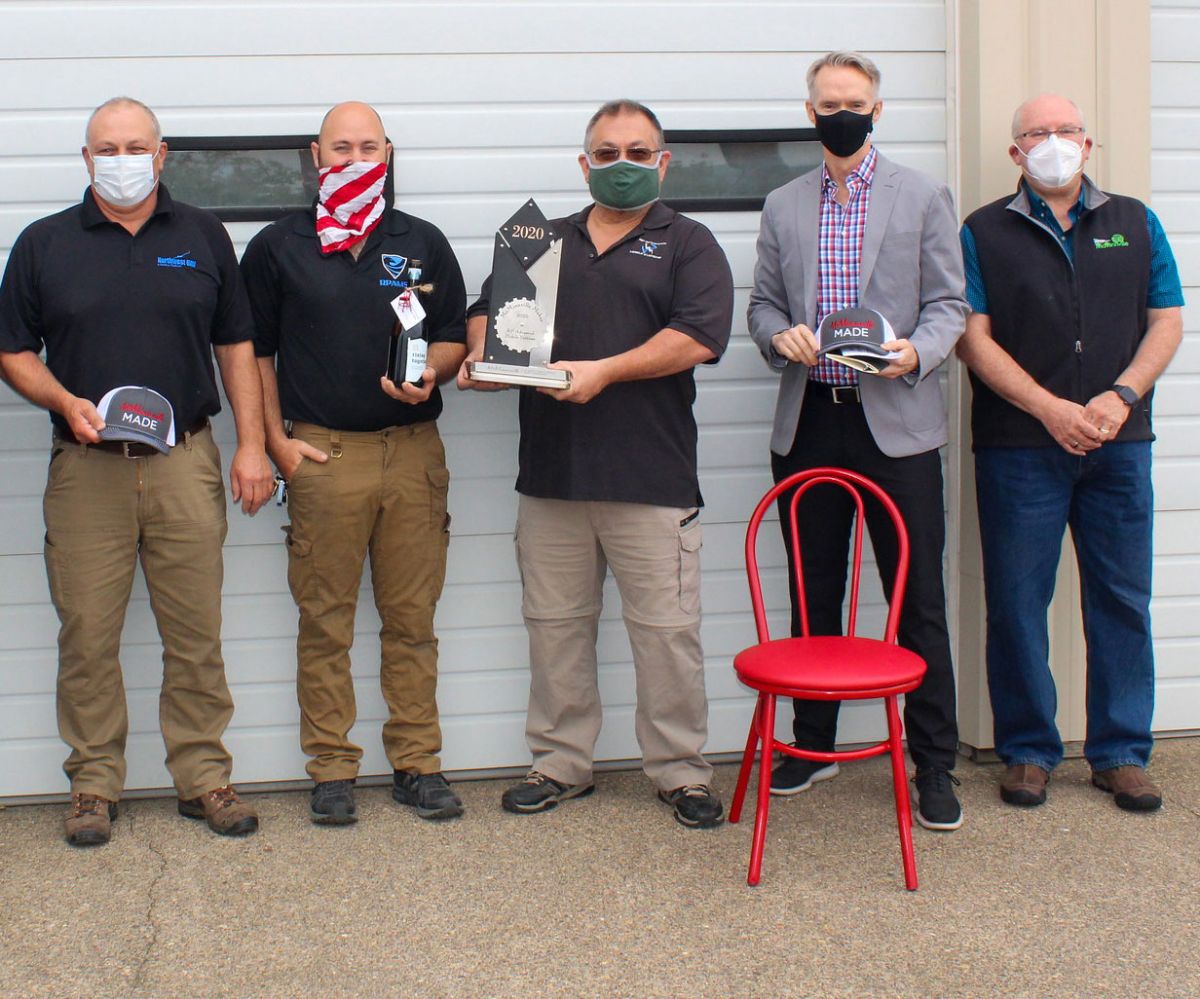 From left to right: Chris Harris CEO of RPAMS, Andrew Hansen with RPASM, Terry Wilmeth CTO of RPASM, MEDP Executive Director Scott Cooper, McMinnville Mayor Scott Hill
This award, formerly known as the Manufacturer of the Year Award, recognizes a company or individual within our city's Traded Sector that has created a beneficial impact in the community and has demonstrated creativity, and ingenuity. The 2020 recipient of the McMinnville Maker Award is RP Advanced Mobile Systems. RPAMS was founded in 2009 and quickly developed a name for itself in the Special Operations community by designing and developing innovative mobility accessories for tactical ATV/UTV platforms.
In 2020 they truly made a pandemic pivot to their product line with the addition of face shields and various PPE equipment, as well as developing UVC emitting sterilizing products to safeguard against infected touch surfaces. These UVC lights are being used across the country to help keep schools and public spaces safe.
We have had the pleasure of working with RPAMS over the years, and they have always been supportive of our educational tours and youth engagement efforts. Over the last six months they have introduced new technologies in the fight against Covid-19, and their ability to adapt and innovate shows the agility of this company. Terry Wilmeth the CTO has shown both persistence and patience as he continues to grow this new line while continuing their main focus, of building Utility Terrain Vehicles. We are pleased to present RP Advanced Mobile Systems the 2020 McMinnville Maker Award.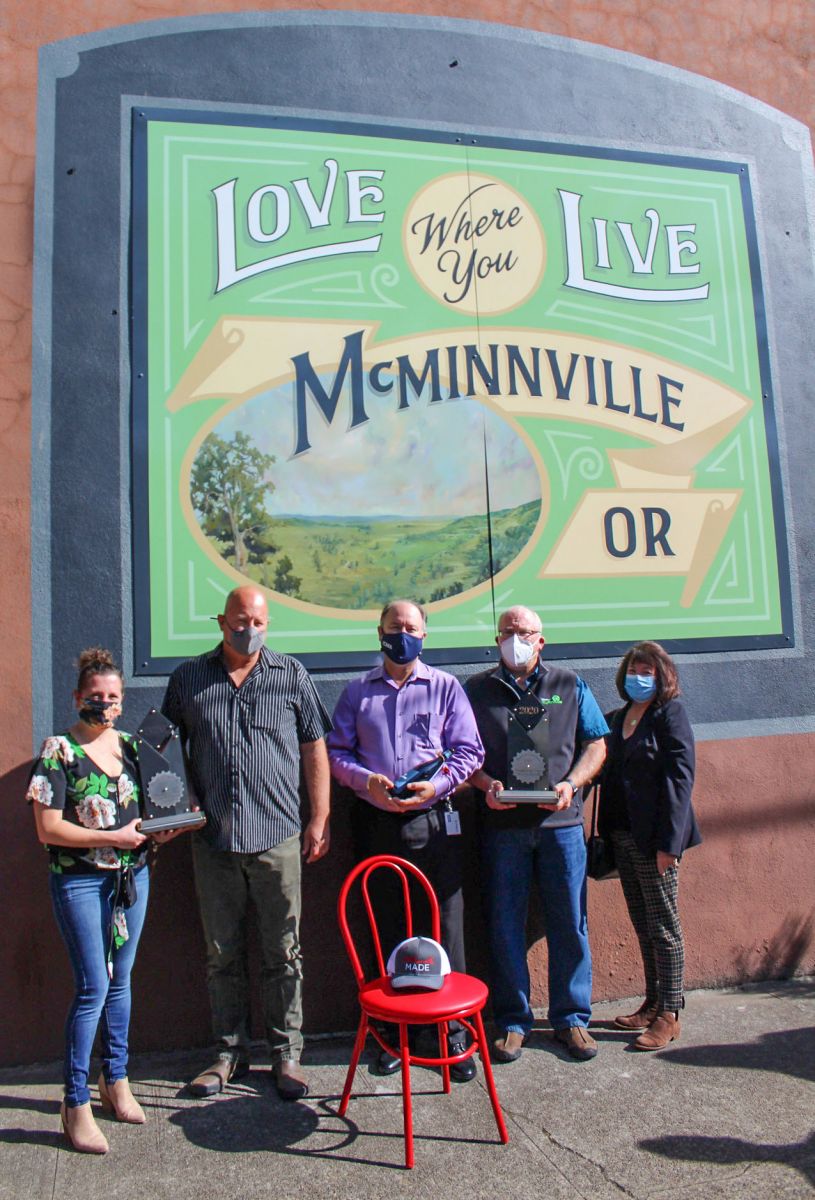 Left to right: MDA Board President Heather Miller, MDA Executive Director Dave Rucklos, City Manager Jeff Towery, McMinnville Mayor Scott Hill, City Counselor Kellie Menke
This year the board selected two partners who have worked side by side to ensure that downtown McMinnville remains a cultural, social and economic hub of the community. McMinnville Downtown Association and The City of McMinnville helped to streamline the process for the Dine Out(Side) on 3rd Street program.
Our tree-lined downtown has been lovingly referred to as Oregon's Favorite Mainstreet for years, and over 14 weekends this Summer and Fall, Third Street became even more enchanting. The Dine Out(Side) program allowed for 22 restaurants and businesses to spill out into the street starting on Friday evenings through Monday morning. The collaboration efforts between MDA and City of McMinnville helped to streamline the permitting process and street closures. From there the MDA went above and beyond to begin coordinating the effort with the local businesses downtown, working with Recology for additional trash receptacles, recruiting volunteers to assist weekly with no-parking signs, and they even worked with restaurants to help construct aesthetically pleasing and practical partitions to designate dining areas in the street.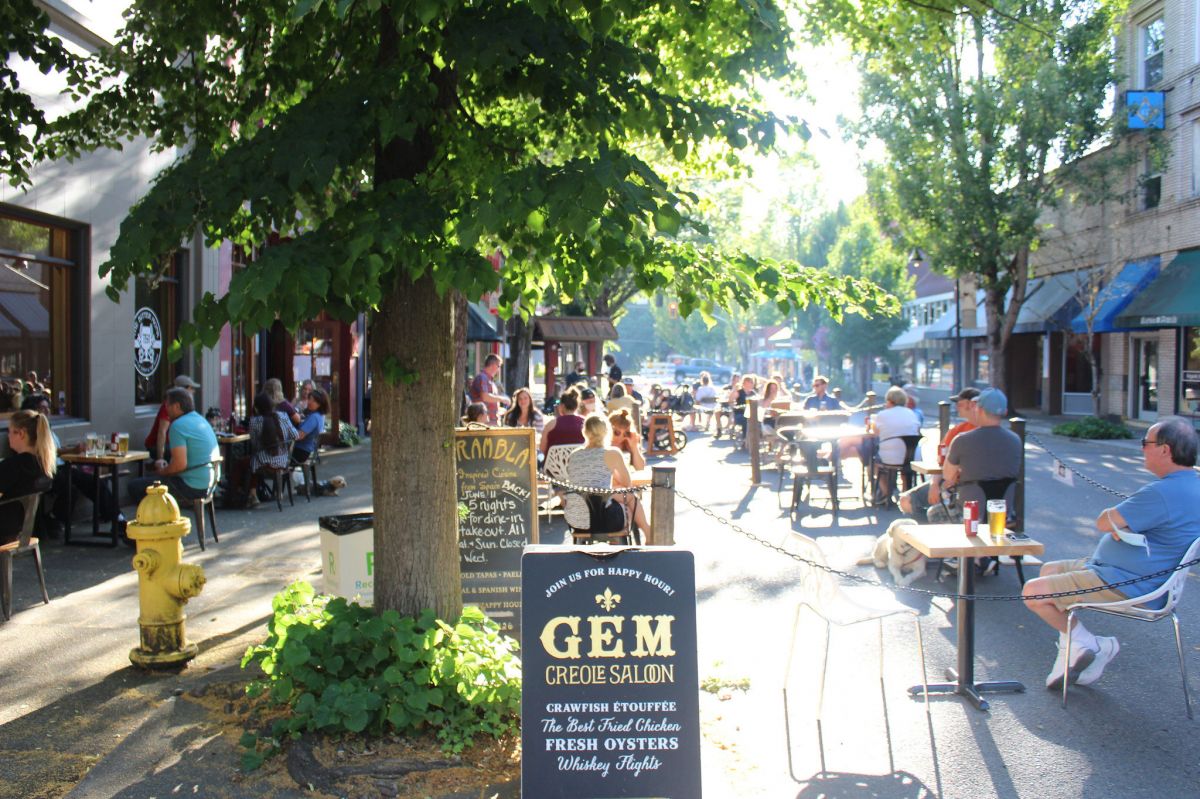 Their efforts helped sustain and support local businesses downtown through a very difficult economic season, and we look forward to their 12 weeks of Christmas promotion as we continue into the fourth quarter of 2020.
Congratulations to each of the 2020 award recipients. We had an amazing time individually celebrating each winner with our board members, City representatives and staff.

We'd also like to take a moment to thank our Investor Circle and Founding Partners. Their annual support allows MEDP to continue the work we do in our community. Because of their investment we are able to help grow our economy by connecting our local businesses to resources and opportunities that help enable them to thrive in McMinnville.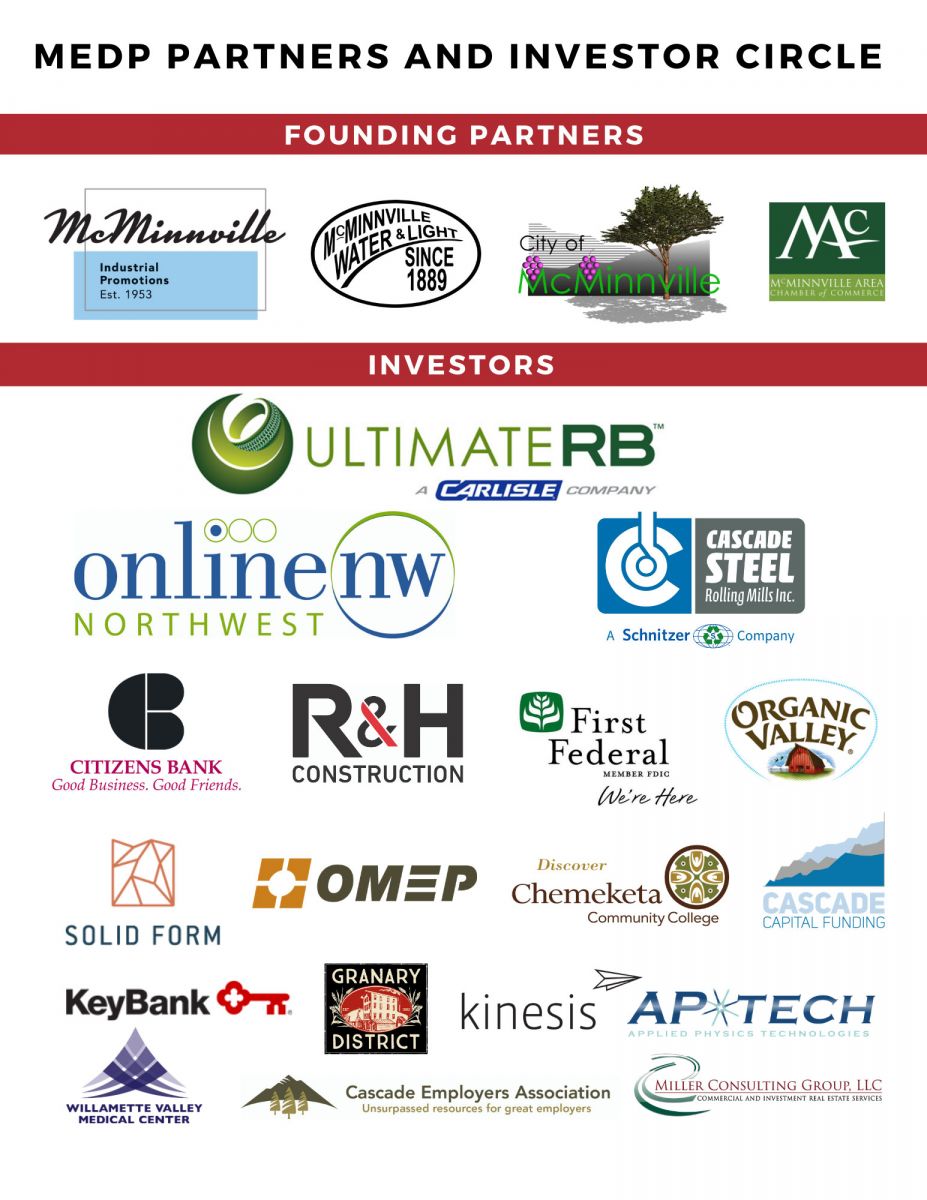 For a more detailed update about what our organization has been up to over the past fiscal year, please see our 2020 Annual Report.