MEDP 2022-2023 Annual Awards - Celebrating McMinnovation
Oct 13, 2023
(MCMINNVILLE, OR) - Since 2007, MEDP has been recognizing the outstanding companies and individuals that contribute to the growth of our local economy through best business practices, workforce development, a positive company outlook and commitment to the McMinnville community. These awards were presented at the MEDP Annual Awards Event - Celebrating McMinnovation, held October 5th in conjunction with the release of the MEDP '22-'23 Annual Report. The categories include McMinnville Maker, Kelly McDonald Business Leader, Board of Directors Partner, Startup, Workforce Partnership, Innovator, and the Economic Vitality Distinguished Service Award.
The McMinnville Maker of the Year recognizes a company or individual within our city's traded sector businesses and industries that has created a beneficial impact in the community and has demonstrated creativity, and ingenuity.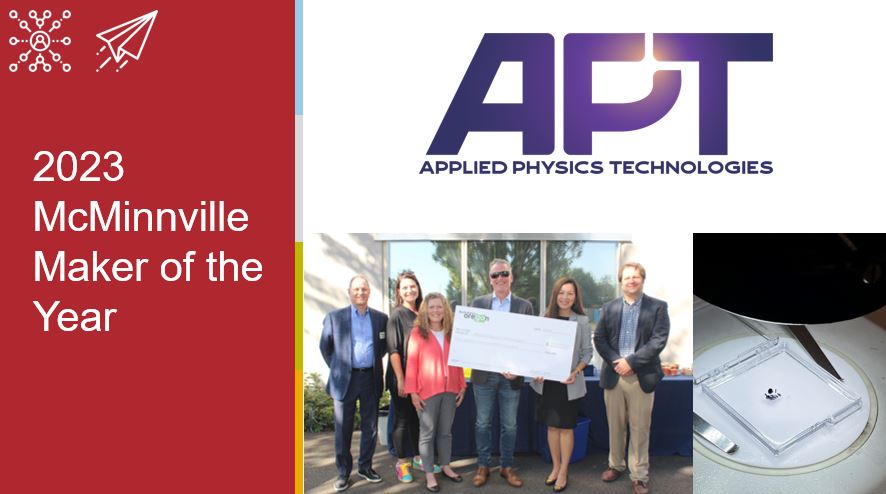 Pictured: Steve Thompson - Business Oregon, Abisha Stone - SEDCOR, Patty Herzog - MEDP, Marcus Straw - APT,
Director Cheang - Business Oregon, Arthur Chaput - Business Oregon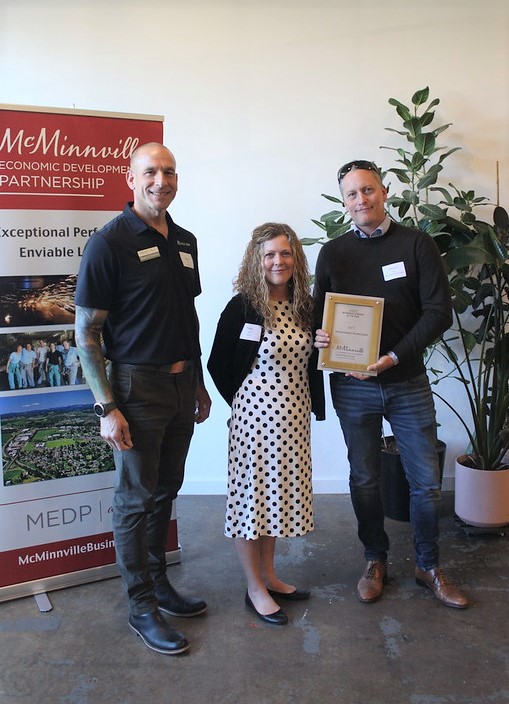 Pictured: Deven Paolo - MEDP Board Member, Patty Herzog - MEDP, Marcus Straw - APT
The 2023 recipient of the McMinnville Maker Award is APT - Applied Physics Technologies. APT, manufactures components for sophisticated equipment used in the semiconductor and life science industries. A home-grown McMinnville company founded through Linfield Research Institute, APT invested $2.5 million dollar to upgrade their physical plant to increase capacity, improve quality, and add new capabilities. The upgrade included a state of the art, 2700 sf class 10,000 clean room. Under the helm of CEO, Marcus Straw, this $2.5 million investment was partially funded through a $1.2 million grant from Business Oregon. As a result, APT will double their 2022 revenue and workforce by 2027, adding an estimated $8.8 million in wages, benefits, and payroll taxes to Oregon's economy. APT gives back to our community through charitable contributions and involvement on committees such as the Chamber of Commerce's Government Affairs Council. APT's parent company is Hitachi High-Tech.
---
The Kelly McDonald Business Leader of the Year award was created in 2022 in honor and appreciation of founding MEDP board member, Kelly McDonald. This year recognizes the first recipient of this award which is intended for individuals who exemplify qualities of great leadership, are pioneers in their field, demonstrate business integrity and innovative practices, have community building foresight and are committed to McMinnville's economic vitality.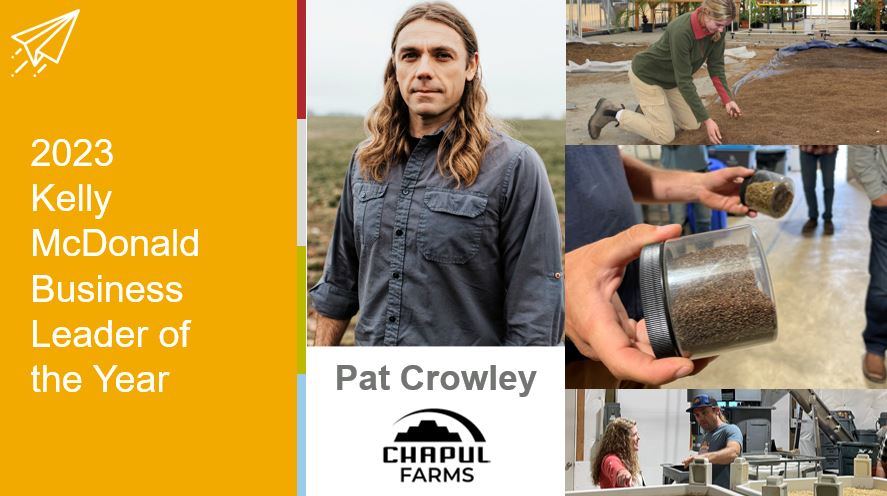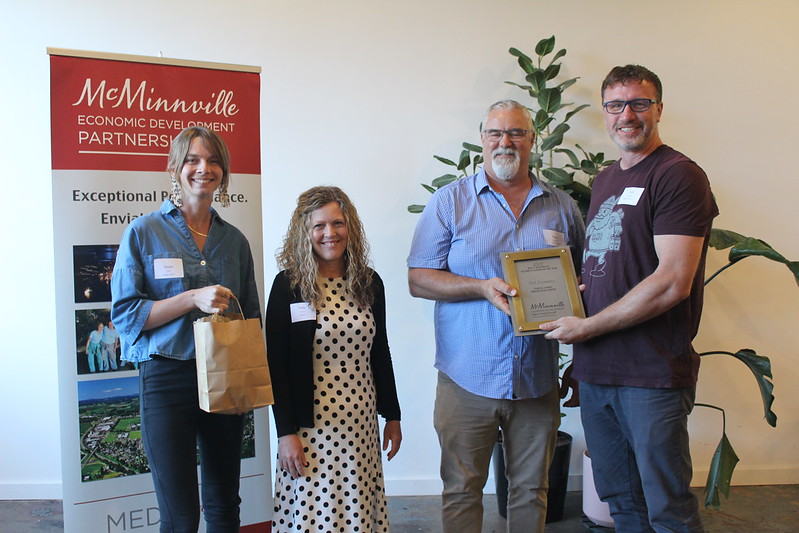 Pictured: Sayla Grom - Chapul Farms, Patty Herzog - MEDP, Kelly McDonald - retired MEDP Board Member, Todd Severson - Chapul Farms
The 2023 recipient of the first award for the Kelly McDonald Business Leader of the Year is Pat Crowley, Chapul Farms. Pat Crowley is a dedicated and humble entrepreneur with a focus on sustainability and regenerative processes through development of the Chapul Innovation Center. Raising $2.5M in investment capital and more under way to support customized insect agriculture to 1) manage food and ag waste, 2) produce high value protein, and 3) produce soil health fertilizer in a full life cycle process utilizing black soldier fly larvae. He has doubled his team ( current 12 employees), given back to the community and volunteers on the Board of Directors for Tainable Regenerative Agriculture Labratories, a 501c3 dedicated to demonstrating soil health practices that can be implemented at a commercial scale. Current plans include construction of the largest US insect farm in 2024. (TEDTalk)
---
The 2023 Board of Directors Outstanding Partner of the Year Award recognizes an outstanding partner who has contributed to the growth of our local economy: This year the board selected a partner who has worked side by side with MEDP to ensure that our local businesses and industries have access and awareness of the multitude of resources and funding opportunities available in the state to support our traded sector business community and their growth.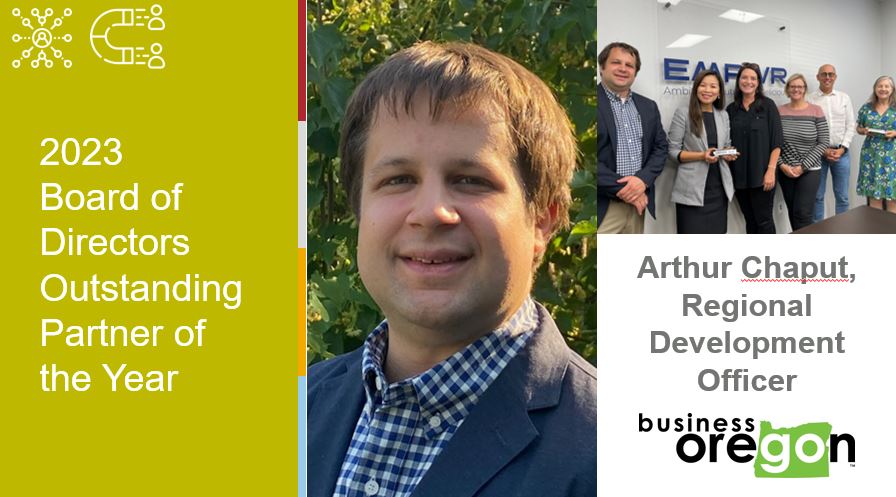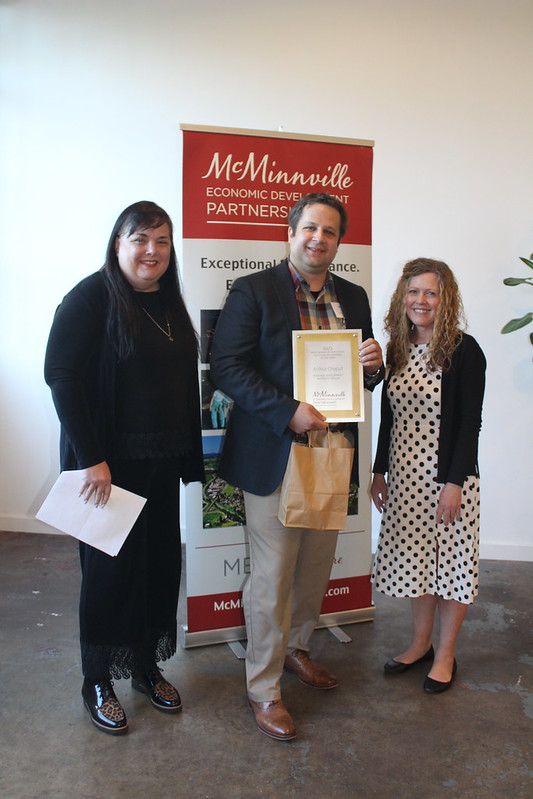 Pictured: Heather Richards - MEDP Board Member, Arthur Chaput - Business Oregon, Patty Herzog - MEDP
The 2023 MEDP Board of Directors Outstanding Partner of the Year Award goes to Arthur Chaput, Regional Development Officer, Business Oregon. Arthur Chaput's work goes beyond connecting businesses to Business Oregon programs, he takes a vested interest in understanding business needs and offering other resources and connections. His dedication has resulted in several McMinnville businesses receiving funding for projects at their facilities, such as: Cutting Edge Metals, Blue Raeven Pies, ExcelTech, APT, Precision Analytical, Pacific Pattern Technologies, William Henry, Parker Meggitt, Chapul Farms, Elk Creek Forest Products, Solid Carbon, EMPWR, and many more. Business Oregon investment in McMinnville in FY 22-23 equals $1.7M. Arthur Chaput's dedication and professionalism is unsurpassed and a true asset in McMinnville's economic prosperity.
---
The Startup of the Year Award was established in 2019 to recognize McMinnville's future looking focus on entrepreneurship and innovation. The award was created to recognize a new company or organization that demonstrates entrepreneurial spirit, fortitude, and has demonstrated the potential for beneficial impact on our local community.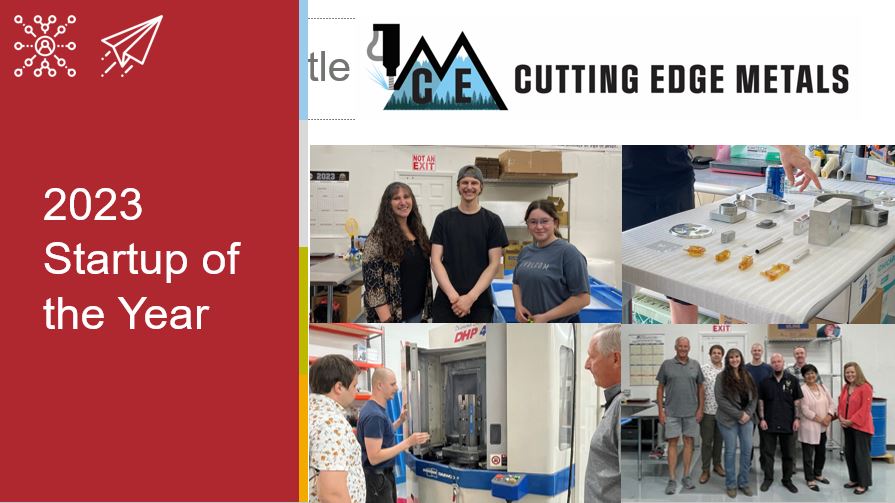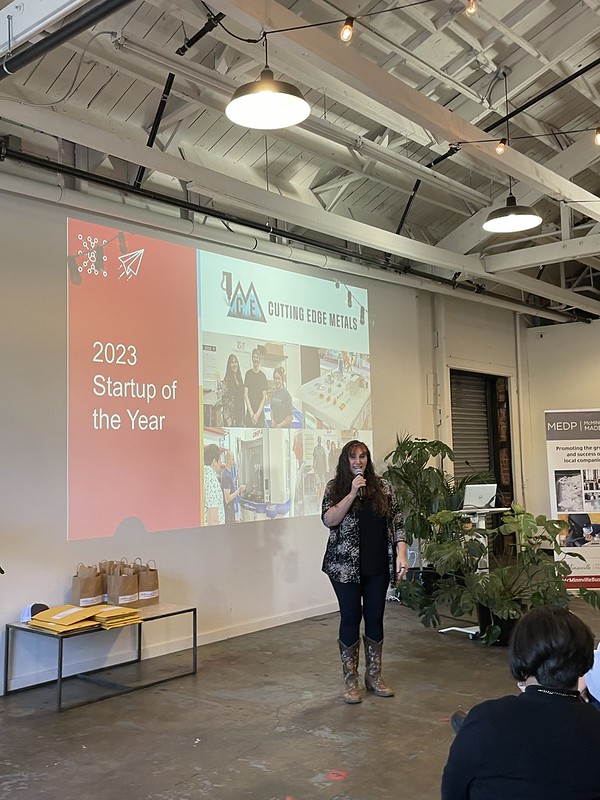 Pictured: Lori Robertson - Cutting Edge Metals
The 2023 Start-up of the Year Award recipient is Cutting Edge Metals. Having met with MEDP in November of 2021 to explore starting a business, inspiring female founder, Lori Robertson officially opened her business in July 2022 in McMinnville's local incubator space, Bunn's Village (other local companies have grown out of this space such as NWUAV and NW Rapid Mfg.). Cutting Edge Metals company values, already established before their doors opened just over a year ago, are part of Lori and Dennis Robertson's DNA: Integrity, Honesty, Excellence and Safety. Experts in precision CNC machined products for aerospace, defense and a multitude of industries, they proactively engage with customers and continuously improve processes. This year they achieved ITAR certification and AS9100/ISO9001 Certification with plans to expand their footprint already in the making. Lori Robertson supports her industry and fellow entrepreneurs through involvement in the Launch Mid Valley Start Up Initiative (McMinnville), partnering with Pacific Northwest Aerospace Alliance and Business Oregon to establish an Oregon chapter, holds the title of a McMinnville Chamber Ambassador to support other small businesses, and invited as a guest speaker to share her inspiring story at a variety of events. The Robertsons are workforce development advocates and have participated in the Career Bound Spring 2023 program hosting a youth intern for paid work experience and workplace skills training opportunities. Plans are to offer additional workforce development and training opportunities in the future.
---
The McMinnville Innovator Award refers to MEDP's initiative to grow innovation and technology in Oregon's wine country and is given to a company that exemplifies forward thinking and innovative practices that will impact the greater good whether through product, service or business acumen.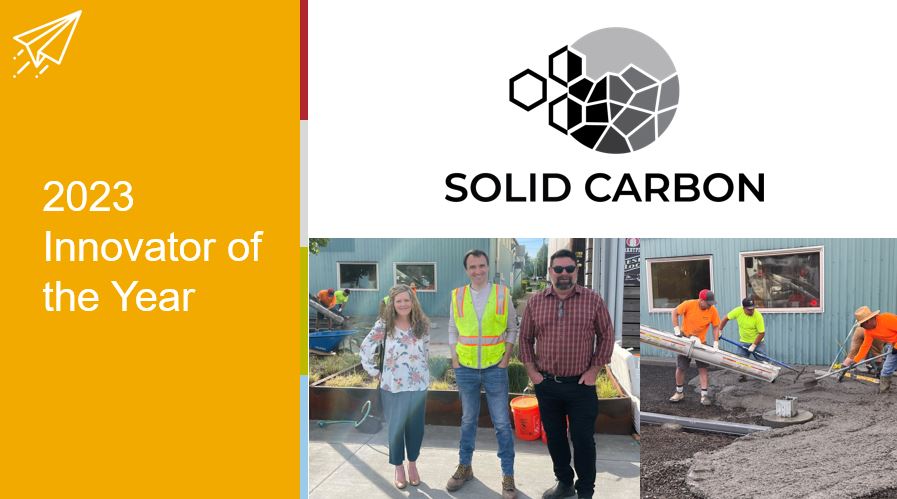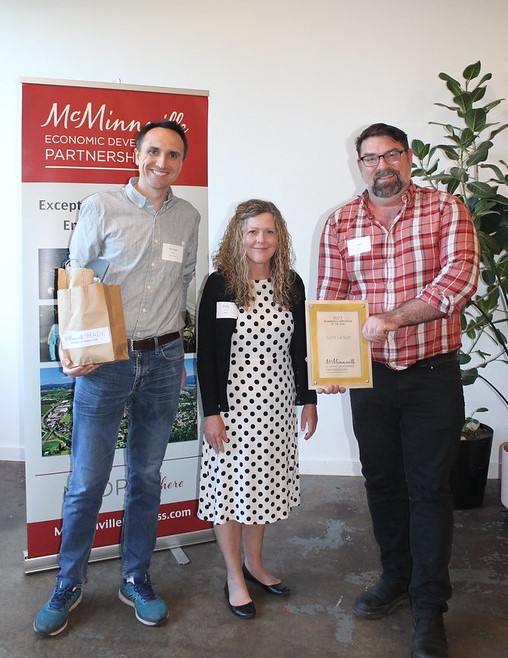 Pictured: Michael Bernert - Wilsonville Concrete, Patty Herzog - MEDP, John Mead - Solid Carbon
The winner of the 2023 McMinnville Innovator of the Year Award is Solid Carbon. Providing biogenic carbon-based materials for structural concrete and turning the built environment into an environmental solution is the basis for selection as the Innovator of the Year. Recognized by other associations in 2022 for the Mead-Drabkin sequestering the equivalent of over 5.1 tons of C02 in the floor of the Remy Wines Winery. CEO John Mead connected with MEDP and regional partners: SEDCOR and Business Oregon to further expand growth of this unique and innovative carbon sequestering solution-based company. Awarded a $241K HIOP - High Impact Opportunity Project Grant through Business Oregon and administered by MEDP, John Mead, CEO Solid Carbon and partner Michael Bernert of Wilsonville Concrete were able to work with OSU Oregon State University for additional solution testing and offer pilot pours in the community of McMinnville. Recipients include Alpine Crossing's patio on Alpine St. in the Granary District and Miller Woods welcome kiosk. Solid Carbon has plans to build offices and a testing lab operation for further research and development in McMinnville, Oregon and grow their team of 3 to 5, having just added a product development engineer and MHS alum. John Mead also supports the community through coaching rugby and serving on the City's historic landmark committee.
---
The Workforce Partnership of the Year Award was created to recognize an individual or business in the community that has worked to create strategic and impactful efforts around workforce solutions in our community.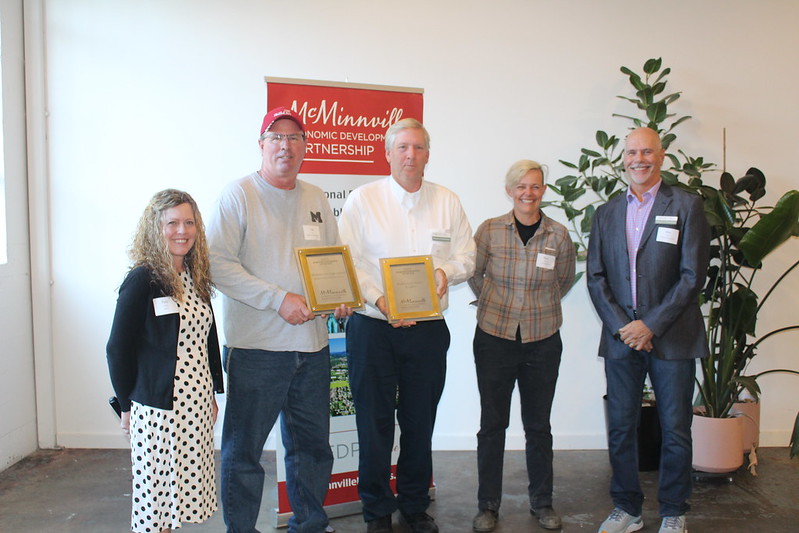 Pictured: Patty Herzog - MEDP, Chip Ford - MHS Fabrication Educator, John Dietz - MWL, Mayor Remy Drabkin, Mike Morris - MEDP Board Member
This year's award goes to McMinnville Water & Light and McMinnville High School. Having identified that our emerging workforce needs real-world experience to improve their skills. MEDP and Board Chair, John Dietz convened a meeting with McMinnville High School educators and a team from McMinnville Water & Light. MWL needed three mobile water filtration trailers designed and built for use in an emergency. Lauren Berg, MSD Programs Administrator spearheaded the project coordination by connecting with pathway students from engineering, fabrication, natural resources and business who were asked to apply like a real job, interview and then proceed to form a team to strategize, plan and implement design and build under the guidance of MWL staff. MHS worked with students' class schedules to allow them to go to the job site weekly during Spring term and execute the end product. Seven students were selected and paid for their work by McMinnville Water & Light. Creating more of these types of hands-on work experiences is the desire of MEDP's workforce partnership consortia and hope is to increase opportunities with our local business community with work/study, internships, pre-apprenticeships and certifications.
---
McMinnville Economic Vitality Distinguished Service Award was presented this year to Dave Haugeberg. Having supported positive community growth for his entire life, with 37 years of dedication to bring over $300M to the region for transportation infrastructure and development. Also serving on the Linfield University Board of Trustees, at the Gospel Mission and through volunteering with MV Advancements, McMinnville Community Foundation and McMinnville Industrial Promotions. Haugeberg continues to support developing partnerships and procuring resources for smart growth in McMinnville and currently is involved with the Three Mile Lane Area Plan and future Innovation Campus design and development.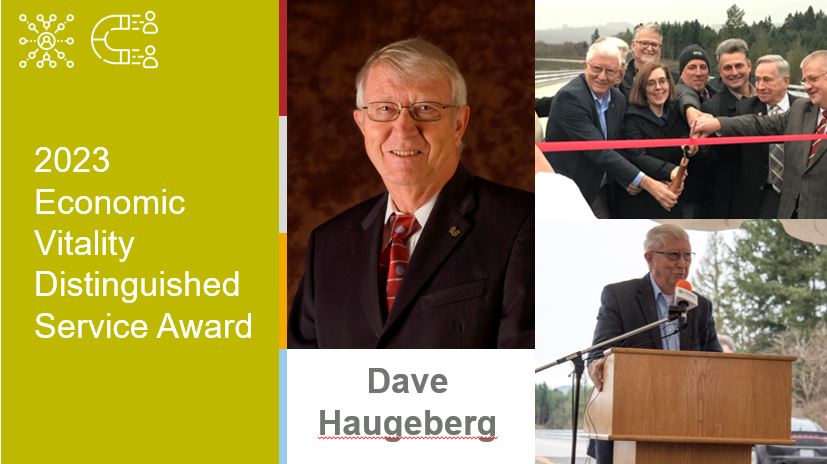 This year's event also brought special recognition to MIP - McMinnville Industrial Promotions, one of MEDP's founding and primary funding partners. MIP is a volunteer group established in 1953 with foresight and vision to support economic vitality in McMinnville. Well known for their 9 for '69 campaign where they pooled funds to go out and recruit nine new industry businesses to establish in McMinnville, Oregon. Continuing success stories from that campaign include: Cascade Steel, a Radius Recycling Company and Skyline Champion. MIP continues its work supporting smart growth in our Industrial District and future Innovation Campus. MIP supports members of our traded sector business community, such as: Amerson Precision Sheet Metal, Betty Lou's, Casteel Bottling, Fastenal, Parker Meggitt, Water Right Inc., William Henry and more.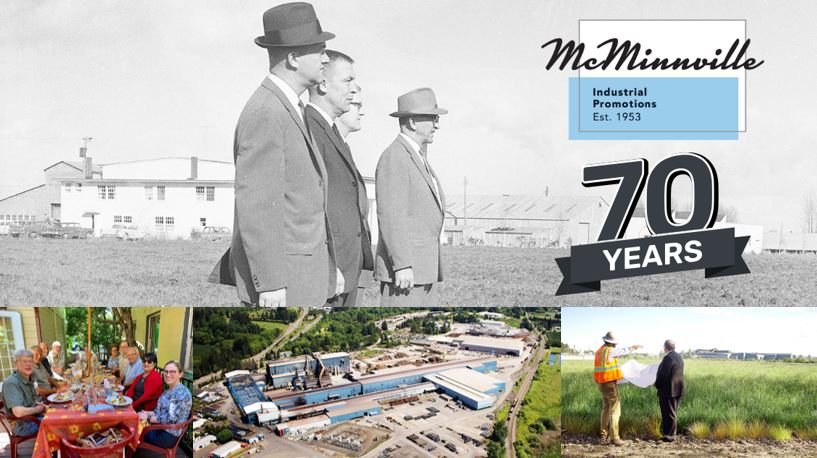 Great appreciation and thanks go also to our very own McMinnville MADE, Solid Form Fabrication and Deven Paolo for the design and creation of the beautiful metal award plaques received by each winner during the MEDP 2023 Annual Awards Event - Celebrating McMinnovation. Deven Paolo has been a longtime advisor and supporter of our workforce development initiatives, and additionally offers scholarships to area youth interested in the skilled trades through their Rising Together platform.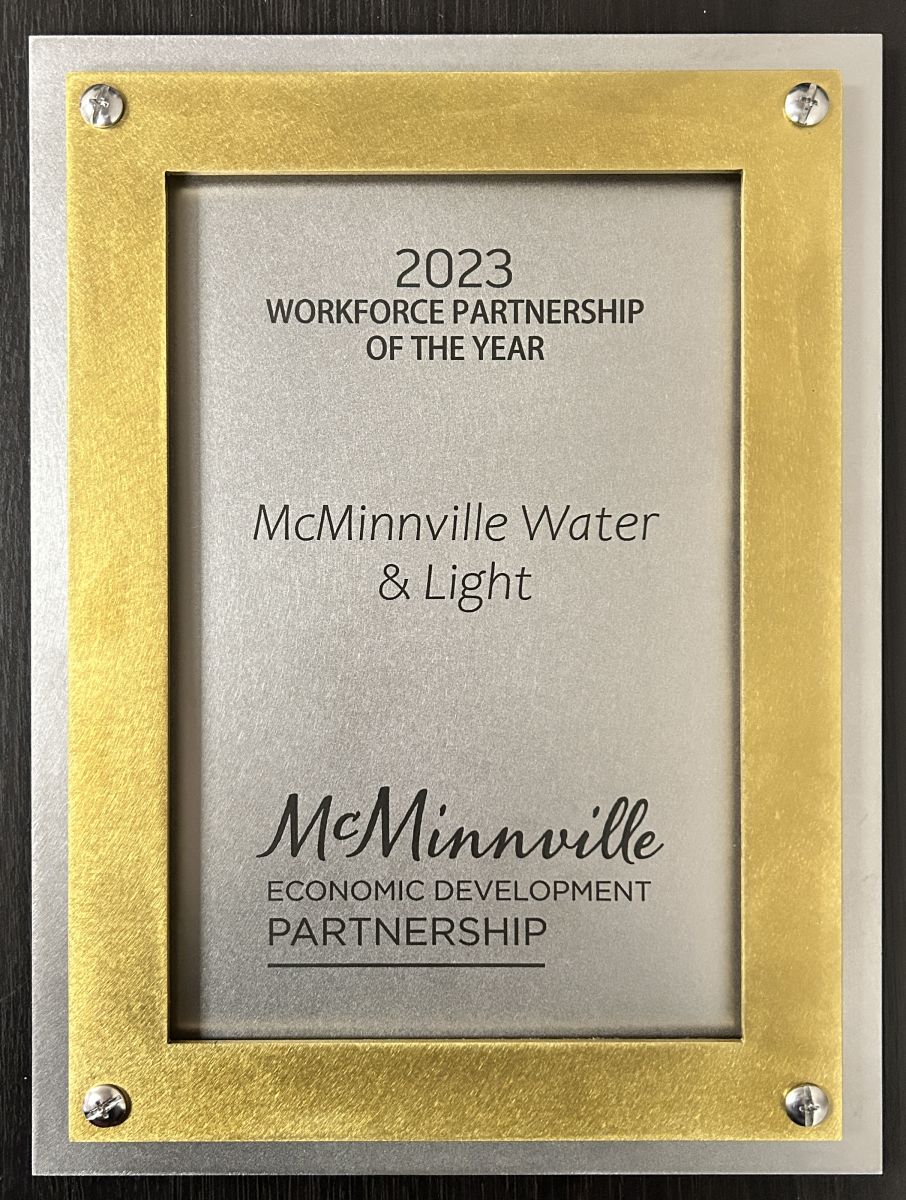 ---
In addition to celebrating our McMinnovators, executive director, Patty Herzog presented MEDP's 2022-2023 Annual Report to attendees and stakeholders. Highlights include the impact of the work the MEDP staff of two and board of directors have achieved this past year with over $3M in funding brought to community businesses and another $3M plus still in process.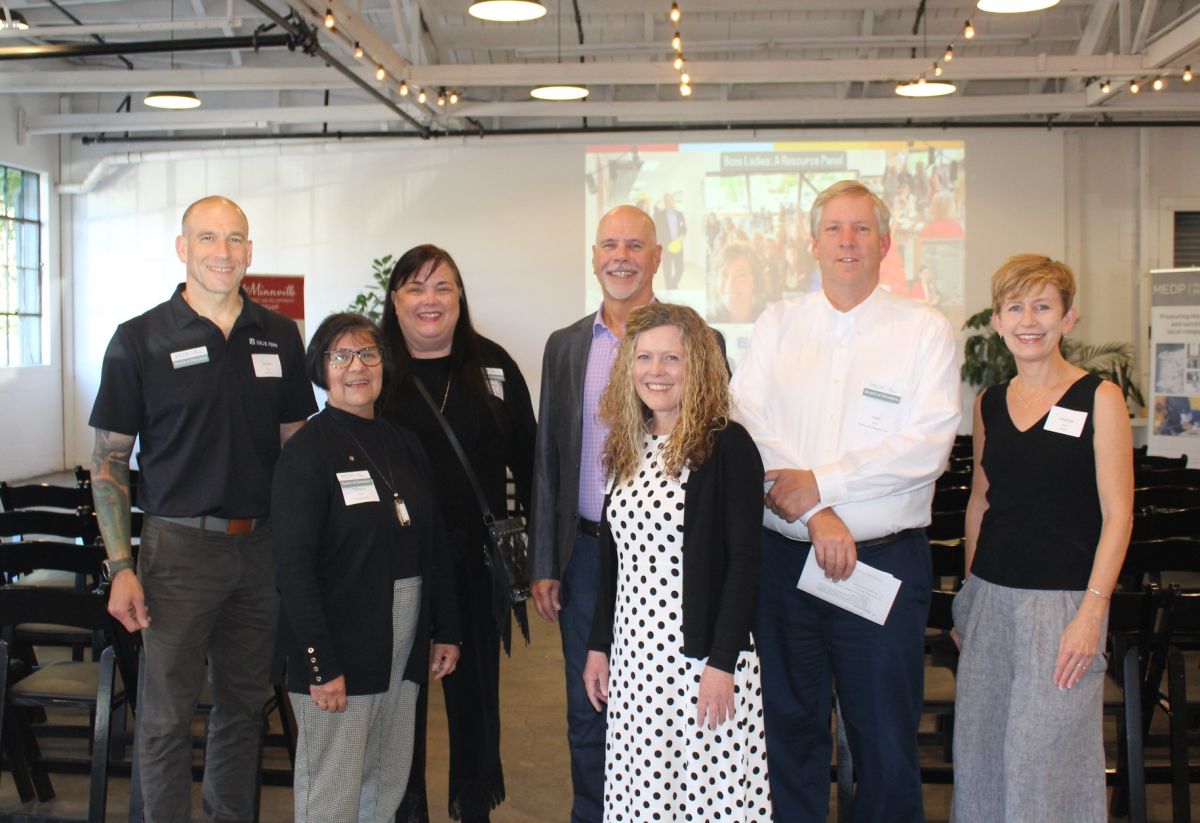 The MEDP Team:
Staff:
Patty Herzog, Executive Director | patty@mcminnvillebusiness.com
Heather Blank, Deputy Director | heather@mcminnvillebusiness.com
MEDP Board of Directors:
John Dietz, McMinnville Water & Light
Teresa Smith, McMinnville Industrial Promotions
Heather Richards, City of McMinnville
Deven Paolo, Solid Form Fabrication and Business Liaison
Mike Morris, McMinnville Chamber of Commerce
MEDP is here to support business in creating Great Jobs!
---
Celebrating McMINNOVATION!
Enjoy the event candids!
MEDP's Annual Awards Event - October 5, 2023.
Congratulations to our 2023 McMinnovators!
MEDP is thrilled to present our annual award winners:
McMinnville Maker of the Year: Applied Physics Technologies - Marcus Straw CEO
Kelly McDonald Business Leader of the Year: Patrick Crowley - Chapul Farms
Board of Directors Partner of the Year: Arthur Chaput Business Oregon
Startup of the Year: Lori Robertson, MBA Cutting-edge-metals.com
Innovator of the Year: Solid Carbon
Workforce Partnership of the Year: MHS & MWL Mobile Water Filtration Project MCMINNVILLE SCHOOL DISTRICT and McMinnville Water & Light
Economic Vitality Distinguished Service: Dave Haugeberg
---
Join MEDP in supporting economic vitality in McMinnville, Join our Investor Circle today!
MEDP is a 501c6 created back in 2015 as a committee of the Chamber of Commerce. We became a stand alone entity supported our primary funding partners: McMinnville Industrial Promotions, McMinnville Water & Light, and the City of McMinnville. We rely on the generosity of our Investor Circle to support programs for our business community as referenced above. Please join us in supporting our business community by investing today. Investors will be highlighted at our October 5, 2023 Annual Event and Awards program and through out the 2023-2024 year.
MEDP's strategic initiatives focus on:
Business Retention & Expansion
Workforce Development
Innovation and Entrepreneurship
Business Attraction and Available Site Promotion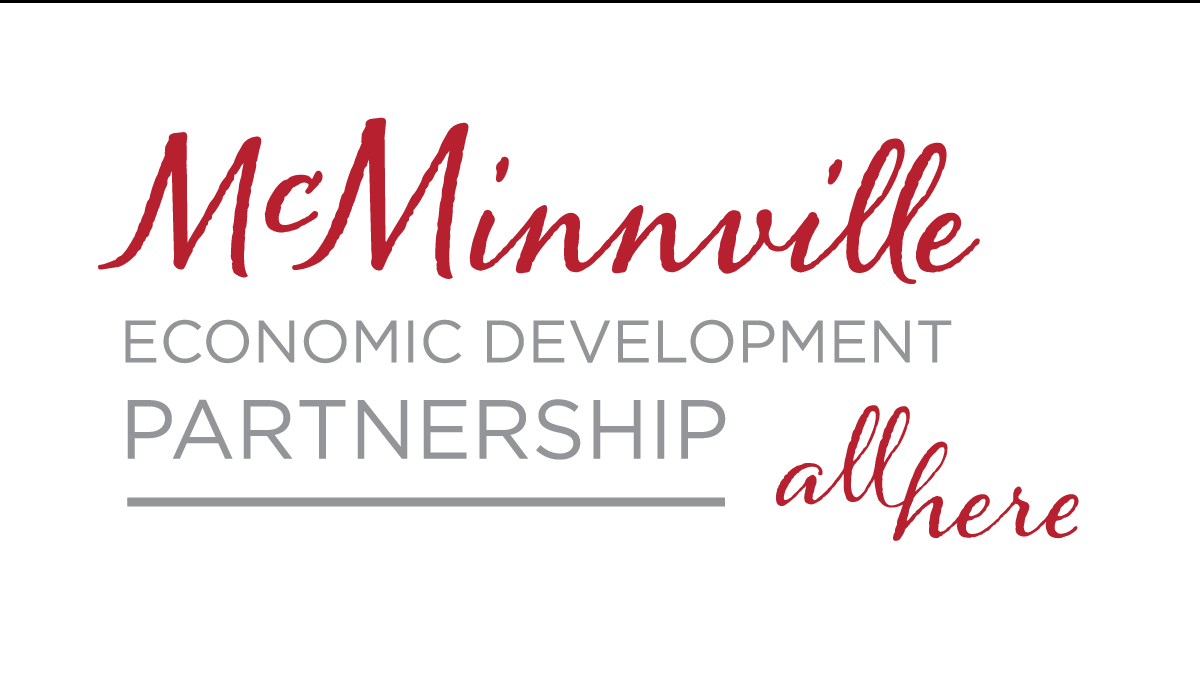 Connect with us!
Subscribe to our newsletter.
Find MEDP on Facebook, Instagram, LinkedIn, and Twitter.
Find our McMinnville WORKS program on Facebook and Twitter.
MEDP was created in 2006 by McMinnville Industrial Promotions, McMinnville Water & Light, the City of McMinnville, and the McMinnville Chamber of Commerce to support traded sector business and industry. We are a public/private entity supported by our Investor Circle.
Patty Herzog, Executive Director patty@mcminnvillebusiness.com
Heather Hadley Blank, Deputy Director heather@mcminnivllebusiness.com
Or Call 503.474.6814