MEDP Spark - McMinnville's Ironman: The Man Behind the Metal
Feb 11, 2016
MEDP Spark, Volume 1, Issue 2 -- February 2016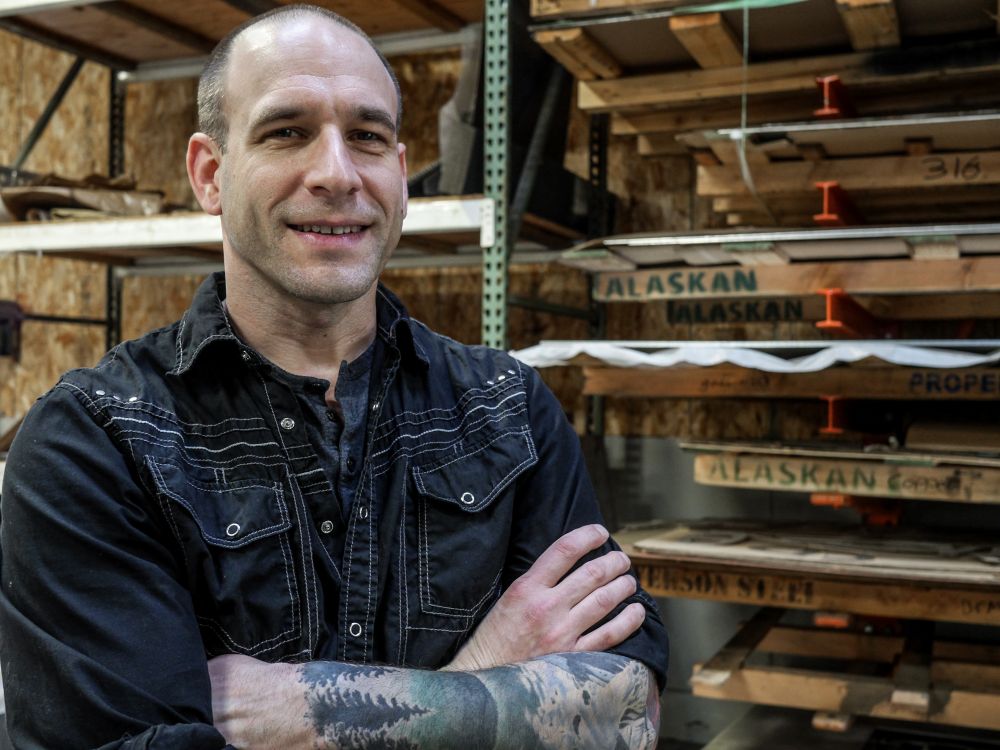 "I often see the latest creations in posts on Facebook," says MEDP Executive Director Jody Christensen. "The projects the craftsmen at Solid Form Fabrication make are amazing to look at. The custom designs have curved lines, twists and turns, all formed in metal."
We recently sat down with Solid Form Fabrication's own Deven Paolo to learn more about the man behind the metal.
Few 15-year-olds have a clue about what they want to do for a living, but Deven Paolo knew what he didn't want - he never wanted to work in a cubicle. It all started in the Yamhill-Carlton High School wood-shop where the seeds were planted for his eventual company, Solid Form Fabrication. Shop was his favorite class; it's where he discovered his passion for craftsmanship. He was fascinated by the design and manufacturing process; it's where he learned to draft. The setting gave him the ability to create something real, something functional, while solving an interesting and often challenging problem.
When you visit Deven Paolo's business today, you'll notice it is relatively humble - a desk, a computer, a few chairs and wood-lined walls, but it's the shop floor where the sparks fly in sync with blaring rock music that truly captivate the imagination. Deven is by no means a vestige of the manufacturing world. Far from it. Over the years, he has seen the industry change from the hands-on approach he learned to love in high school, to an automated business model: fewer people, more machines, less inventiveness, less focus on creating one-of-a-kind solutions - it's become more standard, off-the-shelf products.
That's not what Deven and his brother Keath founded in 2007.
With Solid Form Fabrication in McMinnville, they built their business with the core values that were instilled in them during shop class: functional problem solving while staying true to a craftsman's attentiveness.
In the early years, the two Paolo brothers ran the shop by themselves. Keath used his metal fabrication background to run manufacturing and Deven was in charge of the design and engineering. Solid Form Fabrication's earliest clientele were local wineries and tasting rooms. Staples of the wine community, like Soter Vineyards, were quick to recognize the high-quality, detail-oriented, craftsmanship Solid Form prides themselves on. Quickly growing their portfolio, they picked up a wide range of commercial, residential and industrial customers.
As stated on their website, "Our company's focus is to collaborate, provide solutions, and craft a functional, quality product to make life better for all those that use it." At Solid Form, they embrace their client's desire for customized, project-driven design.
As their workload increased, so did Deven and Keath's desire to do more for their clientele. They needed to upgrade their equipment to address the growing demand. Deven reached out to Jody Christensen at MEDP to explore state-assisted funding options to help purchase a state-of-the-art water jet. During the recession, this seemed to be a daunting task, but after much work, the financing was secured.
In the time Deven lived in Portland, earned his degree from George Fox University, returned to Yamhill County, and built Solid Form Fabrication, his treasured high school wood-shop had fallen into neglect. Hopelessly out-of-date and in need of a deep clean, Deven set out to help reestablish the program that would hopefully inspire a new generation of craftspeople. He had taken notice that schools were focusing more and more on preparing students for work in offices and cubicles and less on the hands-on professions - professions that often support on-the-job training and good wages. Many students who graduate from high school do not plan to immediately pursue higher education. This scenario leaves young people high and dry. He knew if students could learn basic metal fabrication techniques and skills, they could find jobs in our community right after high school. In his alma mater, he saw a functional solution to a common problem.
Together with Meggitt Polymers & Composites, Davison Auto Parts and Slater Machine Tools, they gutted the shop, cleaned up the tools and rearranged it all to function like a real-world manufacturing environment. Today, students at Yamhill-Carlton now get to work on projects for local wineries and businesses - actively participating in the entire process for budgeting estimates, allocation of resources, production and time management. Deven wants the students to understand that there are good jobs in McMinnville with good wages and great benefits. It's a solid start on building the next generation of manufacturers by focusing on the soft skills he learned in high school. In establishing new curricula, Deven emphasizes the importance in drawing plans, estimating materials and managing time.
As the company grows, the production team still feels very connected, which is important in a small company. But Deven faces a challenge in finding the right people with the right skills. He knows one bad hire is bad for business, which is why Solid Form Fabrication joined the MEDP McMinnville WORKS Internship Program four years ago. In the program, the company has again found a functional solution to their problem. The McMinnville WORKS Internship Program has become a proactive employee recruitment strategy. They've had one marketing and two mechanical engineering interns. It has help helped the company connect with young talent and in one case, they now have a former intern as a new part-time employee while he finishes up his university degree.
Recently, Deven and other industry leaders wrote a letter of support for a grant that would allow Yamhill-Carlton to establish a career academy that would focus even more on real-world applications of multiple subjects in addition to wood-shop and metal shop. "There's a lot of value in hands-on skills that are being lost," he said of his support of the program, "this will inspire them to go to shop class and get some of those hands-on skills." He hopes the program will produce graduates he can hire at Solid Form Fabrication and keep out of those dreaded cubicles.
Deven is bullish on Solid Form's continued growth. With plans to build a second building and hire more engineers and salespeople, the company's production pipeline for the year is healthier than it's ever been. Solid Form Fabrication is forging a creative and profitable future.